How to Change Your Massachusetts Mailing Address?
Indeed, moving is time-consuming. Right from preparations, labeling, and packing, to managing inventory, the entire process can leave you drained, and some tasks may remain unattended. One of the ways to make moving less stressful is changing your mailing address in advance.
 can be seamless, and it comes with several benefits. Once you follow the dues process, your mailing will immediately be sent to your new address when you move.
The Importance of A Change of Address
1. Prevents Identity Theft
Failure to  with your creditors in a timely fashion leaves you prone to criminals. That means that such individuals can accept deliveries of products purchased on your credit, open accounts in your name, and seize your personal information.
Also, after moving, ensure your address is up-to-date and that no new accounts are open without your consent. That is achievable by acquiring a free annual copy of your credit report from each of the three major credit bureaus.
2. Acts As A Form of Customer Identification Program (CIP)
Authenticating the identity of individuals wanting to conduct financial transactions is a requirement for every bank. It's a condition of the U.S.A. Patriot Act, which is referred to as the Customer Identification Program (CIP).
The implication is that a bank cannot open an account or issue you with a credit card if your identity is not confirmed. That partly happens through address verification, and it includes the current and prior addresses.
So, you need to update your Massachusetts mailing address if you have moved. By doing so, you will avoid any impediment to your ability to open and retain credit cards or bank accounts.
3. Allows You to Update Your Driver's License
In Massachusetts, drivers must update their address with the government within a realistic timeline after moving. The period is generally within 30 and 90 days. Besides being mandated by law, the requirement gives creditors and government agencies notice of your current address.
Additionally, updating your Massachusetts mailing address impacts the CIP. The reason is that the details on your driver's license can be used to verify your identity.
In that case, if the address on your credit card application, for instance, differs from the one listed on your driver's license or your credit report, a creditor will experience difficulties trying to approve you for a credit card or bank account when confirming your identity.
Other Benefits of Change of Address
If you wish, you can research, organize, and submit your filing directly with the United States Postal Service (USPS) for a fee. However, that will deny you access to some of the benefits we offer that you cannot access through Massachusetts U.S. Post Office authorities. These include;
Live telephone support to address any questions you may have.
One-page online form assistant to accelerate the filing process.
Access to the national do-not-call list registration to help protect your privacy and block unwanted phone calls.
Getting necessary help to avoid prevalent errors when changing your address online.
Reducing unwanted junk mail at your new address.
Alerting the U.S. Post Office in addition to other essential businesses or organizations about your change of address.
The benefits above make the moving process as seamless as possible to help you settle in and enjoy your new home within the shortest time possible.
How to File A Change of Address Using DoNotPay
Forgetting to change your Massachusetts mailing address is one of the most frustrating mistakes you can make. The reason is that you may end up missing months' worth of documents, letters, and other mail still getting sent to your old address.
The best part is that DoNoPay's new product helps you file your address change with USPS. That, in turn, eliminates the need to deal with any of the paperwork. Here are details on how to file a change of address using DoNotPay.
If you want to file a change of address but don't know where to start, DoNotPay has you covered in 5 easy steps:
1. Tell us the new address and when you want to start forwarding your mail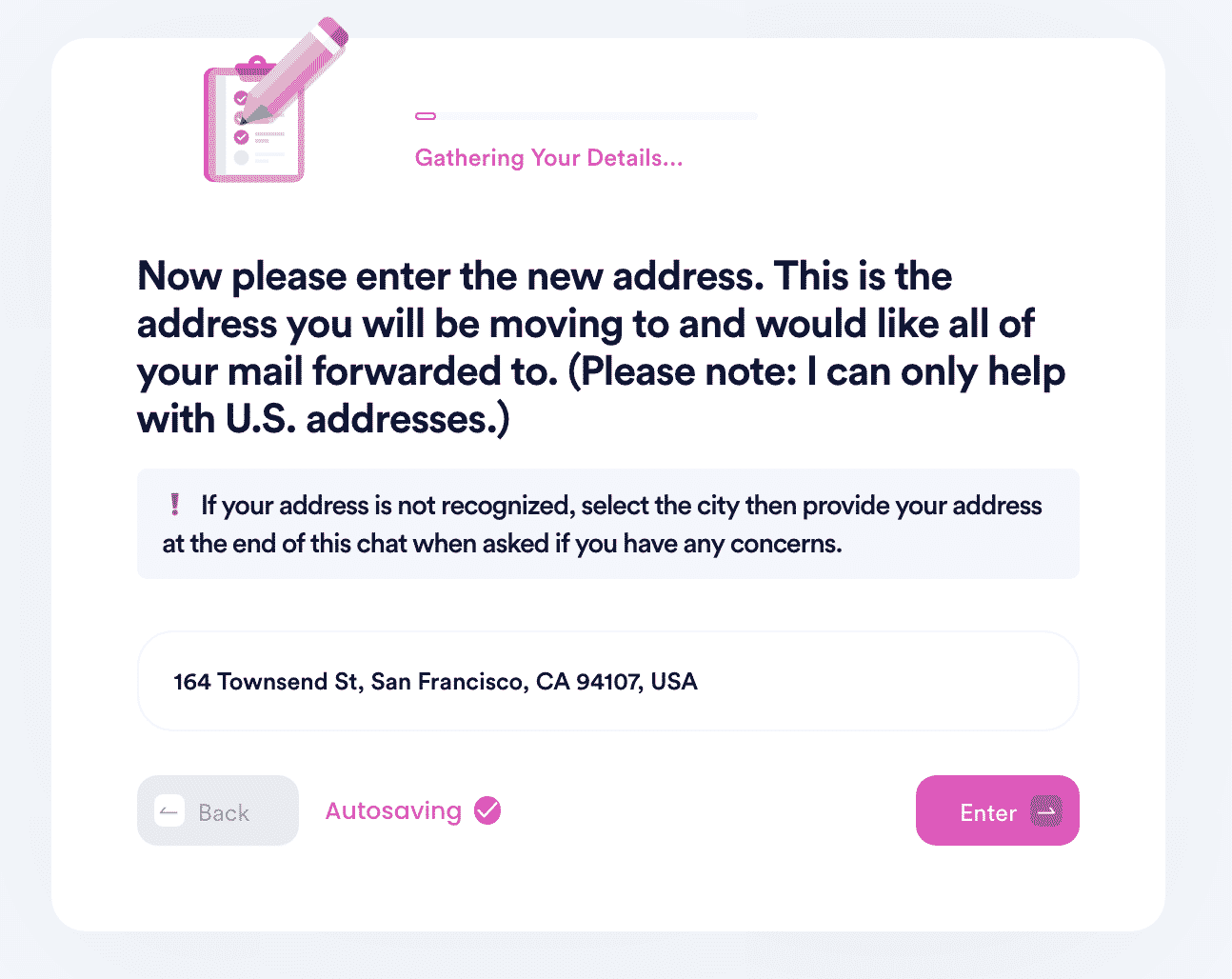 2. Tell us who is moving (is it just you, your family, or your business)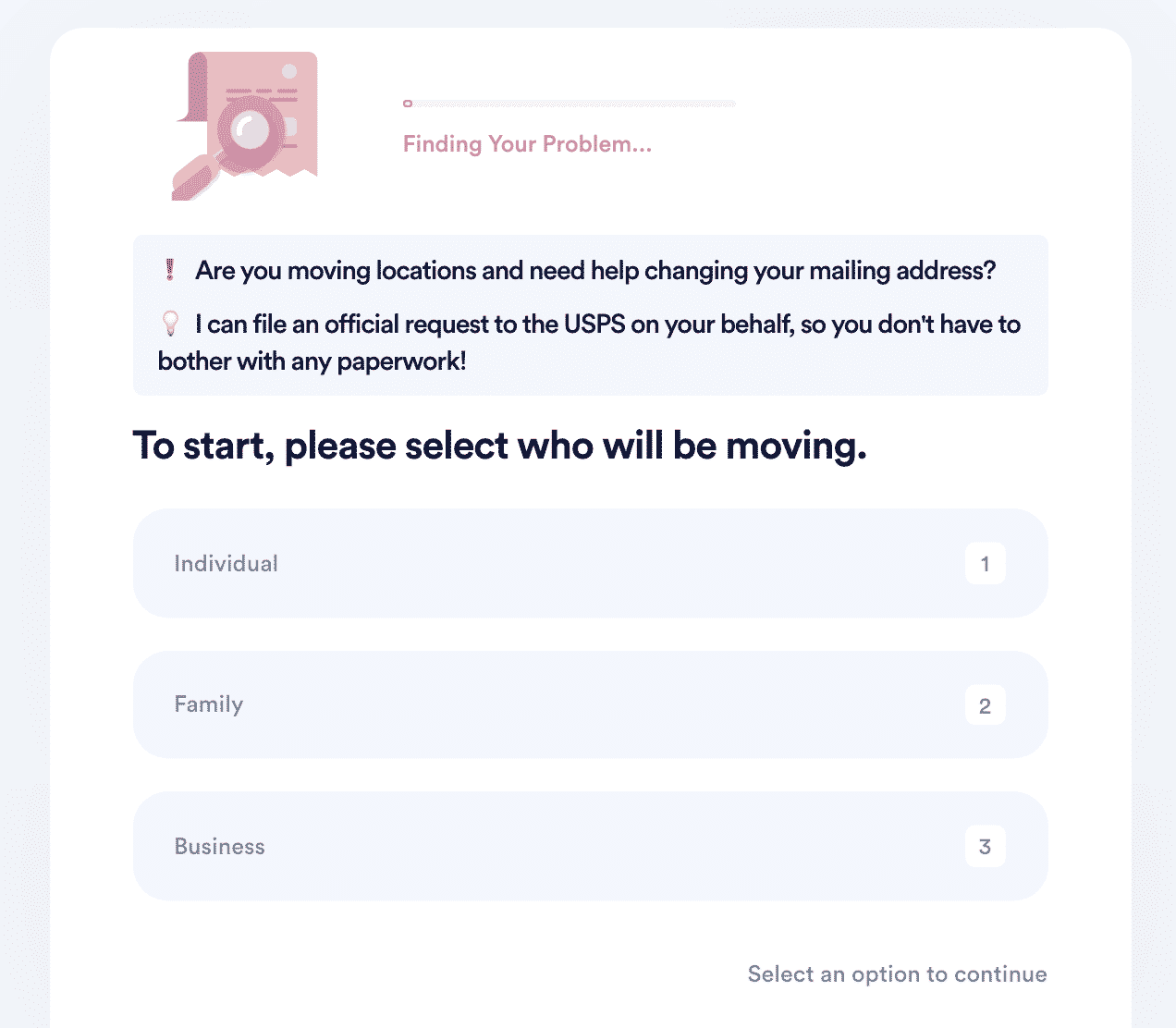 3. Select whether it's a temporary move or permanent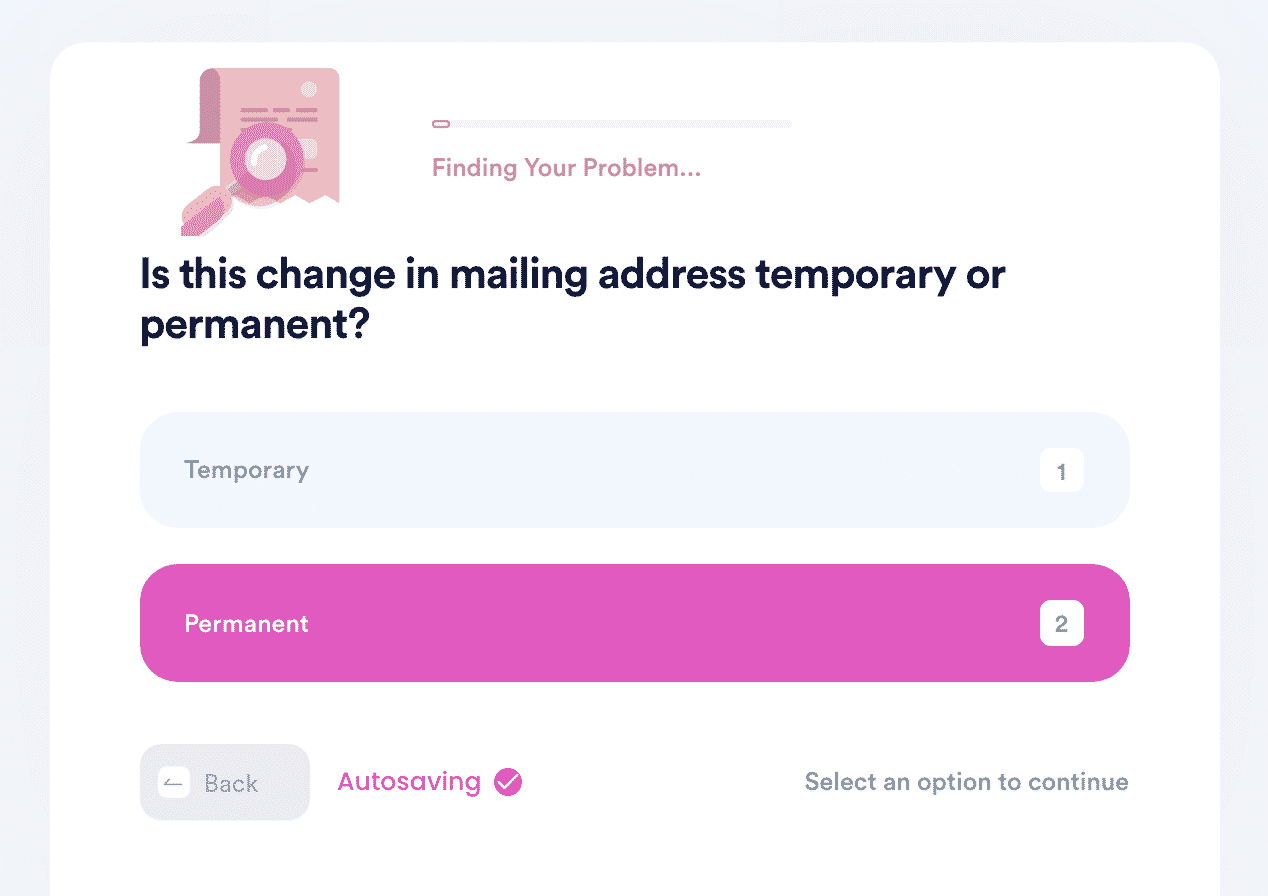 4. Add the option to extend your mail forwarding period beyond 12 months (you can get your mail delivered from your old address for up to 2.5 years)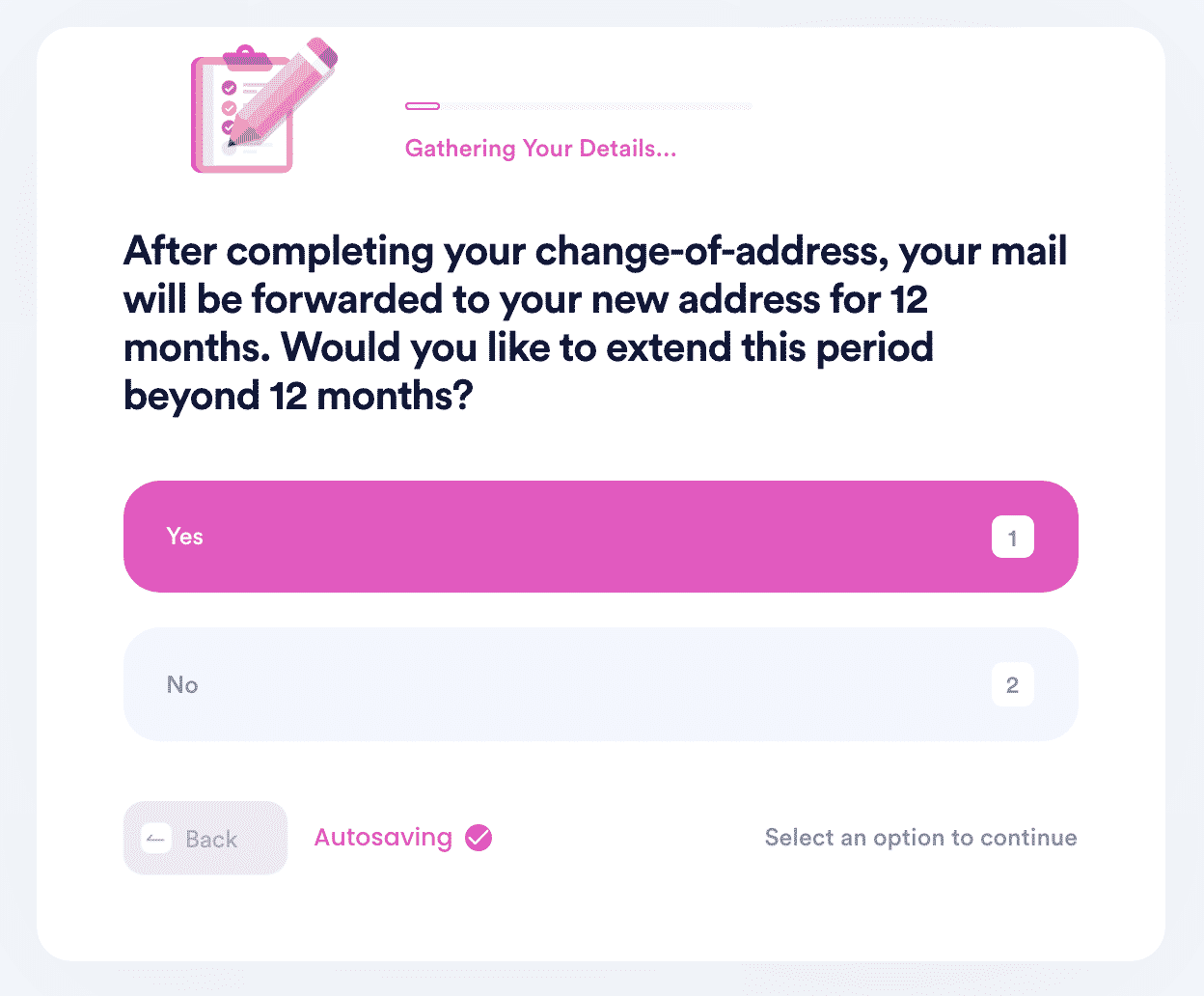 5. And that's it! DoNotPay will take care of the rest on your behalf. You should receive a confirmation email from USPS after your request is completed.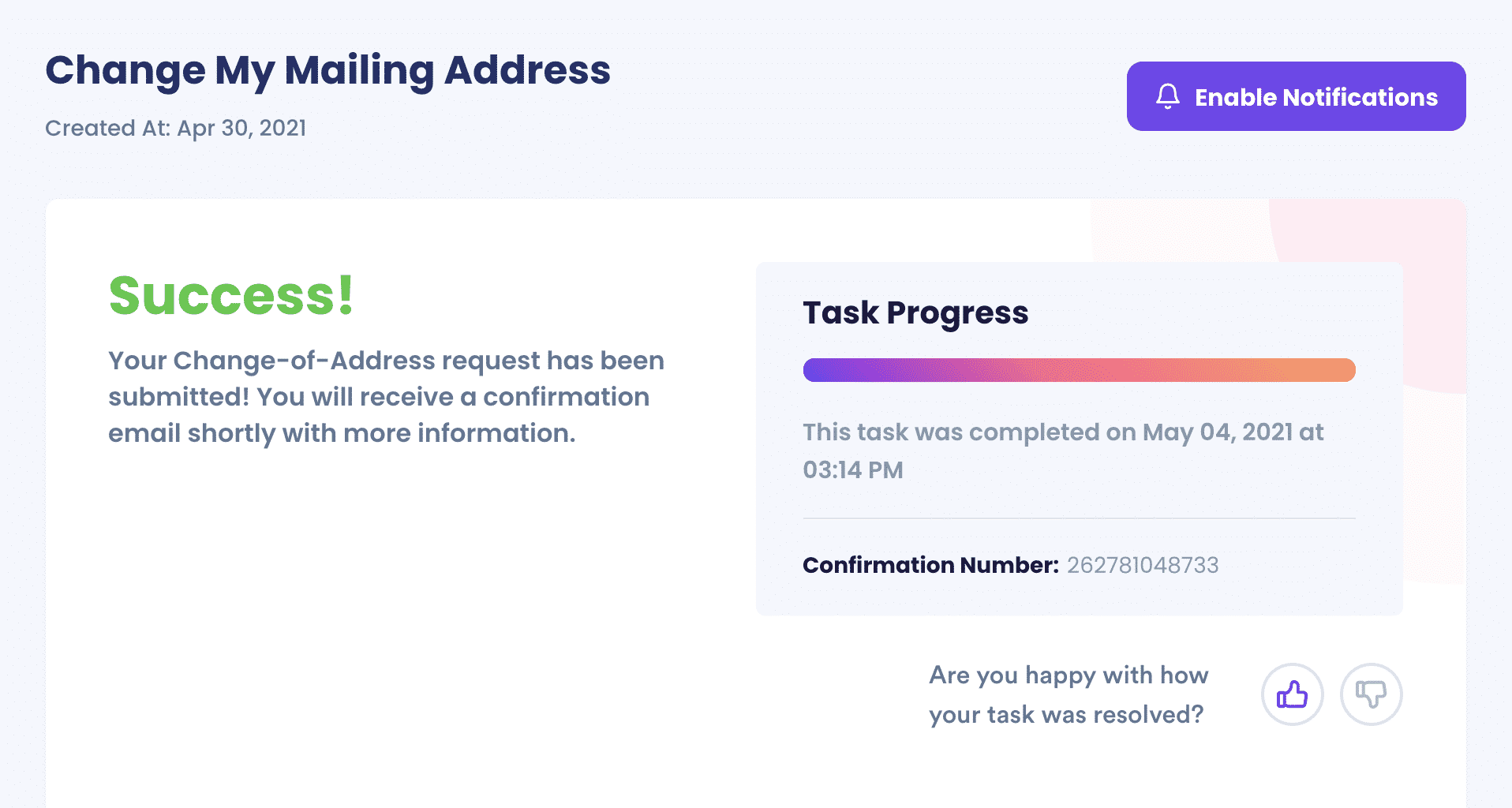 Why Use DoNotPay to Change Mailing Address Massachusetts
| | |
| --- | --- |
| Fast | You don't have to spend hours trying to solve the issue. |
| Easy | You don't have to struggle to fill out tedious forms or keep track of all the steps involved in solving your problem. |
| Successful | You can rest assured knowing we'll make the best case for you. |
What Else Can DoNotPay Do?
Consider Using DoNotPay When Changing Your Massachusetts Mailing Address
Although moving homes is exciting, it is also a stressful event. The reason is that you need to notify friends and family, plan the logistics, arrange transportation, and give away/sell items you cannot take with you. These are some of the things that may cause you to forget to change your address.
So, if you are moving locations and need help changing your Massachusetts mailing address, consider  with DoNotPay to access the services you need.