How DoNotPay Can Help You Get a Certificate of Naturalization in the US
You can become a citizen of the United States through naturalization if you've been living in the country for five years or more. However, the process of obtaining a certificate of naturalization is not straightforward; it can be confusing and overwhelming for many people. It can be expensive and time-consuming to obtain this document, and it requires that you go through an extensive application process with USCIS.
This process has now been made seamless by DoNotPay, a chatbot that provides free legal services. It will provide guidance throughout the entire process and take care of all the paperwork and send it off to USCIS on your behalf.
Why Do You Need a Naturalization Certificate?
Obtaining a certificate of naturalization has the same effect as having been born in the US. You are able to exercise all rights and privileges enjoyed by citizens, including voting, owning property, getting federal jobs, applying for student loans, and more.
What Are the Requirements for Obtaining a Certificate of Naturalization?
It is imperative that you meet several requirements before applying for this document. Among them are:
Being at least 18 years old or above
Residing legally in the US
Living there continuously
Your permanent residency not having expired yet
You haven't violated any other laws while living in the US
How Long Does It Take To Get Your Naturalization Certificate?
Once you meet the requirements, it is possible to get your certificate within eight months of filing. However, it might take longer if certain requirements are not met.
What Are the Steps to Obtaining a Naturalization Certificate?
If you're a permanent resident and want to apply for U.S. citizenship, there are several steps that need to be taken in order to become naturalized as an American citizen. One of the most important steps is applying for your Naturalization Certificate. Here is what you need to do:
First, you have to file Form N-400 Application for Naturalization with the proper fee and supporting documentation.
You will then schedule an interview at your nearest USCIS office where you will be required to answer a few questions about your application.
You will then take the English and civics tests which are required to determine if you have sufficient knowledge of basic English and some history about the US. If you fail these, you can retake them again after 90 days.
Your naturalization certificate will then be sent to you after all of the above steps have been completed.
How Can DoNotPay Help You Get a Certificate of Naturalization?
If you're worried about the length and complexity of the application process for a certificate of naturalization, rely on DoNotPay. It has simplified everything so that you don't have to waste time on paperwork and can concentrate on other daily activities. Here is how it works:
| | |
| --- | --- |
| Provide Documentation | You must provide documents such as birth certificates and IDs that will ensure that your citizenship application goes smoothly. Any relevant documentation you may have regarding previous dealings with USCIS should also be provided at this stage. |
| Legal Advice | DoNotPay provides you with free legal advice throughout the application process regarding this intricate bureaucracy of documents, papers, fees, and tools. If you are not sure what to do at any stage or whether there are other requirements that must be met, simply ask DoNotPay for assistance. |
| Filing the Application | DoNotPay will file your forms on your behalf with USCIS, taking care of all the paperwork needed to complete Form N-400 properly. You simply have to sit back and follow all instructions; you will get to complete the process of becoming a US citizen faster |
| Reschedule Your Interview | With the support of DoNotPay, you can reschedule your citizenship interview online with USCIS at any time. You will need to provide a reason for the request – DoNotPay can help with this as well. |
| If You Fail | It is possible that you will fail one of the two English or civics tests during your interview. DoNotPay will help you retake them again without any additional hassle! |
Don't waste any more time on paperwork and instruction manuals alone – let DoNotPay guide you through every step of the way! The entire process becomes much more manageable when there is someone available to ask questions 24/7.
How to replace USCIS-issued naturalization or citizenship certificates using DoNotPay: If you want to replace USCIS-issued naturalization or citizenship certificates but don't know where to start, DoNotPay has you covered in easy steps:
1. Search "naturalization certificates" (or "USCIS") on DoNotPay.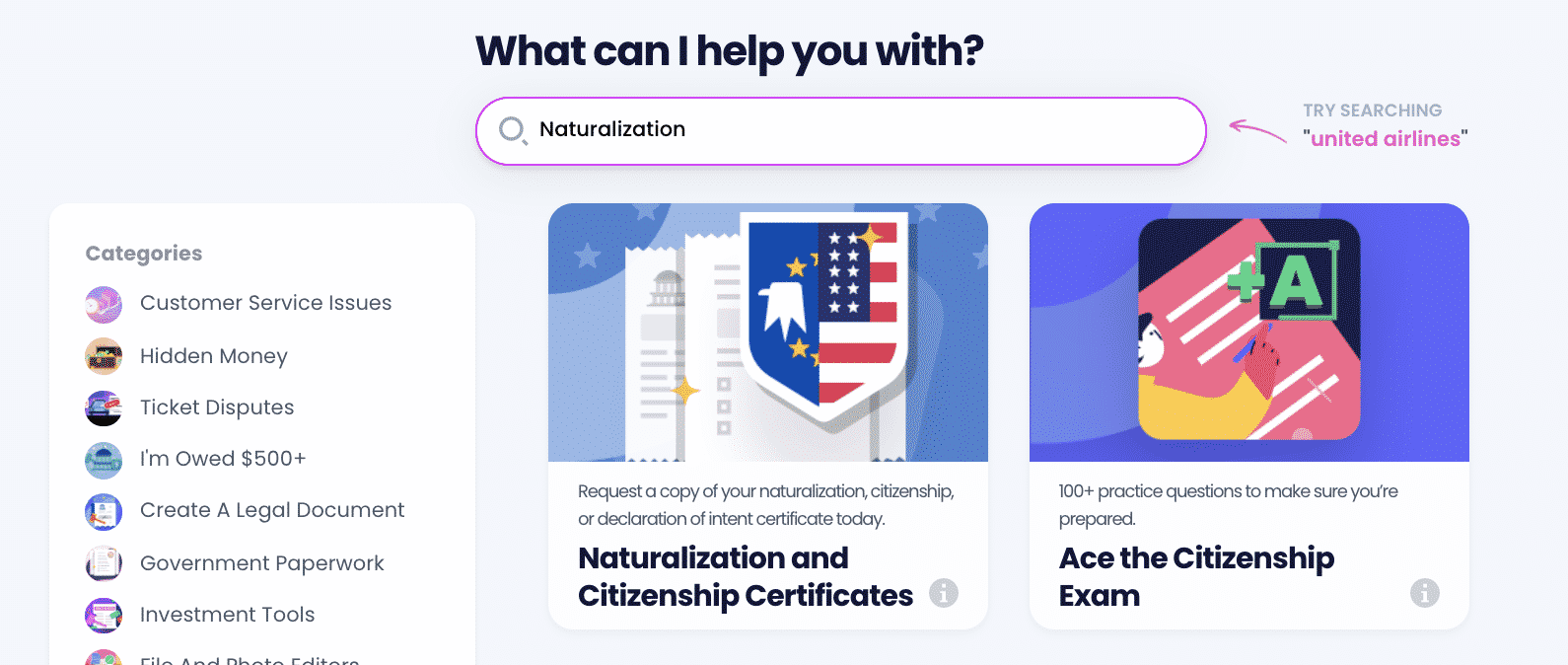 2. Select the document you are applying for, and the reason why you need a replacement.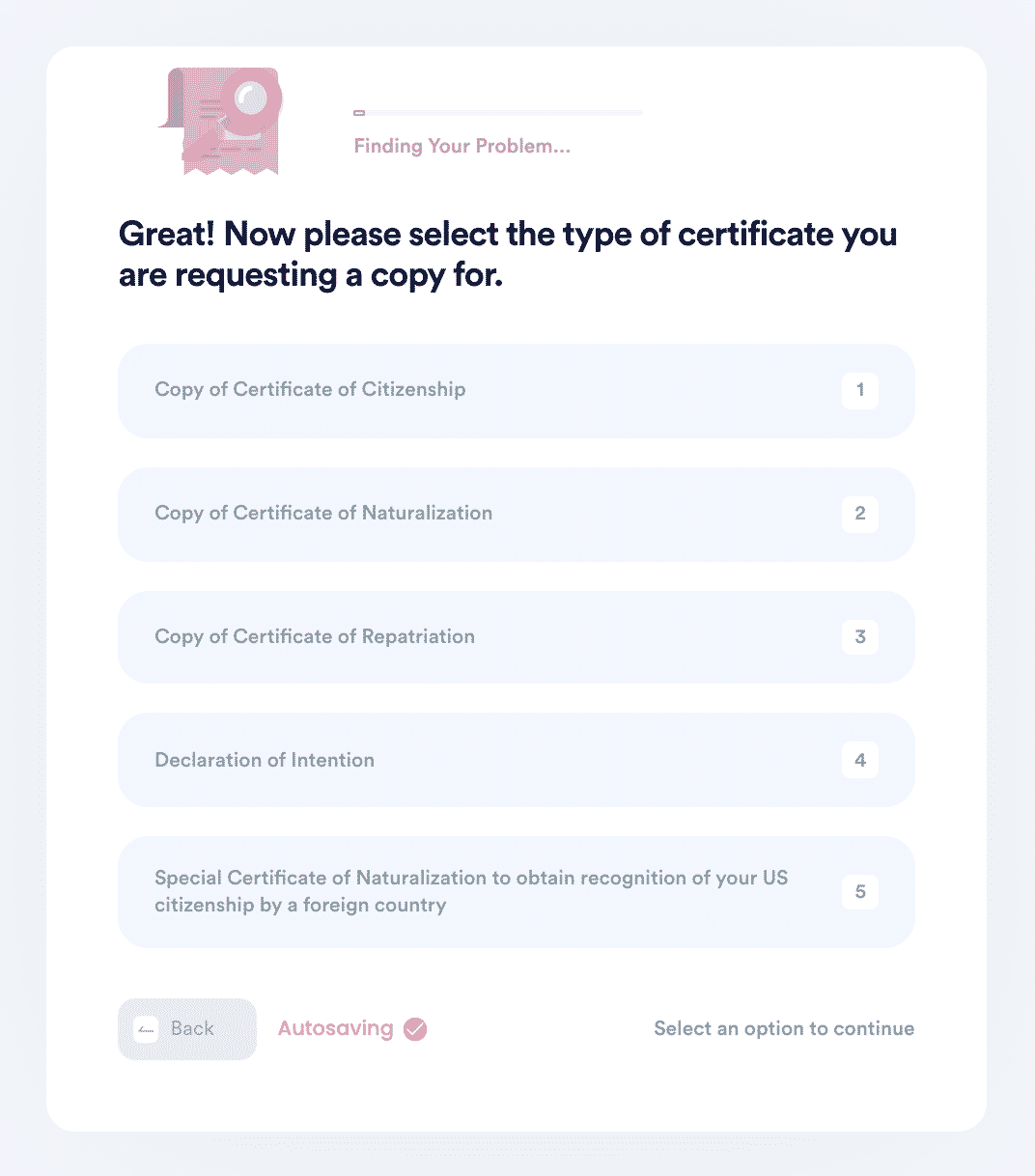 3. Tell us more about the original certificate, including the certificate number, when it was issued, and the details of the person it was issued to. Upload evidence files to support your claims.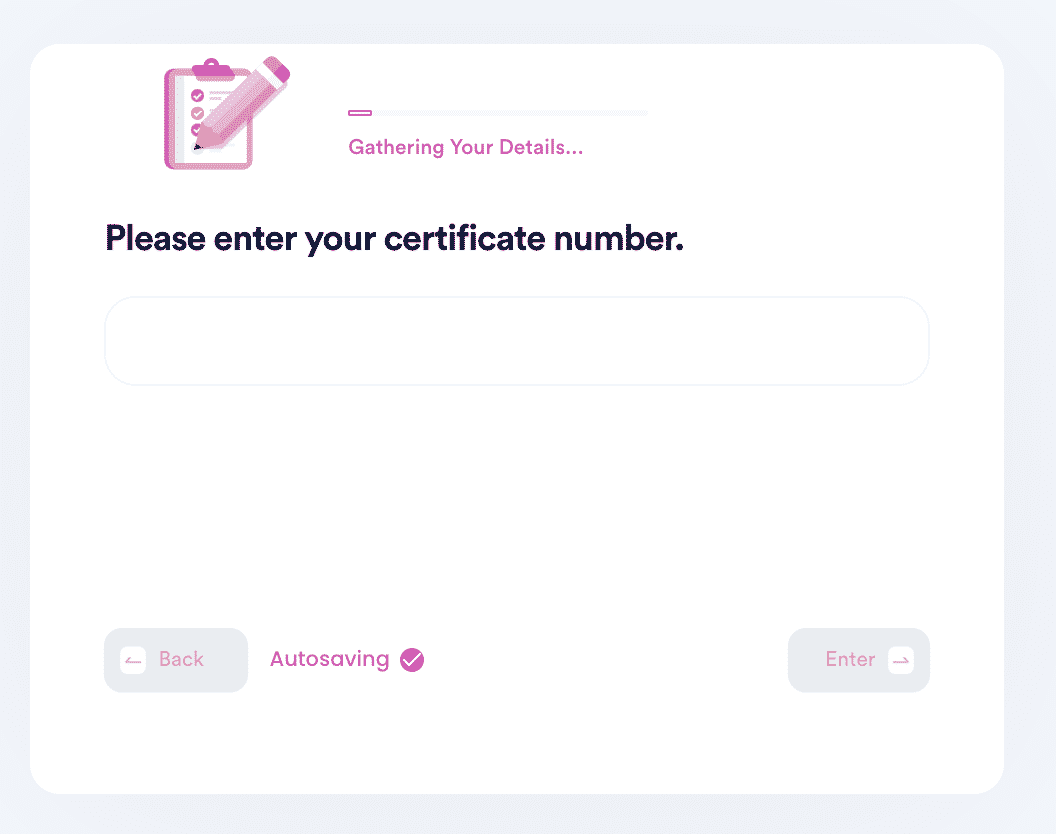 4. Enter the contact information for any preparers and interpreters that helped with the application. Select whether you want to pay the application fee by check or credit card.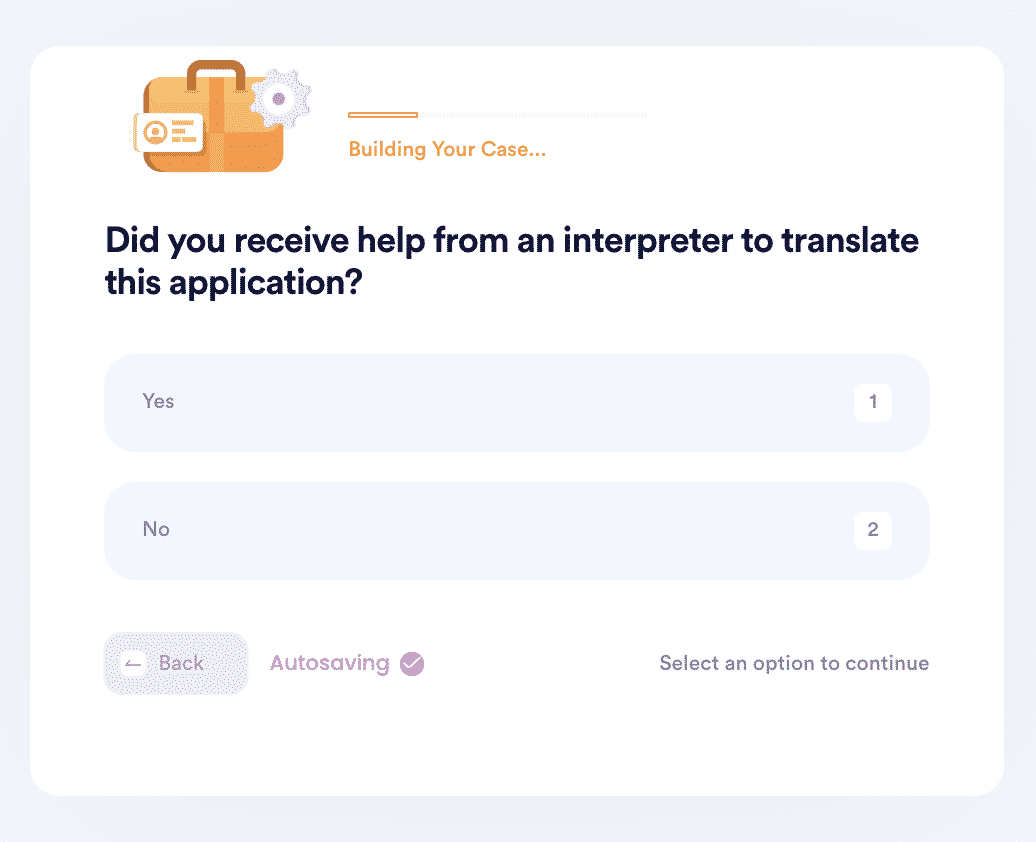 5. Indicate whether you would like to receive a digital copy of your forms or have us mail them to you.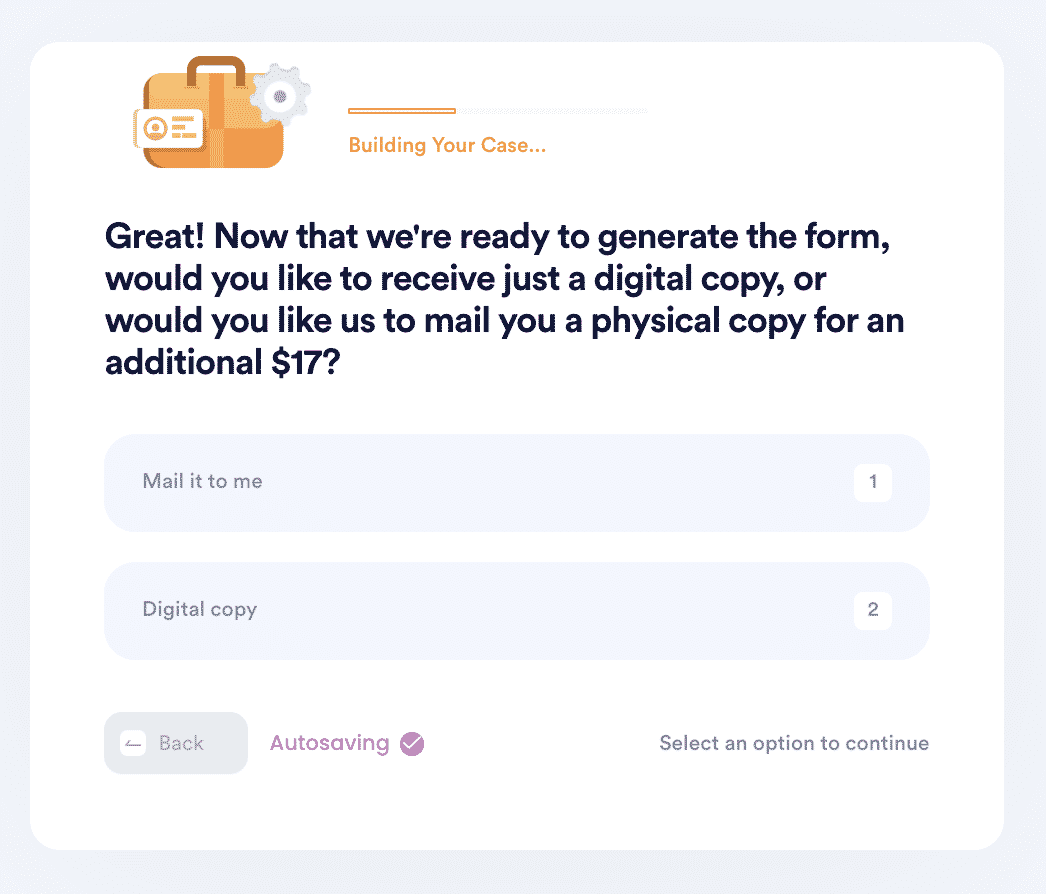 Why Use DoNotPay to Get a Certificate of Naturalization in the US?
If you want to live and work in the United States, a Certificate of Naturalization can be an important step on your path. It is possible that getting this certificate may not seem like it's worth all of the time and effort required, but it is well worth doing.
When it comes to getting a certificate of naturalization in the US through DoNotPay, you can feel confident that your application will be handled with care and speed. With this service, there will be less time wasted on paperwork, and more money saved.
What Else Can DoNotPay do?
Aside from helping you get your naturalization certificate, DoNotPay can help you:
get back money that you've overpaid for parking tickets
get compensation for delayed or canceled flights
cancel unfair subscription plans
get out of paying the penalty for late filing of employment documents
fight your traffic tickets
The basic idea behind the company is to fight legal cases on behalf of clients for free. Other issues that DoNotPay can assist with include:
If you want to get a certificate of naturalization in the US, consider using DoNotPay. You can save time and money by avoiding an expensive lawyer who is going to charge you for every single thing they do on your behalf. The free AI chatbot will guide you through all of the steps that are involved with getting this official documentation from USCIS.