How To Get a Copy of a Divorce Certificate in Salem, MA
Filing a divorce is not simple, and getting a copy of a divorce certificate might take longer than anticipated. However, there are important events that need you to provide documentation of legal divorce, such as changing your immigration status or remarrying.
Divorce certificates and decrees are public records in Massachusetts unless sealed by a court order. However, you need to file a request to the city clerk to get a copy of your divorce certificate.
Here is a step-by-step guide on how to obtain a divorce certificate in Salem, Massachusetts. DoNotPay makes the process more convenient by helping you order a divorce certificate instantly.
The Difference Between Divorce Certificates and Divorce Decrees
Divorce certificates and decrees are part of divorce records, and people often confuse the difference between the two. A divorce record is any official document that provides evidence that a couple has legally terminated their marriage.
A divorce certificate is a one-page legal document that proves evidence of legal marriage termination and separation between a couple. A divorce certificate does not contain details such as child custody.
A divorce decree is a final statement from the divorce court. The decree contains fine details regarding every shared part of the marriage, including child support, property division, alimony, etc.
The process of acquiring copies of divorce records, certificates, or decrees is the same in Salem, MA.
How To Get a Divorce Certificate Copy in Salem, MA By Yourself
There is a legal process you need to follow to obtain a copy of your divorce record, certificate, or decree. You will need a docket number to access a copy of your divorce certificate. Search for your case on Masscourts website or contact the probate and family court where your case was heard, to get your case docket number.
To retrieve your docket number, you will need to provide both your partner's and your first and last name, and the division the divorce was filed in.
There are two ways you can get a copy of your divorce certificate in Salem by yourself, check out the table to learn more.
1. In-person 
Fill in the request for copies form and bring the form and payment in person to the Probate and Family Court you are requesting your records from.
2. By Mail 
Mail the request for copies form and payment to the probate and family court you are requesting your records from. Use the alternative request for copies if you cannot complete the process in one sitting. The form is downloadable and allows you to save a partially filled-out form to finish later or for reuse.

NOTE: If you are looking for a historic divorce record, you can only access it through the  Accessing Court Archives.

You need to pay $20 for each Certificate of divorce absolute copy you request. Make the payments through an attorney's check, money order, bank certified check, or bank cashier's check. You should make all payments out to the Commonwealth of Massachusetts.

The Probate and Family Court will mail your divorce certificate in 10-14 business days. You can receive the documents faster, within 5-7 business days, through the Expedited retrieval service.
But there is a faster, easier, and hassle-free way to order your divorce certificate in Salem.
Get a Copy of a Salem Divorce Certificate Using DoNotPay
Getting a copy of your divorce certificate through the official way can take longer than expected and might not be reliable when you need your certificate within a short period. DoNotPay is here to help you out and make the process faster.
How to get a copy of a Salem divorce certificate using DoNotPay:
If you want to get a copy of a divorce certificate in Salem, Ma, but don't know where to start, DoNotPay has you covered in 7 easy steps:
1. Go to the Certificates of Divorce product on DoNotPay.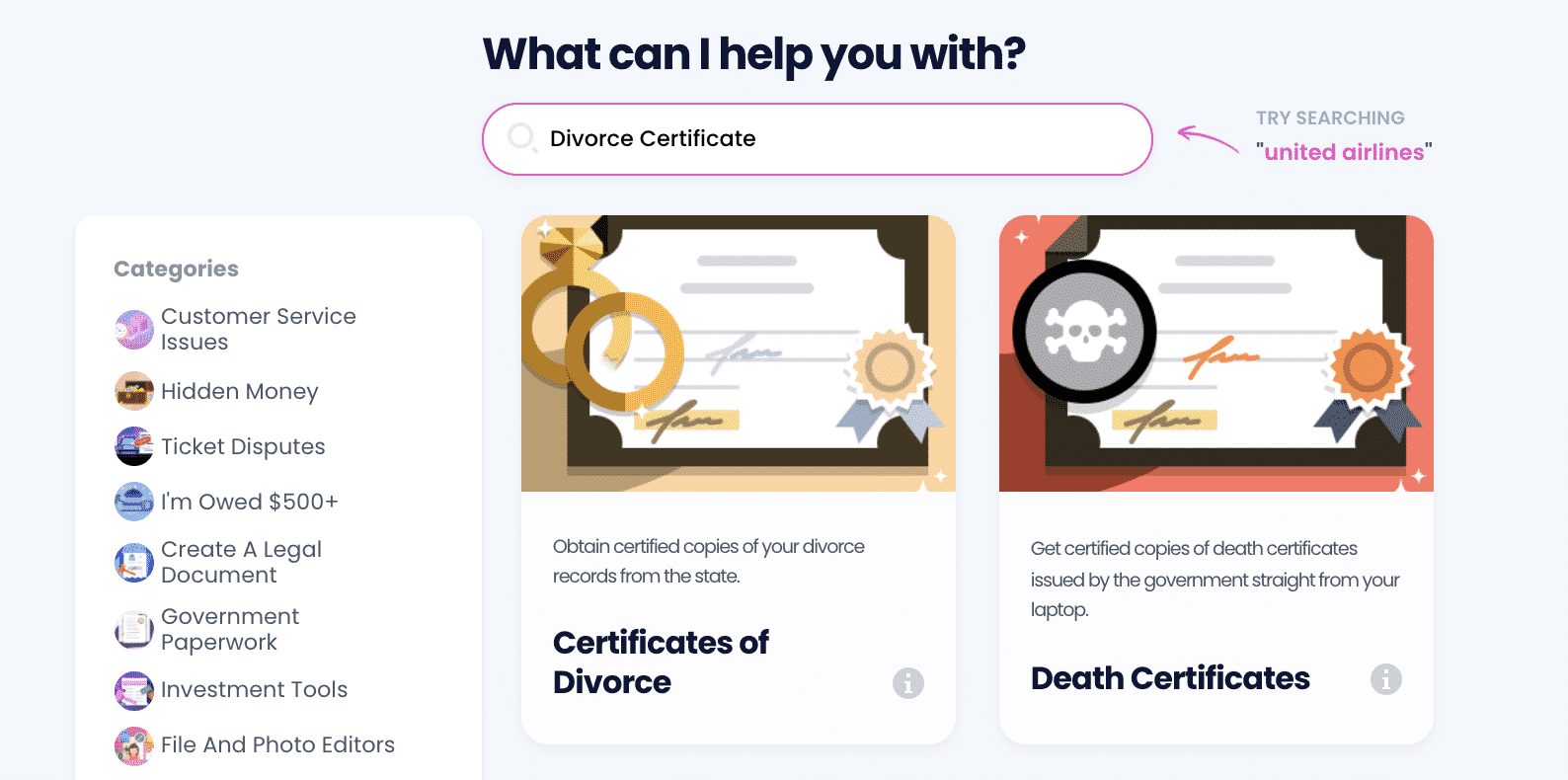 2. Select whether the certificate belongs to you or a relative/loved one. If it belongs to someone else, enter the details of both people on the certificate and select/upload evidence that proves your relationship with them. If the certificate is yours, enter the details of your spouse.*Please note: some states only allow people named on the certificate to apply.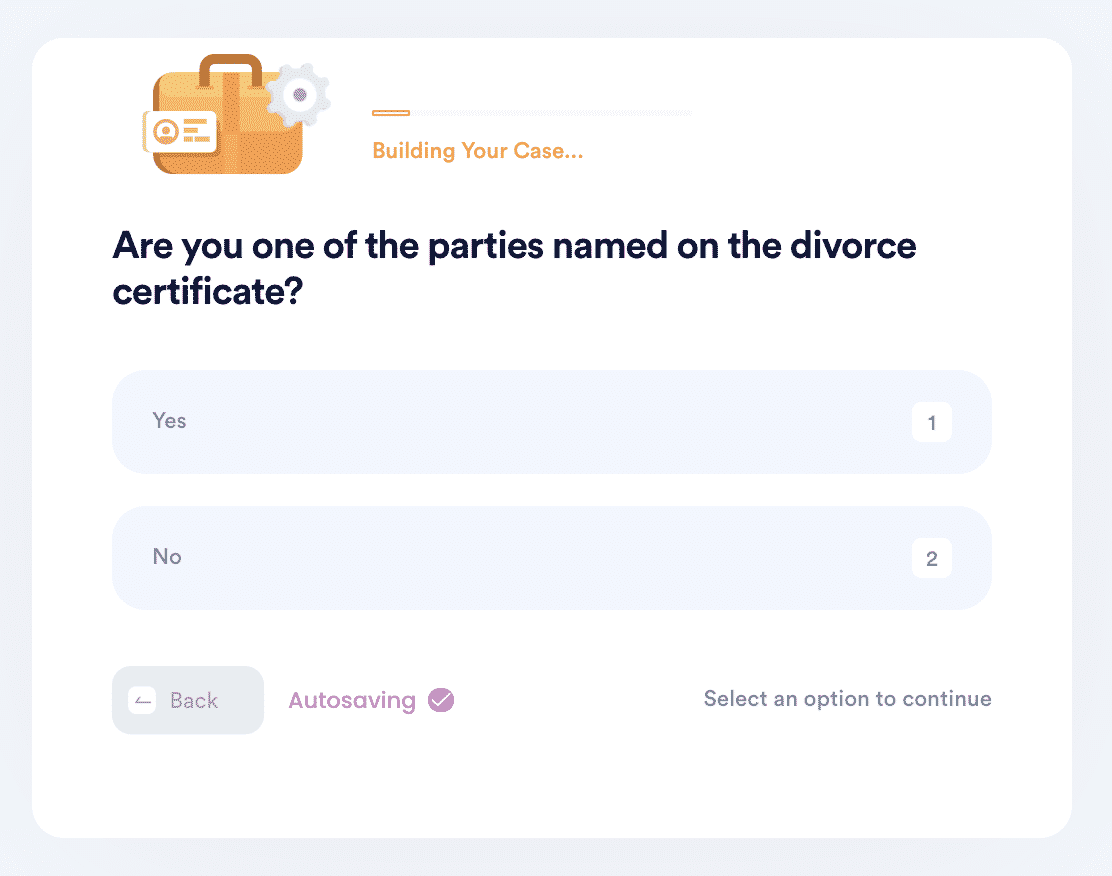 3. Enter the city, state, and county where the divorce certificate and original divorce certificate were issued as well as the dates they were issued.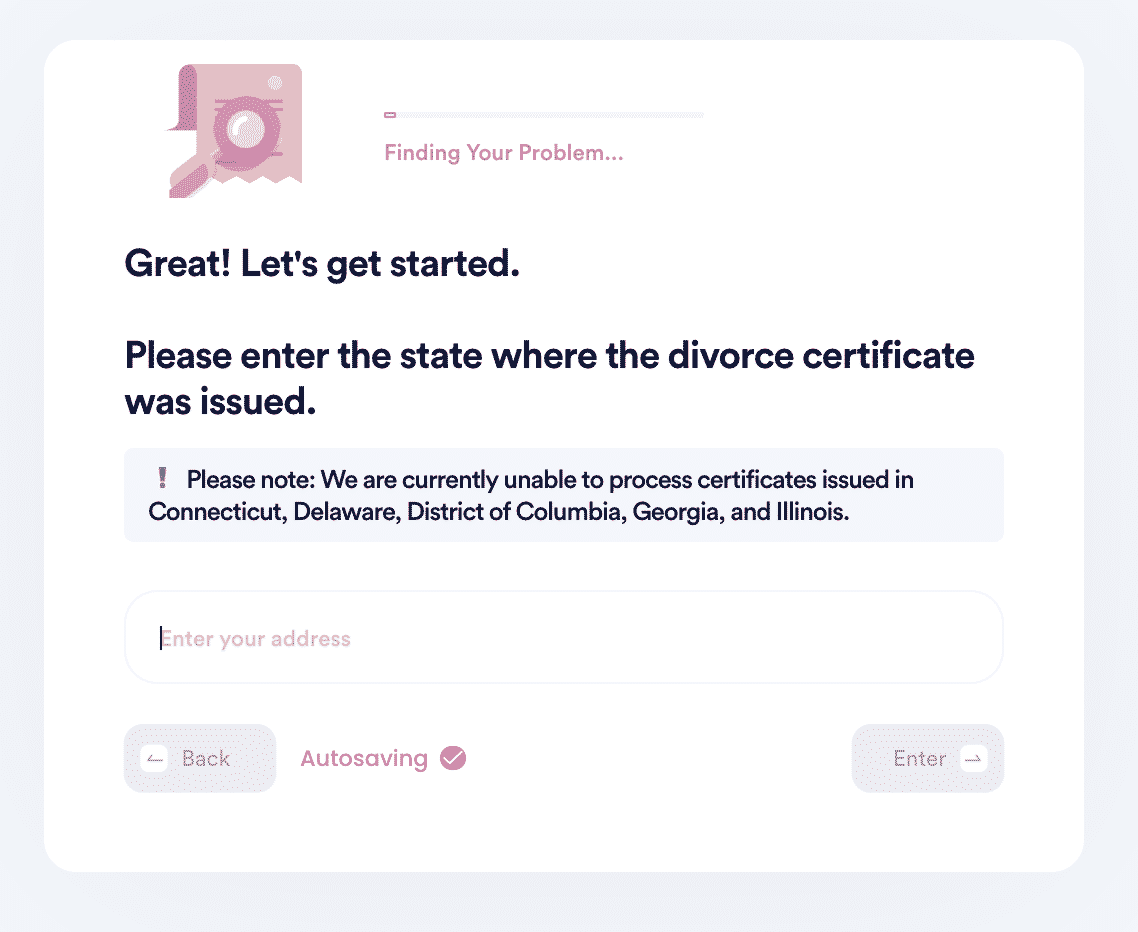 4. Indicate what you will be using this certificate for, and choose whether you need an authorized or certified copy.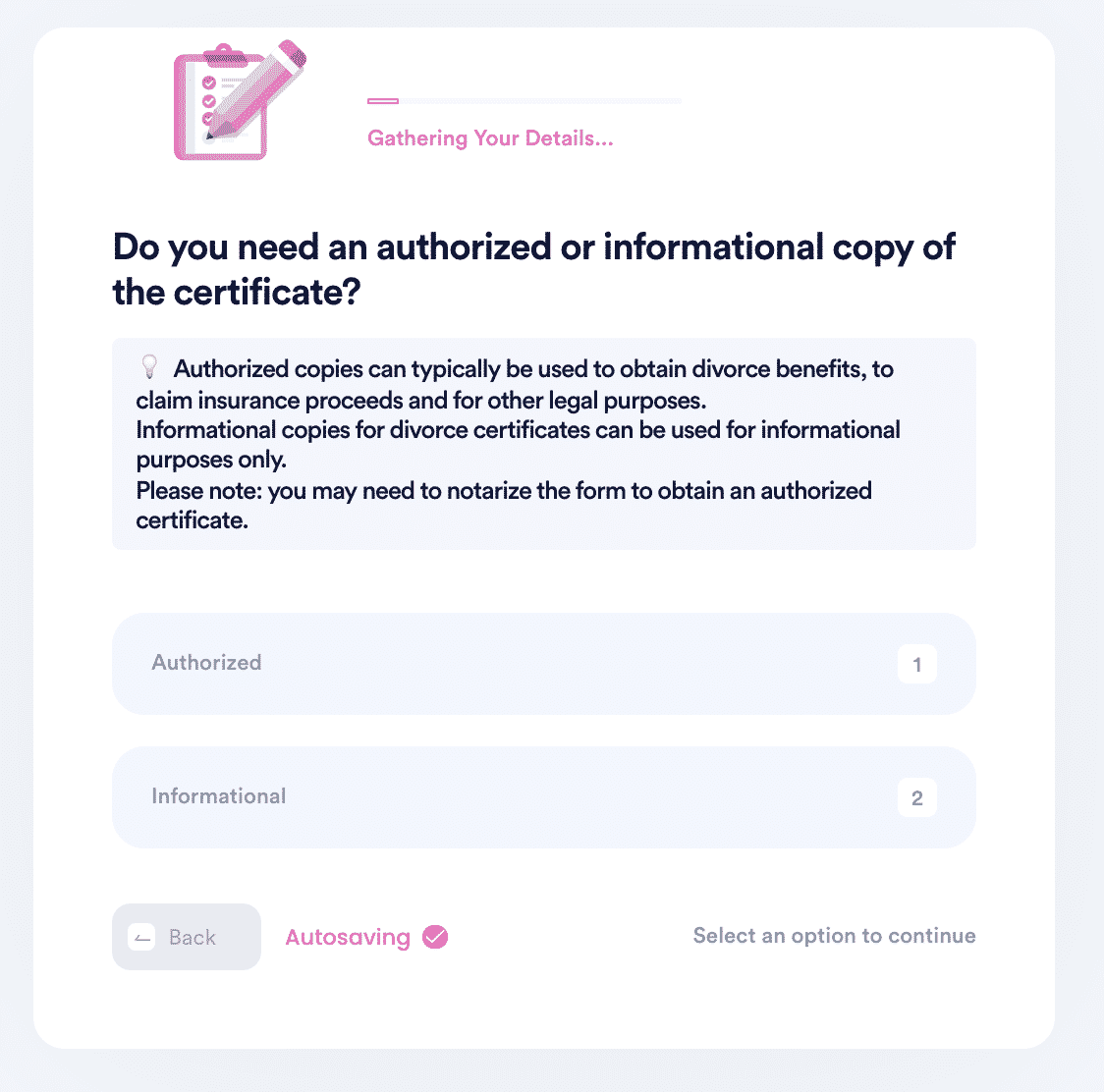 5. Enter your contact information and shipping address. Upload copies of your government-issued identification, such as a driver's license.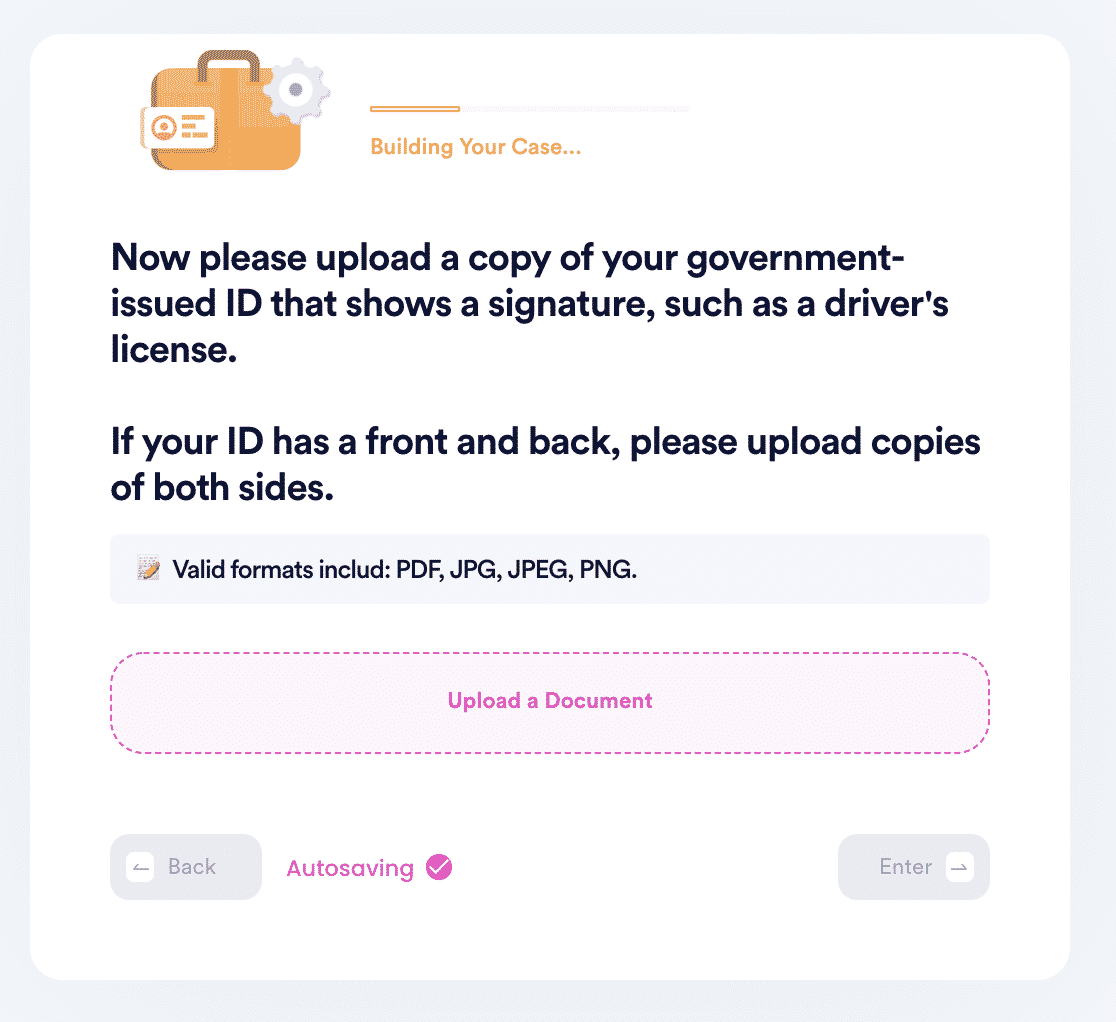 6. Choose whether you would like to electronically sign this form or not. Once we generate the form, verify that all of the information is correct.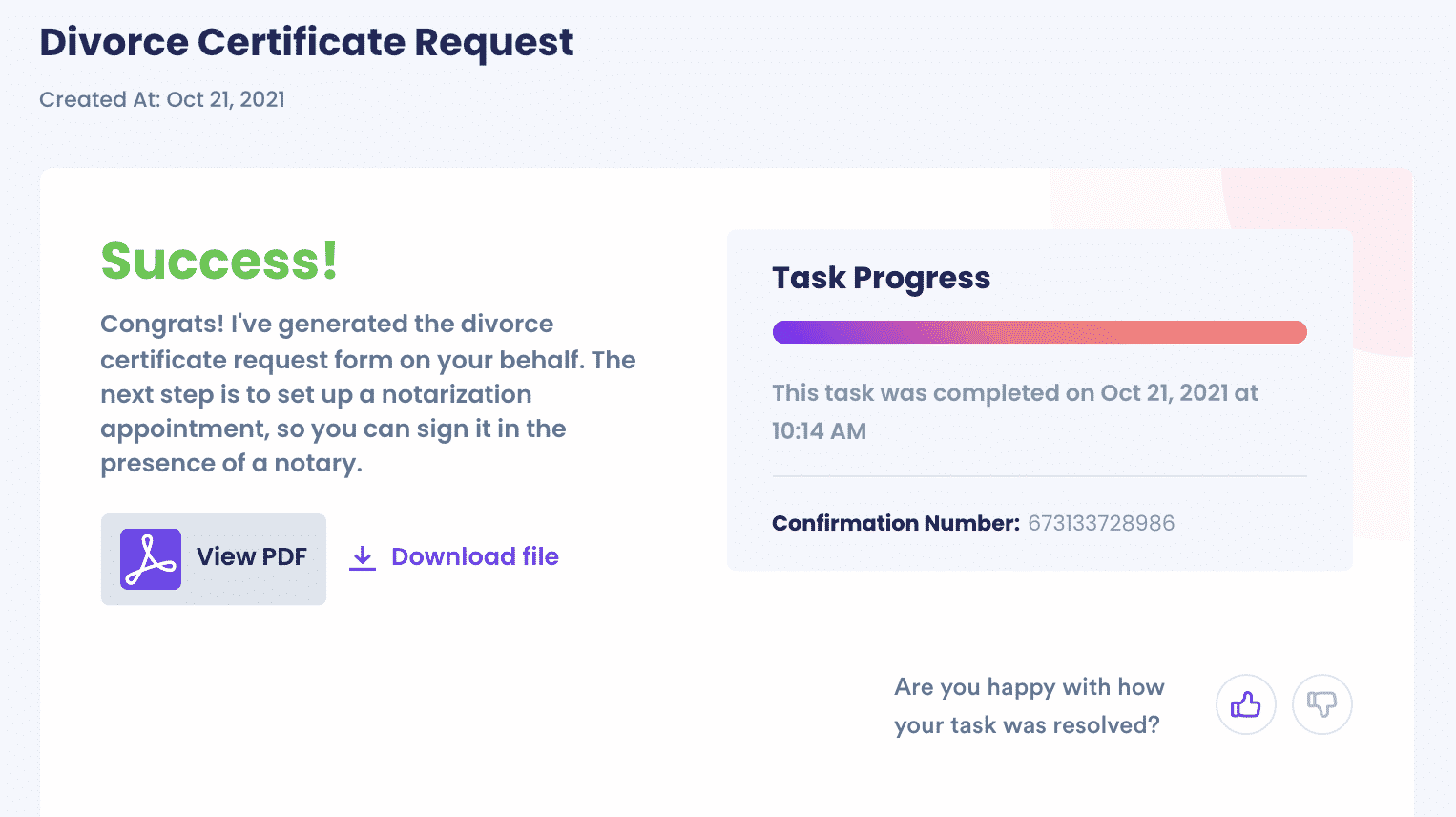 7. If you need the document to be notarized, schedule a notarization appointment using our Notary product. Otherwise, proceed to our Mail Checks product and let DoNotPay mail in your request form with a check on your behalf.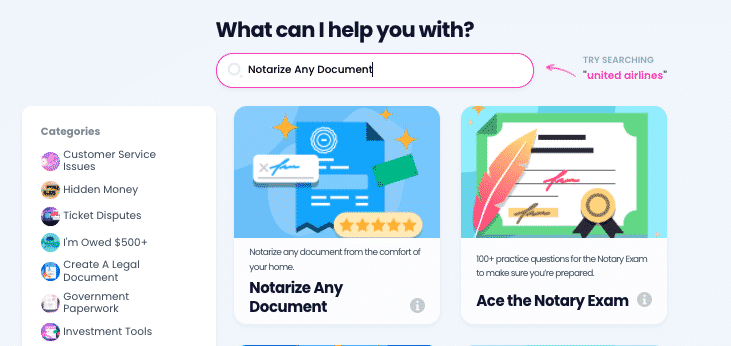 Why Use DoNotPay to Solve Your Salem, MA Divorce Certificate Problems?
We can help you get divorce certificates in any state that you live in, including:
DoNotPay Has More in Store for You!
DoNotPay is a fully-fledged AI lawyer who can help you get divorce certificates in Salem, Ma, among other services. Are you stuck with an administrative or legal process? DoNotPay can help you by offering simplified ways to solve all your issues.
Here are some services you can get once you sign up on our website:
Sign up on our website today and enjoy these services and more from your phone.