Easy-to-Use Cease and Desist Letter Template
A cease and desist letter is usually the best first step to take when launching a legal procedure. It notifies the recipient that they are violating the sender's rights or engaging in injurious activities. In this article, we will provide you with an easy-to-use template that you can simply fill in to send a cease and desist letter.
What Is a Cease and Desist Letter?
A cease and desist letter or demand letter is a written document that formally requests the recipient to stop engaging in illegal, injurious, or unwanted behavior. In contrast to the cease and desist order, the letter is not legally binding and cannot force the individual or business receiving the letter for compliance. There are many situations where a cease and desist letter can be suitable such as:
Debt collection
Copyright or trademark infringement
General harassment
Bullying and cyberbullying
Stalking and cyberstalking
Invasion of privacy
Breach of contract
Property boundary encroachment
Cease and Desist Letter Template
A cease and desist letter is considered a courtesy to the individual or business who can potentially end up as a defendant in a lawsuit. It gives them a fair warning to resolve the issue before you proceed with litigation. If after exploring other options and you believe that sending a cease and desist letter is your next best step, we have come up with an easy to use the template that you can follow:
What It Is
Sample
The recipient's name and information
To [insert recipient's name and address)
A detailed description of the unlawful and injurious behavior
It has come to my attention that you have made a defamatory and false statement about me. The following false statement(s) was made:

[insert the false statements and when or where they were spoken or written]

Establish how their actions can potentially be defamatory. For example, state whether the action was libel or slander.
The statement(s) was [insert how they were published and who heard, saw, or read them] and is willfully misleading and without merit because [insert statements of truth or fact or include legal grounds that can support your letter].
Establish injury or damages of the acts
The false statement(s) that you made is reckless and highly defamatory, and has affected me in the following ways: [insert the damages, harm, or loss that you have suffered as a direct cause of the false statements].
Identify what actions you need the recipient to comply with (i.e. take down defamatory content online or in print, publish a retracting statement, issue an apology, notify the sender when compliance has been completed, etc)
I hereby demand that you immediately cease and desist from making any and all false and defamatory statement(s) against me. And I request that you comply with the following actions: [insert what you need for the recipient to do to resolve the issue], within [insert number of days] days of the date of this letter.
Specify legal actions you plan to take if the behavior doesn't stop
If you do not cease and desist within the above-stated time period, I will be forced to take appropriate legal action against you and will seek all available damages and remedies.
A strong ending statement
Govern yourself accordingly.
The sender's name and date from which a reasonable timeline for compliance will be based
[insert name and date]
Delivery of Cease and Desist Letter
In some cases, the recipient may use the defense that the sender failed to deliver the letter correctly which resulted in the recipient unintentionally ignoring a cease and desist letter. To avoid this from happening, you need to check with your jurisdiction for the appropriate service delivery. This way, you can make sure that the delivery of the documents can be proven in court. To avoid delivery disputes of your letter, you may do the following
Deliver the letter in person and acquire an Affidavit of Service
Hire a process server to deliver the letter on your behalf
Use a registered mail service in delivering the letter and obtain a Certificate of Posting
Keep a copy of the letter
Send a copy of the letter to your lawyer
Keep a record of the time, date, and place of delivery
Pointers When Writing a Cease and Desist Letter
Although the template is ready to download and fill in, there are some parts of the letter where you may need to compose them by yourself. When writing the content of a cease and desist letter, there are some considerations that you need to take, as follows:
Avoid threatening to sue early in the letter as this may come off as too aggressive.
Be clear in the intentions of the letter and what unlawful behavior you need the recipient to stop.
The tone of your letter should be firm enough to get the recipient's attention but not too quarrelsome.
Avoid making empty threats that you are not willing to follow through.
Use language that is not vague and include legal references in your letter.
Get a Cease and Desist Letter from DoNotPay
The best way to ensure compliance and accurate technicalities of your cease and desist letter is to allow a legal expert to draft or review it. However, this expertise also comes with prohibitively high costs. That is where DoNotPay can help. Our AI lawyer can help you draw up a cease and desist letter without the headache or the stress. All you have to do is:
1. Search for Defamation Demand Letters on DoNotPay.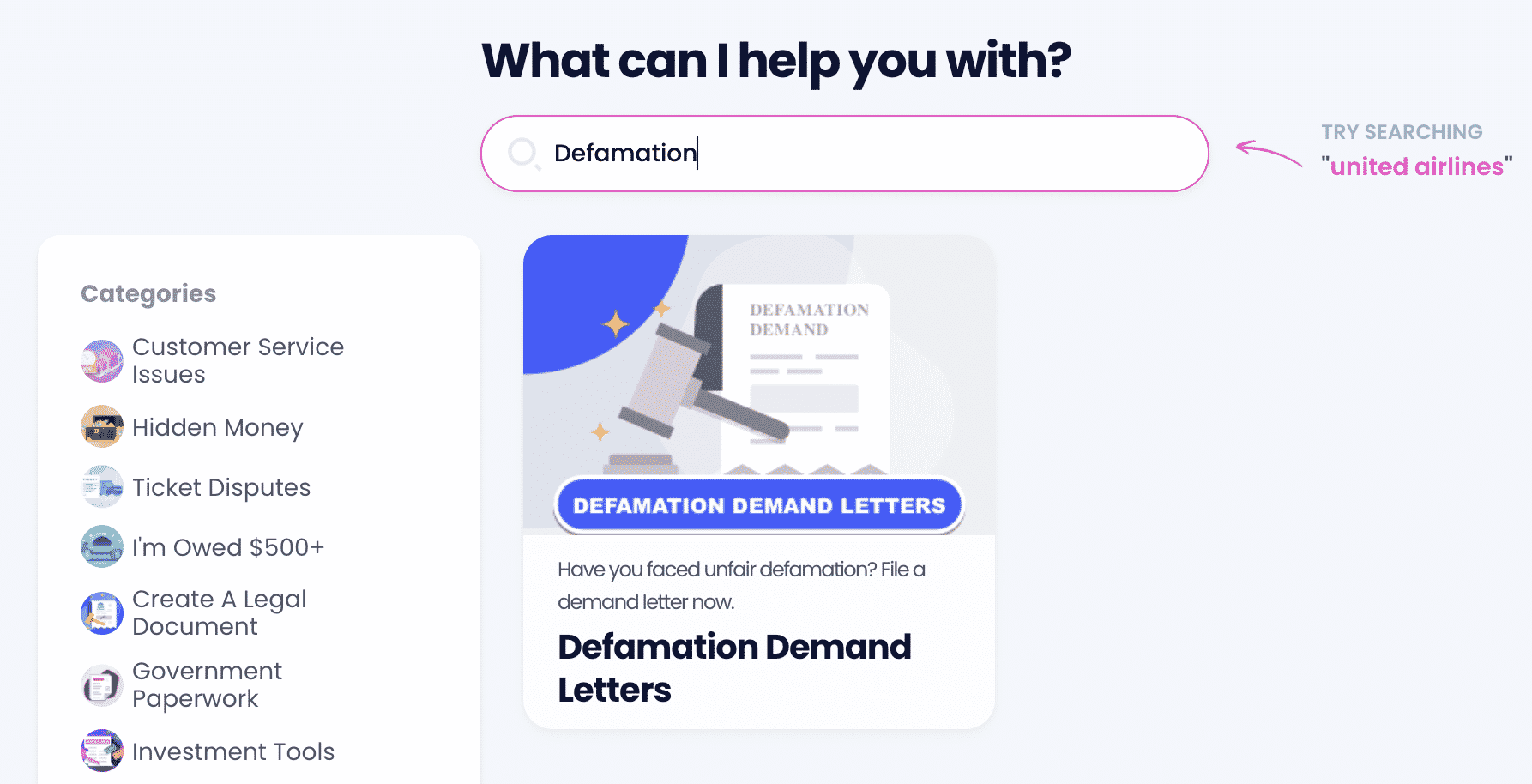 2. Tell us about your situation, including whether the statements were libel or slander, listing the statements that were made, explaining why they are false or misleading, and what consequences you have suffered as a result.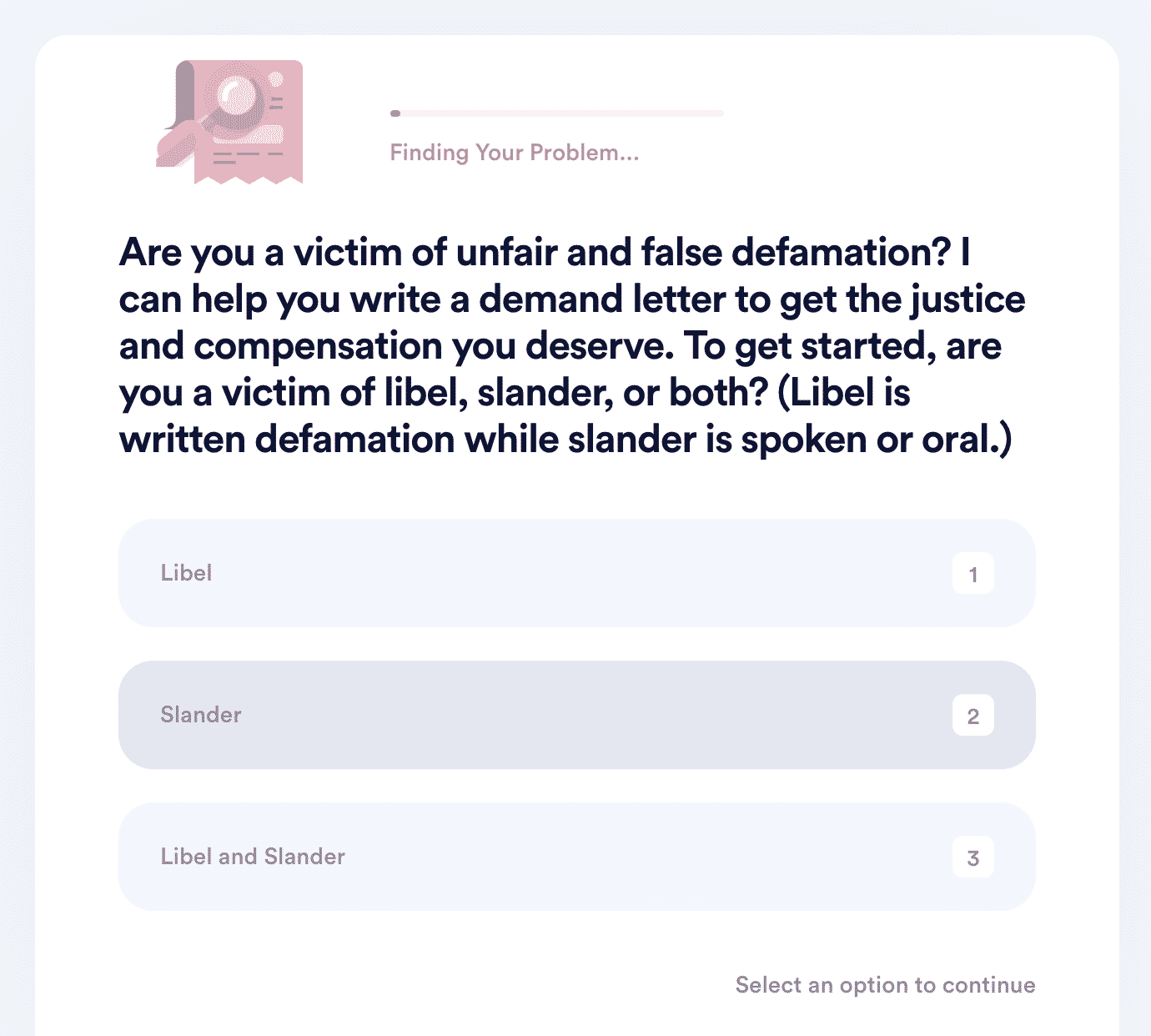 3. Based on your location, DoNotPay will generate a formal demand letter on your behalf with the most relevant state legislation regarding defamation.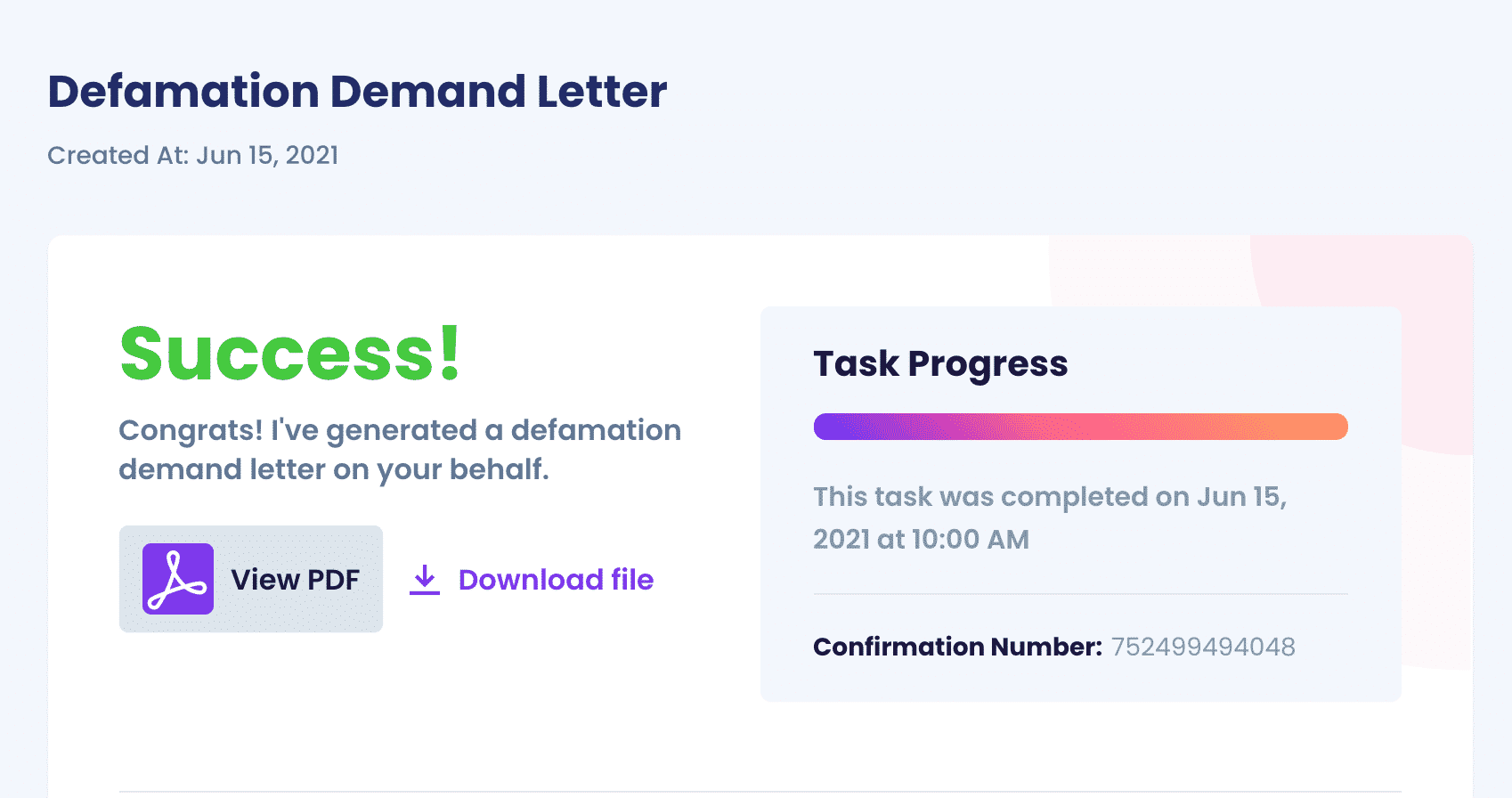 That's all! It takes only a few clicks and your letter is on its way to the recipient.
What Else Can DoNotPay Do?
DoNotPay doesn't stop at helping you write cease and desist letters. The AI-powered robot lawyer can help you with day-to-day issues such as cancelling subscriptions, creating passport photos, appealing parking tickets, and so much more! Here's what else we offer: