Writing a Cease and Desist Letter for Harassment
A cease and desist letter can be an effective tool to use against someone who is acting towards you in an injurious way. It is a document that notifies the recipient that they're invading the sender's privacy and rights. In this article, we will clarify what constitutes harassment and how you can use a cease and desist letter to stop further harassing behavior.
What Is a Cease and Desist Letter?
A cease and desist letter is a document that requests the recipient to stop a certain behavior, otherwise, suffers a legal consequence. It is different from a cease and desist order where a letter has no legal weight. A cease and desist letter or demand letter is often an effective way to start the process of asking someone to stop from doing an activity that is harming you. The most common situations where a cease and desist letter can be used are as follows:
Copyright infringement
Threats from debt collection services
Bullying and cyberbullying
Stalking and other threatening behaviors
Identity theft or online impersonation
Aggressive or excessive communication
Property disputes
Harassment
Defining Harassment
A cease and desist letter can be effective in putting a stop to the harassment. However, take note that the letter may trigger the recipient to react adversely so you may have to use your best judgment before deciding to send one. Before drafting a harassment cease-and-desist letter, it's recommended to check the harassment laws in your state so you can accurately word the legal consequences. Harassment is an act that involves saying or doing something offensive that makes the victim feel intimidated or humiliated. Some forms of harassment are as follows:
Sexual harassment – These include making sexually charged comments or displaying lewd behavior.
Discrimination – Under Title VII of the Civil Rights Act of 1964, it is prohibited to discriminate against one's race, color, gender, age, or disability.
Harassment in the workplace – Although this is a broad term that encompasses many aspects, it usually involves creating a hostile work environment for an employee.
Verbal assault – These include defamation, insults, curses, yelling, or threats in private or public that result in the victim being humiliated.
Physical harassment – These involve physical threats or assault and may include actions such as shoving, kicking, destruction of property, and many others.
How to Write a Cease and Desist Letter for Harassment
When writing a cease and desist letter, make sure to approach it exactly and professionally. Clearly explain your grievances and what you expect the recipient to do for corrective action. Present only the relevant details and leave out any information that may endanger your cases such as using foul language, stating biases, or making petty commentaries that border on slander or libel. Your cease and desist letter should include critical elements as follows:
| | |
| --- | --- |
| Element | Description |
| Both parties' information | This includes both the sender's and the recipient's name and contact details |
| Description of the action that prompted the sending of the cease and desist letter | This includes a clear description of the offending acts (i.e. infringement, encroachment, harassment, etc.) time and date when they happened, the place where they happened |
| Proof | This is where supporting documents, images, or audiotapes that prove the offensive act can be included |
| A time period when the recipient is expected to comply | This is the number of days upon receipt that the recipient must respond before further legal action is taken against them |
Should You Write a Harassment Cease and Desist Letter?
Writing and sending a cease and desist letter is a serious matter. If the letter is sent under the wrong circumstances, it may lead to legal retaliation for the sender or could trigger more offensive behavior such as extortion, blackmail, and others. If the specifics stated in the letter are falsified, the recipient may sue for damages and file a claim for defamation. This is why when drawing up your harassment cease and desist letter, there are a few pointers you need to consider such as:
Watch the tone of the cease and desist letter. Be mindful of using language that is too aggressive or quarrelsome. Instead, it should be firm enough to get the recipient's attention but be reasonably soft-handed.
Avoid making empty threats such as suing the recipient within a certain period as you may be compelled to follow through on your threats.
Use language that is not too vague. It should include a thorough presentation of the offending action and federal or legal grounds for sending the harassment cease and desist letter.
DoNotPay Can Draw Up a Defamation Cease and Desist Letter for You in Minutes!
Since harassment cease and desist letters may lead to more lawsuits and disputes, it is crucial to send one that is professionally and accurately drawn up. Although there are templates available online, hiring legal counsel to assist you in drafting a cease and desist letter can ensure its effectiveness but it also comes with prohibitive costs. That is where DoNotPay can help. Our AI lawyer can help you draw up a cease and desist letter without the high costs and headache-inducing technicalities. All you have to do is:
1. Search for Defamation Demand Letters on DoNotPay.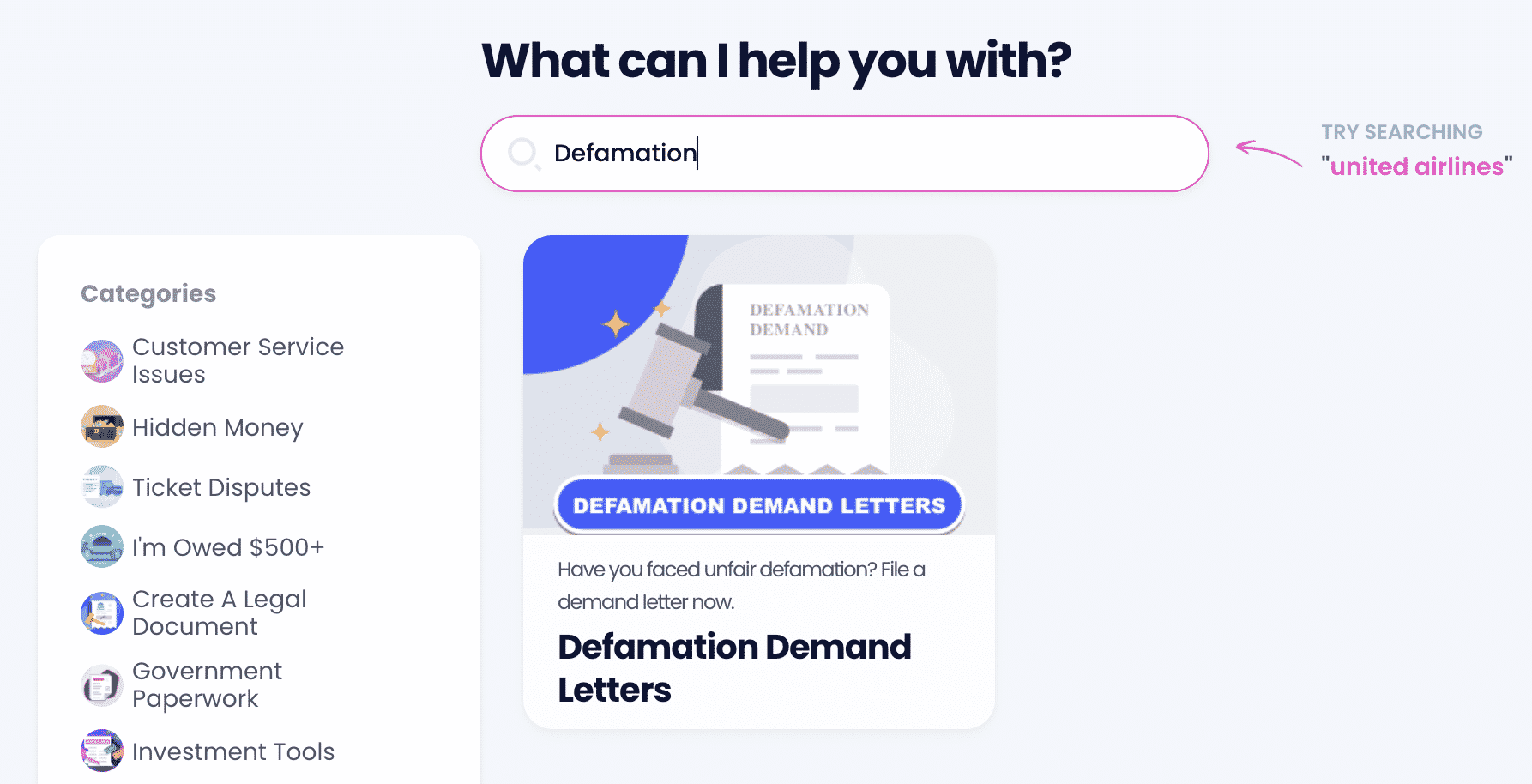 2. Tell us about your situation, including whether the statements were libel or slander, listing the statements that were made, explaining why they are false or misleading, and what consequences you have suffered as a result.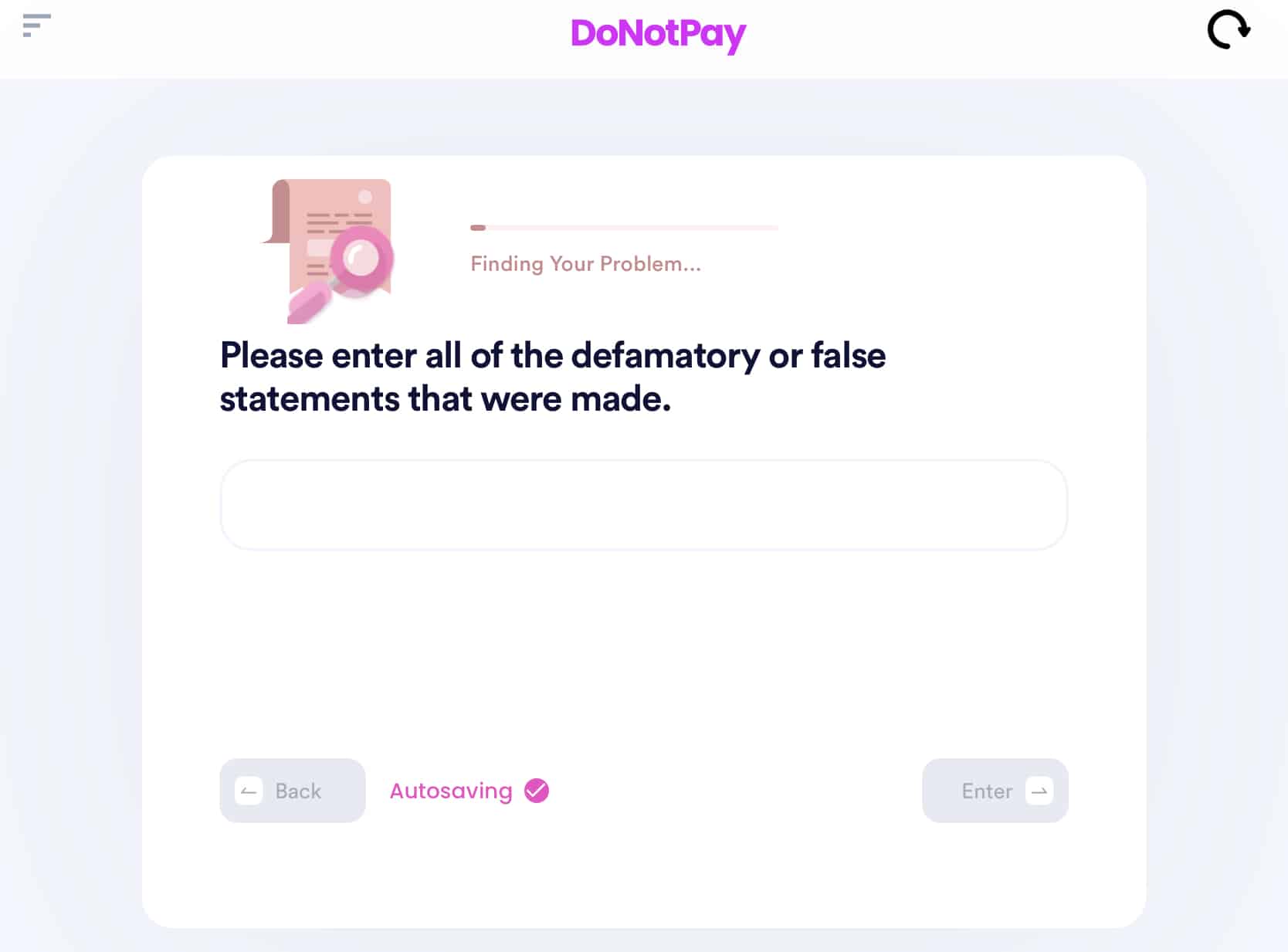 3. Based on your location, DoNotPay will generate a formal demand letter on your behalf with the most relevant state legislation regarding defamation.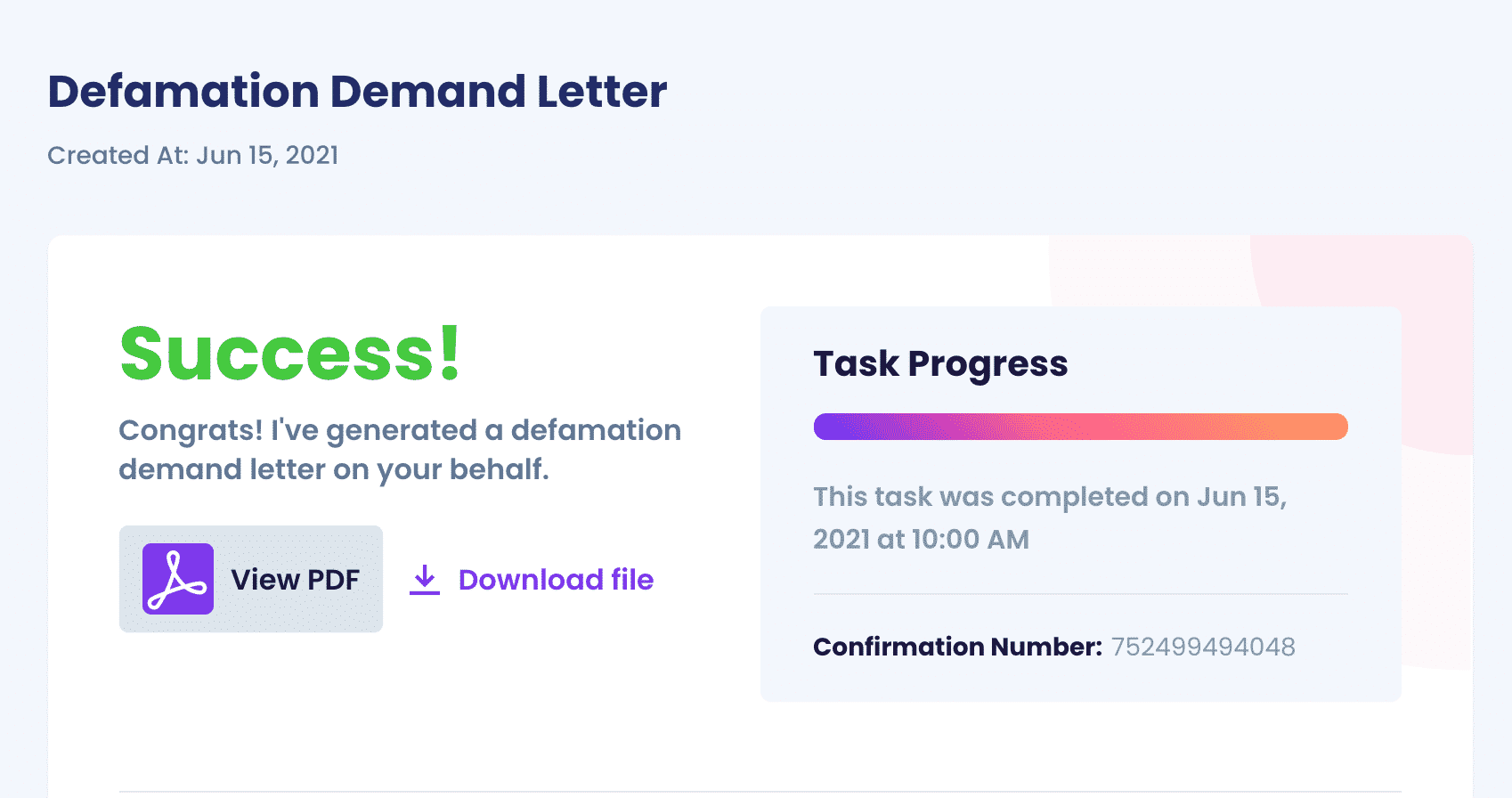 That's it! Your cease and desist letter is ready to send in mere minutes.
What Else Can DoNotPay Do?
DoNotPay does not just stop at cease and desist letters. The robot lawyer can help manage subscriptions and appeal parking tickets in just a few clicks! Here's what else DoNotPay can do: