How to Draft a Cease and Desist Letter Copyright Infringement
Defamation is a civil wrong that occurs when someone makes false and harmful statements about you, ruining your reputation. Copyright infringement refers to the use or production of copyrighted material without the permission of the copyright holder. In sum, this means that the copyright and production rights are being breached by a third party. As a response to this violation, many choose to file a cease and desist letter, telling the individual infringing upon protected material to stop before further legal action is taken. Learn more about defamation and copyright infringement and how to draft a cease and desist letter, below.
What Is Copyright Infringement?
Companies and corporations that develop new work and register for copyright protection do so to ensure that they can profit off of their efforts
Other bodies of individuals or their representatives may be allowed to use those productions through licensing agreements or purchasing rights;
But, the illegal or unauthorized usage of the material itself is characterized as an infringement
The United States Copyright Office accepts applications and claims for copyrights, which were granted to musical, literary, artistic, and visual arts purposes
According to the Copyright Office, copyright infringement is defined as:
"A general matter that occurs when a copyrighted work is reproduced, distributed, performed, publicly displayed or made into a derivative work without the permission of the copyright owner" 
To add, the Copyright Office does not prosecute those who are directly violating the copyright law, rather, they assist the U.S. Department of Justice on court cases and provide evidence and accessory documentation
Obstacles for Modern-Day Copyright Infringement
Technology
Modern tech makes it increasingly difficult to prevent others from copying a product or information
International issues and agreements
International coalitions often prevent copyright ownership from being established on an international level, as different nations have different prerogatives relating to what copyrighting and trademarks consist of
Photography and visual aspects
With the rampant photographic and visual innovative opportunities that exist today, copying photographs has become extremely simple
Non-economic rights
Often, there is a misconception that copyright laws only apply to areas where a monetary loss can be found — this is incorrect; moral rights are enforceable
The internet
The internet and the billions of users that access content daily make it extremely difficult to ensure that the legality surrounding copyrights follow new boundaries and internet formats
Examples of Copyright Infringement
Although Copyright infringement seems like a specific term, there is a wide range of examples that can be considered infringing, such as:
Recording a film in a movie theater
Posting a video on a website that features copyrighted words or songs
Using copyrighted images on a website
Modifying an image and posting it
Creating merchandise for sale that features copyrighted words or images
Using a musical group's copyrighted songs
Downloading music or films without paying for their use
Copying literary or artistic creations without a license or agreement to do so
Avoiding Copyright Infringement Accusations
To avoid copyright infringement accusations, follow these steps, which may protect you from facing a cease and desist letter:
Acknowledge local copyright laws and what they protect
Use original work — if your work is not original, do not reproduce or publicize it
Typically, pulling something off of the internet is not a fair game - you must acknowledge the sources and cite them properly
Penalties for Copyright Infringement
Copyright Infringement penalties are both civil and criminal, with the inclusion of:
Profits lost as a result of copyright infringement
Civil penalties with a maximum of $150,000 per case, with the inclusion of willful infringement or counterfeiting
Damages between $750 and $30,000 per item of work infringed upon
Criminal penalties of up to $250,000 in fines and up to 5 years in federal prison
Should You Write a Cease and Desist Letter?
To write a cease and desist letter, you must engage in a complex process that can also discredit your case if it isn't conducted properly 
If you are unable to legally verify your details, the occurrence that happened, the illegality of the action, and the copyright infringement with sound evidence, you might run the risk of being unsuccessful with your case
In addition to this, a lawyers' safe option of writing the letter for you comes at a cost — retainer fees are often extremely expensive, requiring a crazy amount of money for even responding to your inquiries!
Draft a Cease and Desist Letter for Copyright Infringement in Minutes!
DoNotPay is a convenient, accessible, and affordable solution! The cease and desist letter DoNotPay drafts will detail the information about the case, demand retraction, warn against future statements, and will order that the accused abides by state statutes.
All you need to do is:
1. Search "Defamation" on DoNotPay and select the Defamation Demand Letters service.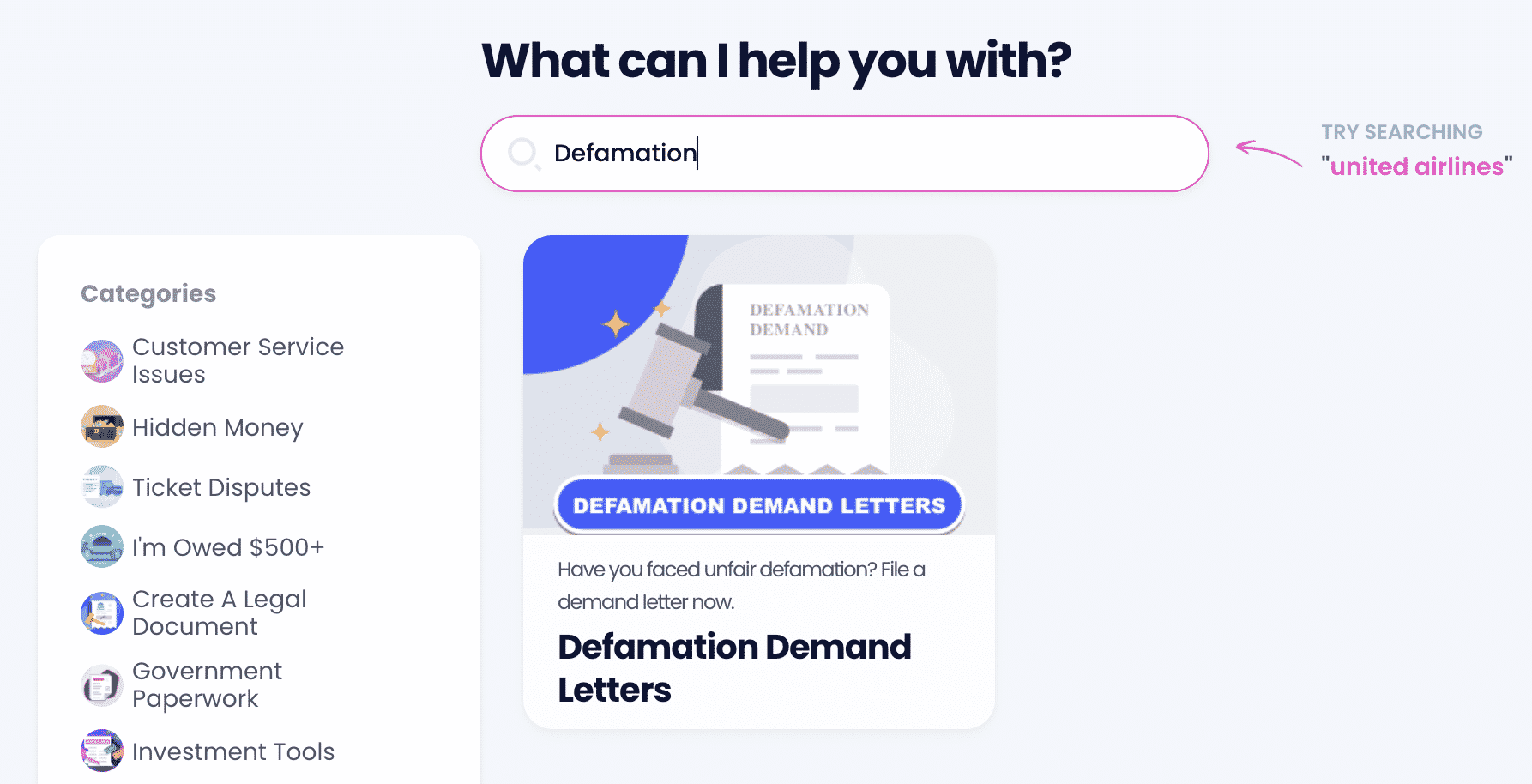 2. Tell us about your situation:
Were the statements slander or libel?
What were the statements?
Why are they false or misleading?
What consequences have you suffered as a result of these statements?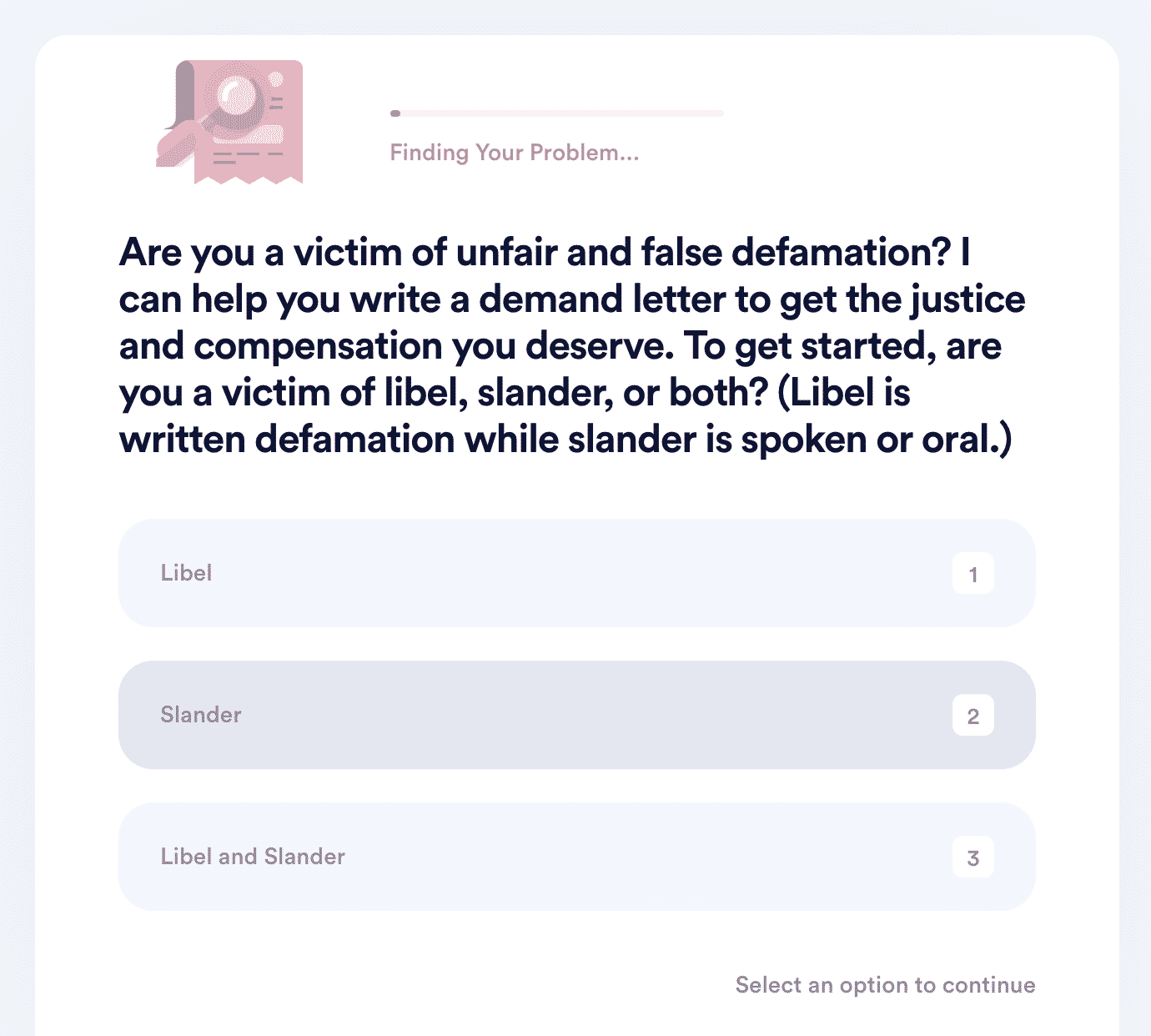 3. Based on your location, DoNotPay will immediately generate a formal demand letter on your behalf, with the most relevant state legislation regarding defamation.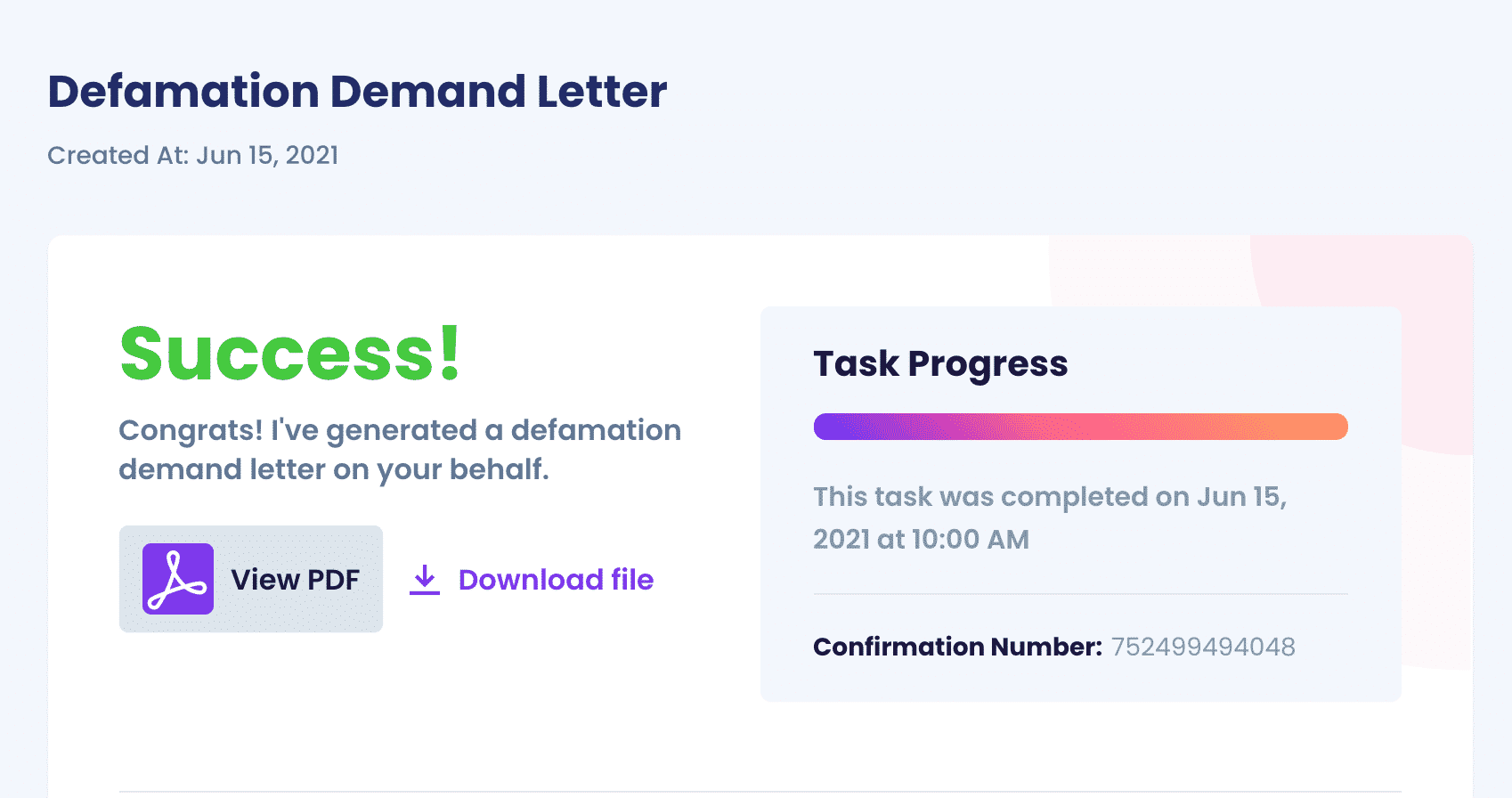 That's it! Expect a precisely drafted cease and desist letter towards your cause, instantly! 
Defamation Help from DoNotPay
DoNotPay offers a wide collection of articles for defamation. Interested in learning more? Read our other articles: