Cease and Desist Letter California
Defamation is a civil wrong and refers to untrue statements about an individual that are published so that a third party has heard or seen them. These statements cause serious financial and non-material damages to a person's reputation and can lead to emotional distress, decrease in wages, and loss of clients, and inability to gain employment. There are two types of defamation; libel and slander. Libel includes written defamatory statements, whereas slander includes spoken defamatory statements.
A victim of defamation can choose which legal action they want to take. Some choose to file a defamation lawsuit, however, you may want to start with a less drastic action, and draft a cease and desist letter. This letter is sent directly to the defendant, the person publishing these defamatory statements, and it issues a warning that if they do not retract all defamatory remarks, then the plaintiff will take them to court to seek monetary compensation for all the damages they had to endure. This article will go over the procedure if you live in California and it will also introduce you to 's Defamation Demand Letter product!
When Is It Best to Draft a Cease and Desist Letters to Stop Defamation?
Cease and desist letters are effective ways to stop online defamation, provided that you know the identity of the defamer. You are not advised to send a cease and desist letter to someone you suspect may be defaming you, as you would be committing a wrongful accusation that has severe backlash.
The objective of a cease and desist letter is to directly confront the defendant and issue a warning. This will not be effective if you send it to an unidentified party, as the perpetrator will likely disregard the letter as he or she would have a sense of confidence that they are immune to such an order due to their anonymity.
The four situations where sending a cease and desist letter is effective for ending defamation are:
Online Defamation
Online defamation refers to false statements published on the internet where other people can see them, causing serious harm to another person's reputation. Some of the most common online defamation cases are:
Allegations of infidelity and adultery
Untrue attacks on social media platforms
Untrue reports on gossip websites
Untrue negative reviews for businesses
Online Extortion
Online extortion refers to the acts where a party attempts to obtain money or services from an individual by coercion. In the case of online extortion, you may be able to identify the information of the extortionist through their:
Email address
Bank account numbers
Telephone numbers
Messenger IDs
Release or Misappropriation of Private Information
The unauthorized release and misappropriation of private information can injure the person. Such actions include:
Extortion
Identity theft
Commercial use of one's identity
Intellectual property theft
Cease and Desist Letter for Negative Business Reviews
False and/or negative online reviews about your business can have severe negative consequences on your business's ability to operate and can lead to a loss of opportunities and clients. Business owners are advised to immediately take legal action against a person publishing such online reviews.
Pros and Cons of Cease and Desist Letters
| | |
| --- | --- |
| Pros | Cons |
| It is a more affordable option and is far less costly than filing a lawsuit | It can draw attention to defamatory statements, further harming the plaintiff's reputation. |
| Sending a cease and desist letter instead of filing a lawsuit can "bypass" the process of litigation | The defendant may ignore the cease and desist letter |
| If you do not have a legal claim, or if your legal claim is weak, then you can send a cease and desist letter | A cease and desist letter could reveal any frivolous claims |
| A cease and desist letter will save time | A cease and desist letter could reveal that you have a weak legal claim |
California's Contents of Cease and Desist Orders
Cease and desist orders must be signed by the Executive Director and must contain the following:

The names of the person who are taking or are threatening to undertake the activity that is the subject of the cease and desist order
The identification of the property where the activity was or might be, taken
A detailed description of the alleged illegal activity
The date of the order
The expiration date of the order, if it exists
Circumstances and dates in which the defamatory statements were published
Demand that the violating party end misconduct such that they revoke all defamatory statements they published (cease)
Demand that the violating party never resume misconduct such that they do not publish any more defamatory statements (desist)
Explain any further legal action that may occur
Set a deadline for an expected response from the defendant, this is usually 10 days.
Draft a Cease and Desist Letter With DoNotPay!
is a reliable and affordable service that can draft a cease and desist letter in accurate details specific to your case, all you have to do is follow these three simple steps:
1. Look for the Defamation Demand Letters product on .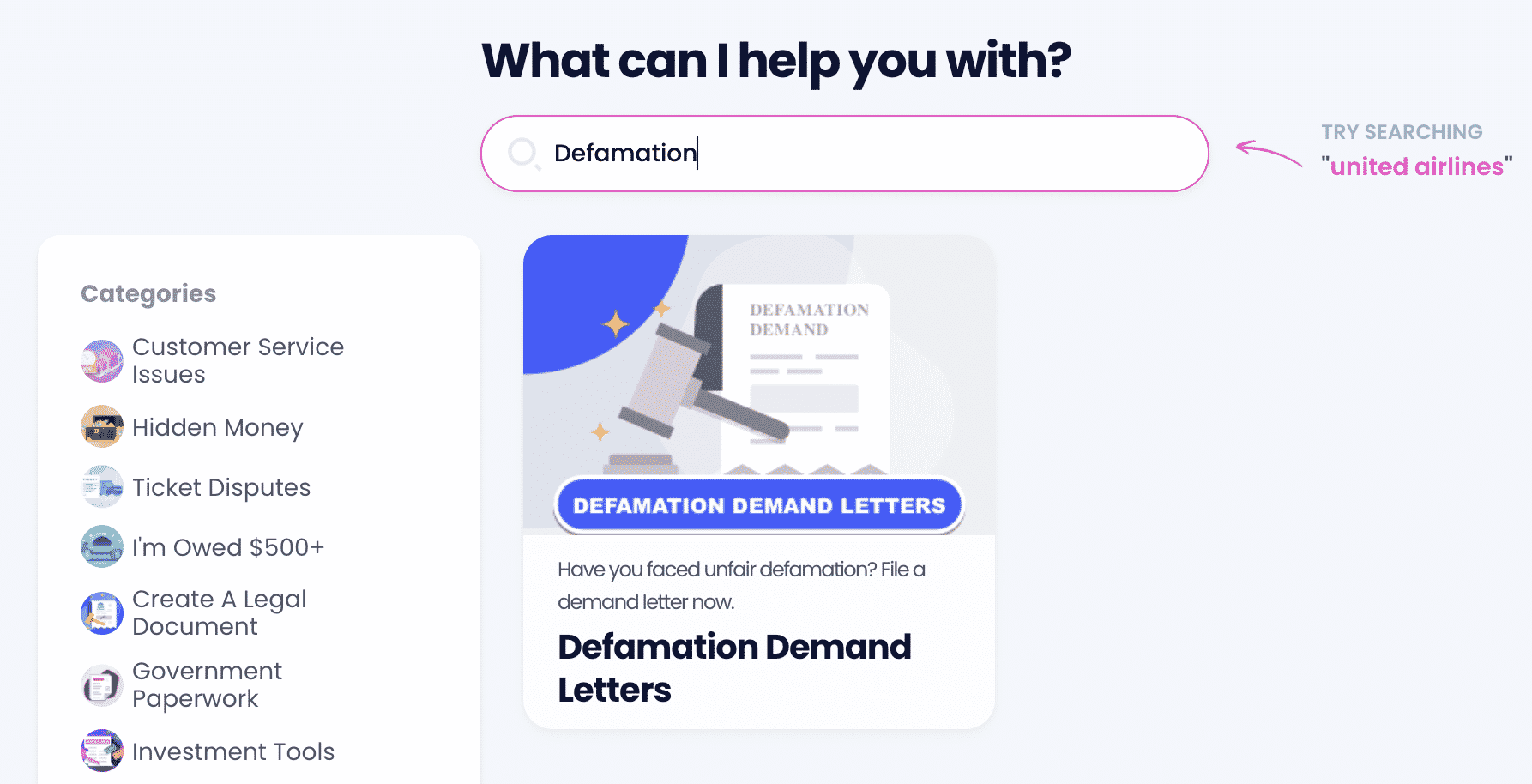 2. Explain the situation surrounding the defamatory statements and provide a reason why they are false.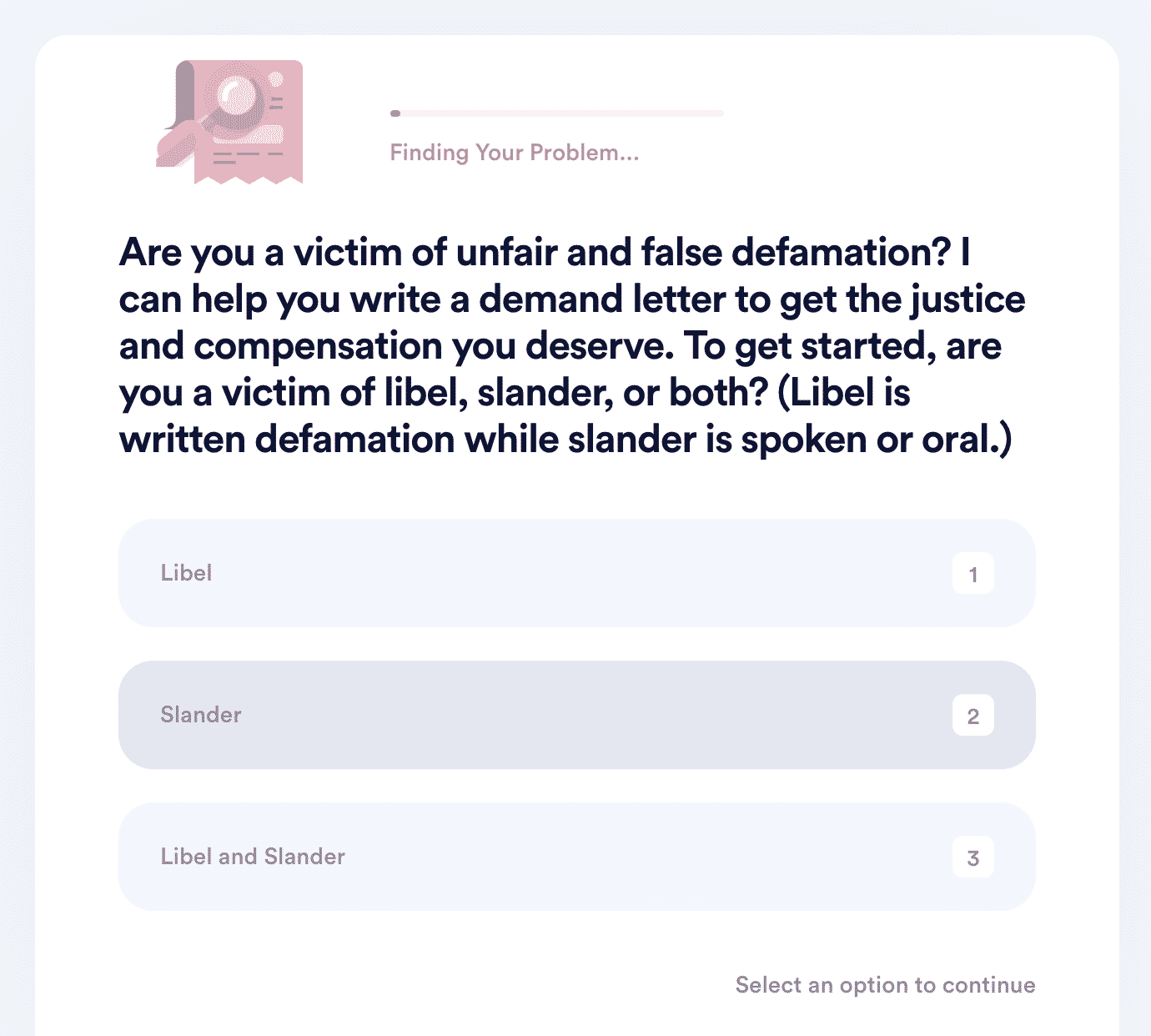 Based on your answers will create a downloadable PDF of your very own cease and desist letter!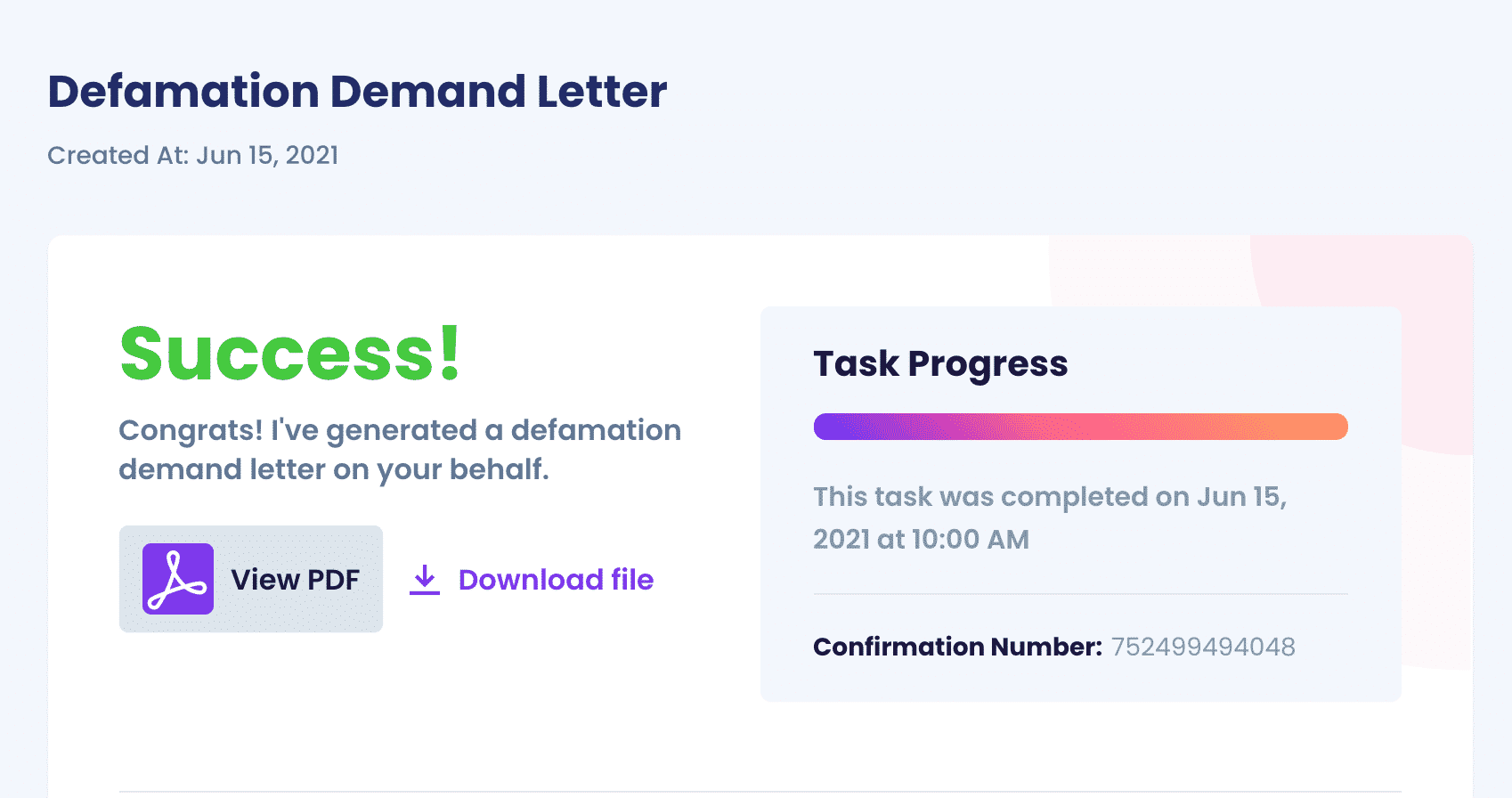 DoNotPay Also Helps With: