Cease and Desist Letter Arizona
As a response to defamation and other alleged activity, many people opt to submit a "cease and desist" letter, in which they warn the person who is conducting harmful actions to halt before any further legal action is taken.
Defamation is a civil wrong that happens when someone makes false and damaging remarks and ruins, causing reputational harm. There are two forms of defamation: libel and slander. In order to prove a defamation case, the libel or slander must have been published in some form, resulting in injury to the subject's reputation, future possibilities, and even physical or mental health. Learn more about defamation and how to interpret the laws of the state of Arizona in the sections below.
Discover Defamation
As previously stated, slander and libel are the two elements of defamation:
Libel can also be distinguished by the fact that it leaves a permanent record, such as an email, radio or television broadcast, newspaper article, or an internet posting.
It is not possible to prove slander with a permanent record, and it can be as simple as a verbal phrase or a hand gesture.
The first stage in proving any defamation claim, or determining if you can issue a cease and desist letter, is to identify the sort of defamation that occurred. 
Arizona's Defamation Regulations
Despite the fact that it is feasible to establish internet defamation, deciding whether or not to take legal action is very challenging. In Arizona, defendants may be prosecuted with "harassment by computer" under the state's "harassment by computer" statutes. ​​
Who is a public figure in Arizona?
There is a distinction between private and public persons under federal defamation laws in the United States. In order to win a defamation case against a prominent person, the plaintiff must demonstrate real malice. In Arizona, public workers, officials, and figures – both limited and all-purpose – qualify as "public figures" and therefore must meet the standard of actual malice when pursuing a slander or libel lawsuit related to their capacity as a "public figure." Public officials are any elected politicians, teachers, FAA inspectors, sheriffs, and deputies; even student-body members, at a state university, can qualify as public figures for the purposes of a defamation lawsuit in Arizona.
Defenses for defamation in Arizona
Arizona statutes and case law establish that truth is a complete defense for defamation. If a statement has just "slight inaccuracies," according to Arizona law, the statement is not considered incorrect if the overall message is substantially accurate. However, if real malice is proved, the defenses of opinion and the fair remark will be overcome.
Defamation damages in Arizona
Arizona laws allow for certain damages when deliberating a defamation case:
Reputation impairment
Impairment of community standing or future standing
Emotional distress
Humiliation
Inconvenience
Anxiety and future anxiety
Monetary Loss
Suing for Defamation in Arizona
 Below, find typical reasons one chooses to sue for defamation in Arizona:
| | |
| --- | --- |
| An intent to coerce | The person who defamed you had the intention to coerce, bully, intimidate or harass you. |
| Defamation occurred  | The defamation occurred and there are records of messages, actions, or statements that contained libel. |
| Defamation was obscene  | The defamation made a suggestion or proposal that was obscene, threatened an illegal or immoral act, or was vulgar, profane, lewd, or indecent. |
| Damages incurred  | You incurred damages as a result of the individual's actions. |
Filing a Cease and Desist Letter
Cease and desist letters are very complicated, and specific wording is required in order to establish credibility for your position. 
It is possible that your letter may be ignored or considered inadequate for a legitimate case.
You can hire a lawyer to draft a stop and desist letter on your behalf, but this will be more costly and take longer than you expect.
Find Out How to Draft a Cease and Desist Letter in Minutes!
DoNotPay is a credible and safe solution! The cease and desist letter DoNotPay drafts details the information about the case, demands retraction, warns against any impending statements, and will order that the accused abides by Arizona state law.
All you need to do is:
1. Look for the Defamation Demand Letters product on DoNotPay.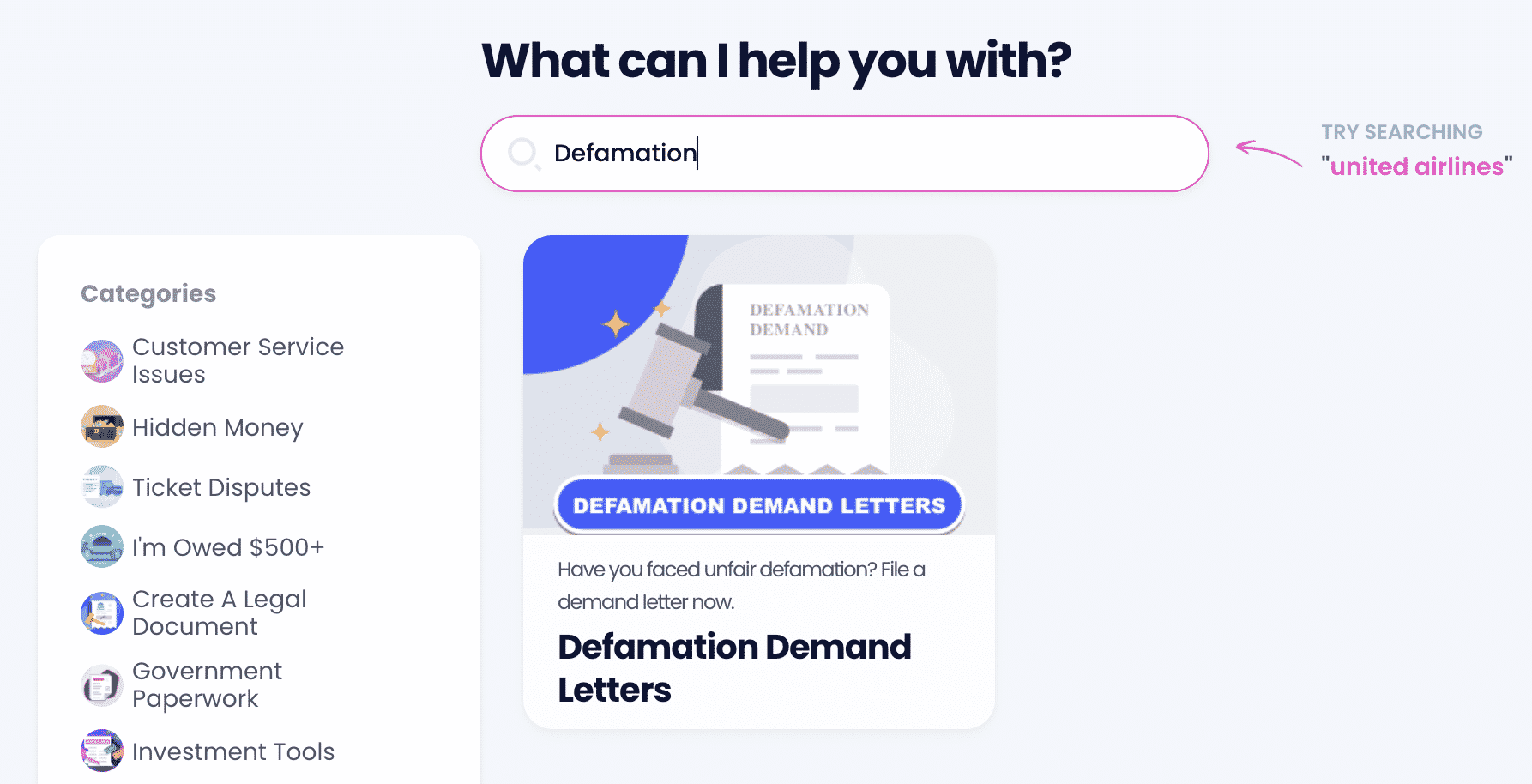 2. Tell us about your situation:
Were the statements slander or libel?
What were the statements?
Why are they false or misleading?
What consequences have you suffered as a result of these statements?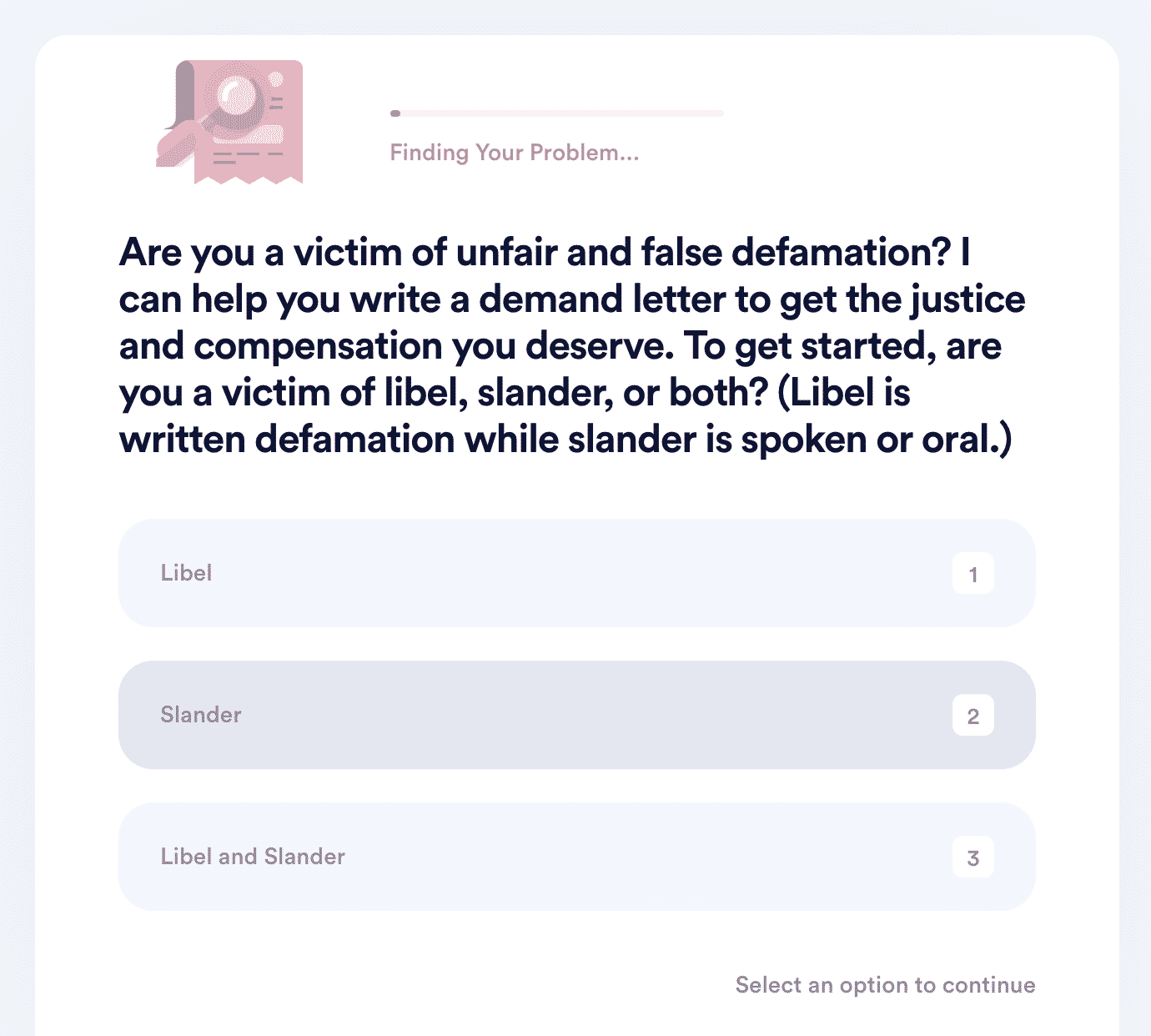 3. Based on your location, DoNotPay will immediately generate a formal demand letter on your behalf, with the most relevant state legislation regarding defamation.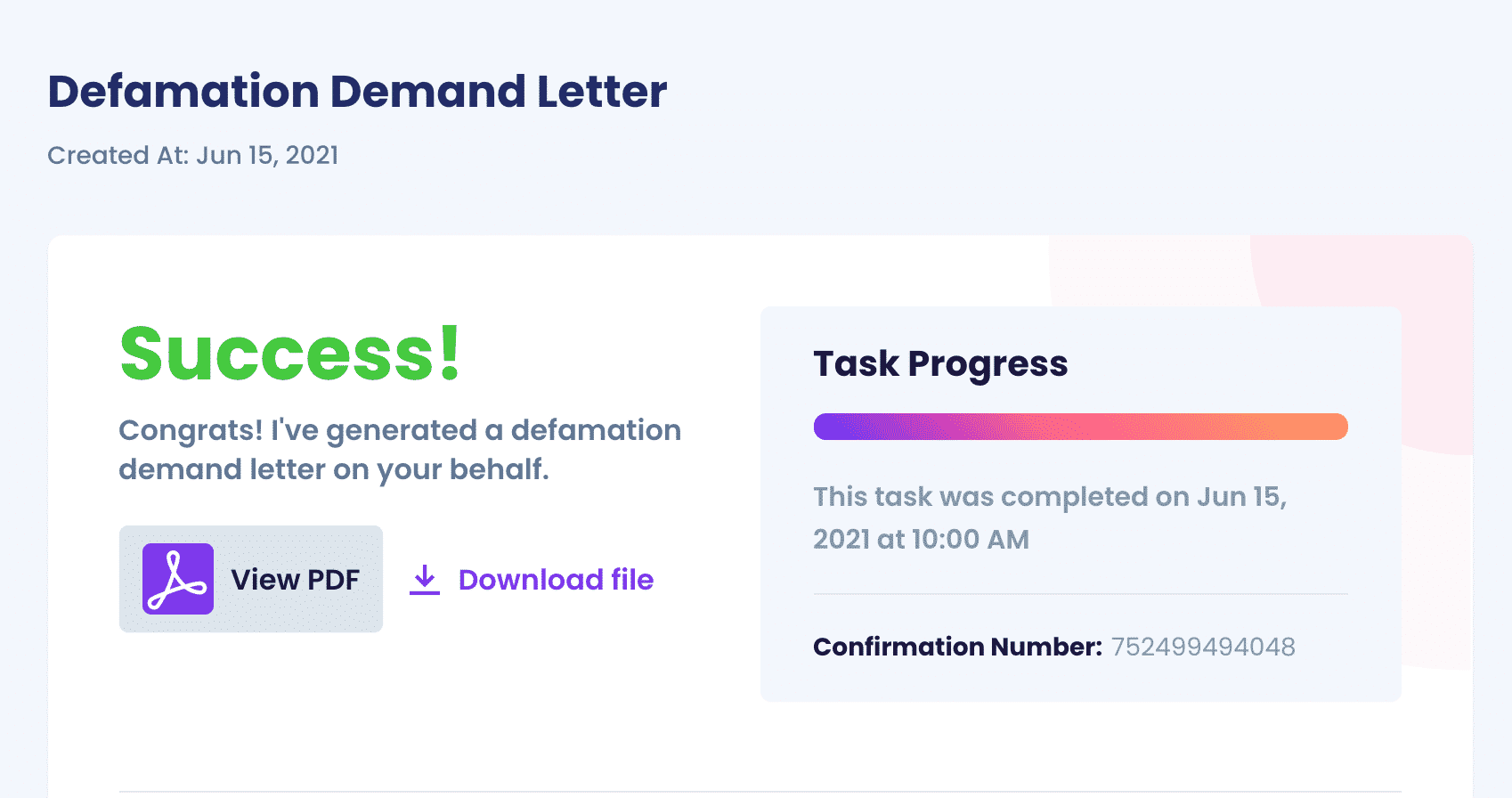 That's it! You can expect a detailed drafted cease and desist letter to your cause in an instant! 
DoNotPay Can Do More
DoNotPay does not just stop at cease and desist letters. The robot lawyer can help manage subscriptions and appeal parking tickets in just a few clicks! Here's what else DoNotPay can do: