Cease and Desist Florida
Defamatory statements are statements published or communicated to a third party about another person. These statements cause serious economic and non-economic damages to a person's reputation and can lead to unemployment, emotional distress, loss of income, and loss of business opportunities. There are two types of defamation; libel and slander. Libel includes written defamatory remarks, whereas slander includes spoken defamatory remarks.
A victim of defamation has a choice of legal actions they can pursue. Many file a defamation lawsuit, however before taking such drastic action, it may be better to draft a cease and desist letter. This letter is sent directly to the person publishing defamatory statements and issues a warning that if they do not revoke all defamatory activity, then you will take them to court to seek monetary damages.
There are different cease and desist orders in every state - this article will outline the procedures in Florida. It will also introduce you to a reliable service that drafts a cease and desist letter for you using DoNotPay.
Cease and Desist Letters
You can file a cease and desist letter when facing online defamation if you know the identity of the party that is defaming you.
It is important to recognize that sending a cease and desist letter to an unidentified party will not have the desired effect of a confrontation with the defendant when you know their identity. If you are not able to identify their exact address or identity behind the defamatory statements, then that person has a sense of confidence and "immunity" that comes with anonymity.
Advantages and Disadvantages of Cease and Desist Letters
| | |
| --- | --- |
| Advantages | Disadvantages |
| It is affordable and can potentially save money | It may draw more attention to the defamatory posts |
| Sending a cease and desist letter instead of filing a lawsuit can "bypass" the long and stressful process of litigation | There are cases where cease and desist letters are ignored by the receiver |
| It can be effective if your legal claim is not that strong | A cease and desist letter could reveal the weak claims you are alleging |
| Sending a cease and desist letter can achieve results in less time | A cease and desist letter could reveal a frivolous claim you are alleging. |
Florida Defamation Laws: Overview
Florida is one of the few states that still allows for criminal libel. This means that those who are found guilty of libel can be charged with a first-degree misdemeanor. The statute of limitations for defamation in Florida is two years.
Defamation per se is also active in Florida. This means that defamatory statements that are extremely unreasonable do not need to be proved to win damages. Such statements hint that one is:
Infected with a deadly disease
A criminal
Acted in a manner that undermines their professional reputation
Florida Cease and Desist Orders: Procedures
Whenever the Department of Legal Affairs believes that a person is, or has been, violating a cease and desist order against them, it will issue an order with the charges the person will face and a notice of a hearing date that will take place within 30 days.
The department may modify its order at any time by rehearing if that is in the interest of the public welfare.
Judicial review of orders of the department takes precedence over other pending civil cases pending.
An order of the department to cease and desist becomes effective 10 days after all administrative action has been concluded.
Any person who violates a cease and desist order after it has become final and while it is in effect must pay to the state a civil penalty of up to $5,000 for each violation. Each separate violation in a cease and desist order is considered a separate offense, each day of neglect to the cease and desist order is also deemed a separate offense.
Should You Write a Cease and Desist Letter on Your Own?
A cease and desist letter must be tailored to your issue and contain specific details of your case. Even though it might seem like sending a cease and desist letter is a faster solution than filing a lawsuit, it is important to understand that there is considerable effort and expertise required to draft an effective cease and desist letter.
Lawyers are a viable option, however, due to their notorious asking prices, DoNotPay is your best option!
Get a Cease and Desist Letter from DoNotPay
DoNotPay is a robot lawyer that provides hundreds of services for legal matters and customer service issues. Here's how to get your very own cease and desist letter for defamation on the app or website:
1. Search "defamation" on DoNotPay and choose the Defamation Demand Letters service.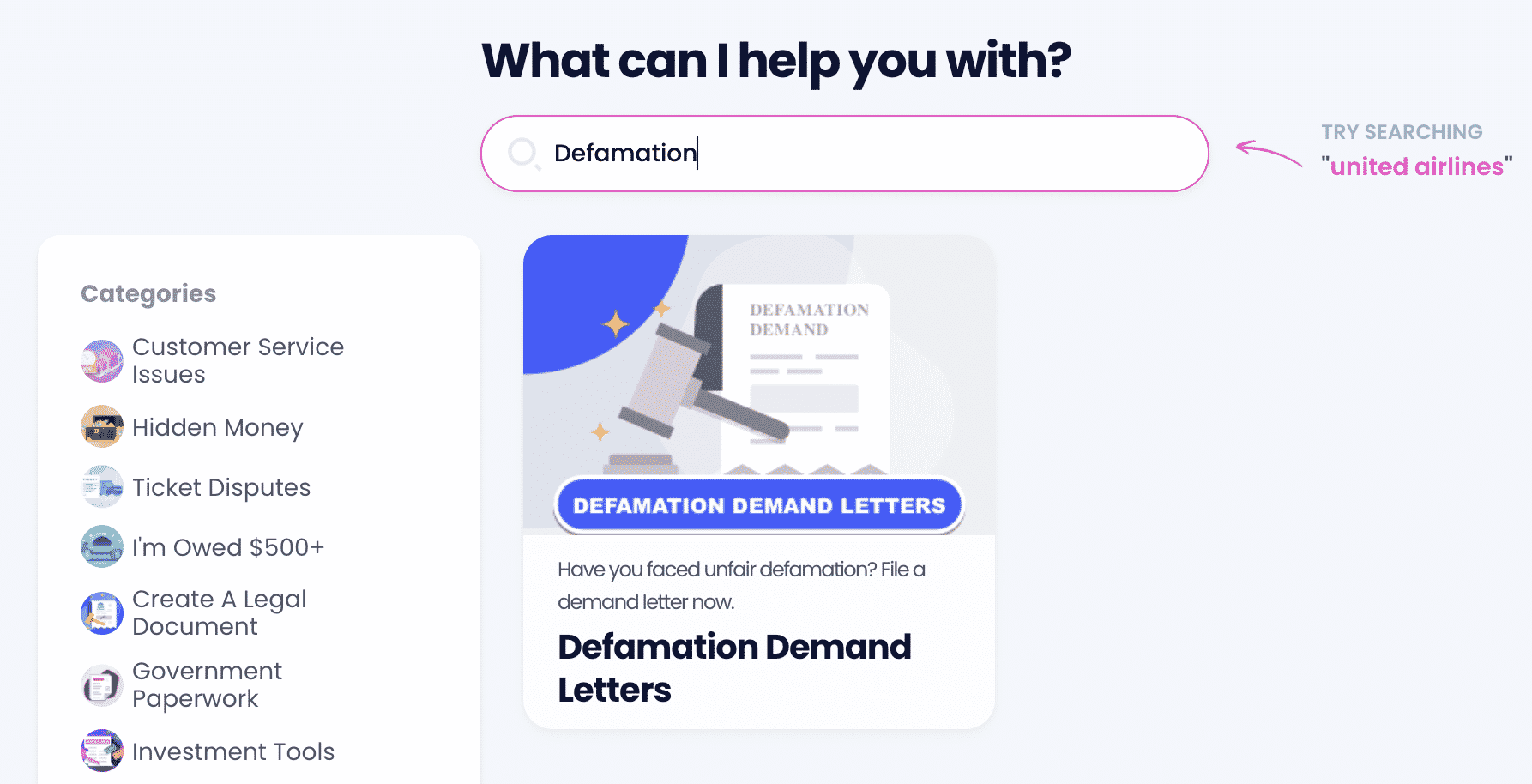 2. Provide us with details about the situation.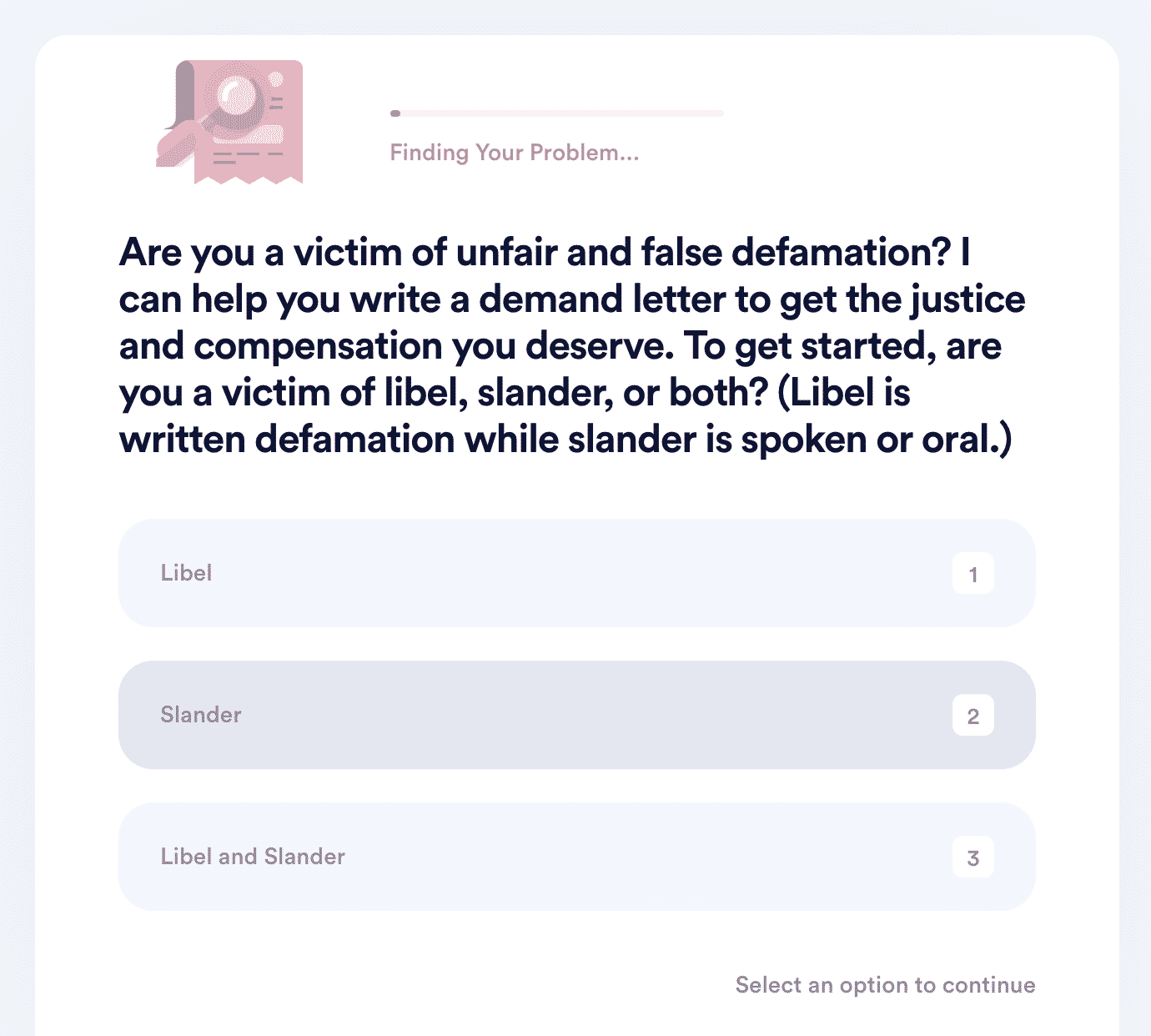 3. Tell us which state the defamation happened in.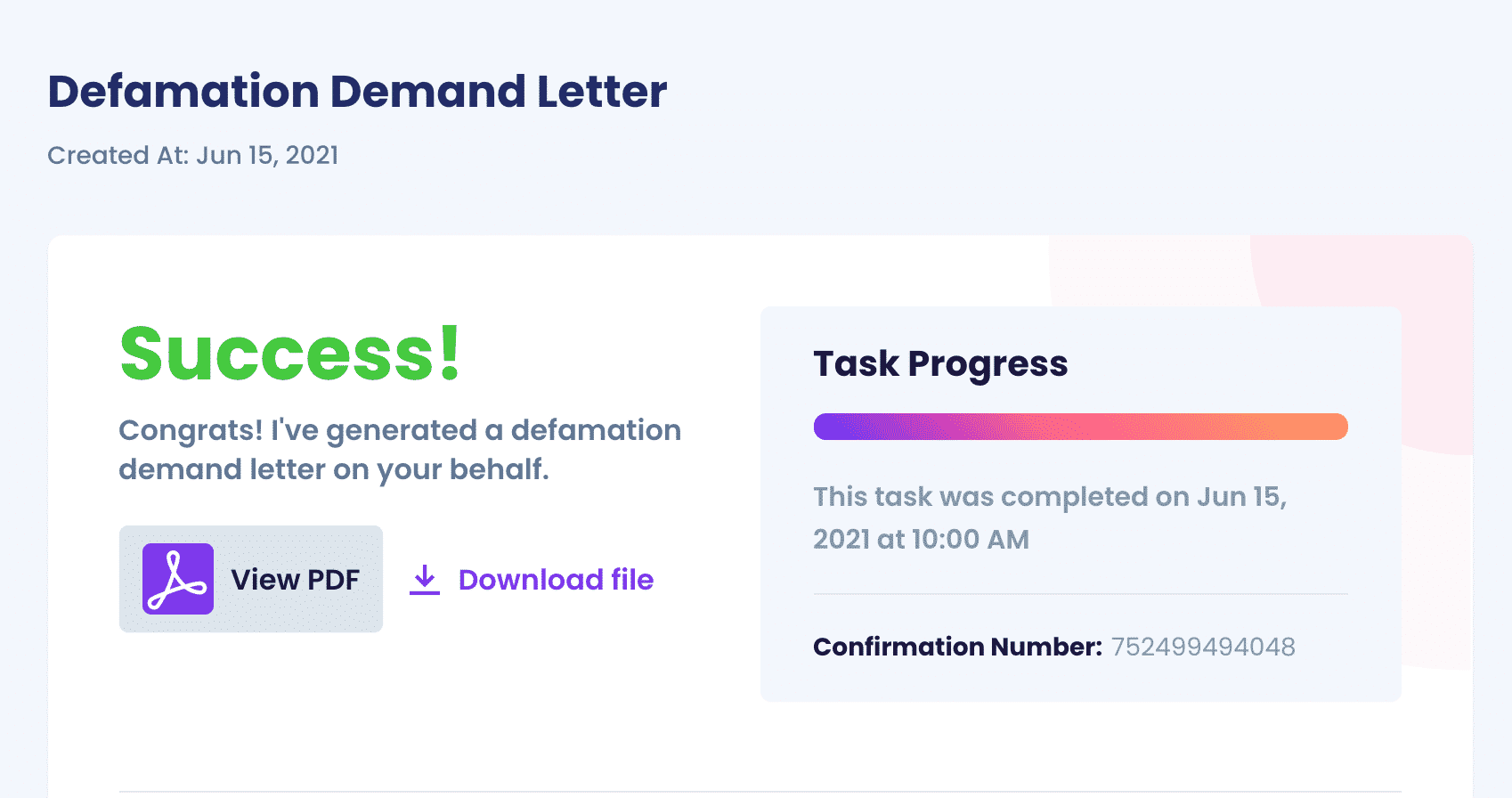 After that, DoNotPay will automatically create a strong cease and desist letter that mentions the relevant state laws. You can expect a downloadable copy of the letter right in the palm of your hands!
DoNotPay Can Help You With…