Study With a CDL Practice Test in Massachusetts To Pass the Actual Exam on Your First Try
Are you mulling over advancing your skills with a commercial driver's license (CDL)? If you fear it might be challenging to pass the CDL exam in Massachusetts, you are right.
Prepare well, and you do not need to worry about failing the tests. Taking a CDL practice test in MA will help you ace the real exam.
DoNotPay provides practice tests for various government exams, including the U.S. Citizenship, Postal, DMV, ASVAB, Notary, CompTIA, or CCAT. We also offer valuable information on scheduling a DMV driving test in no time or passing the written driving test with no sweat. 
What To Prepare for the CDL Exam in Massachusetts
To qualify for the CDL exam, you first need to obtain a commercial learner's permit (CLP). Here are the requirements you need to fulfill for that:
You need to:
You must have:

Be at least 18 years old for intrastate transport

Be at least 21 years old for interstate transport

Prove lawful presence for at least a year for Non-Domicile CDLs 

Be a Massachusetts resident

Meet minimum

CDL medical standards

Pass the CLP general knowledge test

A valid Social Security number

Proof of U.S. citizenship or permanent lawful presence 

A Class D license

No outstanding obligations to any U.S. state
Having a driver's license from another state doesn't mean you can take the CDL exam in MA. 
When Do You Need an MA CDL?
You need to have a CDL if you would like to transport the following:
16+ passengers, including the driver

A vehicle with a 26,001 lbs.+ gross vehicle weight rating (GVWR) 

A combination vehicle with a 26,001 lbs.+ gross combination weight rating (GCWR), providing the GVWR of the towed vehicles is over 10,000 lbs.

A vehicle requiring hazardous material placards or transporting material listed as select agents or toxins in

Title 42, Part 73 of the Code of Federal Regulations

 
How Much Money Do You Need for the CDL Test in Massachusetts?
To take the required tests, you will need to settle the fees first. Here is the list:
| | |
| --- | --- |
| CLP  | $30 |
| CDL, if taken on the same day | $10 |
| CDL, if taken on a different day | $30 |
If you fail any of these tests, you will have to settle the fees again when you retake the exam. Use our CDL practice test in MA to help you pass the real exam and avoid paying additional fees!
How To Apply for the CDL Exam in Massachusetts
You can apply for the CDL exam in one of the following ways:
Online

In person
Apply for the CDL Tests in Massachusetts Online
To fill out the CDL application form online, you should follow these steps:
Access

myRMV Online Service Center

Indicate whether you have a Mass ID, license, or permit

Complete the questionnaire 

Fill out the provided application form
You will get a list of required documents you need to bring to a Registry of Motor Vehicles (RMV) center. 
Make sure you schedule your appointment first, and here is how:
Open the

myRMV Online Service Center

page

Click on

Make or Cancel a Reservation

Hit

Next

Click on

Make a Reservation

Select the transaction type from the drop-down menu 

Click on

Select Appointment Date and Time

Opt for an RMV location in the drop-down menu

Select the date and time

Confirm your date and time

Click on the

Next

button

Enter your personal information

Finalize the process 
You should be super fast to finish the appointment process in one go. If you hesitate, the online service returns you to the first page, and you have to start over. 
Apply for the MA CDL Tests in Person
The first thing you should do is make an appointment, as explained in the previous section. The next step is to complete the application form. 
To do this, follow the steps from the Apply for the CDL Tests in Massachusetts Online section above.
Visit an RMV location and bring the completed application form and the required documents with you. Don't forget the money for the fees. It's wise to check with the RMV center what payment methods they accept. 
How To Prepare for the CDL Test in Massachusetts
The CDL manual is the starting point of your study process. Get familiar with all the rules and regulations provided in the manual.
You can attend a driving school to prepare for your CDL exam. It can contribute to your success, but it isn't cheap.
As it is not easy to memorize all the rules from the CDL manual, it would be beneficial to practice your newly acquired knowledge. DoNotPay has created a Mass CDL practice test to help you prepare for your exam efficiently. 
Take a CDL Practice Test in Massachusetts To Ace the Actual Exam
A CDL general knowledge test is daunting as you need to get at least 40 correct answers to 50 tricky questions. You only have an hour to complete this test, so practicing is of utmost importance!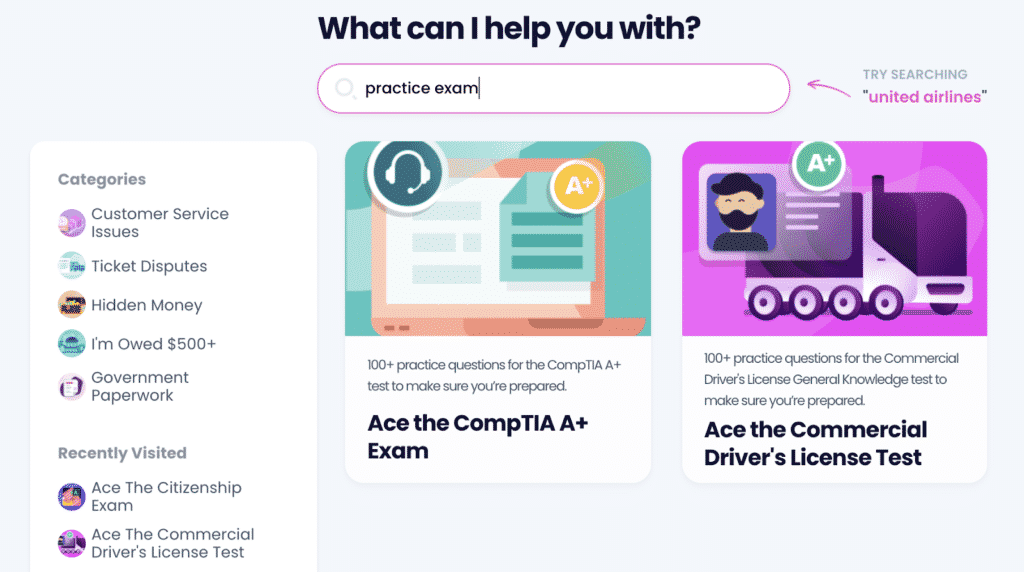 Here is how you can take our MA CDL practice test:
Open DoNotPay in your

web browser

Opt for the practice test by typing in

CDL

or

commercial driver's license

 

Select the test you wish to do

Choose the number of questions—10, 20, or 30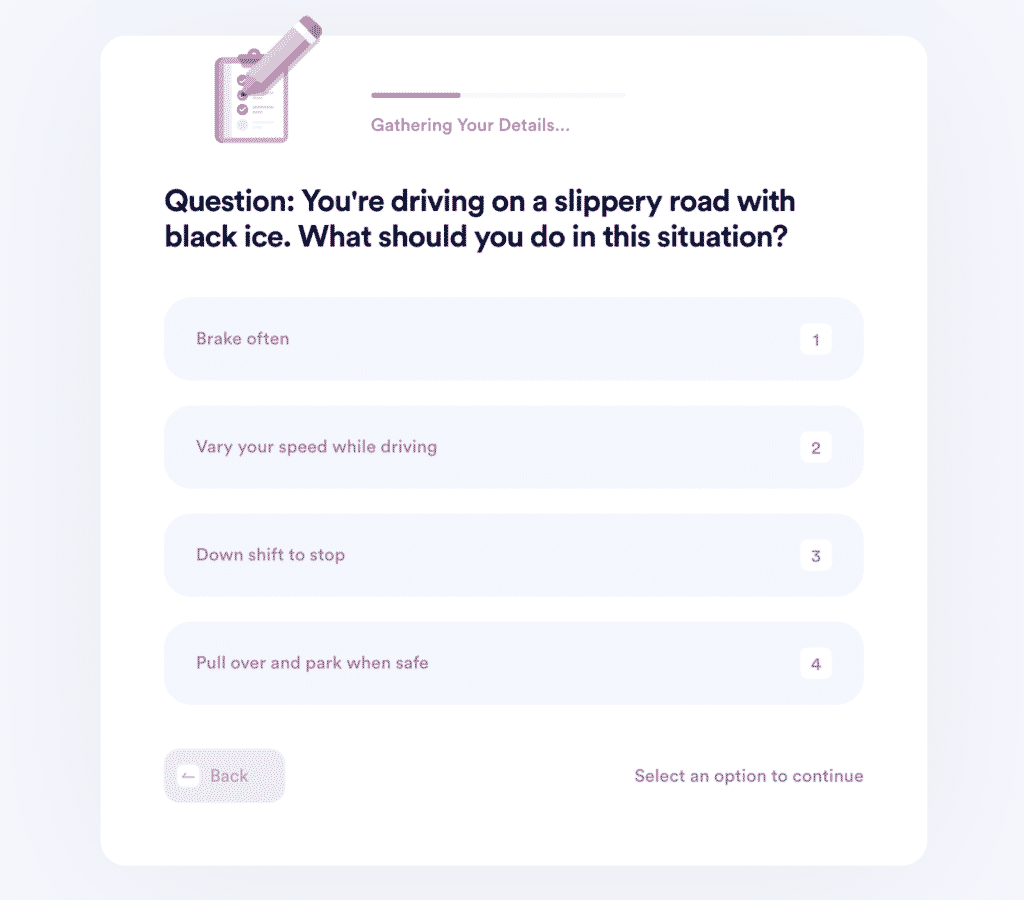 You can retake a single question or the whole test.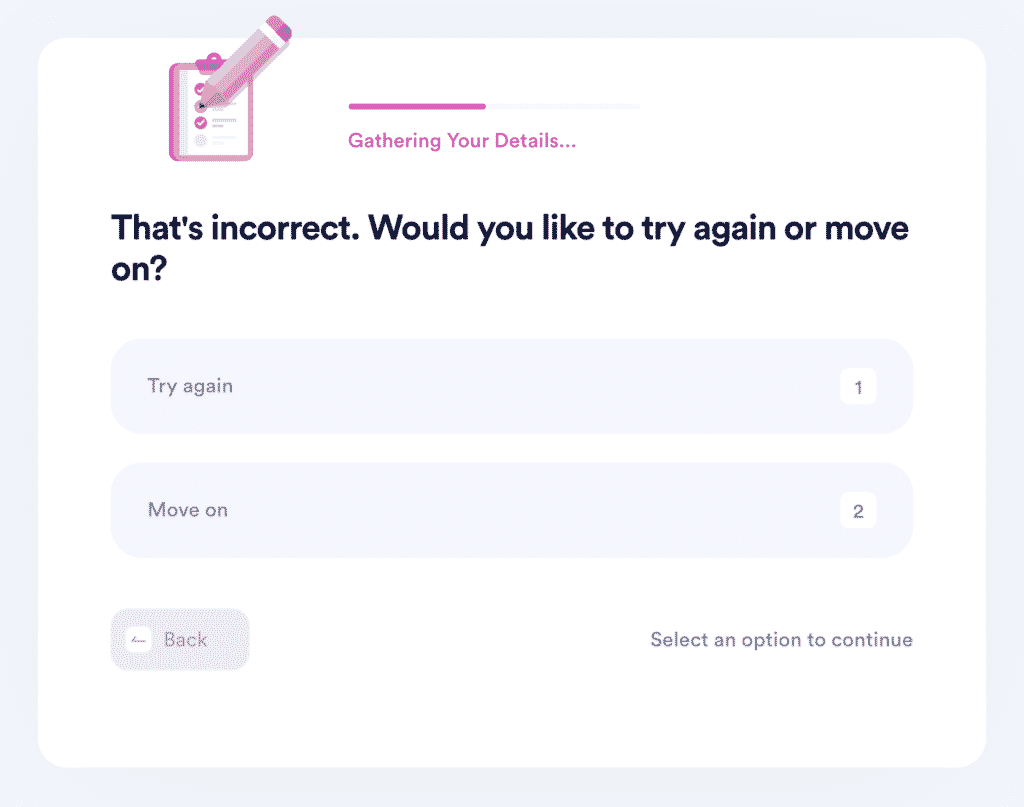 Once you pass the CDL exam, DoNotPay will help you prepare for the HAZMAT test in the same convenient way. Adding this endorsement opens the door to better-paid jobs.
We are the source to turn to should you want to check out ASVAB test scores. 
How Else Can DoNotPay Help You Find and Save Cash
Our Missing Money feature helps you find any unclaimed assets in your name in any state. An additional perk is that you can claim your money right in the app—no need for further research!
We can also make sure you do not pay for any unfair parking citations and get the rightful compensation from airlines for any canceled or delayed flight. 
Do not let big companies scare you into not claiming your warranties or insurance. DoNotPay helps you file these claims and appeal any rejections in minutes, which brings you closer to getting your money.
We can also delay your bill payments, get your college fees waived, or sign you up for paid clinical trials to earn some extra cash!
DoNotPay Keeps the Spammers Away
Whether you are dealing with email spam, text scammers, robocalls, or severe harassment, DoNotPay can help. 
Use our virtual credit card or the Burner Phone feature to sign up for free trials safely—without revealing your real info. DoNotPay will make sure that no company can reach you when you use our tools. 
We provide a fake email address, credit card info, and phone number that are in no way connected to your real data. 
We can also help you cancel services or request a refund without you having to contact the company directly.