Get the Best Catholic Homeschool Curriculum for Your Child
If your decision to homeschool your child was to ensure your faith is reflected in the way they are taught, that thinking needs to extend to the curriculum you choose.
Catholic curricula are available, but you also need to make sure the one you opt for is fun and engaging for your child.
DoNotPay has all the advice you need on choosing the right Catholic homeschool curriculum for your child!
What Is a Curriculum, and How Does It Work?
Depending on the state you live in, the law prescribes what subjects should be taught in each grade and what overall requirements you have to fulfill.
As a homeschooling parent, you will face more or less control over the subjects you have to teach your child once you have removed them from school.
Some states stipulate that basic subjects, such as reading, writing, math, and science, are taught for a minimum number of hours each year. Others allow you considerable leeway in your choice of homeschool subjects but expect students to be assessed regularly to make sure they are progressing in line with their contemporaries.
Whatever your state expects of you as the homeschool teacher, the choice of methodology—how to homeschool your child—is largely yours.
For a guide to each state's laws, check out the info DoNotPay has:
Your chosen curriculum should marry the required subjects with styles, activities, and teaching approaches that:
Reflect your child's preferred way of learning
Are manageable within your available timeframe or that of any help you get on board
Keep your child's education progressing at an acceptable speed
Retain your Catholic values
How Can You Choose a Catholic Homeschooling Curriculum?
Curriculum choice boils down to how much time, effort, and money you want to put into getting exactly what your child needs.
Your options are:
Buying a Curriculum Package
The easier—but more expensive—route is to buy a pre-designed curriculum from one of the many organizations that offer them.
Among the various providers on the marketplace, there are several that specialize in Catholic homeschooling programs, the most prominent of which are:
Each of these—and the others available—aims at a specific learning style, such as:
Traditional classroom-based teaching
Active learning
Your choice should reflect both your abilities and comfort zone as a teacher, as well as your child's learning style.
Designing Your Own Curriculum
If your teaching ability and subject knowledge are strong, you can opt to design your own homeschool Catholic curriculum in many states.
This involves:
Planning timetables
Prioritizing subjects in line with your state guidelines
Setting educational goals
Designing lesson plans
Developing ongoing assessment tools
Including activities to boost the learning experience
Building your own curriculum is hard work, and some states require you to give them highly detailed synopses of your curricula every year.
A home-made curriculum guarantees, though, that:
Your Catholic values are hardwired into the syllabus
You can tailor-make the teaching to suit your child
What's the First Step in Homeschooling?
Once you have found or built the perfect Catholic home school program, it is then time to get started and remove your child from school.
To do this legally, in most states, you have to signal your intent in advance to your school district.
To do this, you need to write a letter of intent, listing your:
Child's name, address, and school grade
Contact details
Proposed curriculum in certain states
Teaching qualifications, if your state needs them
The letter has to be formatted and written correctly and needs to be sent within a specific timeframe, depending on your state's laws—in most states, you can do this at any time in the year. Get any of these details wrong, and your homeschooling journey could be delayed.
DoNotPay can help you over this hurdle, though—we can !
DoNotPay Keeps Your Catholic Homeschooling Plans on the Straight and Narrow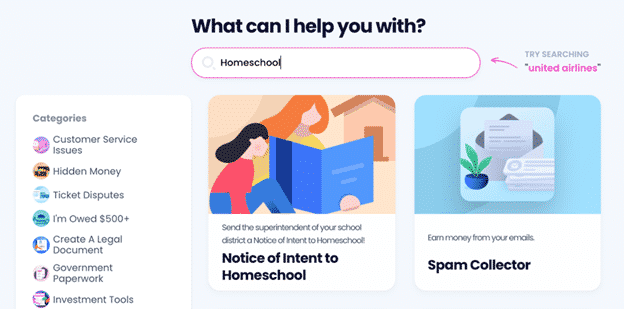 DoNotPay wants nothing to get in the way of your homeschooling plans!
Our Notice of Intent to Homeschool product removes one of the barriers to your starting to give your child the education you both want.
We can generate the letter you need, making sure all the required information is in place. We can even have it notarized online and sent automatically for you if you choose!
Here's how to get your letter drafted:
in your web browser
Click on our Notice of Intent to Homeschool feature
Fill out the questionnaire with the details needed
Job done—your letter will be ready in an instant, and your homeschooling adventure can begin!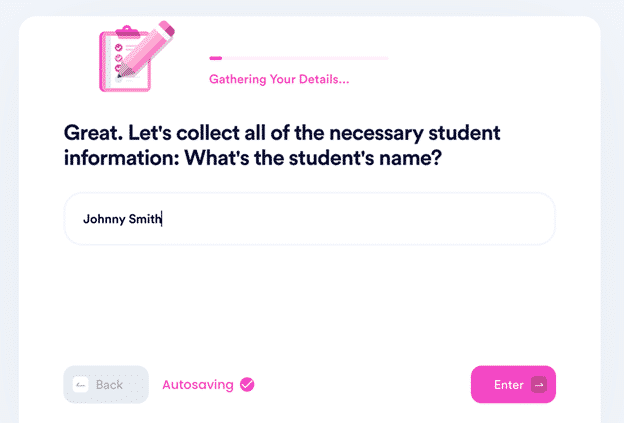 Don't Let Admin or Legal Issues Wear You Down—Hand Them Over to DoNotPay
Do you believe you may have some missing assets? Use DoNotPay's nifty product before the government claims them! Have you ever wanted to enter sweepstakes without purchasing anything? Our app will sign you up for them quickly! Trying to figure out how to reduce your property taxes or utility bills? DoNotPay can show you the way. Want to avoid getting charged for free trials that never fail to auto-renew into paid subscriptions? We'll help you cancel them before they expire.
Anything else you may need? Check out how our app can:
Check Out Our Other Robust Products
It doesn't stop there—DoNotPay can help you send a defamation demand letter, create passport photos, get gift card cash back, get any document notarized, request access to public records, claim insurance and warranty, request a college application fee waiver, appeal parking tickets, and much more.
Sign up now to get access to any of our products for one low monthly fee!