A Breakdown of the Catholic Health Care Directive Form
Do you want to ensure your end-of-life health care wishes are respected but fear they will interfere with your religious views? The Catholic health care directive form ensures that the declarant gets the treatment they wish while abiding by the principles of the Church's teachings.
Dive into the specifics of a Catholic health care directive form so you can decide whether it suits your needs. Catholic or not, you can use DoNotPay to create a health care directive in a snap!
What Is a Health Care Directive?
A health care directive helps the declarant make their wishes clear about any potential medical treatment (or lack thereof) if their medical practitioner diagnoses a terminal illness.
Both a standard and a Catholic advance medical directive typically consist of three documents:
Differences Between a Standard and Catholic Health Care Directive Form
A standard advance directive form gives you full freedom to decide about your future treatment and after-death procedures, but the Catholic version of a living will has specific rules regarding:
Pain medication
Complex medical treatment
Artificial nutrition and hydration
Euthanasia
Access to spiritual care
Every health care directive that abides by the teachings of the Catholic Church becomes a Catholic living will.
Pain Medication
The Catholic Church supports pain relief, but the medication must not hasten death or make the patient unconscious for any reason. The Church supports the idea of relieving the patient of pain.
Decisions Regarding More Complex Medical Treatment
Sudden decisions regarding treatment are considered forced. The Church suggests that the declarant:
Consults their future health care proxy and assigned physician about potential outcomes and required treatment
Does not make decisions in advance but rather chooses a responsible health care proxy to do it for them when necessary
Artificial Nutrition and Hydration
The Catholic Church considers food and water essential, but according to doctors, the insertion of feeding tubes and the use of similar equipment is part of medical treatment. The Church forgives the interruption of the patient's feeding when the patient is nearing death and the food is doing him more harm than good.
Euthanasia
Life is considered the gift of God, so the Catholic Church strictly prohibits euthanasia in all forms, including physician-assisted suicide (PAS).
Access to Spiritual Care
The Catholic Church believes every Catholic Christian deserves the right to spiritual care in their time of need. Through the seven sacraments, the patient is united with God and strengthens their belief in the divine and the afterlife.
Filling Out the Standard or Catholic Health Care Directive Form Is a Job for DoNotPay!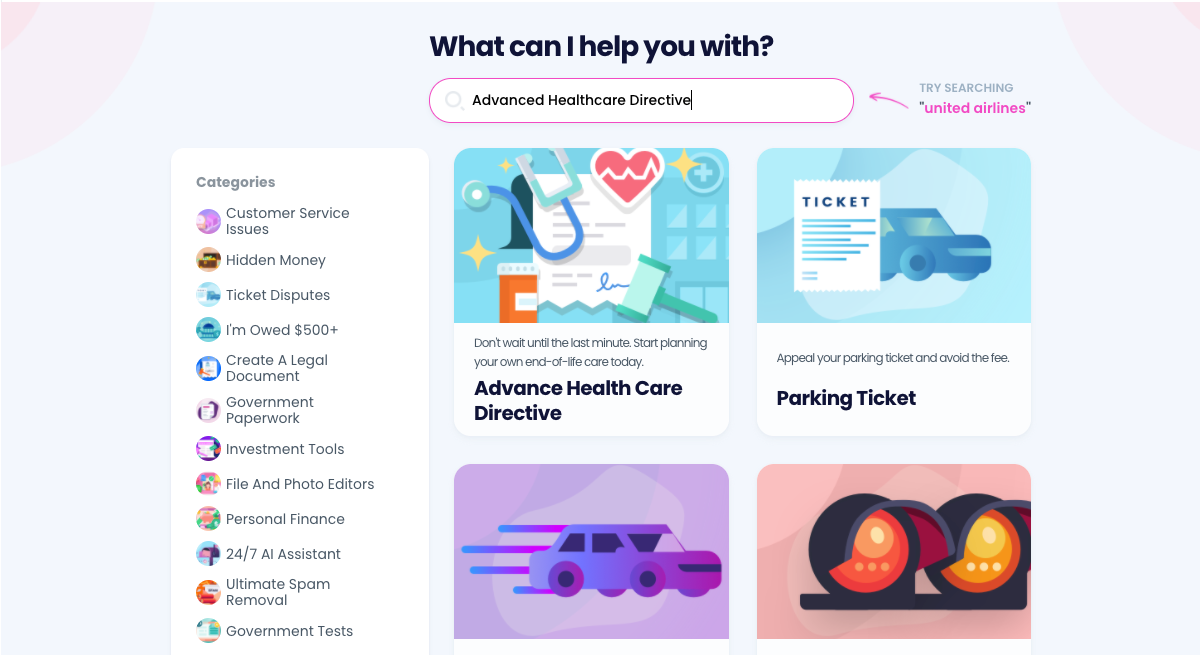 Hiring a lawyer to compose a health care directive for you can be pricey, but don't fret! DoNotPay can help you create a personalized living will according to your beliefs and principles in a jiffy! All you need to do is:
Type Advance Health Care Directive in the search bar
Specify the types of treatment you would (or wouldn't) like to receive in the future
Designate your health care agent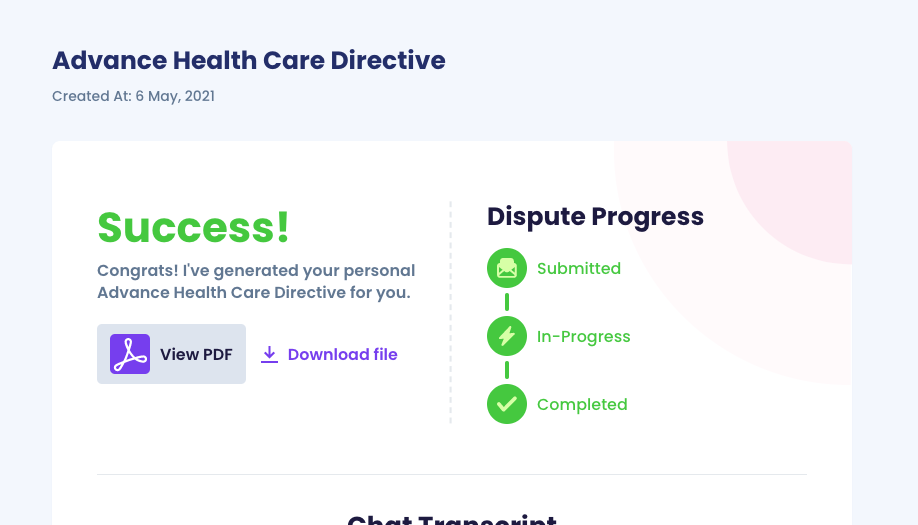 Once you complete all steps, you need to:
Sign the advance health directive
Find two witnesses to sign the document
If you're looking for the quickest way to get your document notarized, let us schedule an appointment with an online notary public for you!
With DoNotPay, There's Always a Way
There's so much more we can do for you! As soon as you sign up for our AI-powered app, you will have a myriad of nifty products at your disposal. We can do any of the following and more:
Tired of Companies Mistreating You?
If you're sick of dealing with greedy companies, subscribe to DoNotPay—we'll assist you with any issue at hand.
If you want to get a refund, send an item return request, file a complaint, claim insurance or warranty, get a free trial without getting charged by using our virtual credit card, or put an end to robocalls, your AI-powered assistant will be there to help.
When you decide to take legal action, our app will support you along the way. Sue any company in small claims court worry-free!