Regain Possession of Your Rental Property With a
Cash for Keys Agreement
As a rental property owner, you may be faced with troublesome tenants or rent defaulters. You may also want to remodel your property or take advantage of higher rental values with a new lease agreement.
Persuading tenants to leave can be difficult, but you may be successful with a cash for keys agreement.
We know how difficult writing a contract or creating a legal document can be. DoNotPay can help you draw up a cash for keys agreement that frees up your property.
What Is a Cash for Keys Agreement?
A cash for keys agreement is a contract whereby you offer a tenant cash to move out by a certain date.
There are many reasons why you may want a tenant to vacate your property, such as:
The tenant has stopped paying rent

You want to renovate or remodel the property

You want to move in yourself

The market has changed, meaning you could charge a higher rent with new tenants

The tenant is troublesome
If the tenant has defaulted on payments or breached the rental agreement in some other way, you can have them evicted, but this is a lengthy and expensive process. A cash for keys agreement could solve your problem quickly and with minimal difficulty.
Is a Cash for Keys Agreement Legal?
All 50 states recognize the option of a cash for keys agreement as legal, although there may be county or municipal laws that stipulate the process by which one can be offered.
The best way to approach a cash for keys agreement is to view it as the formalization of a negotiation process. In the case of delinquent tenants, you should remain professional and courteous and follow these steps:
Meet with the tenants

Explain that you are within your rights to have them evicted

Explain that you are prepared to offer them a cash for keys agreement

Negotiate the sum you will pay

Formalize the agreement in writing
A cash for keys agreement may also be more cost-effective than eviction. Even though it may seem strange to pay a tenant for defaulting, an eviction can cost up to $3,500 and take weeks or months.
Average payouts in cash for keys agreements are negotiable, but you can start as low as $250 and move up if required.
What Should a Cash for Keys Agreement Include?
Here are the elements you should include in your cash for keys agreement:
Element

Explanation

Details of landlord and tenant

You should include your name, address, and contact details, as well as those of the tenant (using your property's address)

Sum to be paid to vacate

Once you have negotiated the amount you will pay, you should record it in the agreement

Date of property handover

This is the date by which the tenant must vacate the property

Inspection rights

You should note that you will perform a final inspection of the property in the presence of the tenant to ascertain any damage or missing items

Date of financial settlement

This can be the same date as the handover but should only take place after you inspect the property. You can also stipulate the payment method you have agreed on

Exclusions and breaches

You should note the following:

The cash for keys settlement does not affect the deposit the tenant has paid. This is a separate financial arrangement governed by the lease agreement

If the tenant does not move out by the due date, you will proceed with the eviction process

Governing law

You must state the governing law under which the agreement has been reached. This will usually be the state law in the location of your property
Once you have agreed on the terms of the contract, both parties should sign, and you should have it notarized to make it legally binding.
How Can DoNotPay Help?
A cash for keys agreement is simple enough for you to draw up yourself after negotiation with the tenant. Use the template above to make sure you have all the details you need.
If you are looking for customizable legal documents or contract templates, DoNotPay is your partner. We can create tailor-made legal documents for you with a few clicks—here's how:
Search for the document you need

Fill in the details you want included

Wait while we create your customized legal document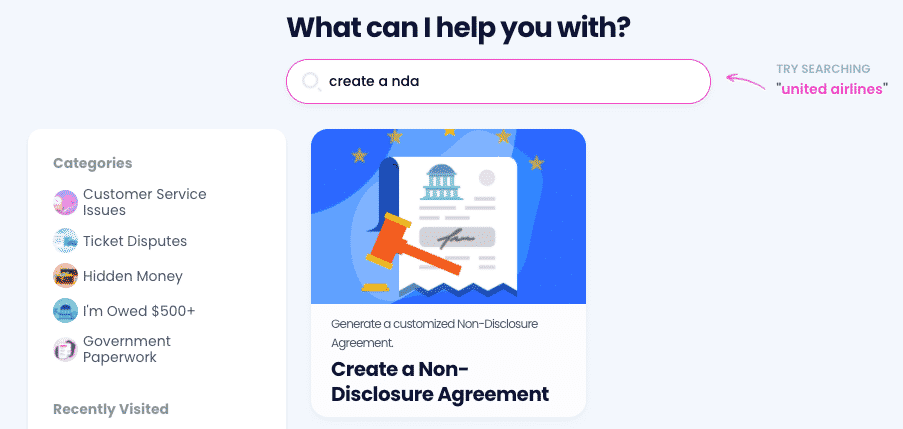 What Legal Docs Does DoNotPay Offer?
to create a contract in minutes. We have a rapidly-expanding range of documents for many situations—here are a few examples:
Property
Business
Personal

Estoppel certificate

Quitclaim deed

Intent to purchase real estate

General business contract

General affidavit

Promissory note
Falling for Scams Is Less Likely With DoNotPay
Thanks to AI technology, DoNotPay is a great resource for protecting your privacy and finances from potential scammers. Our bots can help you report robocalls, keep your inbox clean from spam email and shady text messages, or even deal with stalking and harassment, if it comes to that. 
In case the issues escalate, skip the expensive lawyers and sue the offenders in small claims court with ease. 
Another great way to increase your online security is to use our virtual credit cards and sign up for any free trial without risking unwanted charges. You can even avoid sharing your contact info with our Burner Phone feature. 
The Solution to Your Driving Woes
DoNotPay provides invaluable help to future and current drivers. By helping you ace that driver's license test, scheduling a DMV appointment the easy way, or contesting parking tickets, our app saves you money and time. 
If you need to file a car warranty or an insurance claim, we will help you deal with the necessary paperwork within minutes. Trying to get out of a car wash membership? DoNotPay can cancel it in an instant. 
Our platform works above ground as well. You can use DoNotPay to secure refunds from airline companies or compensation for delayed and canceled flights.