The Particulars of Cash Flow Loans for a Small Business
Is your small business strapped for cash? It is not uncommon—that is why banks and other lenders offer cash flow loans for small businesses.
If your small business budget cannot keep up with month-to-month startup costs during a dip in revenue, you can borrow the money in the meantime. Seasonal businesses often face high expenses when profit is down—that does not mean they have to go bankrupt.
By researching cash flow loans for small businesses, you will better understand the tools available to you. Get all the details in our guide, and use DoNotPay to optimize the process.
Key Information About Cash Flow Loans
A small business cash flow loan is a form of debt financing. It is one type of small business loan and is generally used to cover working capital.
These types of expenses may include:
Employee wages
Property rentals
Third-party service fees
A cash flow loan is ideal for businesses that have inconsistent revenue streams. For example, you may run a seasonal agriculture business that needs to be able to pay an expanded staff to harvest the product. You can rely on a cash flow loan to cover your raised compensation expenses until you begin selling your products and generating more revenue.
Small business loans work by netting the lender additional profit on what they borrow. This percentage of the total amount is known as interest.
As with all small business loans, this form of lending needs to be evaluated by its terms of repayment. The interest rate, additional fees, and other caveats are also factors you need to weigh against the value it offers your small business. The best small business loans will offer competitive rates and no penalty fees.
Should You Apply for a Small Business Cash Flow Loan?
Given the cost of interest, you should not apply for a cash flow loan without seriously considering what you stand to gain from it. Even if you meet the requisite qualifications, a startup loan may not be suitable for your company.
Seeking a cash flow loan is a good option when you:
Are experiencing a low-revenue period
Have the opportunity to invest in discount inventory
Need additional capital to pursue a significant job
Want to expand quickly to meet a need
Calculating your loan requirements ahead of time will help you apply more confidently. You need a clear purpose for your cash flow loan. It should help you grow your business, acquire new inventory at an otherwise unavailable rate, or give you entry to new clientele.
How To Get a Cash Flow Loan
To get a small business loan, you need to apply with a lender. Although you could seek private investment or a third-party online loan, the most common sources of financing include:
Commercial banks
The United States Small Business Association (SBA)
Commercial Bank Loans
Lending products are a core service offering of most banks. Bank loans have favorable interest rates and available ranges of capital. They may not be convenient for small businesses that need cash fast—processing can delay access to funds for up to six months.
Banks traditionally require a high credit score and collateral to qualify for a loan.
Want to get a loan from a commercial bank? Here are the steps:
Choose a bank (ideally one that you already do business with)
Request a meeting with a loan officer
Explain your business plan
Present your need for a cash flow loan
While you can apply for a loan with any number of banks, you will have to provide details of past applications. The bank loan market is highly competitive, which is why many entrepreneurs choose to apply with the SBA instead.
SBA Loans
The SBA manages financial support for the US small business economy. They facilitated a high number of COVID-19 loans in light of the pandemic in 2020. Their most popular lending option is the 7(a) small business loan:
| Loan Term | Information |
| --- | --- |
| Borrowed amount | Up to $350,000 |
| Acceptable use | Working capital |
| Repay within | Seven to 25 years |
How to get an SBA loan:
SBA-based funding is available through their approved lenders. Find a lender and apply by following these steps:
Navigate to their Lender Match
Select a lender
Request a loan
DoNotPay Will Facilitate Your Cash Flow Loan Application
If you are struggling with a dry spell or trying to capitalize on a short-lived opportunity, then you do not have the time to manage a loan application. Allow DoNotPay to double-check the process for you.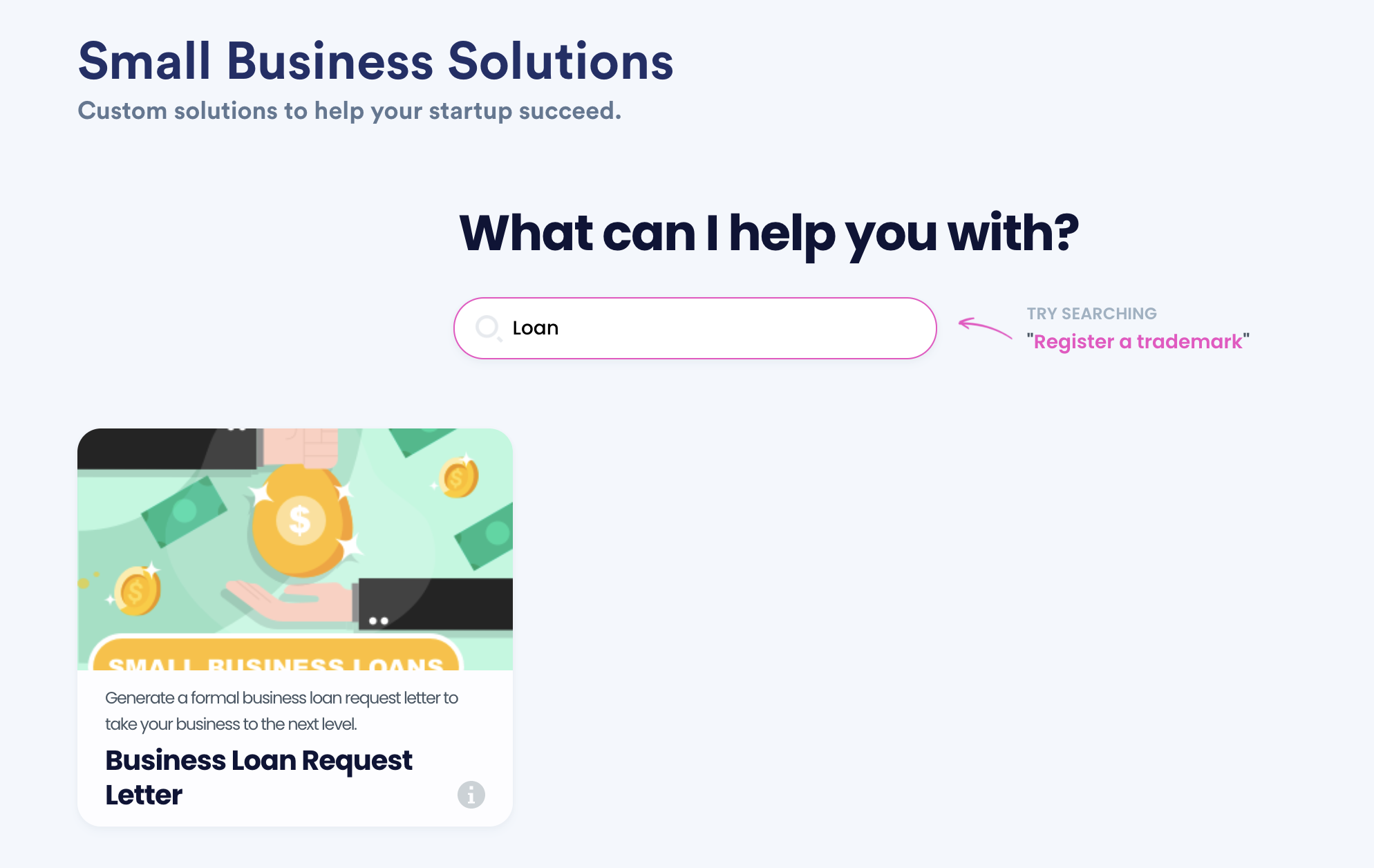 DoNotPay is equipped with two essential tools to support your cash flow loan application:
Find an alternative to commercial banks with our Find Online Business Loan Lender tool
Produce a professional application with our Business Loan Request Letter generator
Here is how to get started:
Open your DoNotPay profile
Find a lender
Open the Business Loan Request Letter generator
Tell us about your business
Once you have taken care of your end, we will see to the rest.

Don't Waste Ages on Tedious Administrative Tasks—Rely on DoNotPay
Running a small business can be a challenging endeavor, but you can count on DoNotPay to make the situation easier! We have developed a number of handy features that you can use to deal with your business-related hurdles. With our help, you can:
Send mail to your customers, investors, or business associates without wasting time going to the post office
Register your business slogan, logo, or name as a trademark to prevent brand infringement
Avoid copyright violations on your website by registering a DMCA agent
Protect the privacy of your clients' data by filing the Privacy Shield program self-certification request
Contest unjust chargebacks and keep the revenue
Deal with clients who breach the contract without wasting money on collection agencies or lawyers
Worked Hard on Creating a Good Business Reputation? Don't Let It Go to Waste!
Has one of the angry clients or envious competitors decided to leave a mean online review that could have a negative impact on your business? DoNotPay is here to help you remove it! We will analyze the problematic review and report it until it is taken down.
Don't know how to protect your trademark and make sure no one else is using it? Our app can monitor the trademark on a monthly basis and send cease and desist letters if necessary.
Let our app take care of many other issues—such as filing 83(b) election forms, registering for an Employer Identification Number (EIN), taking out small business loans, and similar—while you concentrate on the creative side of your business.