All About Cash App's Terms of Service
Making safe money transfers online may be one of the many reasons why you love the Cash App. But have you read and analyzed all the cash app terms of service? While they may be long and uninspiring, you should read the terms before signing on the 'dotted line' to make sure the company upholds all your privacy rights.
That said, doing a proper analysis may take time and, due to prolonged fatigue, you may pass over some violations that can get you compensated.
For a less lengthy and tedious process, use a convenient and automated online product for helpful insights to keep Cash App accountable. DoNotPay can scan a website for any hidden violations and help you claim compensation.
What Does Cash App Do?
Cash App is a trusted payment platform that's currently available in the United States and the United Kingdom. Apart from money transfers, the app also offers:
ATM withdrawal services
direct deposits
Bitcoin
Stocks
Investment products
The app is available for both iPhone and Android users.
Cash App Terms of Service
Terms of service form a legally binding agreement between you and a service provider. They provide clear guidelines on different facets, including the specific services provided, applicable laws, intellectual property rights, and dispute resolution channels.
As a user of a data-sensitive platform like Cash App, you should constantly analyze new updates as they may contain new information that calls for specific actions. By keeping the company accountable, you ensure that no violations take place and, more importantly, that your personal data is safe.
Cash App terms of service are updated every few months, with the most recent update coming into effect on December 10, 2021. The company emphasizes that you read everything so you can understand how the terms apply to you.
We will look at a few of the terms, but you should visit the Cash App website to perform a detailed analysis, and you may just find a violation that could lead to compensation.
The service is only allowed for persons who are 18 years or older.
Some services require more customer information or documentation for activation.
They can amend the terms at any time, and they are at liberty to choose when to give notice on the same.
They can limit your cash reserves and cash-out transactions.
You provide your personal information at your own risk. They cannot guarantee safety from unauthorized third-party breaches.
These few terms provide just a sneak peek as the entire page is quite long. Section 4 and 5 of the Cash App terms of service specifically capture the acceptable modes of communication and data usage consecutively. With deeper analysis, these sections can easily reveal hidden clauses, missing privacy clauses, or violations that can lead to compensation.
However, performing the TOS analysis yourself can be time-consuming and frustrating, especially if you don't understand the terms applied. DoNotPay reviews the newly updated Cash App terms of service so you can understand the impact they have on your personal data.
How to Analyze Cash App Terms of Service With DoNotPay
Analyzing terms of service by yourself is no easy task. It requires time, patience, and a little legal knowledge to understand all the applicable jargon. These requirements easily become a hindrance for an average customer, leaving them with no choice but to accept without reading them.
For an easy way to overcome this challenge, use DoNotPay. By providing us with a few details, we are able to scan the website for hidden clauses that could lead to compensation.
Here are the details:
How to Analyze Terms of Service Using DoNotPay:
If you want to analyze the Cash App terms of service but don't know where to start, DoNotPay has you covered in five easy steps:
1. Go to the Analyze Terms and Services product on DoNotPay.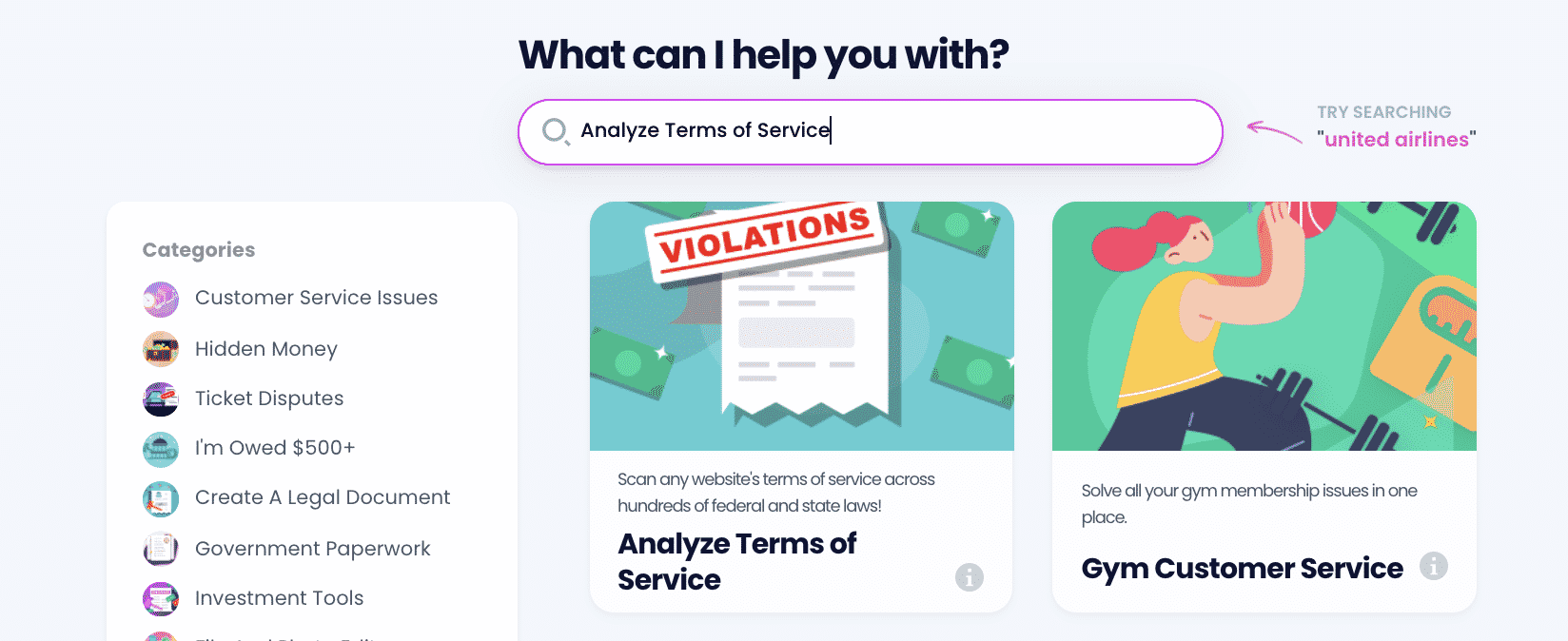 2. Enter the website domain you would like to scan.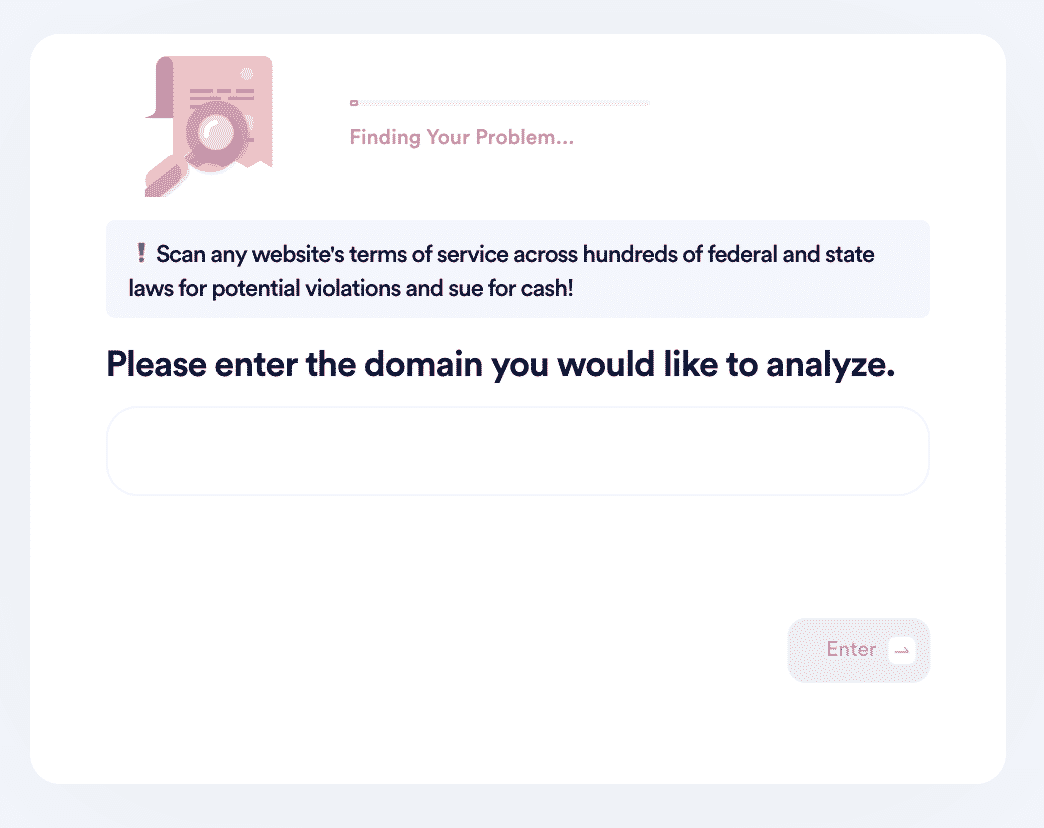 3. Wait for DoNotPay to identify any legal violations on the website (it should only take a few seconds.) If there are violations, proceed to draft a demand letter.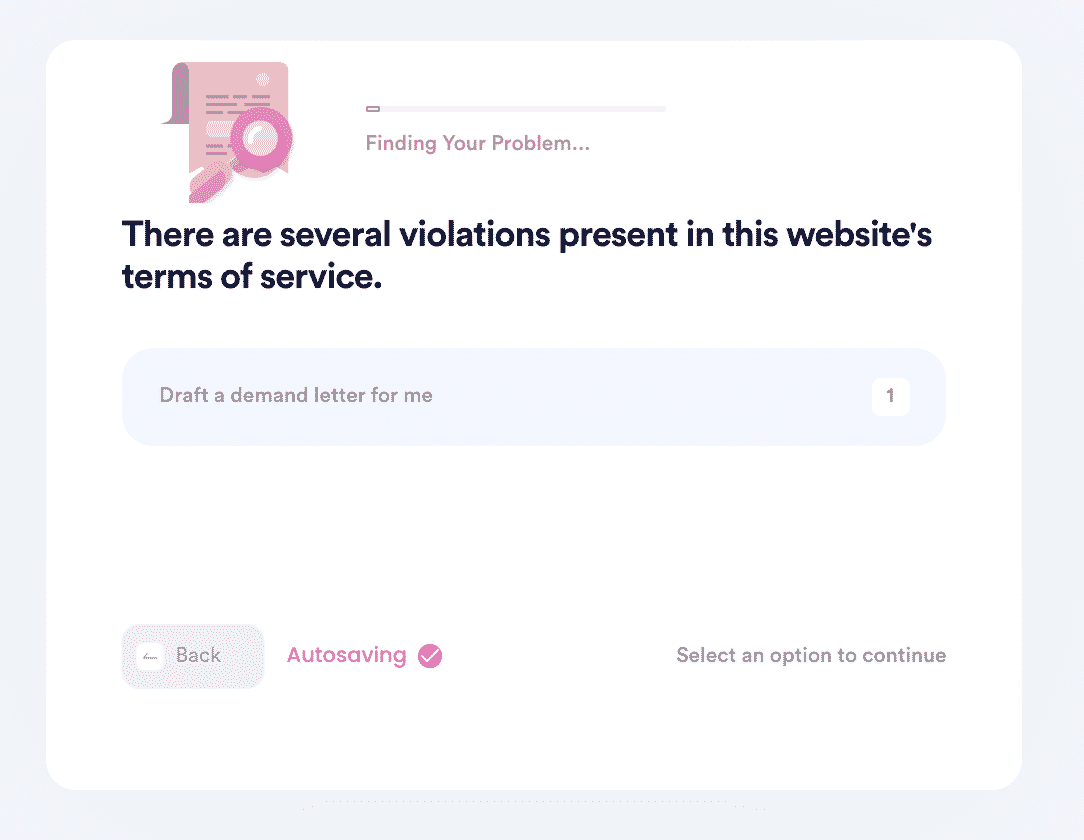 4. Enter how much you want to receive in compensation and the company name.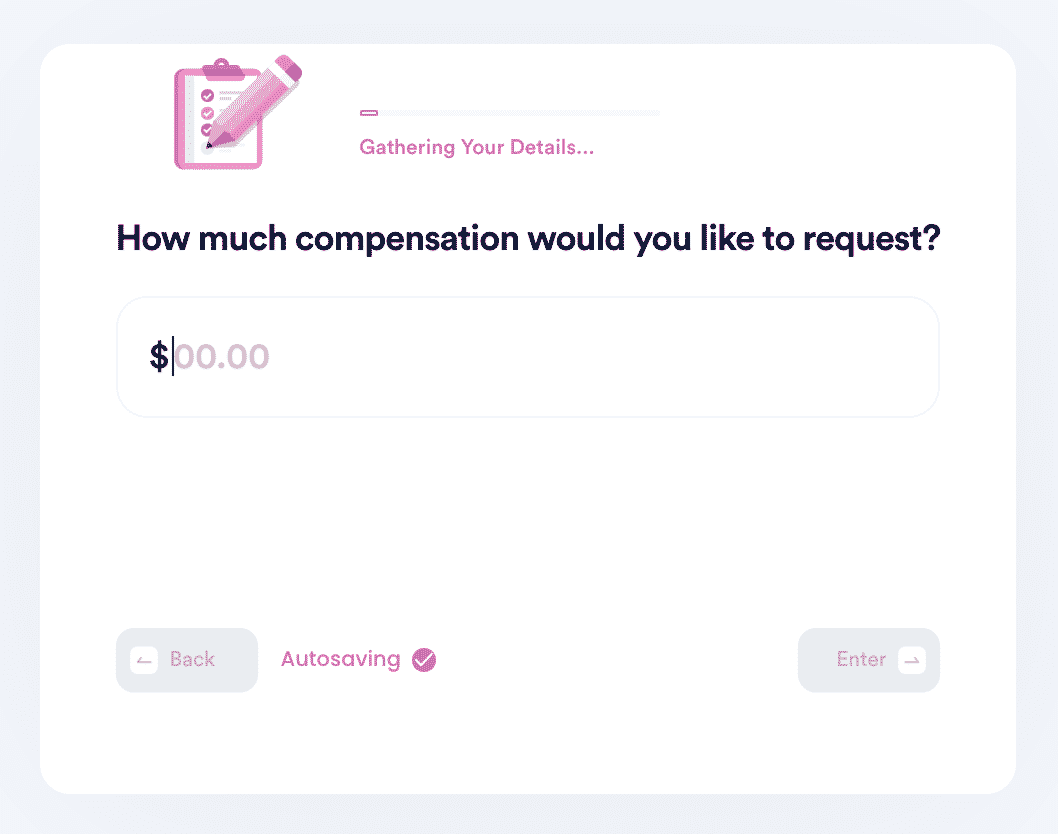 5. Enter your contact information so the company can contact you.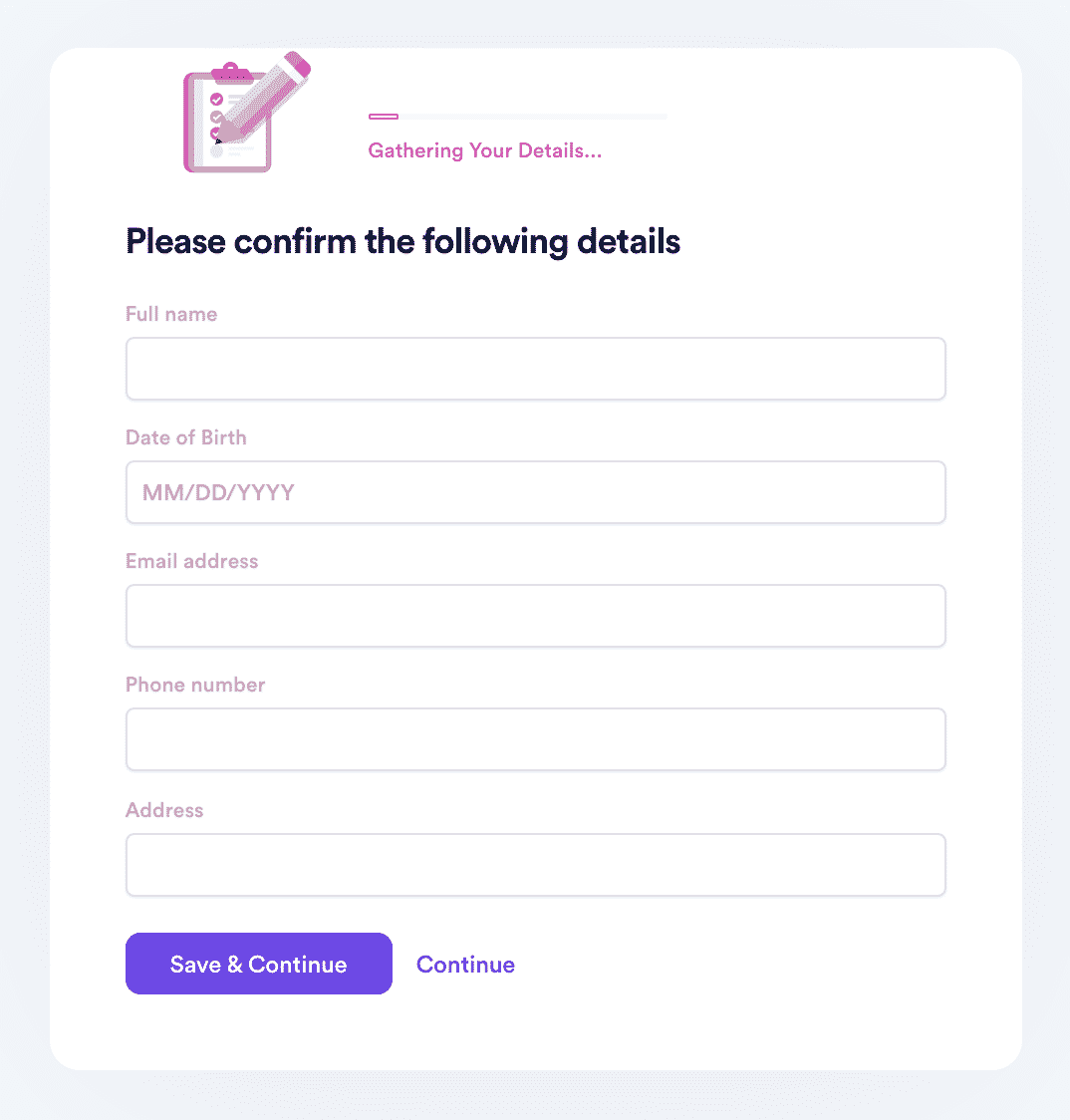 DoNotPay will generate a demand letter on your behalf with every legal violation we identified that you could send to the company.
DoNotPay can also analyze any of these companies for any violations and potential compensation.
What Else Can DoNotPay Do?
Helping you analyze terms of service is just one of the many issues we can help you solve.
Here are other services you can enjoy on DoNotPay:
You don't have to read the lengthy Cash App terms by yourself. Trust DoNotPay for time-saving and effective analysis that can help keep the company accountable or unearth hidden violations so you can claim your rightful compensation.