How to Avoid Cash App Fees
Cash App is a useful service for sending and receiving money. While the basics can be done for free, certain transactions may be subject to . It's important to know what these transactions are so you can avoid them.
Appealing Cash App's fees isn't always possible, so skipping the transactions that incur them is usually your best option. However, if you've been charged a fee by mistake or that you'd like to appeal, DoNotPay can help make the process easier. Here's what you should know about the .
What Fees Does Cash App Charge Users?
include charges for certain transactions. But others are available for free. Here's a breakdown of what charges to expect for different activities:
Fee-Free Activities
There are many activities you can do on Cash App without paying fees. These are all available for free:

Sending payments
Receiving payments
Adding money to your account
Withdrawing money from your account in one to three business days

Account Fees
These are the activities on your Cash App account that incur fees:

Sending money using a credit card: 3%
Withdrawing money from your account instantly: 1.5% with a $0.25 minimum

Debit Card Fees
Cash App offers a Visa Debit card that allows users to make in-person purchases and ATM withdrawals. The ATM withdrawal fee associated with this card is $2.
Bitcoin Fees
Buying Bitcoin through Cash App may come with fees. If your transaction is subject to fees, they will be listed on the confirmation page before you go through with the purchase. If you withdraw Bitcoin through Cash App, there may be fees for this, as well. Standard withdrawals can be completed for free. Rush and Priority withdrawals may or may not be subject to fees depending on the timing.
How to Manage Cash App Fees Yourself
Cash App's fees are fairly straightforward, so knowing which activities come with fees is important and will set you up for the most success in avoiding the extra costs.
1. Avoid Fees
The best way to handle transaction fees is to avoid them in the first place. Cash App's basic functions can all be performed without incurring fees. To avoid paying fees, take these steps:
Don't use your credit card to transfer money.
Don't choose instant transfer when you withdraw money from your account.
Don't use your Cash App Visa Debit card to make ATM withdrawals.
Carefully consider whether a particular service is worth the fee for you.
2. Contact Support
Since Cash App's fees are listed clearly and set to be charged automatically for certain transactions, there's no established process to appeal them. However, if you feel you've been charged a fee in error or you'd like to ask for fees to be waived, you can contact Cash App's customer service. There are four ways to do so:
App: Go to Cash App support at the bottom of your profile. Choose the relevant issue and then tap Customer Support. This will connect you to a live chat.
Website: Log in to your account. Click "Contact Support" at the bottom of the help page. Choose the relevant issue. You'll be connected to a live chat agent.
Phone: Call customer service at 1-800-969-1940. For many companies, this is the most effective way to ask for a fee to be waived.
Mail: Send a letter to this address: Cash App, 1455 Market Street, Suite 600, San Francisco, CA 94103. Naturally, this option will be the slowest. But in some situations, having your request in writing is useful.
When you contact customer service at Cash App, be aware that no one should ever ask you for your sign-in code.
Easily Handle Cash App Fees With DoNotPay
Transaction fees can add up when they're charged on purchases or transfers you make regularly. Asking for fees to be waived is often effective, but it can be time-consuming. If you'd like to appeal your transaction fees from Cash App, DoNotPay can help. DoNotPay's fast, easy and successful system can make appealing fees you'd like to avoid much more convenient. Asking for fees to be waived can save you a substantial amount of money.
Here's how you can use DoNotPay to appeal fees:
1. Search "appeal fees" on DoNotPay, choose the Fight and Waive Fees product, and select the type of fee you want to appeal.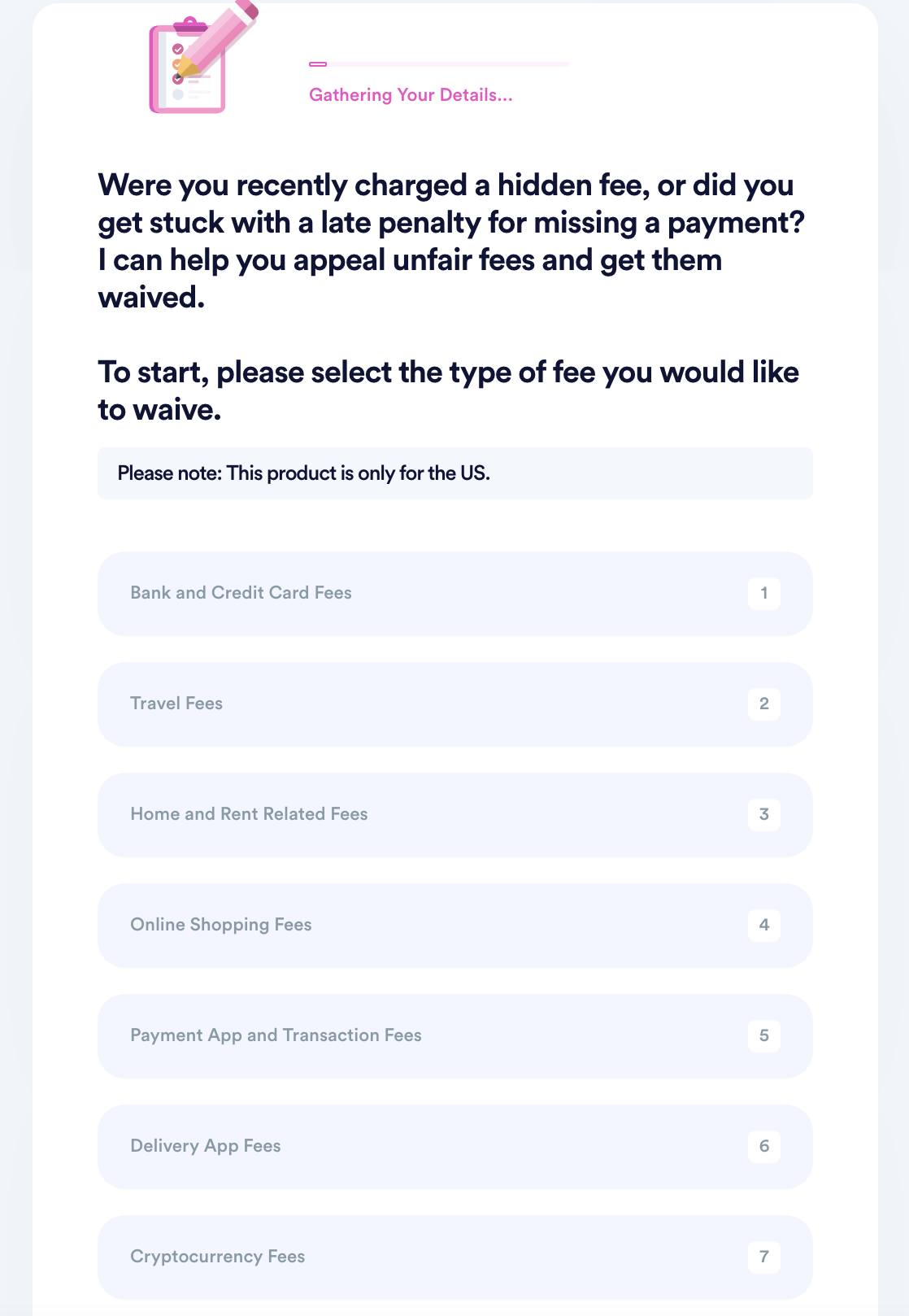 2. Select the merchant you want to appeal fees for and enter the details of your transaction, including an associated account if you have one.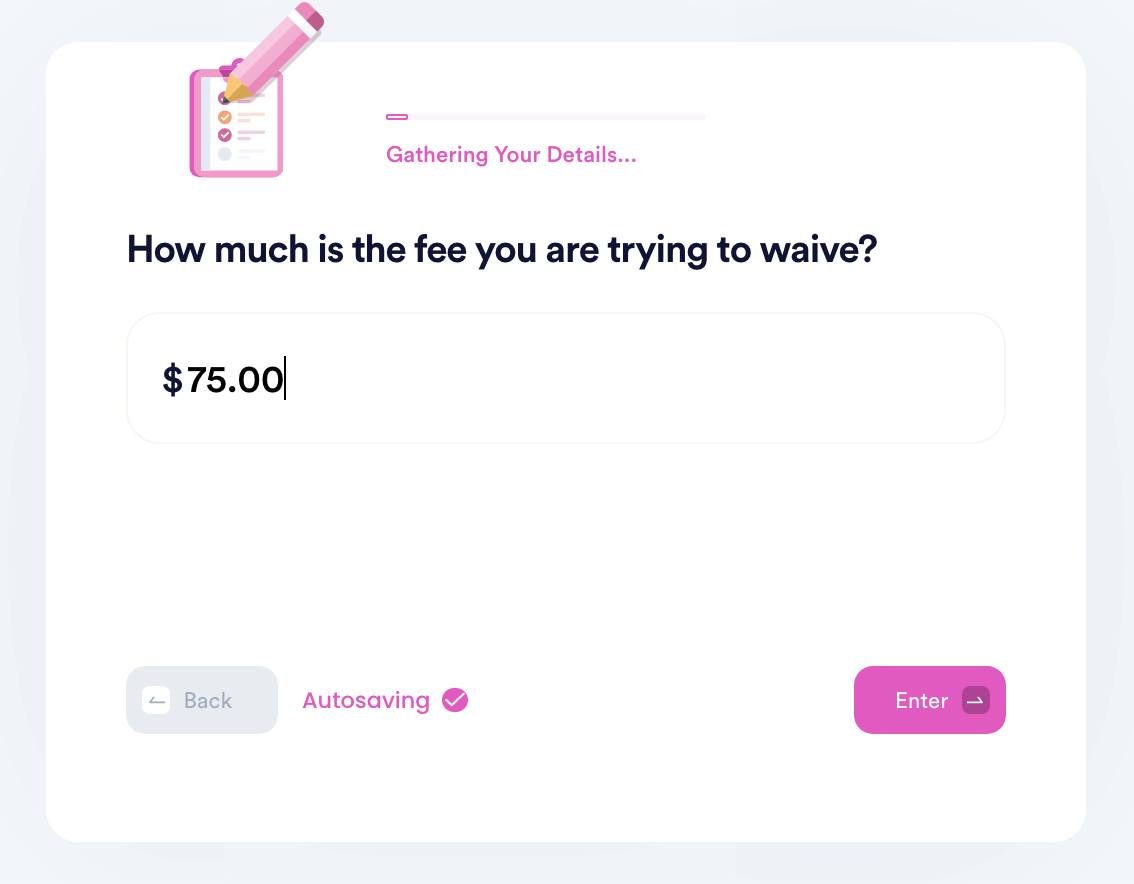 3. Submit your case! DoNotPay will generate the best argument for your case and make sure your fee waiver request gets sent to the merchant for processing.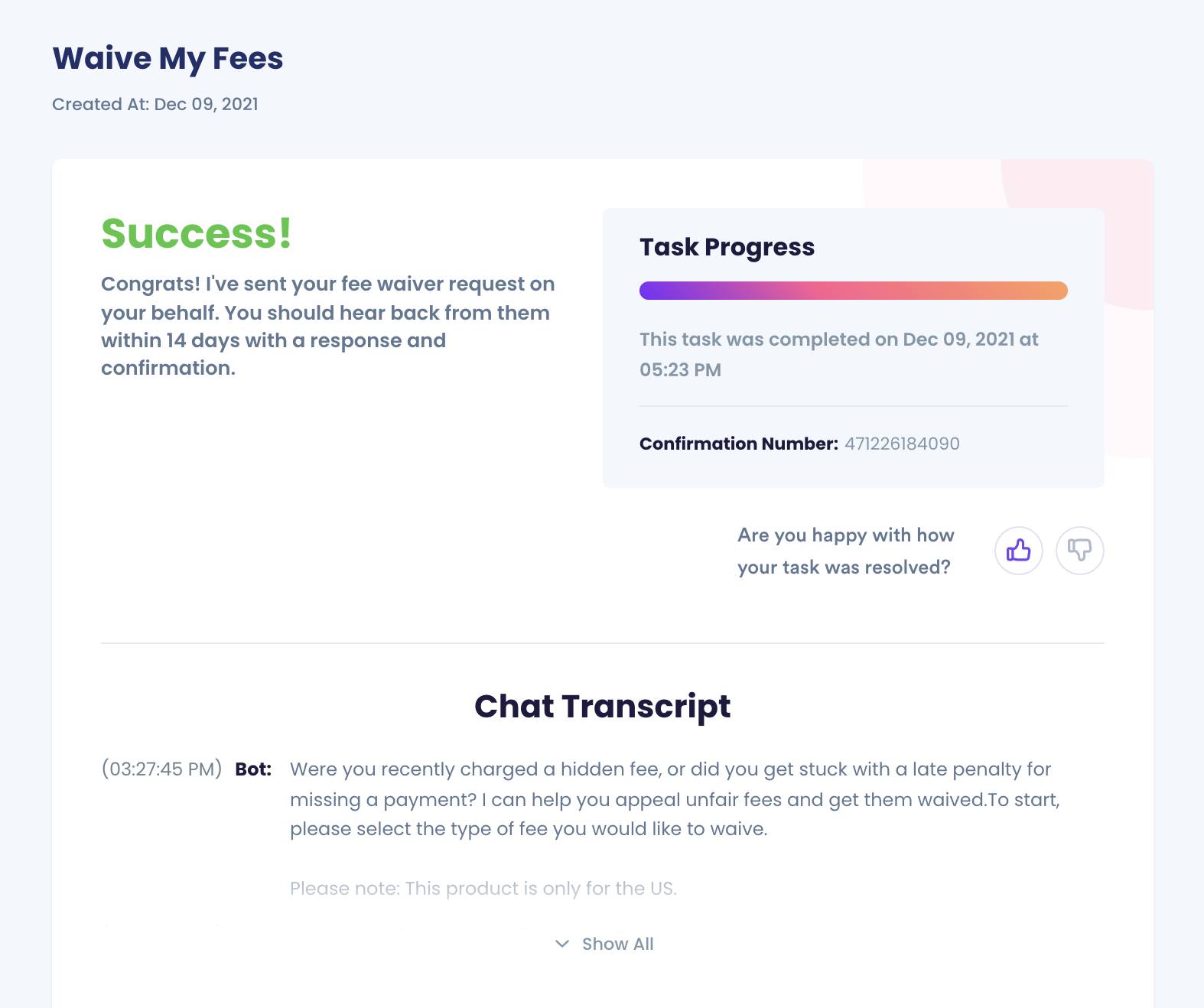 DoNotPay Works Across All Companies With the Click of a Button
DoNotPay can help you request to waive fees for any product or service you use, including:
What Else Can DoNotPay Do?
DoNotPay provides a number of other services, including:
If you'd like to save time and stress while appealing Cash App transaction fees, contact DoNotPay today.