Are You Trying to Get Section 8 From the Carrollton Housing Authority? DoNotPay Can Make the Process Easier!
The cost of renting a home or an apartment has soared in recent years, making it almost impossible for anyone to find affordable housing. It's further complicated if you and your family are barely getting by to begin with. If you're living at or near the poverty line you might find that there are programs out there to get the safe housing you need.
It's possible to get a Section 8 housing voucher from the Carrollton Housing Authority, but it isn't always easy. There are many people in need of housing, so the housing authority must find ways to help as many people as possible while making sure they're helping the people who really need it. DoNotPay can help you get the rental assistance program you need.
Who Is Eligible for Section 8 Housing?
The Carrollton Housing Authority has strict guidelines about who qualifies for and receives help to secure affordable housing. You'll need to meet certain qualifications or fit into a specific category.
Here's a look at these qualifications:
All household members must be citizens or provide the correct Visas and paperwork
The household must meet the income qualifications to get help with the cost of housing
 Someone in the household must meet this qualification:
Displaced person
Minor child
Senior citizen
Disabled person
How to Get Section 8 From the Carrollton Housing Authority on Your Own
You can attempt to get Section 8 vouchers from the Carrollton Housing Authority by yourself but it isn't always easy. 
There are two ways to apply:
Get an application form from the Housing Authority during regular office hours.
Download the application form, print it and complete it.
Once you have completed the application form, call the Carrollton Housing Authority to schedule an interview appointment.
Attach the following documents with your application:
Photo IDs for all adult household members
Social Security Cards
Birth certificates
Proof of all income
Here's the contact info for the Carrollton Housing Authority:
Address
Carrollton Housing Authority

1 Rope St.

Carrollton, GA 30117

Phone
(770) 834-2046
Website
https://carrolltonhousingauthority.com/
Online Support
Contact Form
Email
info@carrolltonhousingauthority.com
Hours
Monday to Thursday 8AM-5PM

Friday 8AM-4:30PM
Solve the Challenges of Getting Section 8 Housing From Carrollton Housing Authority With the Help of DoNotPay
When you're in need of affordable housing and can't find it on your own, Section 8 housing from Carrollton Housing Authority might be the only way to find it. However, it isn't always easy to get in contact with your local Section 8 housing authority or to make them take your application and needs seriously.
If phone calls and visits have failed, you might consider giving up and trying something else. Don't! DoNotPay is here to help you apply for Section 8 housing and get the affordable housing you need.
If you want to apply for Section 8 Housing but don't know where to start, DoNotPay has you covered in 2 easy steps:
1. Answer a few questions about your income, family size, veteran/disability status, which county you hope to live in, etc.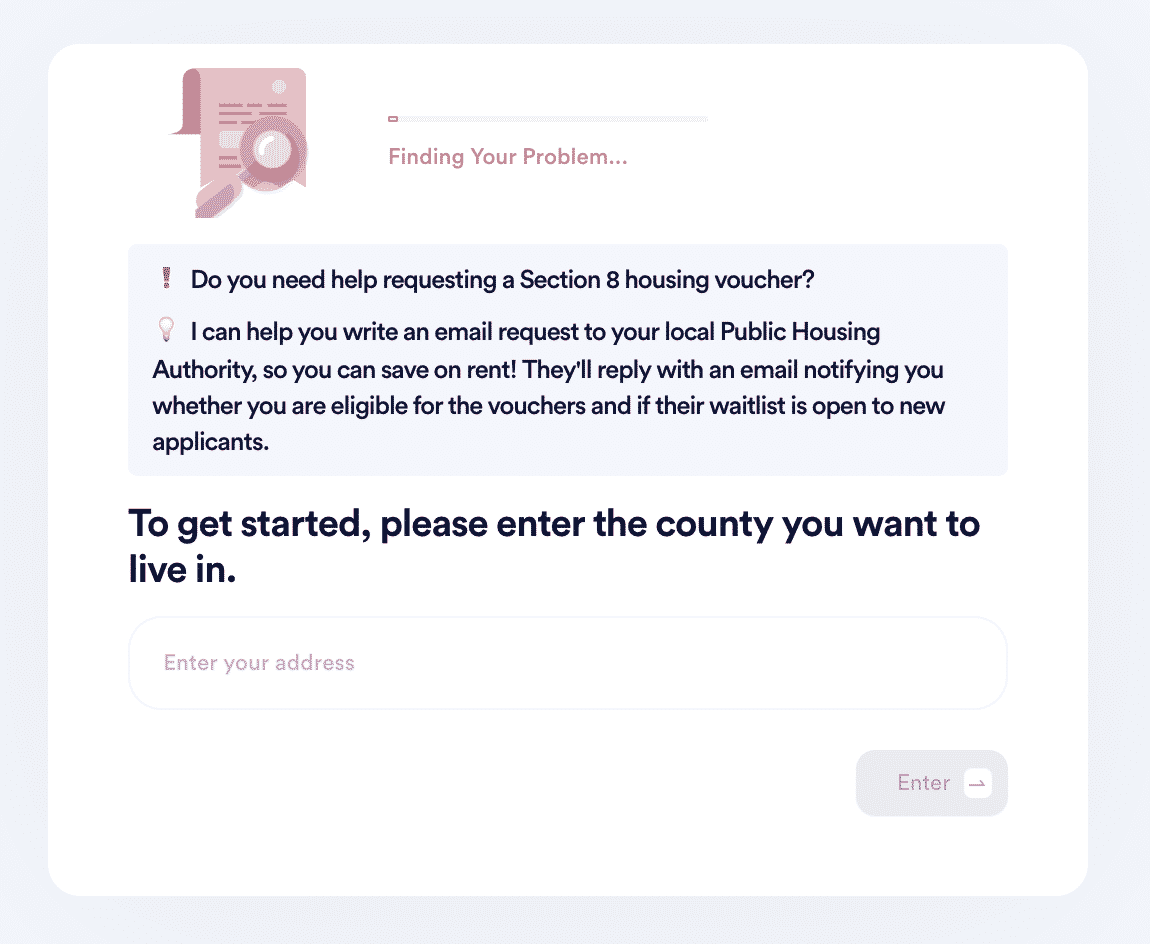 2. DoNotPay will find the PHA in charge of that county and contact them with all of your eligibility information to determine if you can start applying. They'll get back to you directly via email with the next steps.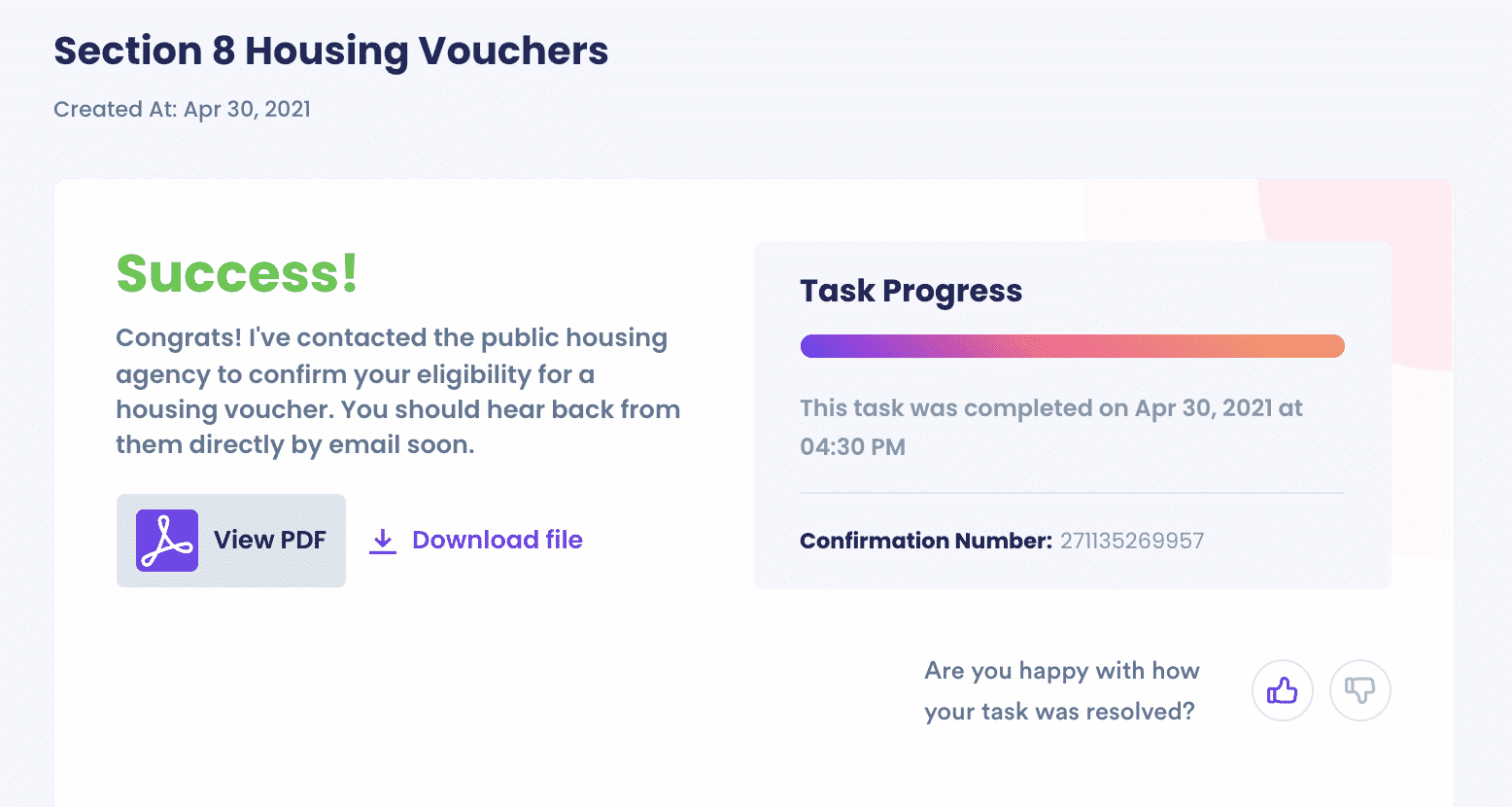 ​​Why Use DoNotPay to Solve the Challenges of Getting Section 8 Housing From the Carrollton Housing Authority
Do you really need the DoNotPay app to get Section 8 housing from the Carrollton Housing Authority? You aren't sure you need the help or if DoNotPay is the right way to go.
Here's a look at a few of the reasons why people choose the app to get Section 8 from the Carrollton Housing Authority:
It's successful, so you can stop worrying about finding housing.
It's easy to use, as you simply input all the required information.
It's fast, so you can find the housing you need now!
DoNotPay Works Across all Companies, Entities, and Groups With the Click of a Button
It seems like programs, such as Section 8, are a mystery, and it's hard to learn more about them. DoNotPay prides itself on offering you more information about this and other programs, so you know where to find help when you need it.
Here is a look at some of the popular topics.
What Else Can DoNotPay Do?
After you arrange Section 8 housing through the Carrollton Housing Authority, you'll begin to wonder if DoNotPay can help you with other things. The app strives to help people like you deal with their everyday tasks and the occasional unusual ones. Check out a few of these to start:
Use the DoNotPay app to help you contact the Carrollton Housing Authority for Section 8 housing today!