Get Your Wheels With a Car Sale Contract With Payments
Buying a new car can drain your wallet. If you cannot pay in full, you might want to opt for monthly installments. 
If drafting the contract seems complicated, we'll explain what you need to include and help you create a valid legal document. Avoid wasting time and energy and use DoNotPay!
How Does a Vehicle Sale Contract With Payments Work?
A car sale agreement with payments is a binding contract between a buyer and a seller where both parties agree the amount is paid in monthly installments. This contract comes in handy when the buyer cannot cover the sum immediately. In most cases, the buyer and the seller agree on the:
Down payment

—Upfront payment of 10–20% of the purchase price

Interest rate

—Variable rate depending on the credit score of the buyer

Term of payment

—The average duration of the payment period is 36-60 months
You can get the money you need for a car in different ways, so let's check them out.
How To Finance Your Car
If you can't pay for your car at once, you can choose one of the following options to finance the purchase:
A bank loan

Dealership financing

Seller financing
Borrow the Money From a Bank
Getting a loan from a bank means you agree to pay back the amount they gave you, plus a finance charge and interest, over a predetermined period.
You can check the loan terms in various banks and select the most convenient one. Once you find out how much money you can borrow, it will be easier to choose the car you can afford.
Dealership Financing
You can make an agreement with the dealer to pay for the car in monthly installments. In most cases, the dealer sells the contract to a bank. You have to pay the interest as well. The benefits of dealership financing vs. bank loans are: 
Convenience

—You get all the information about the loans in one place, see the cars, and close the deal on weekends or even evenings

More financing options

—Dealerships usually cooperate with different banks and finance companies, offering various financing choices

Special programs

—You can get a manufacturer-sponsored, low rate, or incentive program at some dealerships. The programs can be limited to certain brands
Seller Financing
If you can't get the money from a bank or a dealership because of a bad credit score, you can choose seller financing. The owner of the car assumes the role of a lender, and you pay the money back in installments. You must give a down payment, and you'll pay interest on the borrowed amount. 
An owner of a car can ask you to sign a promissory note if he/she finances your purchase. This is a legally binding document that the lender and borrower sign. The borrower promises to pay back the loan under certain terms and conditions.
What Should I Put in My Car Sale Contract With Payments?
A contract for buying a car in installments should contain:
The names of the seller and the buyer

A detailed description of the car

Price 

Financing policy

Down payment

Interest rate

Monthly installments

Pay-off period

Sales tax

Delivery policy

Description of the vehicle's condition

Signatures of the seller and the buyer
You may sign the contract in front of a witness, typically a notary public.
What Is a Bill of Sale, and What Does It Include?
After finalizing the payment, you should obtain a bill of sale. It is a legal document proving you are the owner of the car. Include the following when drafting your bill of sale:
The names and addresses of the buyer and the seller

Details of the vehicle—model, year, color, etc.

Vehicle Information Number

Mileage

Price

Date of the sale

Signatures of both parties
Should I Lease a Car Instead of Buying It?
When you lease a car, you can use it for an agreed number of months and miles. 
The monthly payments on a lease are usually lower than monthly purchase payments. At the end of the lease, you return the car or buy it if the lease agreement allows you to.
To find out whether you should lease a car, ask yourself:
How much will I drive the car?

What are the costs of a lease compared to the costs of purchase?

Is there a possibility I will move during the lease period?

How long do I want to keep the car?
This option may be better if you are not sure whether you want to buy a particular car or not, or you change your mind frequently.
DoNotPay Helps With Creating Legal Documents
With DoNotPay, you can easily get a contract! You don't have to hire a lawyer and pay a fortune. Here is how it works:
Open DoNotPay in your

browser

Type in the contract name

Provide our chatbot with the necessary information
Once we get all the info, our AI-powered app will generate your document. Always sign or notarize it to make it official.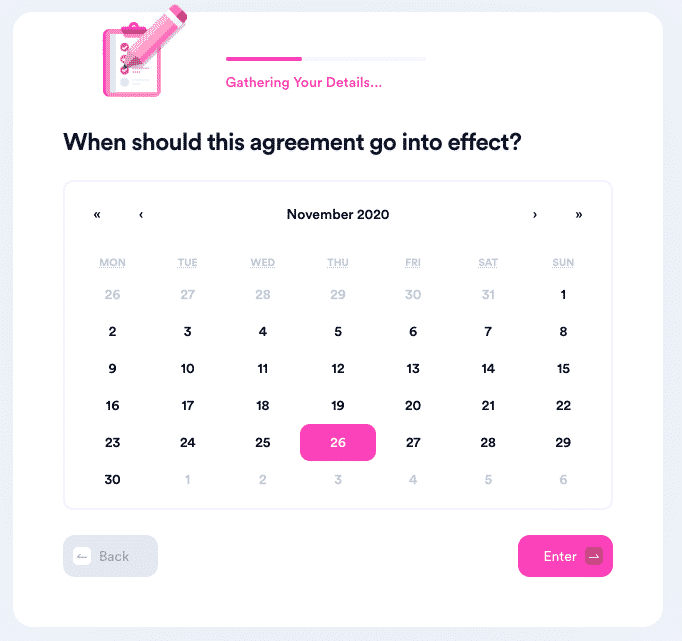 We enrich our offer of customizable contract templates every day, but for now, we can help with:
Quitclaim Deed

General Business Contract

Intent To Purchase Real Estate

Estoppel Certificate

General Affidavit
Explore the Full Range of DoNotPay's Services
Don't let annoying bureaucracy stop you from exercising your rights or finding new opportunities. DoNotPay—the world's first robot lawyer—comes with a diverse portfolio full of practical shortcuts for:
Struggling with finances? Our app will help you manage unpaid bills, find and claim lost money in any state, or get college application fee waivers. 
Minimize Paperwork With DoNotPay
Writing letters, filing claims, sending requests—these chores are nobody's idea of fun. Thanks to DoNotPay, you can bypass these menial tasks with a few clicks in your browser. 
Our platform is full of useful tips and features for filing insurance and warranty claims, dealing with parking tickets, getting refunds and chargebacks, or writing harassment cease-and-desist letters. 
DMV offices don't have to be the place where hope goes to die. With DoNotPay, you will be able to schedule any DMV appointment without the nightmare of waiting in lines. While you're at it, you can check out our guides and practice tests for the best driving exam preparation!