The Ins and Outs of Capital One Small Business Loans
Finding a loan for your startup or small business is not an easy task, especially if you are not familiar with the way this type of financial assistance works. You should go through numerous loan types and lenders before making a decision.
This article breaks down Capital One small business loans to help you during your search for the best small business loan on the market.
Small Business Loans at Capital One
You should look into grants and loans offered at the city, state, or federal level if you would like to meet your day-to-day startup costs or bear the planned expenses of an established company.
When going through a list of traditional loan providers—i.e., banks or credit unions—the Capital One offer might catch your eye.
This financial institution provides different types of loans for businesses, including the following:
Working capital lines of credit
Business installment loans
Equipment and vehicle loans
The U.S. Small Business Administration (SBA) Loans
Capital One Small Business Line of Credit
If you are looking for ways to improve your cash flow, Capital One working capital lines of credit might be the answer. A small business line of credit is a good financing option for you if you require more capital flexibility and affordability.
Capital One small business line of credit is a good bridge loan that can help you deal with your spending and cash flow issues. This is a type of revolving credit, i.e., there are no restrictions on how many times you can use it as long as you pay back what you borrow. The following table presents the details of this funding option:
Specifics of Capital One SMB Line of Credit
Eligibility Requirements

The minimum amount of $10,000
The maximum amount depends on your business record and financial health
No deposit required for loan amounts of up to $50,000
Financial statement needed for amounts over $50,000

Interest rates

defined based on your:

Past relationship with Capital One

To qualify for a Capital One small business line of credit, you need to:

Own a combined 50% of your business
Have a Capital One business checking account and at least two years of experience in the business
Business Installment Loans at Capital One
Installment loans function the same as medium-term loans and are a good option if you are planning to realize significant capital investments, i.e., to:
Grow your business
Buy long-term assets
Consolidate your debts
While Capital One provides you with a lump sum to help you boost your business, you need to repay them:
With fixed monthly installments
Over a specified period
To get a better understanding of this type of loan, here are some details:
Minimum loan amount—$10,000
Repayment period—Up to five years
Interest rates—They are not fixed but vary by:

The loan amount and term
Your credit score and previous relationship with the bank
You need to meet the eligibility requirements to get a loan at Capital One, including:
Owning a combined 50% of your business
Having a Capital One business checking account
Having been in the business for a minimum of two years
Need an Equipment or Vehicle Loan?
You might consider a Capital One small business loan if you need to purchase equipment or vehicles for your company. Take a look at the following information about this type of financing:
Available funds for up to:

100% of the value of new vehicles and equipment
110% of the value of used vehicles and equipment

Loan terms of up to five years
Fixed monthly payments
Capital One will decide whether you qualify for this type of loan based on their standard eligibility criteria, which are the same as for their lines of credit and installment loans. They will also consider the following factors regarding the vehicles or equipment you are purchasing:
Type
Value
Expected lifetime
SBA Loans at Capital One
Capital One—like many banks—provides SBA loans, i.e., 7(a) and 504 loans.
Compared to other loan types on the market, SBA loans are easier to qualify for and come with longer payback terms and higher maximum loan amounts.
How To Choose the Right Loan Type and Provider
Before you start looking for a type of loan that would suit your business needs best, you need to:
Prepare a precise budget to know what costs and activities you need to deal with
Select the type of loan that is suitable for your specific business requirements
Identify lenders that provide the preferred loan type
If you , you will be able to:
Avoid wasting energy and time looking for appropriate loan providers by yourself
Receive a list of the best lenders for your needs
Draft a compelling loan request letter
Find the Best Lender and Write a Loan Request Letter With DoNotPay
We understand how stressful and time-consuming the search for a suitable loan provider can be. That's why we have designed the Find Online Business Loan Lender product to help you narrow down your list to the top three options. Our AI-powered platform also includes the Business Loan Request Letter feature that can generate your loan request letter to increase your chances of success.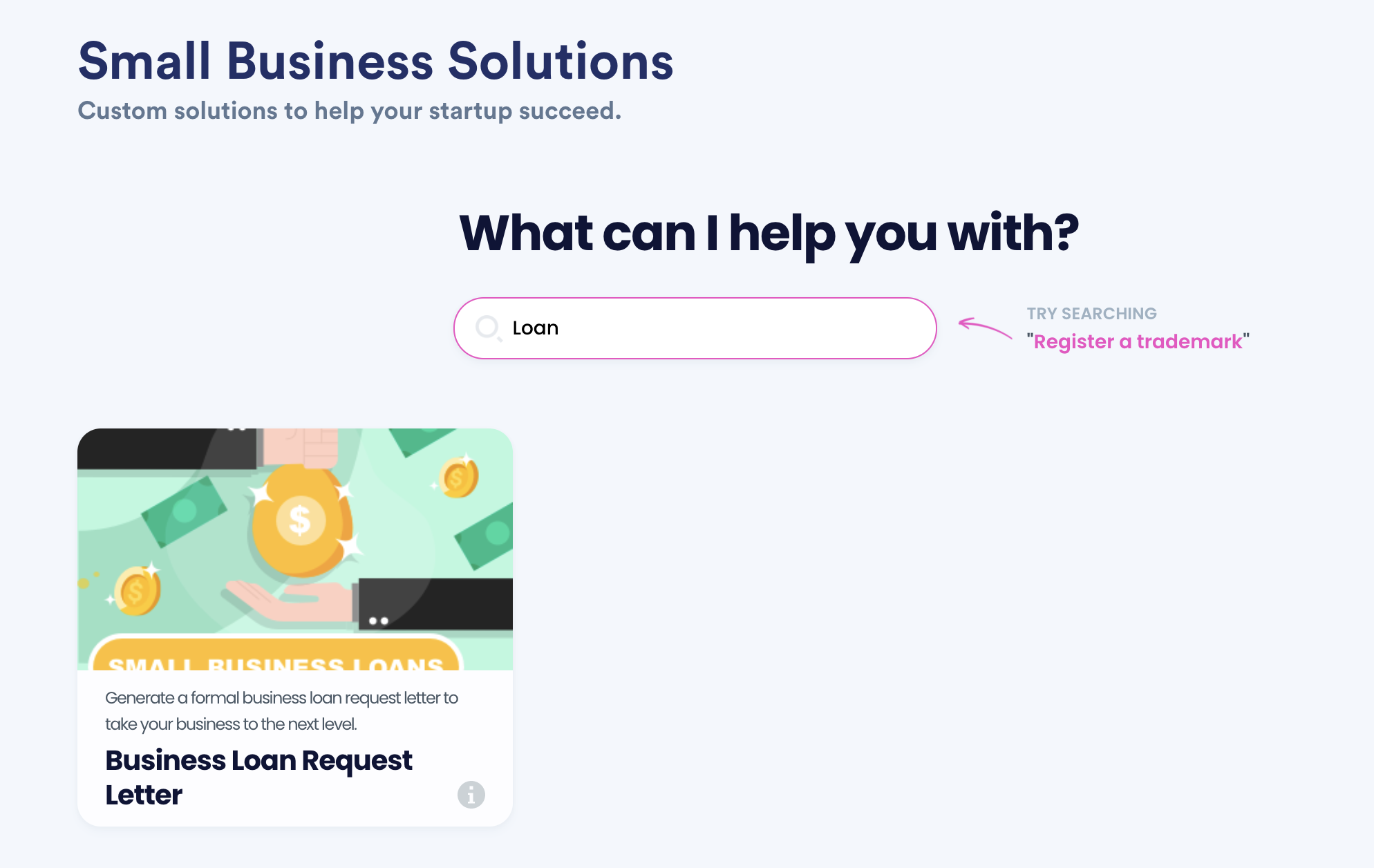 The process is straightforward, but before you access DoNotPay, you should prepare your budget and the necessary documentation, such as:
Profit and loss statement
Balance statement
Cash flow statement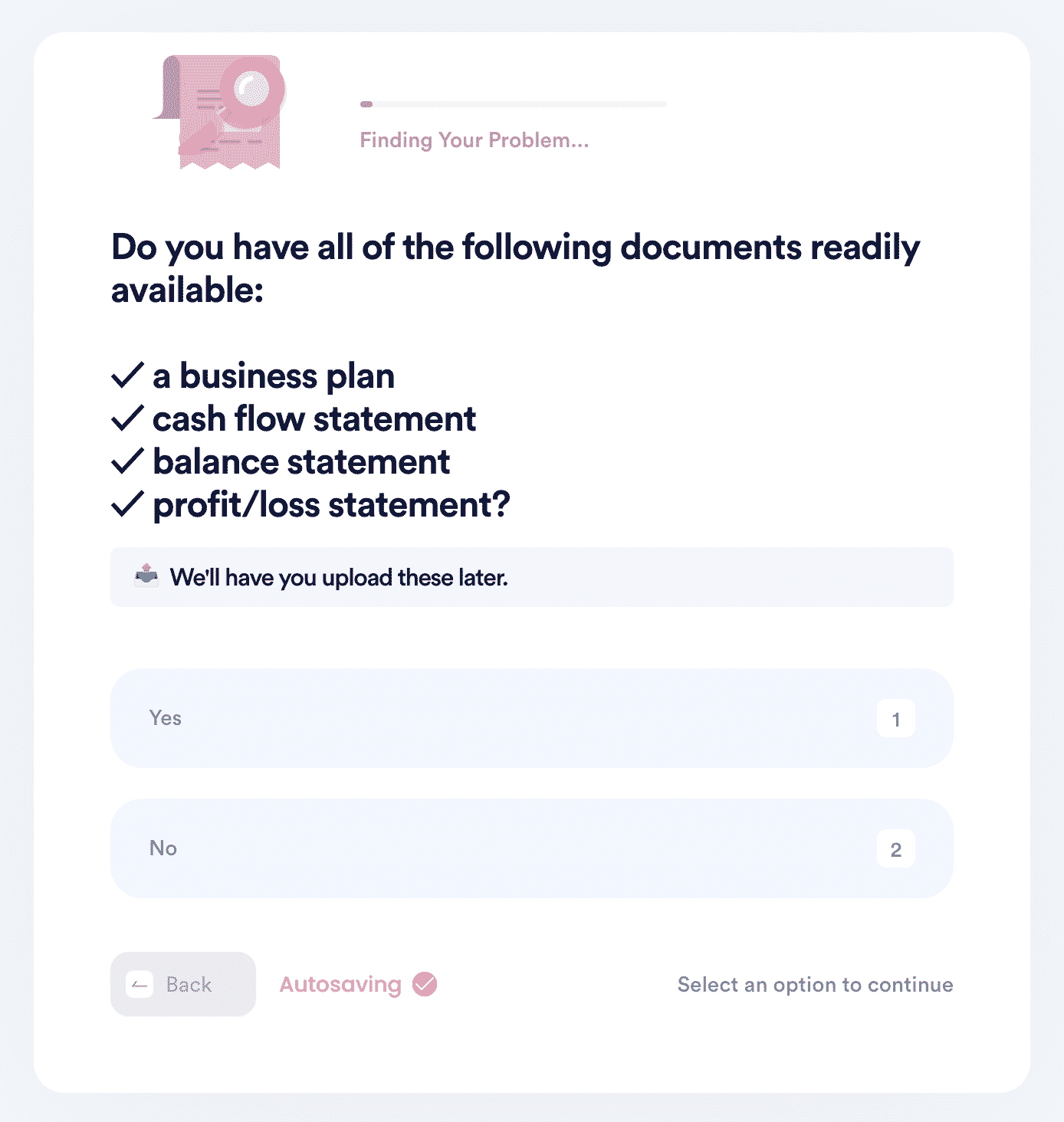 and:
Navigate to our Business Loan Request Letter product
Enter information about your company and the desired loan
Indicate the amount you would like to get
Choose whether you would like us to generate a list of loan providers for you
Upload the gathered documents
Not sure whether Capital One is the best lender for your financial needs? Consult our guides on various banks, credit unions, and other lenders to make an informed decision:
DoNotPay Offers More Help for Your Business
Running a small business is no small feat. When you're drowning in red tape, DoNotPay is here to lend a helping hand. Whether you need to register your trademark or protect it later on, we have got it covered. With our help, you will keep your logo, slogan, and business name safe.
Are you also yet to register for an Employer Identification Number (EIN)? Not to worry—our app can file the IRS SS-4 form in a few clicks. With the world's first robot lawyer at your fingertips, you will also be able to create your 83(b) election forms with ease—ready for your employees to sign them right away.
In case you are struggling financially, we can assist you with a business loan application.
Communication Has Never Been Easier With Our App
Keeping up with clients can be challenging, especially if each has a preferred method of communication. Luckily, our multifunctional app makes it easy to both fax and mail contracts, letters, and documents.
You can also count on our assistance when you need to:
Fight fake negative reviews online
Deal with a client regarding a breach of contract
Dispute fraudulent chargebacks
Thanks to DoNotPay, there is no need for back-and-forth communication. We will handle the necessary demand letters and forward them on your behalf.
We can also help you manage your DMCA agent registration and Privacy Shield program self-certification.