Are Erratic Canada Tourist Visa Rules Crushing You? DoNotPay Has a Fix
The pandemic was a buzzkill for many vacation plans, but something as basic as traveling cannot be put off forever. If you are stressing over securing a Canada tourist visa for your trip to the fascinating maple country, DoNotPay can help you navigate the procedural and documentation maze in the quickest way possible!
Canada's visa processing delays and backlogs have been troubling travelers around the world for a while now. DoNotPay's interactive AI will analyze your individual circumstances and guide you on:
Whether you need a visa for your Canada trip
What paperwork you need for a hassle-free visa processing
Which online portal you need to visit for a successful application
Sign up for our app today and make your Canada travel dreams come true!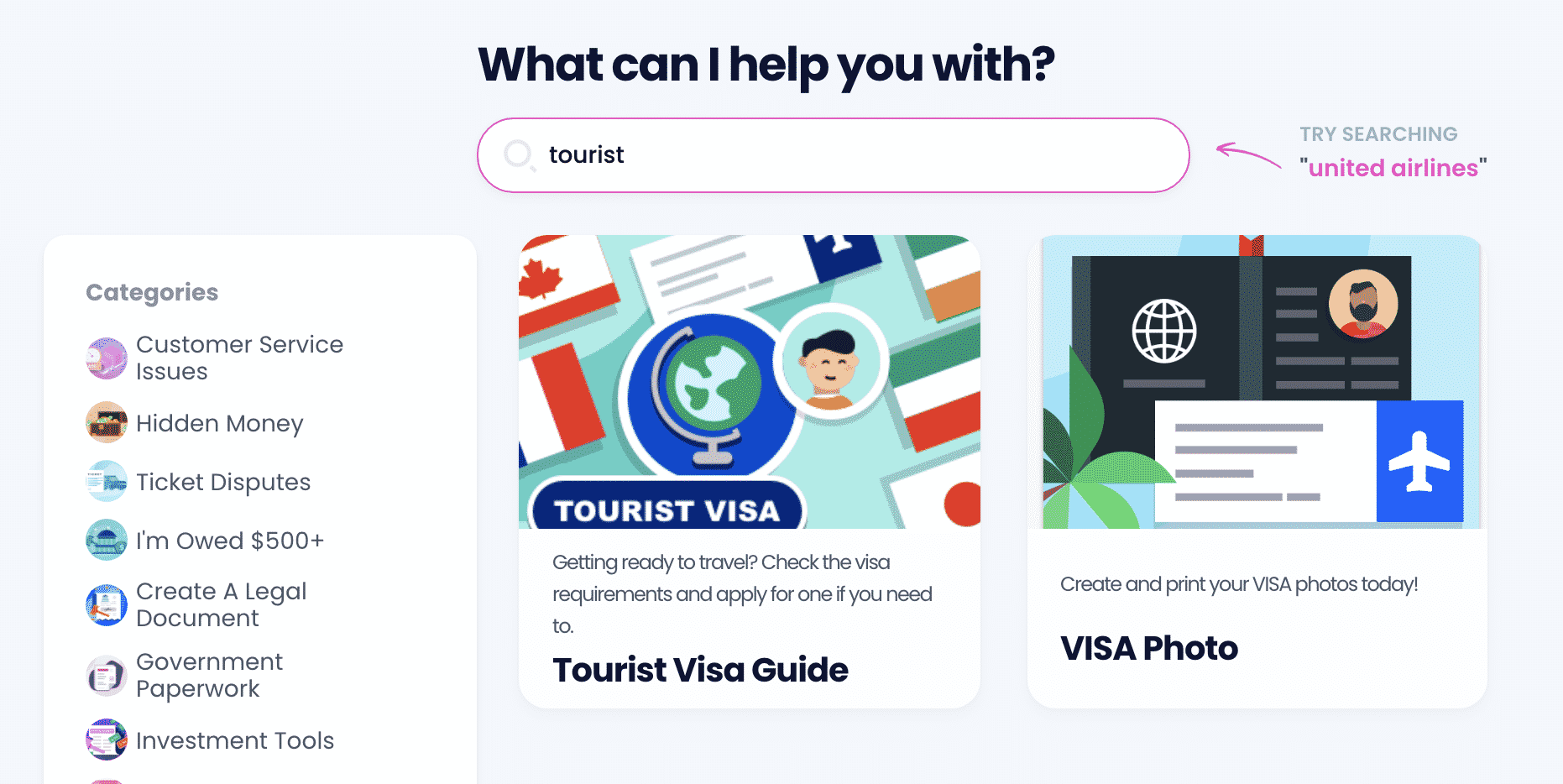 Canada Tourist Visa From the USA—Information
Most tourists need either a visitor visa or an Electronic Travel Authorization (eTA) to enter Canada, depending on the following factors:
Nationality
Origin and type of travel documents
Choice of transportation—like flight, cruise ship, or bus
If you are an American citizen with a valid U.S. passport, you don't need a Canadian visa or an eTA for a period of stay under 180 days as long as:
You are an eligible traveler
Your travel intent is leisure and tourism
These requirements may change anytime without prior notice, so you need to stay up to date with the latest visa requirements before every trip.
Only Eligible Travelers Can Apply for Canadian Tourist Visas
If you are not from a visa-exempt country or your travel duration exceeds 180 days, you will need to apply for a Canadian tourist visa. At present, only eligible travelers are allowed to enter Canada with or without a visa.
Canadian Tourist Visa—Eligible Traveler Checklist
The post-pandemic scenario diligence dictates most of the terms for current traveler eligibility. You can enter Canada only if you:
Pass the health check at the point of entry through air, land, or sea travel—you must not display any COVID-19 symptoms
Are fully vaccinated a minimum of 14 days before your date of entry with any of the following acceptable vaccines:

Pfizer-BioNTech COVID-19 vaccine
Moderna COVID-19 vaccine
AstraZeneca/COVISHIELD COVID-19 vaccine
Janssen (Johnson & Johnson) COVID-19 vaccine—single dose

Upload your proof of vaccination to the mobile government portal called ArriveCAN on time
Arrange a mandatory 14-day post-arrival quarantine plan even when you are asymptomatic
Fulfill country-specific entry requirements—for example, U.S. guidelines require you to have at least one blank page in your passport before traveling to Canada
Canada Tourist Visa or eTA—Which Application Form To Choose?
Many travelers are puzzled over whether they need a visa or an eTA to go to Canada. Browse through this table to understand the difference between these major entry documents:
Basis
Canada Tourist Visa
Canada eTA
Usage
Meant for students, long-term workers, or immigration aspirants and is issued to travelers of certain countries only
Issued to travelers from visa-exempt countries as a digital visa waiver
Registration structure
Long and complex
Simple and quick
Processing time
12 to 27 days
24 hours to three days
Validity

Ten years or until the origin-country passport expires, whichever is earlier
Other terms of visit may vary as per origin country

Five years for multiple entries to Canada, each lasting less than six months
Canada Tourist Visa Requirements—Documents Checklist
You will find an elaborate list of documents that you need to produce over the course of the visa-issuance process.
Depending on your country or reason to seek a visa, you may be asked to produce several documents, like:
The above list is not absolute, and the documentation requirements may change over time.
How To Apply for Canada Tourist Visa From the USA—Online Process
Many physical visa application centers have closed down to prevent crowding during the pandemic. To apply for your tourist visa online, you must ensure you have:
A valid online payment mechanism
A scanner or a camera to reproduce electronic copies wherever necessary
An arrangement to give your biometrics data to Canadian authorities
Can Everyone Use the Online Application Form for Canada Tourist Visas?
No, certain travelers are still required to apply via physical forms irrespective of the pandemic situation. This usually applies to:
Stateless people with alien passports
Some travelers using refugee travel documents
Put an End to All Tourist Visa Stress With DoNotPay's Robust Support
Submitting the right documents on time is crucial for any visa processing—one wrong move and your application can be stuck in limbo or get rejected.
DoNotPay's Tourist Visa Guide feature is designed to guide you through the unnerving visa application process for many countries.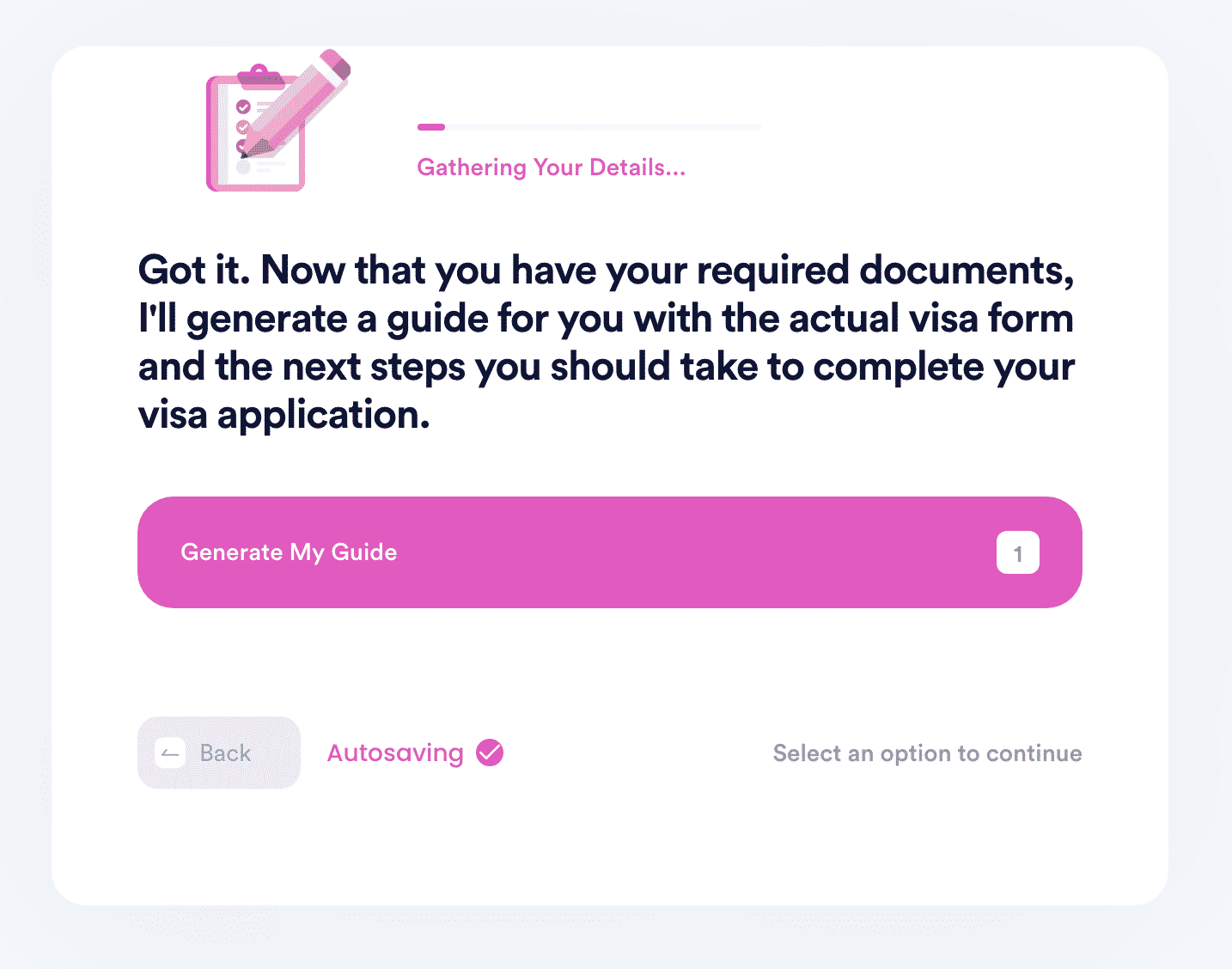 Here's what you need to do:
Sign in to DoNotPay and click on Tourist Visa Guide
Confirm that you have a valid U.S. passport
Select your destination country
Once you submit your response, you can read your report on whether you need a tourist visa for that country instantly!
If you do not need a visa as per current guidelines, go ahead and get ready to enjoy your trip!
I Do Need a Tourist Visa—Can DoNotPay Help?
Yes, we can!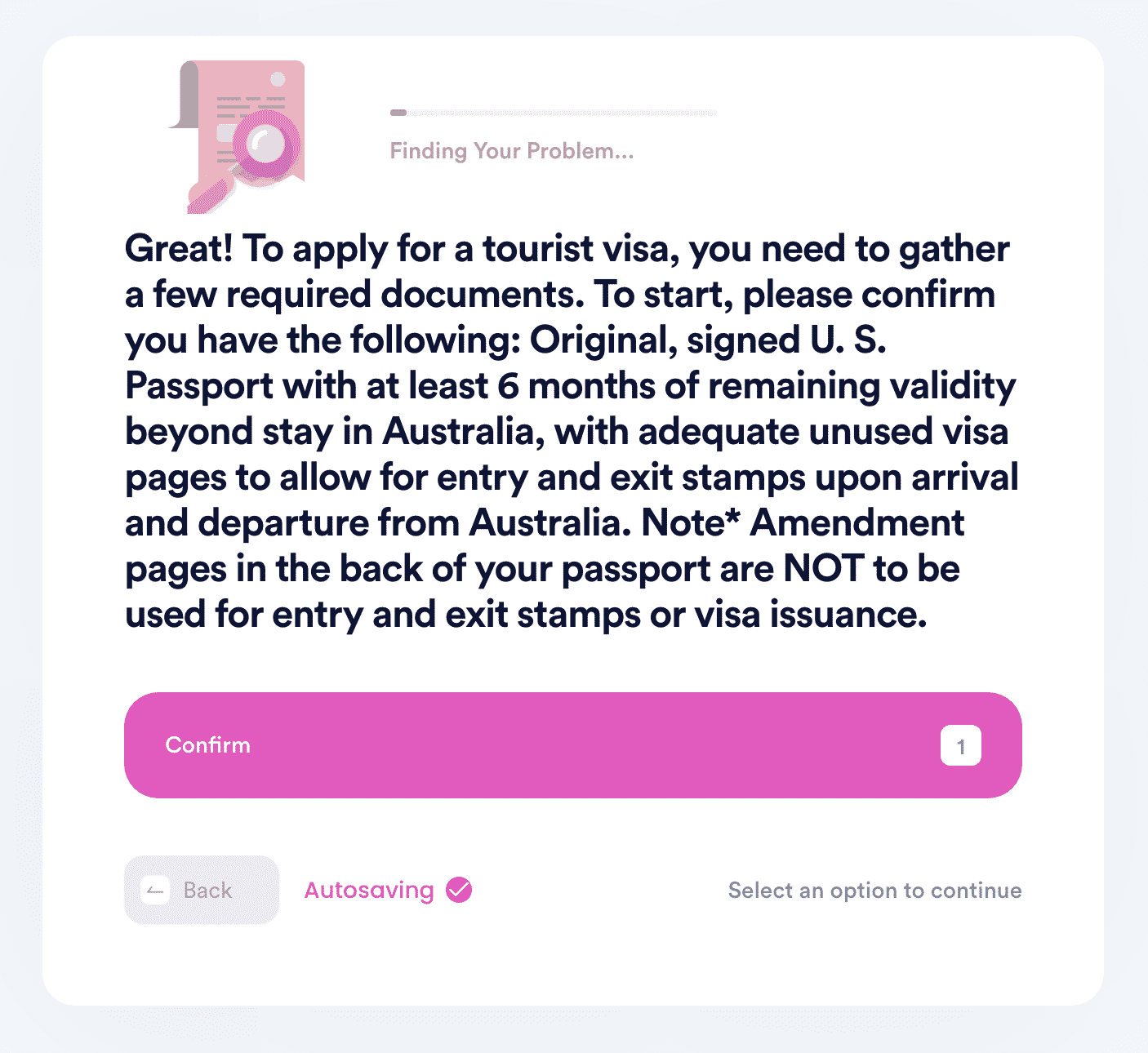 Follow these steps to kickstart your visa application process today:
Interact with our chatbot to get a list of documents you need to prepare for the application
Download and print the PDF version of the application form listed by us
Browse our auto-generated instruction manual to fill the form accurately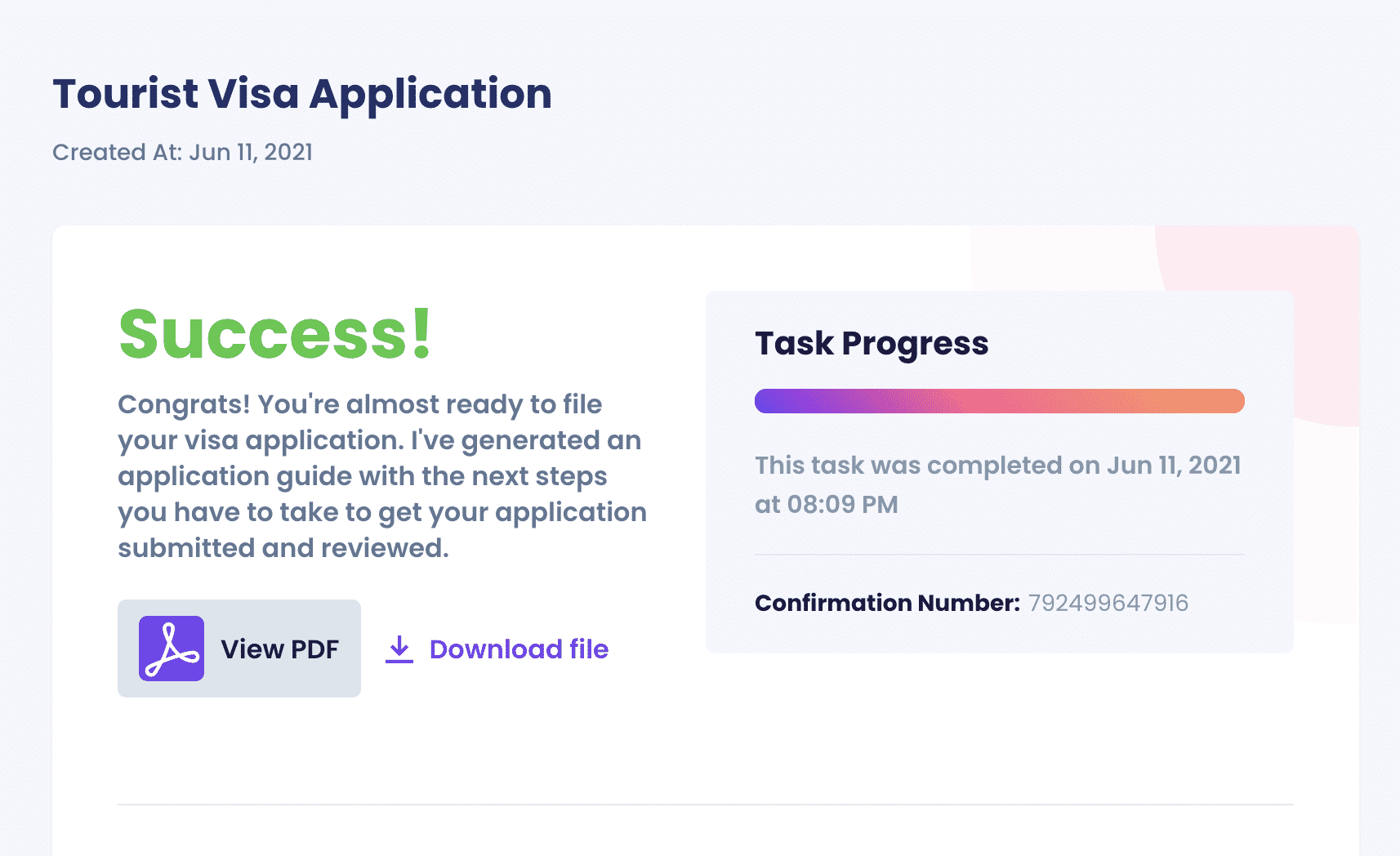 DoNotPay will guide you to the destination country's online portal for submitting the form electronically. If you want to submit the form physically, we can contact any embassy for you to get the mailing instructions.
You can rest assured that your visa application will land safely with the right authorities!
DoNotPay Has Your North and Central America Travel Hassle Sorted
DoNotPay's learning center has extensive tourist visa guides for several countries. Pick a destination, and we'll help you get there:
Solve Your Legal and Bureaucratic Issues With DoNotPay
The primary purpose of our app is to provide you with practical tools that can speed up all the drawn-out tasks you must complete. All you need to do is choose a suitable feature from our offer and get your problems solved in a heartbeat!
Once you create an account with DoNotPay, you can:
Feeling Unsafe or Harassed? DoNotPay Can Help You!
Have annoying calls and messages become your everyday problem? Don't give up on your peace—rely on DoNotPay and deal with robocalls and restless text and email spammers easily.
We also take care of your privacy, allowing you to create burner numbers and virtual credit cards to avoid revealing sensitive information when signing up for various online services.
If you are being stalked by somebody or discriminated against at work, we will do our best to help you fight for justice and report the case accordingly! We will also safeguard your creative work from copyright violation and ask for violent crime compensation on your behalf.