The Canada Tourist Visa Cost Is Changeable—DoNotPay Can Keep You Informed
Over 30 million tourists visit Canada every year, making it one of the busiest travel destinations in the world!
The country's visa policy has introduced many changes in the past decade to accommodate the needs of different travelers from around the world. The Canada tourist visa cost information alone has also been updated multiple times, and it sure is hard to keep up with the variable fee structure!
If you are struggling to fish out relevant info from a sea of visa guidelines, let DoNotPay be your anchor. Our Tourist Visa Guide tool can:
Assess if you need a tourist visa as per the latest laws
Give you logistic support during the application process
Sign up for our app to access our dependable services!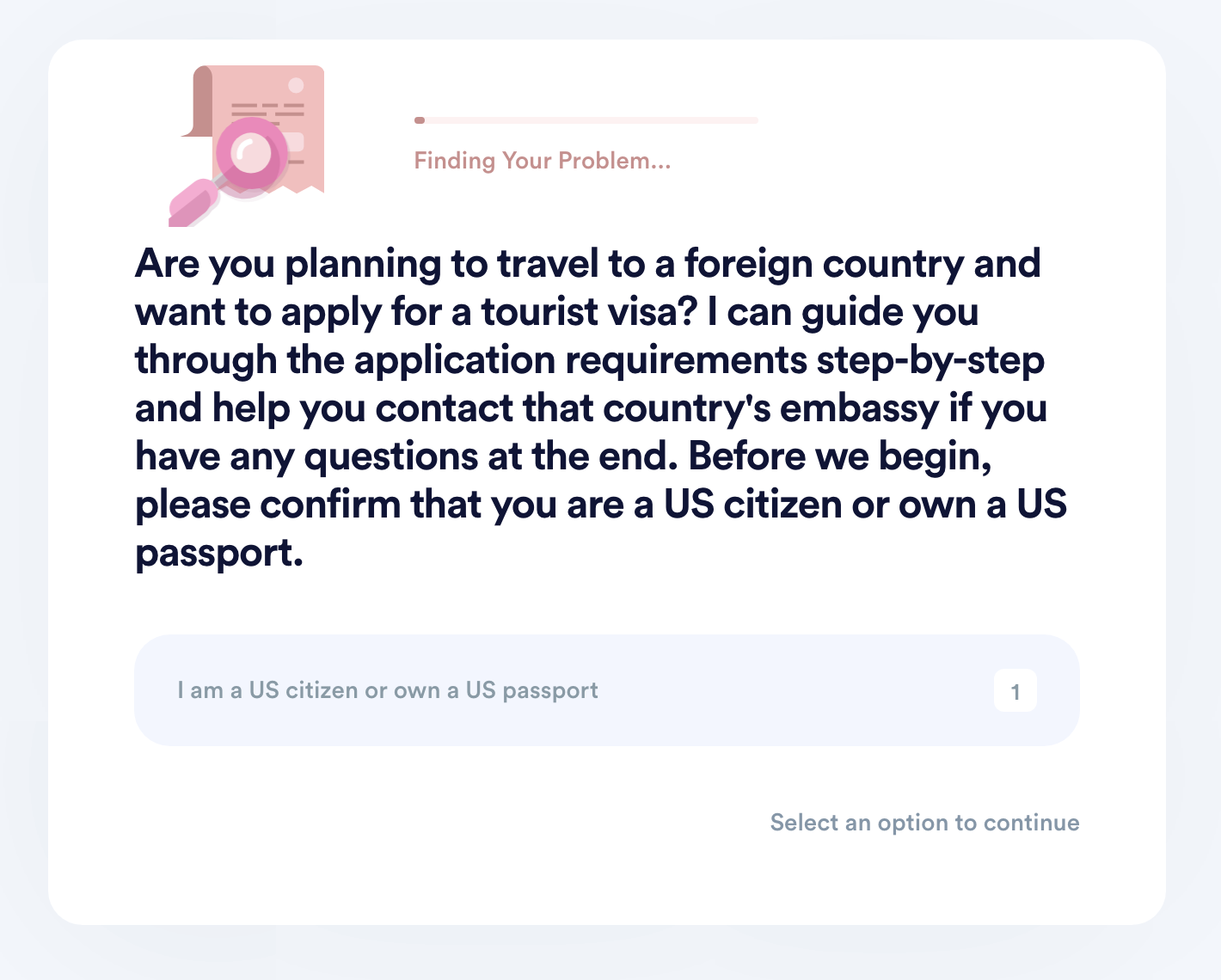 Do I Need To Pay for a Tourist Visa Every Time I Enter Canada?
No—U.S. citizens don't need a tourist visa to visit the maple country for a period of six months or under!
All you need to do is show your valid U.S. passport to the Canada Border Services Officer at your entry point—be it an airport, port, or bus terminal. The officer will stamp your passport to grant you a 180-day stay in the country, free of cost!
Keep in mind the authorities may ask you to be fully vaccinated for COVID-19 before entering Canada, based on the active travel restrictions.
You need to apply for a Canada tourist visa only if you're planning to explore the country for more than six months.
You can apply for a long-stay tourist visa—also called a visitor visa or a temporary resident visa—for any of the following reasons:
Prolonged tourism
Visitation of friends and family
Long-term hospital stay or medical treatment
Participation in humanitarian or social work
Unpaid participation in a sports or artistic event
Enrollment in a recreational course that won't be qualified as a degree
How Much Is the Canada Tourist Visa Application Fee?
Due to the diverse reasons why people seek Canadian visas, the corresponding application fees do not follow a uniform structure. You need to be especially aware of how the basic extension or restoration of a visa impacts the amount you need to shell out.
If you apply to extend your long-term visa before it expires, you need to pay an extension fee. The scenario is different when you let your visa expire. You need to pay a restoration fee to renew an expired visa—and the cost is two times the extension fee!
Use this table to understand the current fees charged for a temporary resident visa:
Visitor or Temporary Resident Visa—Fee Charged
Amount Per Person
Application fee

$CAN100 (about $80)
The fee remains the same whether you are applying for a single or a multiple-entry visa

Extension fee
Restoration fee
Traveling With Family? Here's a Neat Money-Saving Tip!
If you are traveling to Canada with your family that has more than five members, you can apply for a visa as a family and save some bucks!
Canada authorities will only charge you $CAN500 (almost $400) if:
All members of your family apply together, at the same time and place
Your family's children qualify as dependents and are under the age of 22
Canada Tourist Visa Embassy Fees—Only for Biometrics Data
You can apply for a long-stay tourist visa both online and through an embassy, but the application fees remain the same in both cases.
You may need to pay a separate fee at an embassy only if the authorities ask you to register your biometrics data, which can include taking your photos and fingerprints.
Take a look at the current biometrics collection fee structure:
| Biometrics Submission | Cost |
| --- | --- |
| One person | $CAN85 (about $70) |
| A family of two or more members | $CAN170 (about $140) |
| An artist group of three or more members | $CAN255 (about $200) |
What Is the Canada Tourist Visa Validity Period?
Long-term visas for U.S. citizens can be flexible depending on your purpose of travel and the number of times you want to enter the country.
If you apply for a single-entry visa, the authorities will approve your visit for the period specified in your application form. This visa will lose its validity the moment you leave Canada.
Multiple-entry visas are valid for ten years, but you need to renew your visa and verify the details of your visit with the authorities every six months.
Tourist Visa Canada—Verification Duration Can Be Relaxed for Multiple-Entry Visas
If you are visiting your family in Canada as a parent or a grandparent, you will be exempt from the renewal and verification requirement if the duration of your visit is under two years.
Don't Lose Track of Latest Updates—Use DoNotPay To Apply for a Tourist Visa
Getting your tourist visa application in order is one mammoth task, especially when frequent modifications of terms and guidelines leave you stumped. If you like to be informed and prepared while applying for visas, choose DoNotPay as your infallible support tool!
Our Tourist Visa Guide product is updated with the latest visa laws and notifications that give you the information on:
Whether you are eligible for visa-free travel to a country
What documents you must submit if you need to apply for a tourist visa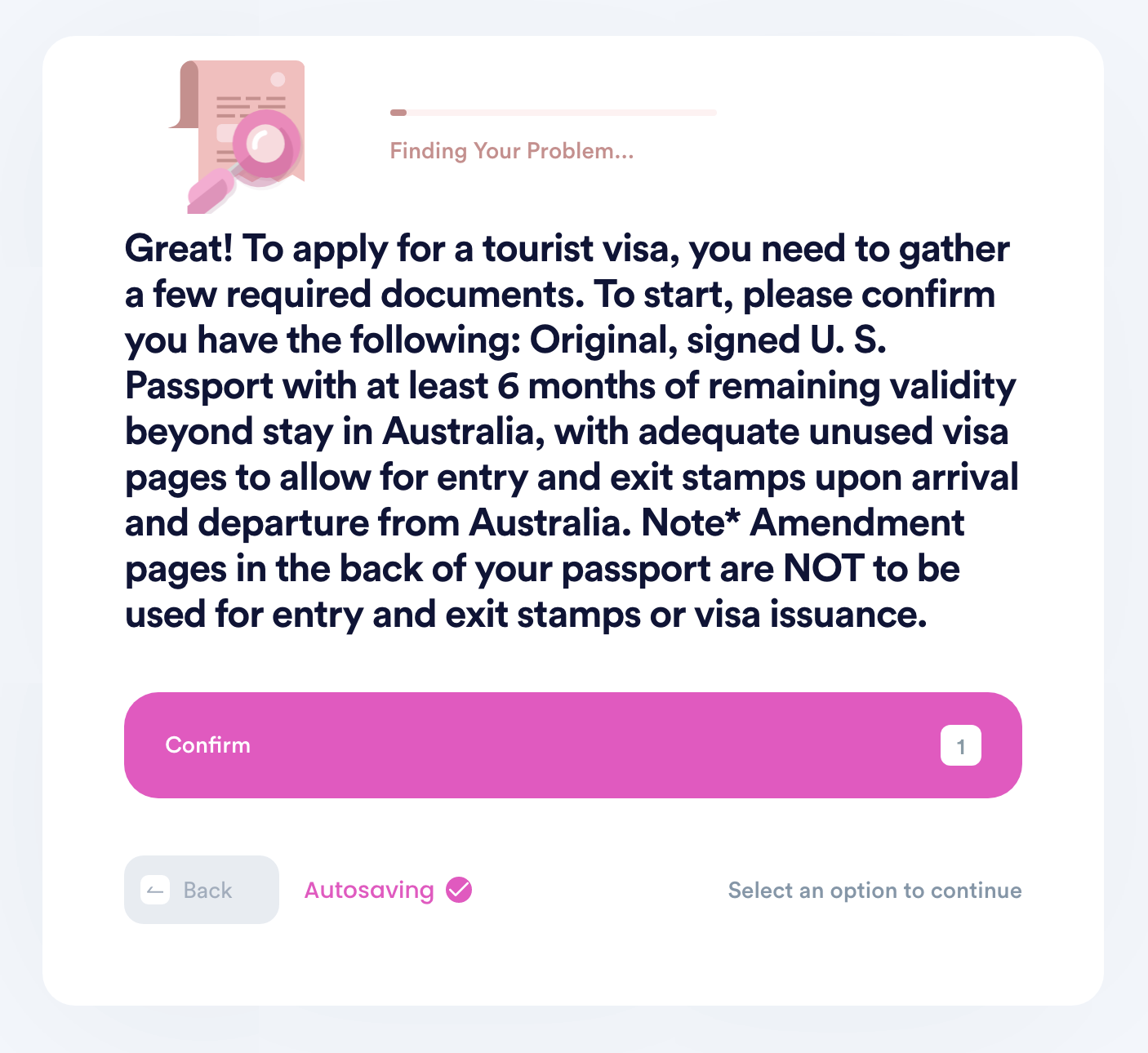 Our app functions on a sophisticated AI, but our user-friendly chatbot makes it easy for you to enjoy our features. All you need to do is answer our chatbot's questions, and our app will:
Let you download the PDF version of the visa application form issued by the government
Provide you with an auto-generated instruction manual to guide you during the application process
Contact the embassy in your stead to get mailing instructions

For countries that allow you to apply for a visa online, we will direct you to the authentic government visa portal. That way, you'll be protected from scammers who run fake visa application sites.
To access our multifaceted services, follow these quick steps:
Log in to your DoNotPay account and click on Tourist Visa Guide
Confirm that you have a valid U.S. passport
Enter your destination country and interact with our chatbot
In case your passport is about to expire and needs renewal, we can also help you create passport photos in a jiffy!
With us assisting you at every step of the application process, you will get your tourist visa without facing any hardships!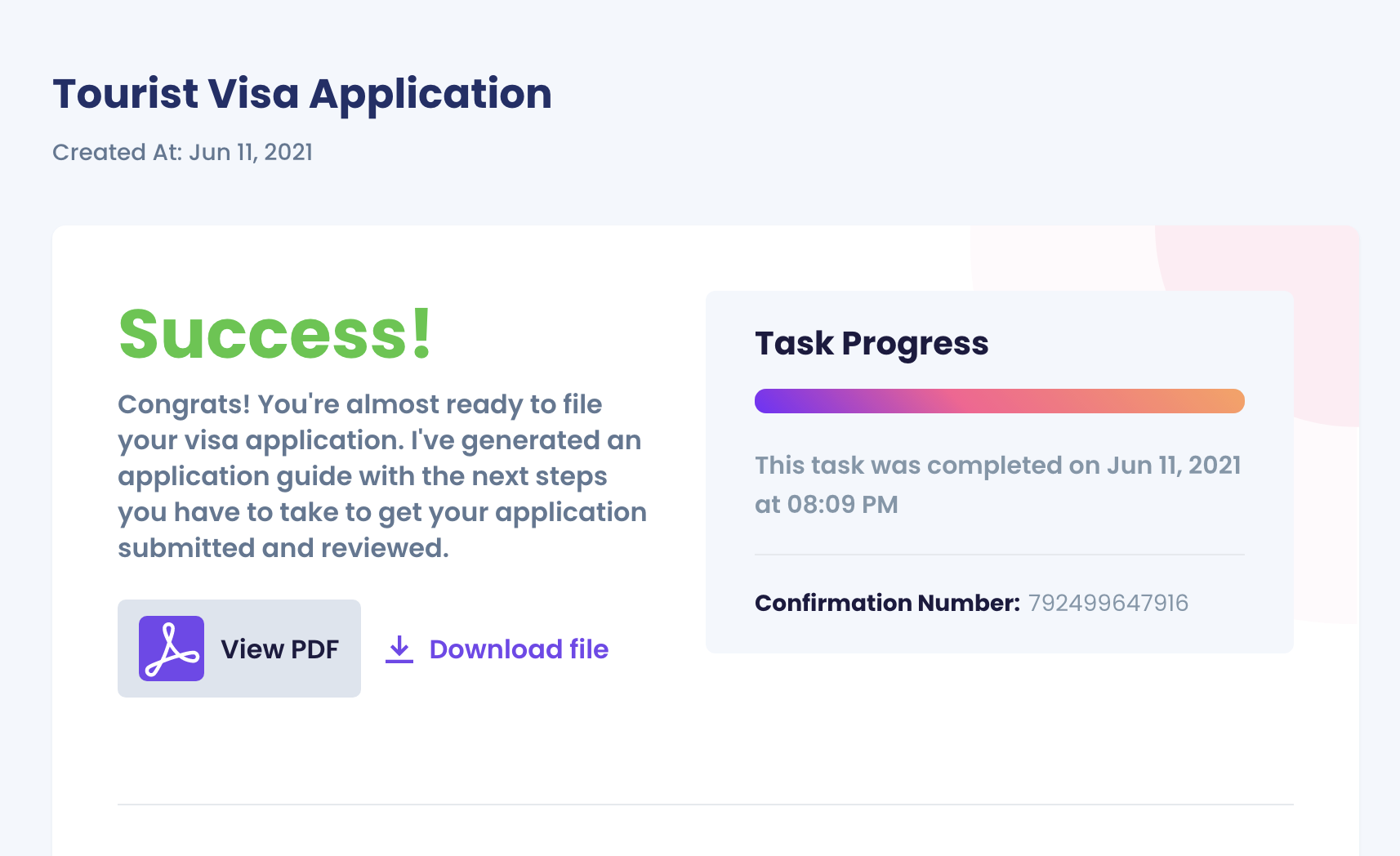 Cherish North and Central American Hospitality—Let DoNotPay Help You Further
North and Central America are known for their friendly and welcoming vibes!
Make sure to stay updated with DoNotPay's tourist visa guides for other countries before planning your next trip. You can find some in this table below:
Solve Your Legal and Bureaucratic Issues With DoNotPay
The primary purpose of our app is to provide you with practical tools that can speed up all the drawn-out tasks you must complete. All you need to do is choose a suitable feature from our offer and get your problems solved in a heartbeat!
Once you create an account with DoNotPay, you can:
Feeling Unsafe or Harassed? DoNotPay Can Help You!
Have annoying calls and messages become your everyday problem? Don't give up on your peace—rely on DoNotPay and deal with robocalls and restless text and email spammers easily.
We also take care of your privacy, allowing you to create burner numbers and virtual credit cards to avoid revealing sensitive information when signing up for various online services.
If you are being stalked by somebody or discriminated against at work, we will do our best to help you fight for justice and report the case accordingly! We will also safeguard your creative work from copyright violation and ask for violent crime compensation on your behalf.