Can You Sue the President for Slander?
If you think making a defamatory statement is not a big deal – think again. Even the President of the United States can find themselves in the middle of a defamation lawsuit if they're not careful.
Actually winning damages against the president might be another story, though. There are immunity laws and exceptions to consider, if you're wondering what it would take to prove the President has slandered someone's reputation, read on:
Defamation and Slander
Slander is a category of defamation, which is the legal term for the publishing of false statements which can harm someone's reputation and character. This damage can involve their private life, their workplace, as well as their psychological well-being.
What Is Presidential Immunity?
The Federal Employees Liability Reform and Tort Compensation Act (Westfall Act), 1988 states that:-
The act guarantees total immunity from common law claims to any and all federal employees, granted that the claims arise from acts committed during their time performing their official role.
This immunity covers negligent and wrongful acts, and because slander falls under the latter it cannot be pursued - as long as it is related to the federal employee's duties.
"Scope of Employment" and Suing The President
The Attorney General determines the actual scope of employment - the extent of official duties - for federal employees.
The Westfall Act does not protect the President from defamatory statements made outside of their duties. However, the extent of their official role is so large that it would be hard to find a statement that' completely disassociated from their role as president.
The scope of employment certification traditionally includes actions even mildly related to the employee's official duties. As long as the defamatory statement is made while the President is performing their official role (such as speaking at a press conference or making a campaign speech) a lawsuit cannot be pursued against them.
Exception: Slander Committed Prior to the Presidency
Jones v. Clinton (1997) ruled that the President of the United States can't use his immunity to shield himself from any civil litigation related to acts committed prior to his taking office.
Thus, suing for defamation is possible if the act happened prior to the President's term, keeping in mind the statute of limitation relevant to your state.
What Exactly Do You Need to Prove Slander?
The crucial requirements of any slander lawsuit are the same no matter what, even when it comes to the President.
Negligence or Malice
Negligence - for private figures

Proof that the statement was made without concern for the facts.

Malice - for public figures.

Proof that the statement was made with the intention of harming the plaintiff's character, and with full knowledge that it was not true.

False
You must prove that the slander which was said against you is false.
proof of damages
The slanderous statement must be proven to have caused harm to your reputation. The damages can involve the loss of opportunities, damages in your workplace, and in your community, etc.

You can also prove damages through psychological harm. The term can include medically diagnosed conditions such as anxiety and distress. This may involve bringing expert witnesses into your case, for example, the doctor or psychiatrist treating your condition.

The statement must have been published
A published statement is any statement that has been seen and understood by a third party. This can apply to both written and spoken statements.
No Privilege
The statement cannot have been made in any situation of privilege, such as statements made within professional confidentiality or with a courtroom as part of a case.
What Is a Cease and Desist Letter?
Filing a defamation lawsuit against the president would undoubtedly require both legal expertise and financial resources to pursue the case in court. Due to the complicated nature of the lawsuit, we suggest sending a cease and desist letter before filing a defamation lawsuit.
The letter would outline the slander made against you and the ways in which it has damaged your reputation
It would warn against making any future defamatory remarks, and you could request that they publicly retract their statement
Instead of pursuing a lawsuit that would no doubt bring you notoriety and potentially harm your reputation further, the letter would be a more private and subtle way to seek resolution.
How DoNotPay Helps You Write a Defamation Cease and Desist Letter
Cease and desist letters can work not only for defamation but also for cases of harassment and copyright infringement. Whatever your case is, can help you draft a personalized cease and desist letter explaining your situation in a concise and formal manner.
Here's how it works:
1. Select the Defamation Demand Letters service on .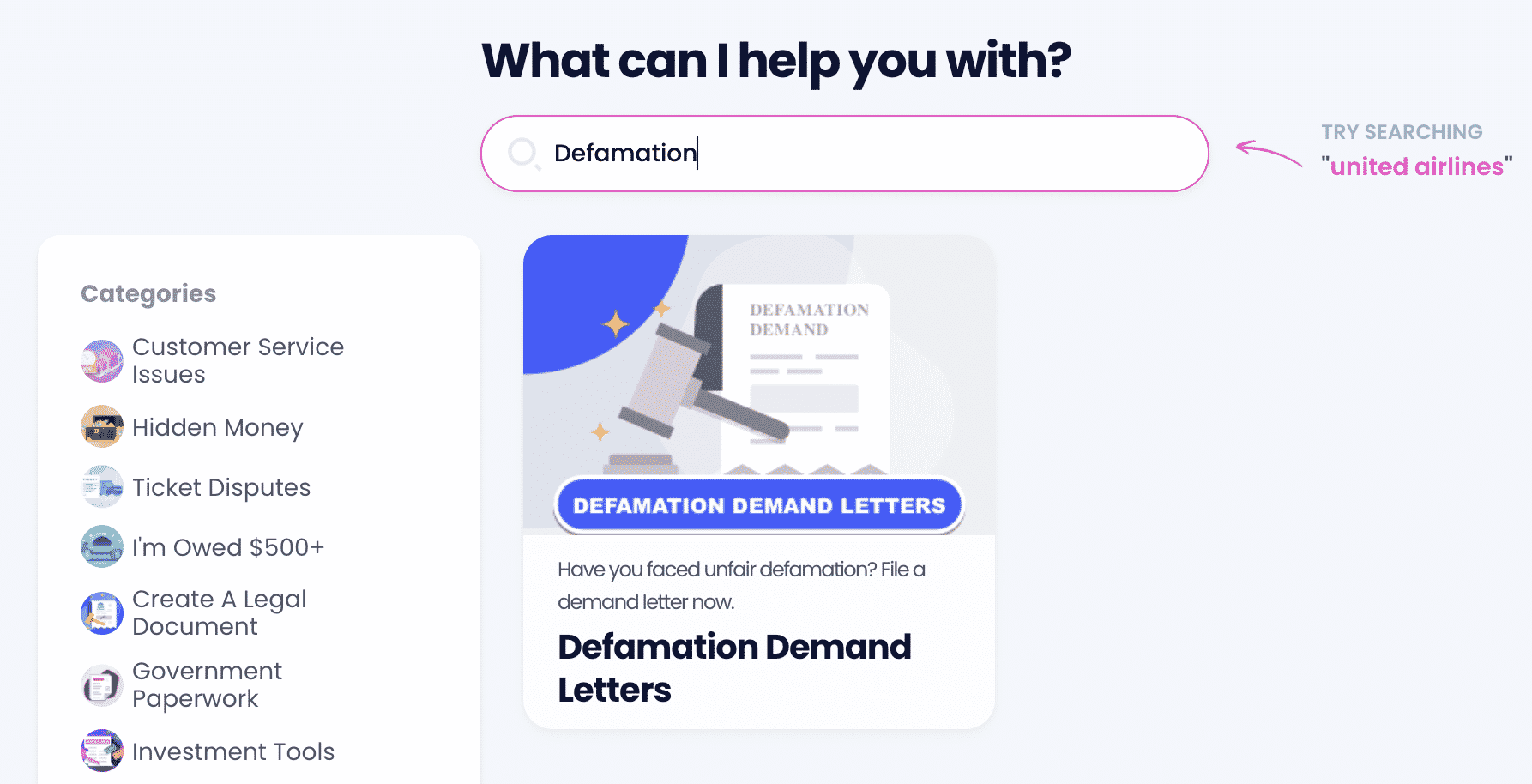 2. Briefly explain the defamatory issue you wish to resolve, as well as any details that you think might be relevant about the case - be as specific as possible.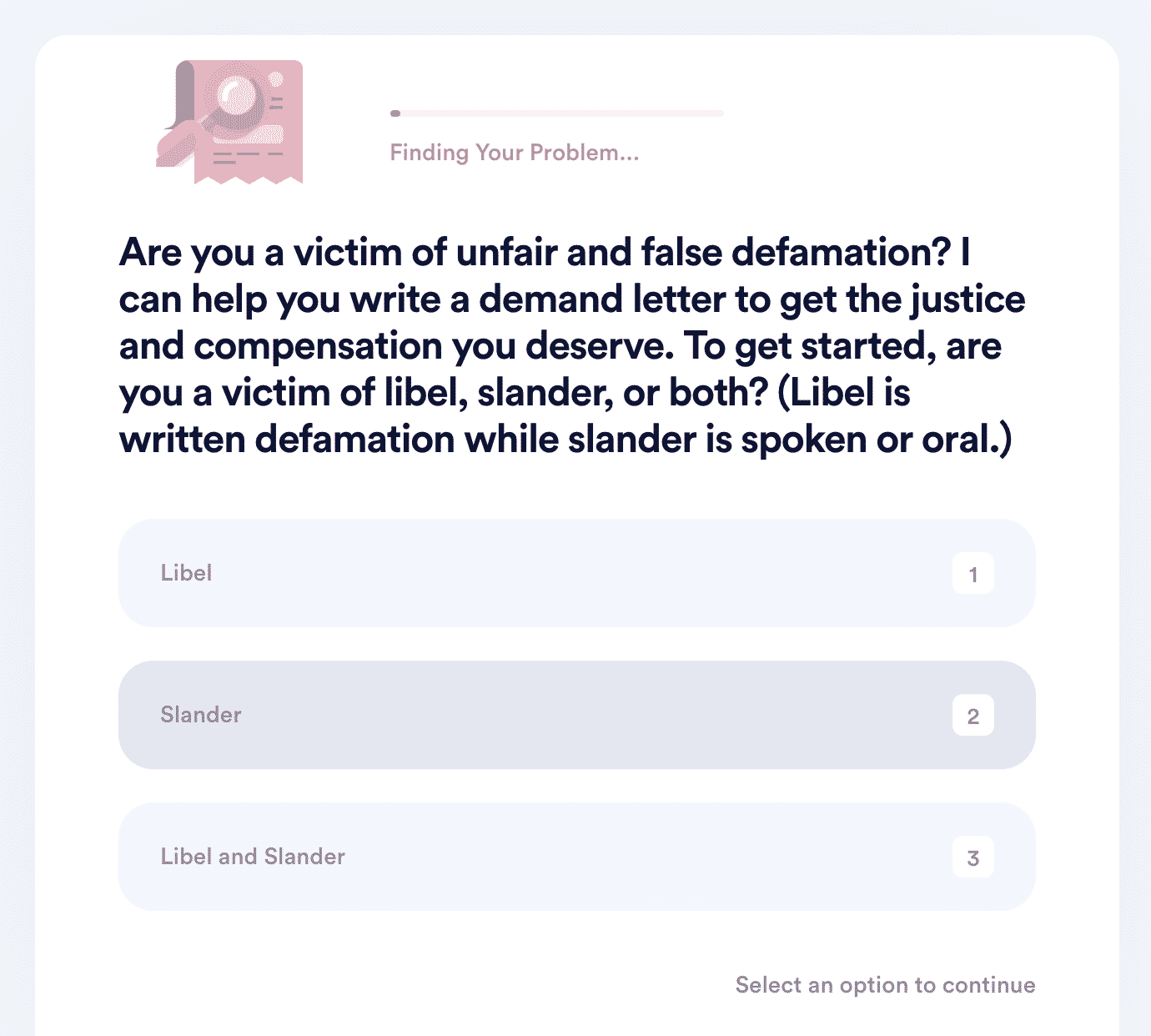 3. According to your location, DoNotPay will be able to draft a formal cease and desist defamation letter based on all the relevant libel laws within your state!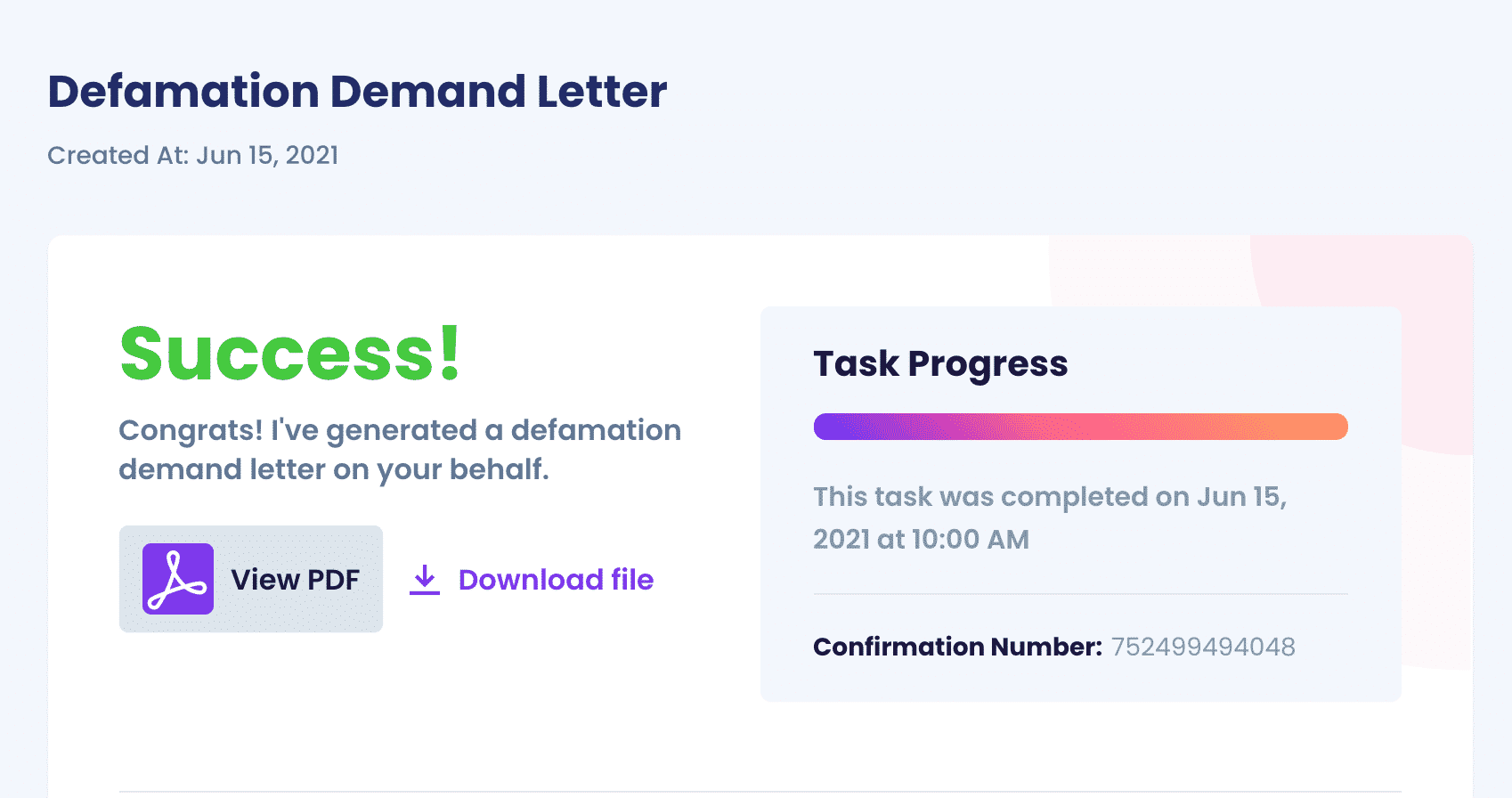 That's it! You're done.
What Else Can DoNotPay Do?
DoNotPay doesn't stop at helping you write cease and desist letters. The AI-powered robot lawyer can help you with day-to-day issues such as cancelling subscriptions, creating passport photos, appealing parking tickets, and so much more! Here's what else we offer: