Can You Sue After Signing a Waiver?
Businesses will often require you to sign a waiver before using their services, especially if the activities involved may pose a potential risk for harm. Waivers like these are common alongside gym memberships, amusement park passes, skydiving or bungee jumping excursions, and more. These waivers are called liability or release waivers. They are legal documents you must sign that protect businesses from being sued in case of injury.
Often, these waivers are lengthy documents that include lots of legal jargon, and it's common for people to sign them after skimming the fine print. While signing these documents may limit your ability to sue a business, it's important to realize that you haven't completely signed away your rights to take them to court if you become injured due to their negligence.
The question is, ? If you can prove that your injury was caused by the company's negligence, you may have a strong case in small claims court, despite signing a waiver.
Reasons to File a Lawsuit Against a Business After Signing a Waiver
If you signed a waiver prior to using a company's services, but you were injured or your property was damaged due to no fault of your own, you have every right to pursue legal action against the company if you can prove negligence. Here are a few examples:
| | |
| --- | --- |
| Sue a Fitness Center for Faulty Machines | Even if you signed a waiver when you joined the gym, the company is still fully responsible to maintain their machines and manage a safe environment for their patrons to use while exercising. Slick treadmills, poorly calibrated machines, and unevenly stocked weights can all result in injury due to negligence. |
| Sue a Theme Park for Injury | Many parks require you to sign a waiver before entering, but if the company's negligence led to damage or injury, you may still have grounds to sue. For example, if the park employees failed to properly check your seat restraint on a ride and you were injured as a result, you may be entitled to compensation. |
| Sue a Tattoo Parlor for Neglected Safety Protocols | If you become injured or develop an illness due to your tattoo artist neglecting proper safety and sanitation protocols, you can seek legal action even if you signed a waiver. For example, if the artist failed to use a new sterile needle or properly sanitize their work space, you can seek compensation if you contract an illness or if your tattoo becomes infected as a direct result. |
File a Lawsuit Against Someone After Signing a Waiver By Yourself
Filing a lawsuit against an individual or a company on your own can seem like a daunting and complicated process. The steps you'll need to take are as follows:
Write a demand letter informing the organization of your intent to sue.

Serve the demand letter to the appropriate party.

File the case in your county without the benefit of legal help or guidance.

Argue your case against the business in small claims court.
For the average person, this process can be quite difficult to navigate without extensive legal knowledge, and it can become stressful to pursue your case if you're unsure of where to begin. Fortunately, it's possible to get the legal guidance you need without expensive legal counsel when taking a claim to small claims court.
Dangers/Issues With Filing a Lawsuit by Yourself
Large businesses and corporations have the advantage of being able to hire attorneys to represent them in court. They will be looking for any procedural errors in your claim to ensure that they are not held liable for your injury or damages.
There are many things that can go wrong when you fill out your own court forms and serve them to the organization yourself, and this could unfortunately lead to you losing your case. Even if you do make it to small claims court on your own, it won't be easy to face a large company without some sort of legal help on your side.
How to Sue After Signing a Waiver With DoNotPay
uses AI-powered technology to assist you while filing your case against someone in small claims court. This easy-to-use app works in any browser and helps you to file your court forms in no time so that you can focus on your claim. Follow these simple steps to get started:
Log in to

and select the "Sue Now" product.
Enter the dollar amount you are seeking for compensation.
Select whether you want to draft and serve a demand letter or file a claim in court.
Describe the reason for the lawsuit and submit any applicable details, including photo evidence.
That's it! DoNotPay will then generate a demand letter or court filing forms for you. We'll even mail a copy of your demand letter to the individual or business you are suing!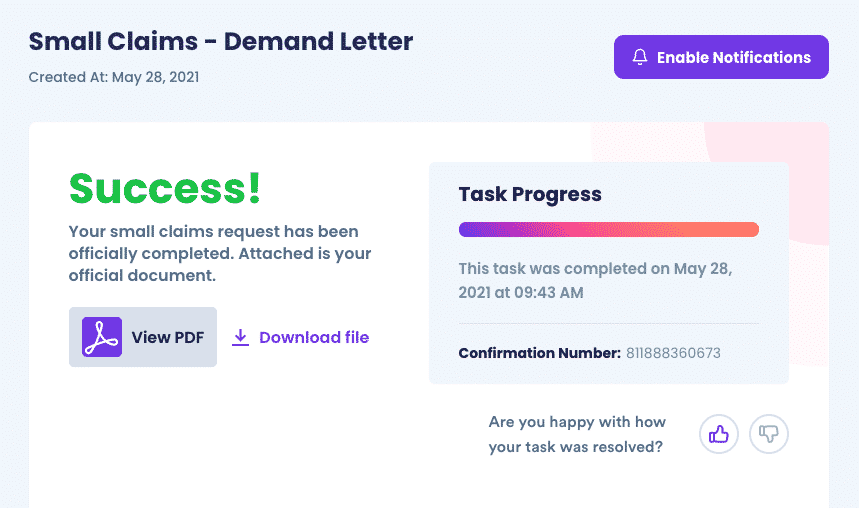 What Else Can DoNotPay Do?
DoNotPay can help you sue any individual or company for damages in small claims court. Check out these cases that ruled successfully in people's favor with the help of DoNotPay:
DoNotPay can also: