Can You Pay Back Taxes To Claim Property? All Your Tax Questions Answered!
Paying property taxes brings up a lot of questions. For example, if a homeowner failed to pay their property taxes, could someone else claim their property by paying those bills instead of them?
In this article, you'll find answers to:
Whether you can pay back someone's property taxes to claim their property

How property taxes work

What

tax exemptions

are
Can You Pay Back Taxes to Claim Property?
You can pay someone else's owed property taxes as an investor in real estate, but the process of claiming that property is a little more complicated than that.
If you are interested in investing in property by paying delinquent taxes, you should know what property tax lien and a tax deed sale are and how they work.
What Is a Property Tax Lien?
When a homeowner does not pay their property taxes to their city or county's government, they inevitably incur additional fees. If a certain period passes and the owner still doesn't pay property taxes to the local tax authorities, the government has the right to place a property tax lien on their property.
Governments sell property tax liens in bidding auctions or tax lien sales that can take place online or in person.
As an investor, you can buy a property tax lien. The lien doesn't give you the right to claim the property, meaning that you don't own a legal title to it. If you buy a property tax lien, though, you have the public claim on the unpaid taxes. The owner then owes their delinquent taxes to you, and they cannot sell or transfer their property.
What Is a Tax Deed Sale?
If a homeowner doesn't pay back the taxes they owe after a tax lien is placed on their property, states and municipalities can place their property on a tax deed sale.
If you're interested in buying a residential property by paying back the delinquent taxes, you can do it through a tax deed sale. This scenario doesn't grant you any financial returns since you pay back all the delinquent tax bills, additional fees, and the interest rate on the owed tax bills.
Can You Claim Property Through Adverse Possession?
Adverse possession is another way you can claim someone else's property, but few investors do it. You would have to live on the property that you also pay taxes for a certain number of years. Depending on the city or state's jurisdiction, the period can last for several to around 15 years. You can then apply for a claim if you want to own the legal title to the property.
Are You Afraid Someone Will Claim Your Property by Paying Back Your Taxes?
If you find yourself on the other end of the property tax lien conversation, you may be worried about an investor claiming your property by paying back the taxes you owe.
DoNotPay is here if you need help paying your tax bills! 
Not many states have low property tax rates, which is why you can:
All states have tax exemption programs you might be eligible for, including:
Homestead Property Tax Exemptions
Many homeowners who reside on their property are eligible for programs that reduce their tax bills. Low-income owners, in particular, should apply for this type of tax exemption. 
Senior Citizens Property Tax Exemptions
In the majority of states, citizens need to be either 60+ or 65+ years old to be eligible for the senior citizen tax exemption. They also must reside on the property they own.
Disabled Citizens Relief Programs
Homeowners with a 100% disability and their spouses can benefit from the disabled tax relief programs. A 100% disability means that the citizen is disabled totally and permanently.
Solar Property Tax Exemptions
If you have any solar panels installed on your property, you should research solar property tax exemptions. This type of tax relief program is a great opportunity to go green.
Widow Property Tax Exemptions
Widows of military veterans and disabled citizens who were eligible for a property tax exemption at the time of death can also apply for a tax relief program. 
Sign Up for DoNotPay To Reduce Your Property Tax Bills 
You don't have to chase property tax exemptions or protest your tax assessment yourself. DoNotPay helps you avoid months of fruitless research and unnecessary effort by generating a specific and all-encompassing guide on reducing property taxes for you.
Here's how you can get your guide:
Navigate to our

Property Tax

product

Leave information about yourself and your property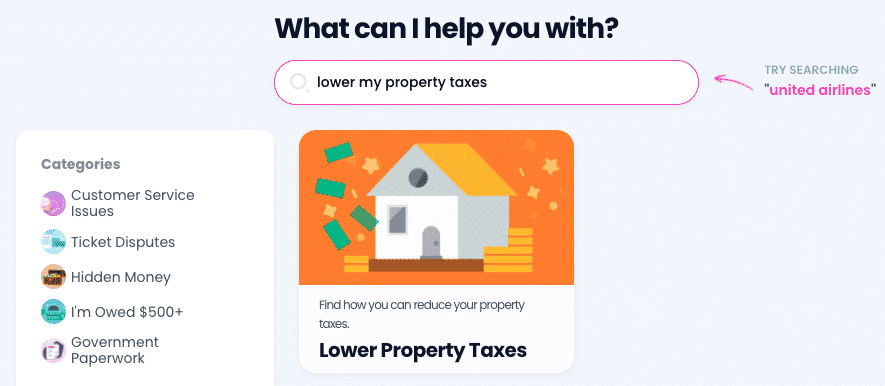 Check out the table below to see what kind of information our guide helps you get:
Information on Exemptions
Information on Appeals

What exemptions you qualify for

Where to find the application forms

What the application deadline is

What fees you need to pay

How long you have to wait to get the exemptions

What the deadline for appealing your assessment is

Where to send your forms and documentation

When to expect a resolution

How to prepare for your court hearing
Outsmart Scammers With DoNotPay
Are you troubled every time you think about subscribing to a service because you fear your personal information will leak and your privacy will become invaded?
There's no need to fret anymore as DoNotPay has come up with a way to shield you from hackers, scammers, and identity thieves alike. 
Check out how you can use DoNotPay and browse the internet care-free:
Open DoNotPay in your web browser

Locate our

Virtual Credit Card

generator

Use the made-up card number to sign up for any

free trial

Move forward to our

Burner Phone

product

Use the temporary phone number to verify any online account

Enjoy the trial without worrying about

canceling it

—the service will do it on its own
Signing up for services with DoNotPay's hacks frees you from ever falling victim to a serious crime, such as identity theft, and liberates you from the bothersome and never-ending spam calls, texts, and emails that you never explicitly agreed to receive.
What Else Is Hot About DoNotPay?
DoNotPay does wonders in protecting your online privacy, but it can do so much more for you! 
With our assistance, you can claim compensation for canceled or delayed flights, request refunds and chargebacks for unsatisfactory purchases, file warranty claims for defective products, and even overturn unjust parking tickets!
Our app can locate unclaimed funds that exist under your name, the best clinical trials for your needs, and public records that you couldn't identify on your own.