Can You Libel Someone In a Private Letter?
This depends on what is meant by "a private letter." Libel is a form of defamation written down and aimed at bringing a person or business to disrepute. If spoken or gestured, it's called slander. There are specific conditions under which a private letter can be libelous and this article will explain it all! You'll also find brilliant ways to tackle libel without resorting to a lawsuit.
When a Private Letter Becomes a Libel
A private letter can become a libel only on one condition: A third party now has knowledge of the content of the letter. Here are instances where a private letter qualifies as libel:
| | |
| --- | --- |
| A private letter that is written to the same person defamed by the content of the letter | Not Libel |
| A private letter that is written to a person containing false claims about another person | Libel |
| A private letter that is written to the same person defamed by the content of the letter and shared with a close friend | Libel |
| A private letter defaming an employee that was sent to the private email of a few company staffs | Libel |
The federal law on defamation stipulates exposure to a third party as one of the preconditions for proving a libel. This means every case of defamation depends on the proven knowledge of at least one person other than the defamer and the subject of the defamation. This, however, is not the only condition for proving a libel, the others are:
The contents of the private letter must be substantially false
The writer must have acted with provable negligence or malice
The content of the letter has caused reasonable damages or injuries
The writer does not belong to any privileged class.
Types of Libel
The two types of libel are libel per se and libel per quod:
Libel per se
Libel per se is a type of written defamation that contains words that are instantly perceived as defamatory in the eyes of right-thinking persons. They need little explanation to see how damaging the written content can be on the subject. In Libel per se, the defamed person need not prove the presence of defamation or the potential for damage.
Libel per quod
Libel per quod is also known as hidden libel because the act of defamation is not instantly visible to most persons. Libel per quod needs substantial proof to show how injurious the written content can be to the defamed.
Mediums of Libel
Libel does not exist only in private letters. You can find libel in mediums like:
Social media (Facebook, Twitter, Instagram, etc.)
Newspaper publications
Journal and academic publications
Novels, books, and works of fiction
Billboard and advertorials
How to Tackle Libel
Libel may have far-reaching damage beyond what is perceived, and so it is most advisable to take steps to counter the libel with facts. Here are three major ways to do so:
Confrontation
In a confrontation, you would have to meet with your defamer in person or through the phone to express your displeasure. You can also request that they take steps to remedy their defamatory act by issuing a retraction and an apology.
Lettered Threat
A lettered threat, also known as a Cease and Desist Letter or a defamation demand letter, is a great tool to reach out to your defamer without having to go to court. The letter is written to be concise, factual, and civil. It typically contains elaborate details of the falsity in the libel, your requirements to remedy the libel, and a threat of legal escalation if the requirements are not met. You can get a custom-made Cease and Desist letter from DoNotPay.
Defamation Lawsuit
A defamation lawsuit is usually the last option to explore in correcting a defamation lawsuit. This is because of the significant cost and time involved which may require a lawyer, some consultation fees, filing and posting fees, and other miscellaneous costs. The steps involve gathering evidence to prove libel, calculating the dollar value of damages, serving the person a demand claim, and filing your case in court. For cases with demand claims less than $15,000, a small claims court will be a better option.
Create A Suitable Defamation Demand Letter
DoNotPay is the best solution! The cease and desist letter drafts will gather all information about the case, demand retraction, and warn against any impending statements quickly while following the federal defamation law.
All you need to do is:
1. Search for the Defamation Demand Letters product on .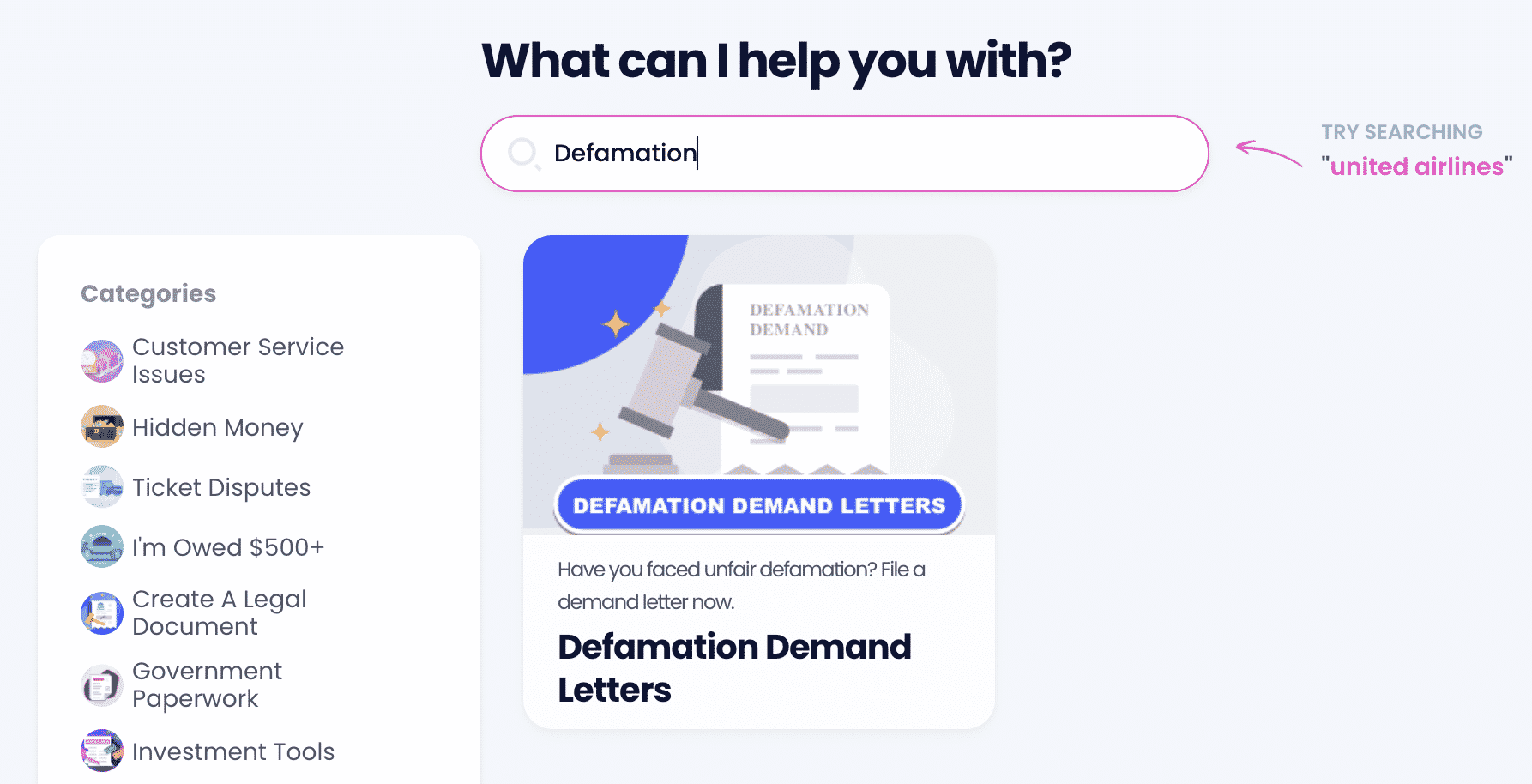 2. Tell us about your situation and answer the following:
Are the statements slander or libel, or both?
What are the statements?
Why are they false?
What consequences have you faced because of libel or slander?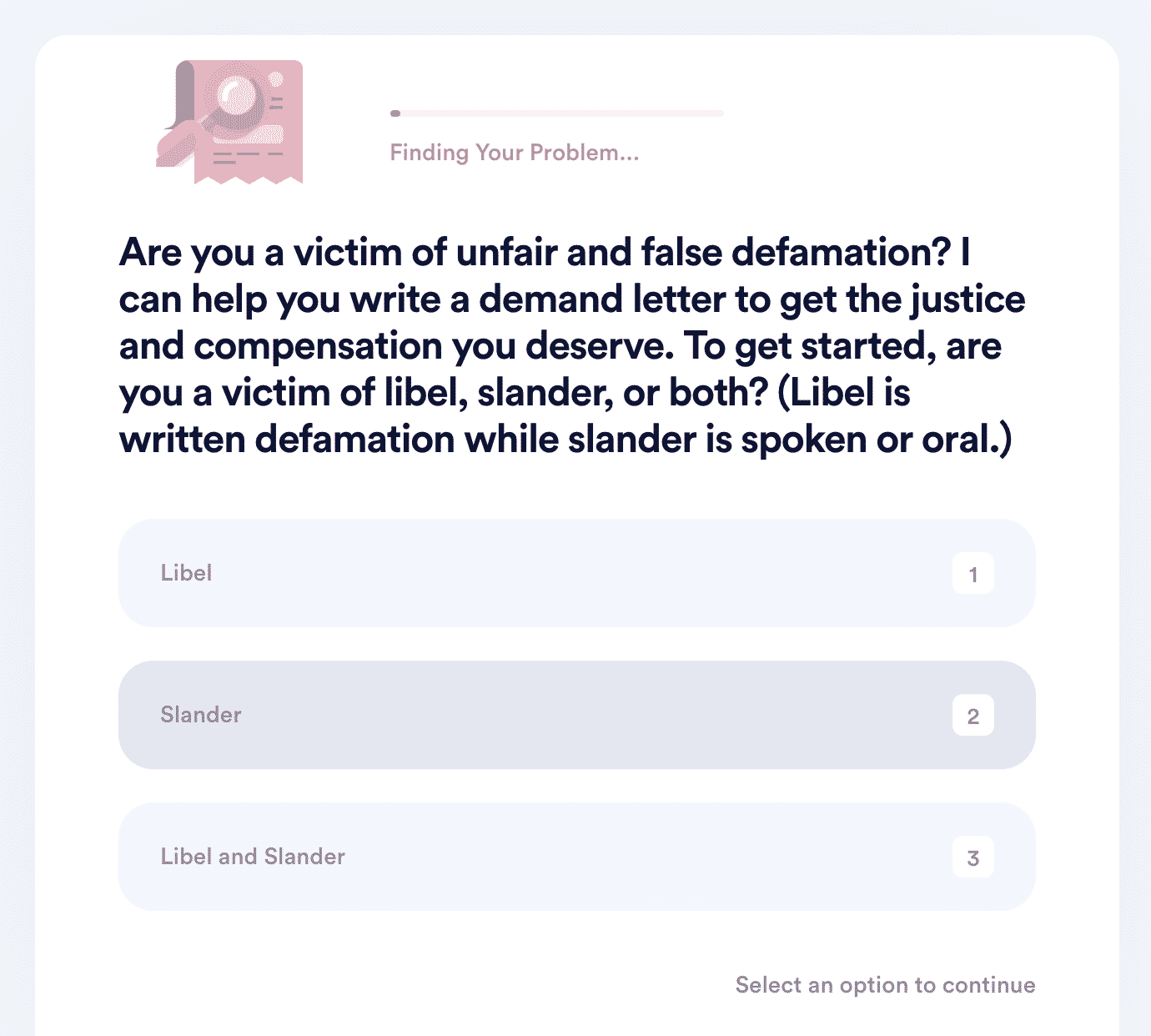 After that, will automatically formulate a detailed demand letter on your behalf, with the most relevant state laws to help your case!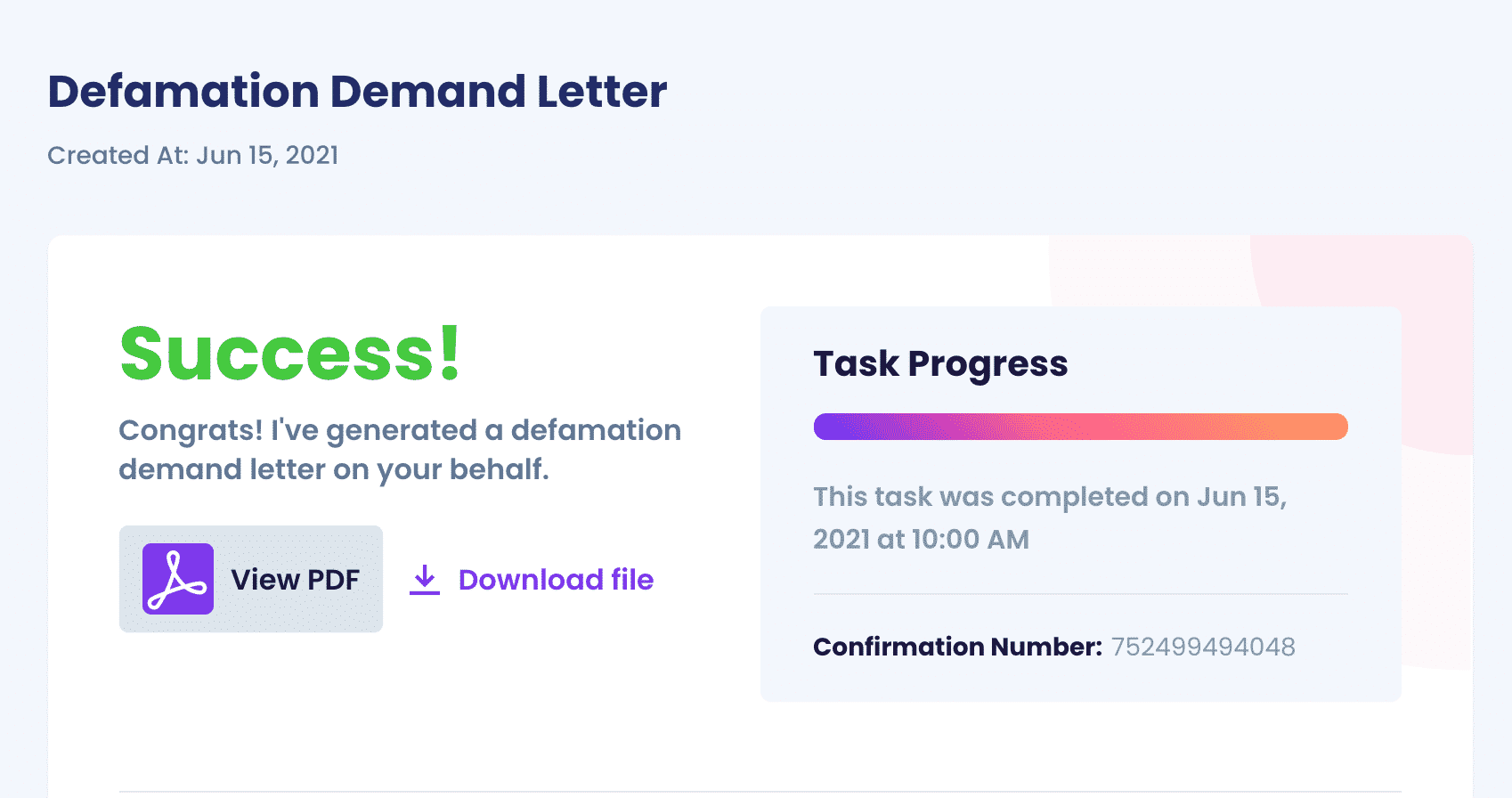 DoNotPay Does More!
Here's a list of legal-related mattersDoNotPay assists with:
Create a non-compete agreement

Draft a confidentiality agreement

Scan legal documents for hidden clauses
And more!
Here's a list of service-related things DoNotPay can help you with: