Can You Get a Divorce Without the Other Person Signing the Papers? Sure, Let's See How!
Getting a divorce is never a pleasant situation, regardless of how friendly the whole process is. You need to get familiar with your state law and check whether you need to go to court or hire a lawyer, even if you and your spouse agree on all essential terms.
Is it possible to finish everything online, and can you get a divorce without the other person signing the papers? There are lots of questions before and during a divorce, and DoNotPay has the answers.
What Happens if Your Spouse Won't Sign the Divorce Papers? Reasons and Solutions
If your spouse refuses to sign the divorce papers, it's crucial to understand their reasons. This might be important since it'll help plan your strategy, i.e., figure out how to respond and proceed further.
Here are some common reasons a spouse might refuse to sign divorce papers:
Your Spouse Is
What You Could Do
Hoping to work things out with you
Trying to force you into something
If your spouse is refusing to sign the divorce papers to make you give up custody or some assets, you shouldn't give in to their manipulation and could:

Hire a mediator
Talk to an attorney
File for divorce alone

Keen on making things more complicated for you
As divorces can bring out the worst in people, your spouse might want to make the whole process more difficult for you. This might prolong the process, but you shouldn't give up because, in most states, one party is enough to initiate the divorce procedure. You could:
Can You Still Get a Divorce if Your Spouse Won't Sign?
You shouldn't panic if your spouse won't sign the divorce papers because you can start the process yourself by:
Stating you want a divorce because of irreconcilable differences
Filing your petition for divorce with the court
You don't need your spouse's signature for this process. Once you file the petition, here is what follows:
Your spouse will be served with the divorce papers
They can file a response with the court within a required period, depending on the state law
A judge schedules a default hearing you must attend if the spouse doesn't respond on time
The court will rule an uncontested divorce even if your spouse hasn't responded or appeared in court
What Happens if Someone Refuses To Sign Divorce Papers? Possible Complications
Why chase your spouse to sign the documents if you can end your marriage without their signature? The post-divorce period is less stressful if both parties cooperate and agree on crucial terms.
In case your spouse refuses to sign the divorce papers, it is likely they aren't willing to negotiate key aspects of the future arrangement, including the:
Spousal support
Children custody issues
To avoid potential complications, try talking things over with your spouse and resolve to have a low-cost divorce, preferably without a lawyer. to complete the uncontested divorce process smoothly.
DoNotPay Helps You Create a Rock-Solid Divorce Settlement Agreement
DoNotPay can help you prepare an uncontested divorce settlement agreement following your state legal requirements. You won't have to spend a small fortune on service fees.
To get the document tailored to your needs, and take these steps:
Enter Divorce Settlement Agreement in the search box
Provide answers to a few questions regarding your spouse and children, if applicable
Enter information about your income and assets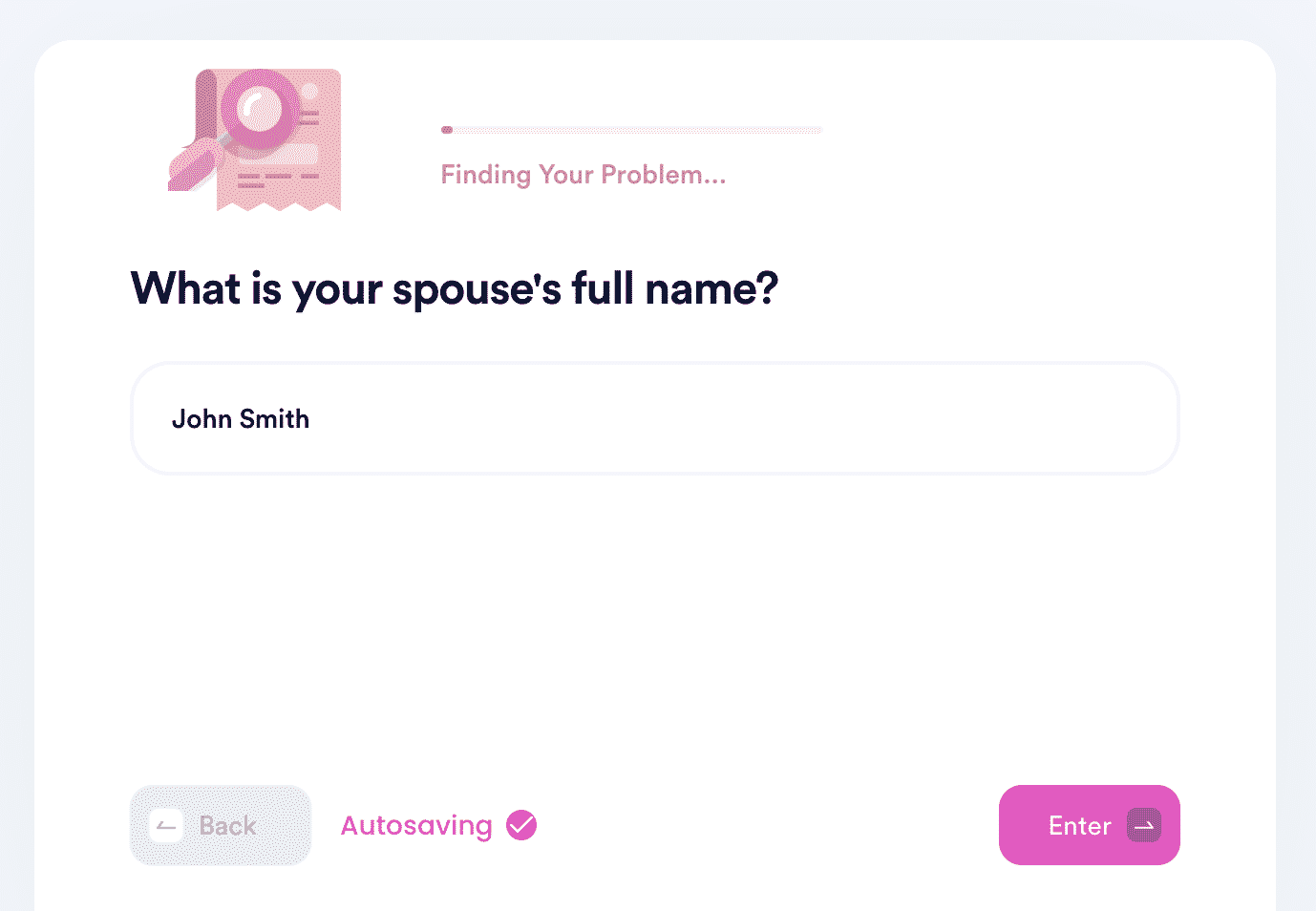 Our AI-powered app generates the document taking into account the provided information and local legislation.
What's next? Sign the document and get it notarized. We can help you with notarization, too. DoNotPay connects you with a remote notary who can perform the procedure in a video meeting.
Find Answers to Additional Divorce-Related Questions
If you'd like to understand the divorce process better, you should browse through our learning center. We offer comprehensive guides and answer questions, such as:
You can also find state-specific information about the divorce process in Wisconsin, New Mexico, Michigan, Texas, Florida, Minnesota, Tennessee, Louisiana, North Carolina, or Pennsylvania, to name a few.
Take Control of Your Finances
DoNotPay is a great way of taking care of your money, whether you're cost cutting or looking for some extra income. Your new virtual assistant will help you:
Explore All the Facets of Our Multi-Purpose Platform
Our app is great for helping you with your money, but the benefits of your DoNotPay subscription don't stop there. The portfolio of DoNotPay's products and services is so diverse that anyone can find something useful to make their daily tasks easier.
We can help you deal with annoying DMV appointments, protect your privacy by offering a burner phone number, or avoid trips to a post office with our mailing service!
Find a more comprehensive yet cheaper subscription—we'll wait!