Can You Get a Divorce Without Going to Court? DoNotPay Has Your Answer!
If you and your spouse are on the same page when it comes to terminating your marriage, you should be able to skip the unnecessary drama. Can you get a divorce without going to court then? DoNotPay will let you know and help you create a divorce settlement agreement!
Divorce Without Court Appearances—Is It Possible?
Even if you managed to settle your case, you must file a divorce petition or complaint with the court to formally terminate the marriage. It is possible to skip court appearances completely, but that depends on the legislation of the state you live in.
While you don't need to appear at court in some states, you still have to file required forms and divorce papers. You can usually find these online on the court's websites. The judge will decide if everything is in order and issue a final judgment of divorce.
In states that require that you appear at court, you'll need to let the court clerk know that you've settled your case. Your divorce will be marked as uncontested, and you will have to appear in court for only around fifteen minutes.
DoNotPay has all the information about divorce procedures in states around the country. You can check out the rules and regulations for any state in the table below:
How To Get a Divorce Without Going to Court—The Methods at Your Disposal
In case you wish to go through the divorce process as stress-free as possible, you will try to avoid going to court at all costs. Take a look at the table below for some of the available methods that will let you terminate your marriage without a trip to court:
Divorce Method
Short Explanation
Divorce mediation

You can avoid paying for two separate attorneys and have one lawyer who will act as a neutral mediator to guide you through the process
The mediator will help both your spouse and you understand the crucial info about divorce agreements
Spouses will give the mediator all the necessary information and documents, such as tax returns

Divorce arbitration

Arbitration is not available in all states
The arbitrator's role is to adjudicate the matter and come up with a decision (similar to what a judge does)—the important difference being that you and your spouse can choose an arbitrator
You can pick the time and date of your arbitration sessions
The downside of arbitration is that you can't appeal decisions once they are made

Collaborative divorce

This option is similar to divorce mediation, but it doesn't include a mediator or other intermediary
Both spouses have an attorney and are a part of four-way sessions with the aim to reach an agreement
All participants are obligated to work together toward the goal

Settling the issues on your own

You can come to an agreement with your spouse on your own
You will need to discuss matters such as property, alimony, and child custody
It will be necessary to create a divorce settlement agreement—DoNotPay can help you with this part!
Use DoNotPay To Create a Divorce Settlement Agreement Fast
It's easy to handle the divorce process when both spouses are looking for a friendly divorce. This is where DoNotPay comes in—our app can help you reach an out-of-court divorce settlement. DoNotPay can draw up a divorce settlement agreement for you in a matter of minutes if you follow these instructions:
Sign up for DoNotPay in any web browser
Type in Divorce Settlement Agreement in the search bar
Answer a few questions related to your spouse and children
Provide us with some information about your income and financial assets
We'll generate a divorce settlement agreement specifically made for your needs, unlike those free templates you can find online. You also won't need to hire a lawyer that will leave you penniless—instead, you'll have a low-cost divorce.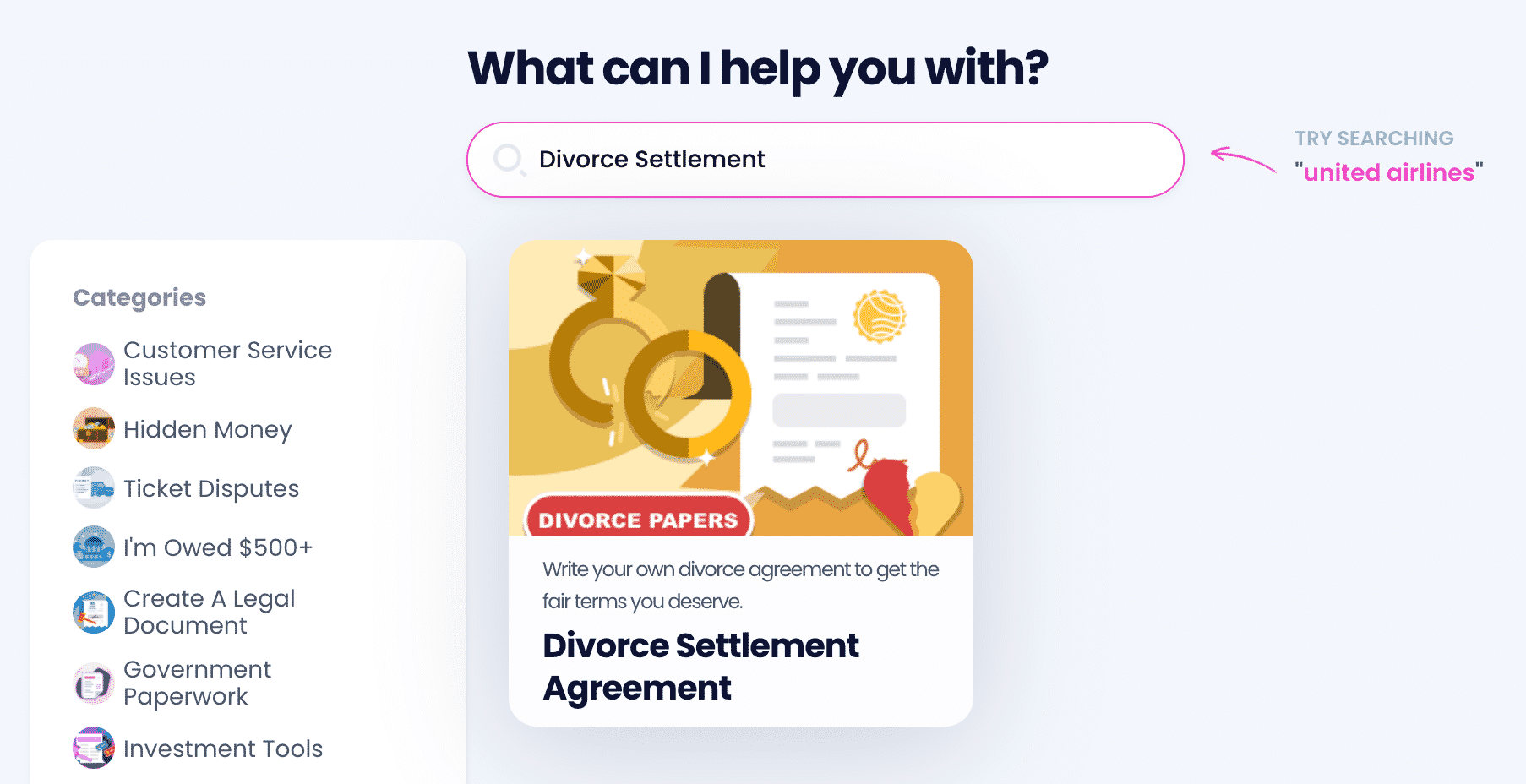 DoNotPay Can Help You Get Your Divorce Settlement Agreement Notarized
After DoNotPay provides you with a divorce settlement agreement, you only need to sign it and get it notarized. If you wish, our app can help you with the notarization process. All you have to do is pick a time slot to meet up with an online notary public and kill two birds with one stone!
Do You Have More Questions About Getting a Divorce? DoNotPay Has the Answers!
DoNotPay has all the info on the most important divorce-related topics. Our learning center has answers to numerous questions, such as:
DoNotPay—Quality and Quantity
Our platform provides a multitude of useful tools, products, and services that anyone can benefit from. DoNotPay is a proper virtual assistant that can minimize your paperwork, protect your consumer rights, increase your productivity, or keep you safe online.
The best part is that we keep adding more awesome features all the time—all available for a small subscription price. Take a peek at a small part of our portfolio in the table below:
| | | |
| --- | --- | --- |
| Online Safety | Customer Protection | Administration Shortcuts |
| | | |
It Gets Even Better!
With your DoNotPay subscription, not only do you get a powerful weapon to fight boring and annoying daily tasks, but you also get a great resource for earning more money.
You can use our platform to enter free raffles, secure compensation for fighting robocalls, get your cash back from used gift cards, or find unclaimed money under your name, no matter the state.