Can You Get a Divorce While Pregnant in Texas? DoNotPay Has the Answers
Can you get a divorce while pregnant in Texas? This is the question you're probably asking yourself if you or your spouse are pregnant and want to end your marriage. DoNotPay has all the answers you need and more! We will explain the divorce laws in Texas and show you everything you can do about your divorce process while pregnant.
Can You Get a Divorce While Pregnant in Texas?
In the Lone Star State, you can file for divorce if you're expecting a baby, but you must wait until it's born for the judges to finalize the divorce. This is because of the:
Child custody and support—If the husband is the child's genetic father, the orders for custody and support need to be included in the Final Decree of the Divorce. The judge can't finalize the divorce until the child is born
Spousal support—If the pregnant spouse wants to request alimony as financial help for raising the infant, the child needs to be born first
Paternity issues—In case the husband is not the child's biological father, the paternity of the child needs to be established before the finalization of the divorce
How Does the Court in Texas Establish Paternity When the Husband Is Not the Genetic Father?
If the husband is not the child's biological father, the paternity of the child can be established by:
Signing the Voluntary Acknowledgement (AOP) and Denial of Paternity (DOP) at the hospital when the child is born—The child's mother and biological father need to sign the AOP, stating that he's the child's genetic father. The husband then needs to state that he's not the biological father by signing the DOP
Court Order—The husband, the child's biological parents, or the Office of the Attorney General can file a paternity case, asking for a paternity order. The judge will issue a DNA testing as part of the case
You Are Pregnant, But You Want a Divorce—Now What?
Since you'll have to wait until the child is born to finalize the divorce, you have time to prepare for the process. You should plan ahead and choose the kind of divorce that can be finalized quickly and easily.
The best type of divorce to get if you're expecting a baby is an uncontested divorce because:
To be eligible for an uncontested divorce, you will need to agree on the following with your spouse:
Child support and custody
Parenting time
If you can't compromise with your spouse on these matters, you should try divorce mediation. A mediator can come up with solutions that will help both of you reach a middle ground.
Creating the Marital Settlement Agreement
Texas state laws require you to wait for at least 60 days after filing a divorce petition. This waiting period, combined with the rest of your or your spouse's labor, is a perfect time for you to create a marital settlement agreement. The document is of utmost importance as it will contain the terms on which you're getting divorced.
To get one, you can hire a lawyer to write it for you. The downside of this solution is that it's insanely expensive.
If you want a settlement agreement that will be fair to both parties, use DoNotPay! We can also help you with divorces in various Texas counties, including:
Use DoNotPay and Get a Perfect Marital Settlement Agreement in a Jiffy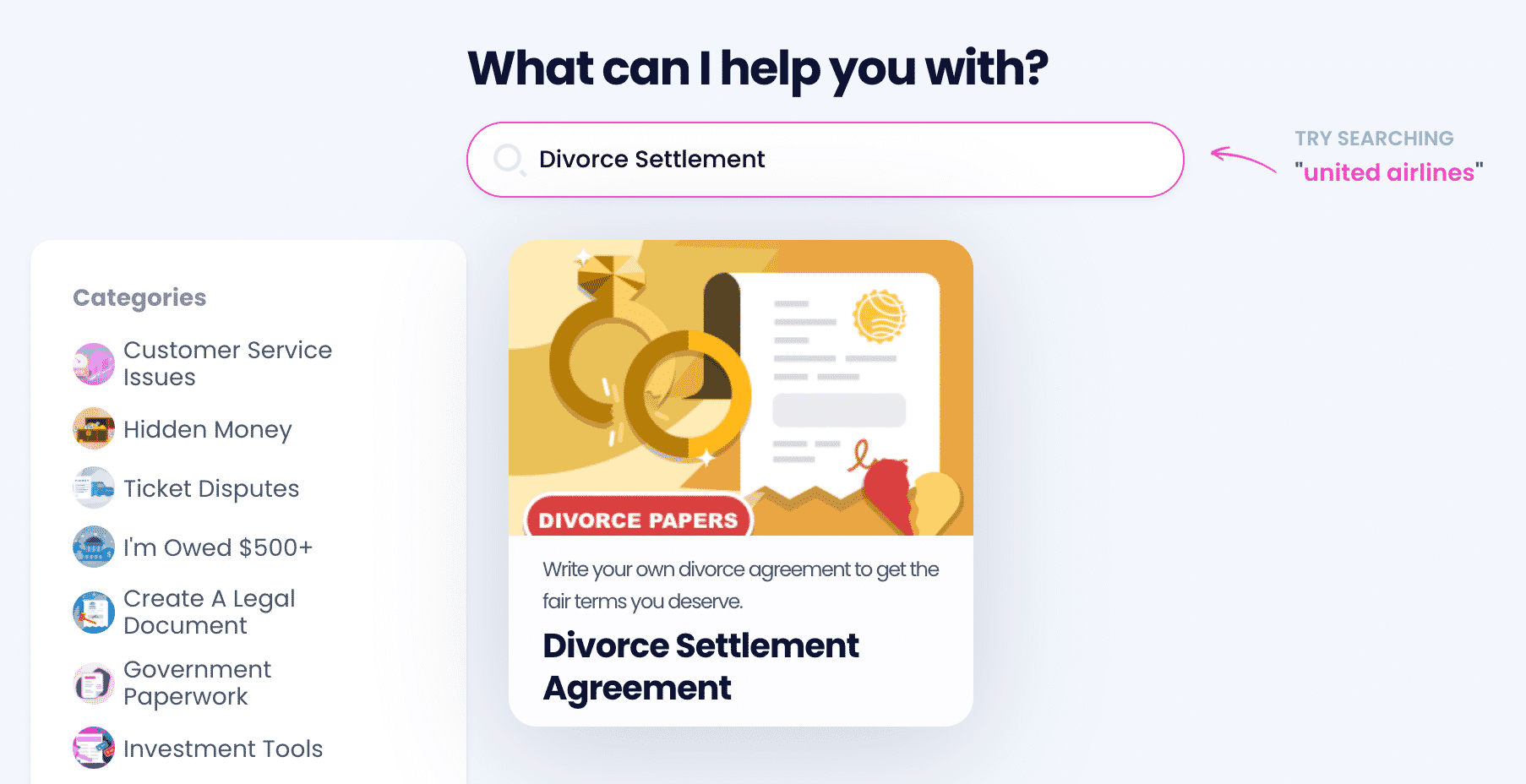 Why hire expensive lawyers when you can subscribe to DoNotPay and get a customized divorce settlement agreement in a few clicks? Here's what you need to do:
Select the Divorce Settlement Agreement product
Answer our chatbot's questions
Choose if you want to get your document notarized online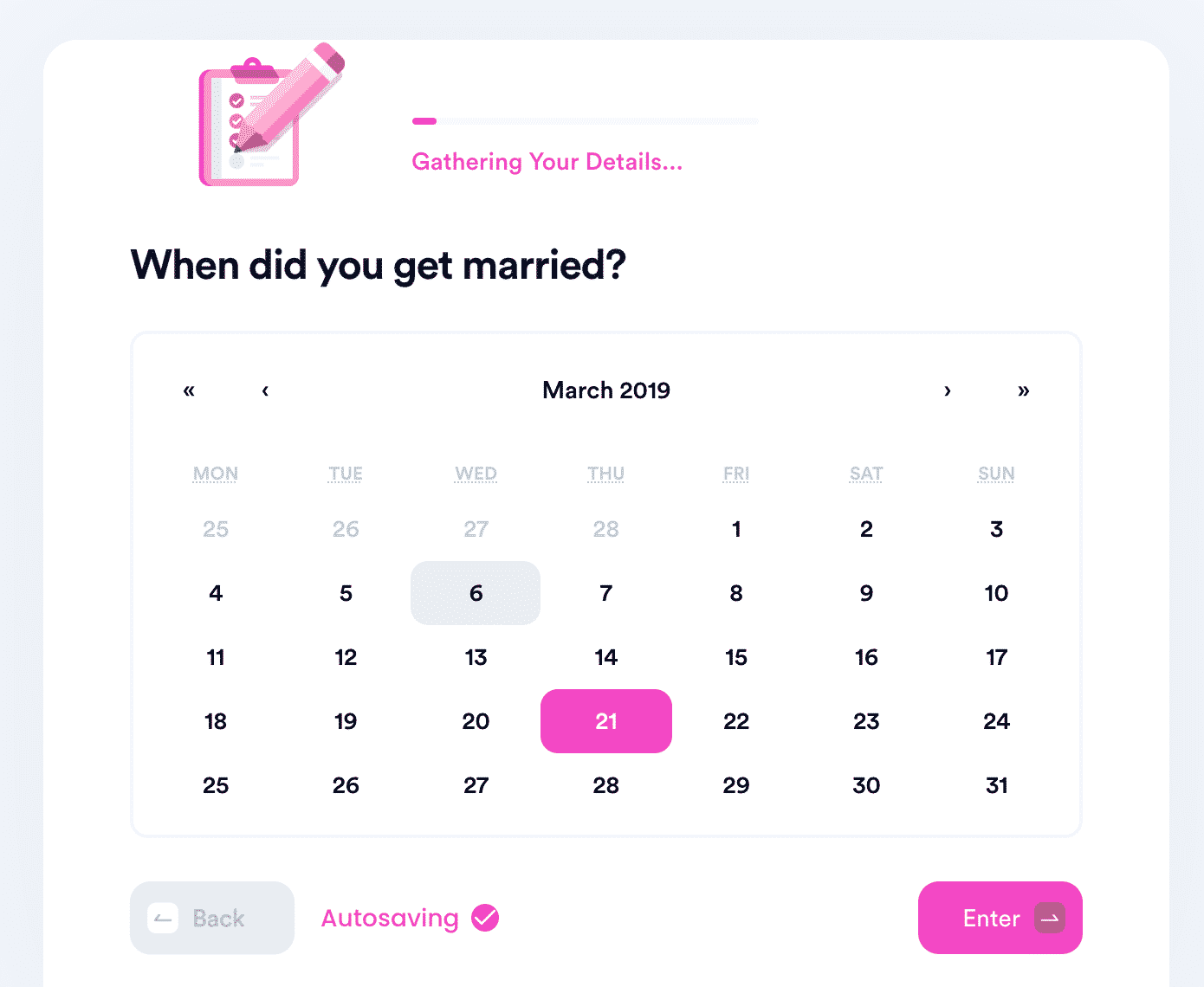 Once you submit your request, we'll send you a tailor-made agreement in no time. You can then use the link we send you via email to book an appointment with an online notary.
Check out DoNotPay's learning center and find out more about divorces:
| | |
| --- | --- |
| Texas-Specific Articles | General Divorce Articles |
| | |
Use DoNotPay To Resolve Administrative Tasks in Minutes!
Tired of brainstorming the easiest way to deal with administrative issues? We know how you feel, and we're here to take the burden off your back!
Once you subscribe to our app, you'll be able to resolve an abundance of bureaucratic issues with ease.
Taking a valid passport photo, reporting workplace discrimination, reducing property taxes, preparing for a government test, applying for a college fee waiver, and appealing a parking ticket are some of the many tasks we assist you with.
In case you need a quick way to draft a legal document, such as a power of attorney, divorce settlement agreement, or a child travel consent form, DoNotPay will do it for you!
Learn How To File Claims the Easy Way
Are you dissatisfied with a certain company and/or its products? You don't have to stay quiet! Use DoNotPay to file your insurance, warranty, or missing/late parcel claim effortlessly! We'll also show you how to request an item return in a few steps.
If you want to cancel a subscription or request a refund or chargeback, you can do it with our assistance without breaking a sweat. Use one app to deal with countless issues!