When Can You Call the Police for Neighbors Smoking Weed?
There are numerous activities that your neighbors might do to disrupt your peace, but only some require involving law enforcement.
Can you call the police for neighbors smoking weed? This article will provide you with an answer to this question and a method for solving your neighbor-related problems easily.
Can I Call the Police if My Neighbors Are Smoking Weed?
In general, you can call the police if your neighbors are smoking weed and their actions are disturbing you, but you should consider several aspects first. If smoking pot is legal in your state, reporting a person who does it in their own house might not be so clear-cut.
You need to consider how much the said habit of the nearby resident is affecting you. You have the right to file a complaint if:
You have a child who is being exposed to the smoke
You believe the group of people staying in the apartment may be involved in some other illegal activities
Even if recreational marijuana is legalized in your state, you shouldn't have to be exposed to the smoke in your house. In case smoking weed for fun is not allowed where you live, you have an even stronger case to inform the police. It is important to handle the matter legally and provide evidence if you can.
Having the police show up at your neighbors' apartment without any previous warning will likely make them angry. This is why you should try taking a friendlier approach first (unless it's the third situation on our list).
What You Can Do About Neighbors Smoking Weed Before Calling the Cops
If your neighbors smoking weed is affecting you in any way, you should try and solve the issue as soon as possible. It would also be preferable to handle this task without much fuss, so you can try out some of the methods mentioned below:
Talking to your neighbors
Contacting the neighbor's landlord (if they are tenants)
Writing a complaint letter
How Talking to Your Neighbors Can Help
You should always try talking with the neighbors before taking any further action. It can easily happen that the nearby residents are not aware of the problem they are causing. If they are reasonable, you should be able to find common ground and solve the problem without much fuss.
Why You Should Get in Touch With Your Neighbor's Landlord
Contacting the neighbor's landlord is the second step you can take if the first one fails. This only applies if your neighbors are renting the apartment. Landlords want their tenants to behave and usually won't tolerate problematic renters. Depending on what their lease agreement states, the landlord might even evict their tenants for such transgressions.
Why a Complaint Letter Is a Good Idea
Composing a complaint letter is a more formal way of approaching the issue. The problematic neighbor will take the issue more seriously if you choose this course of action. It would be even better if you could find other neighbors who share your concerns to sign the letter.
With a bit of luck, this option should do the trick. If you want to create a demand letter properly, you can use DoNotPay!
Use DoNotPay To Send a Demand Letter to Your Neighbors
DoNotPay is the best way to be sure that you've included all the relevant information in your demand letter. Our app will point out the consequences of your neighbors' problematic behavior and the amount of expected compensation.
If you want to get DoNotPay's help for this task, make sure to:
Sign up for DoNotPay in a web browser of your choice
Tell us what is bothering you—noise, harassment, or pet behavior
Provide us with some additional information about the situation—whether you've already tried to reason with your neighbors
Once we create the letter customized to your needs, we will send it in your stead as well.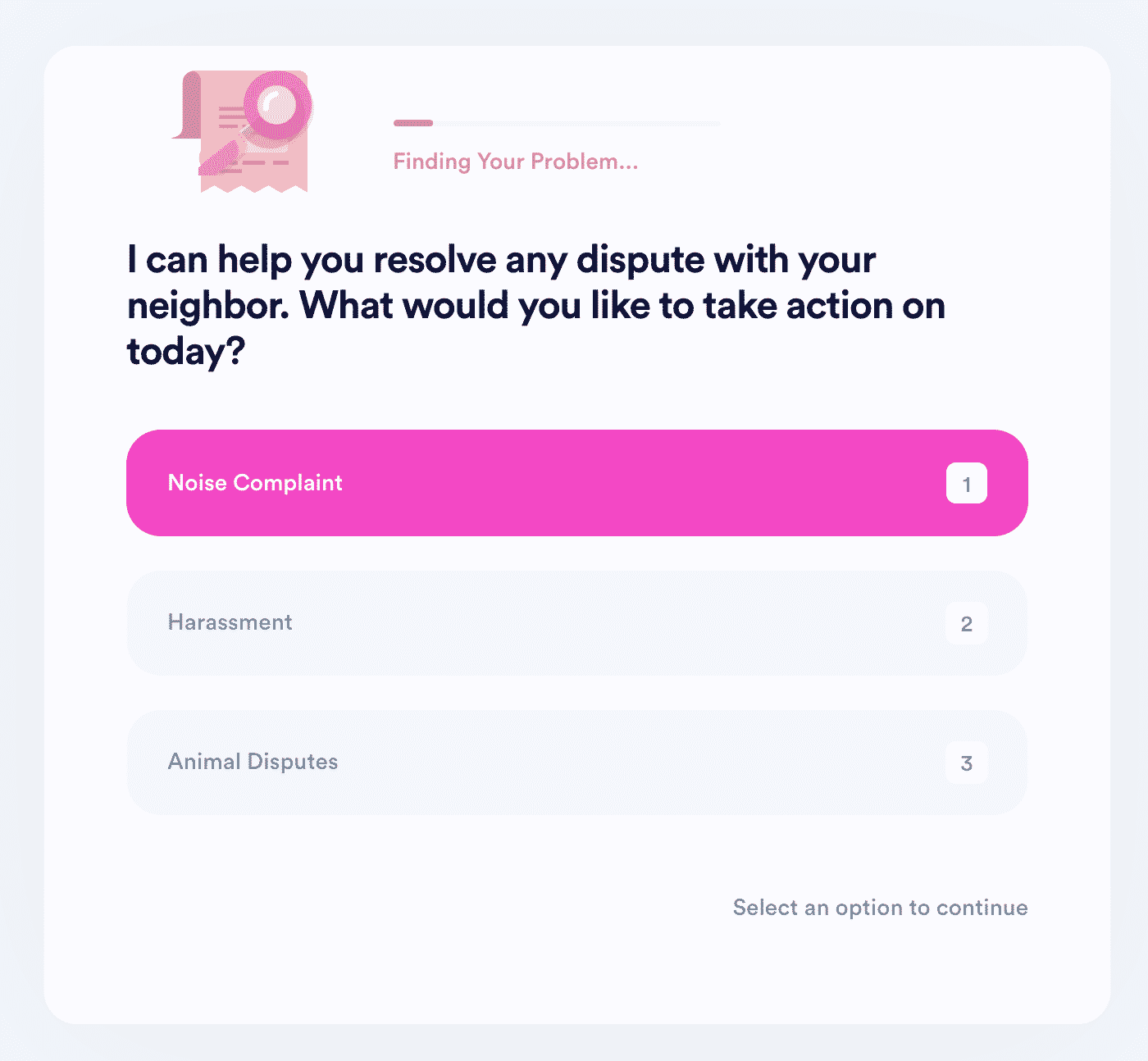 DoNotPay Can Come to Your Rescue When Dealing With All Kinds of Bad Neighbors
If you are one of the unfortunate people who have to deal with neighbors from hell, you can use DoNotPay to tackle those problems. We have the scoop on specific situations that are a common source of trouble among nearby residents. Check out the table below for more info:
DoNotPay can also tell you if you can sue your neighbors for noise and how to get rid of bad neighbors who are renting an apartment.
Explore DoNotPay's Products and Save Both Time and Money
Are you sick and tired of spending ages on the phone with customer support trying to get more info about how to return a faulty product and get a refund? Maybe you'd like to cancel memberships you don't use but can't find that unsubscribe button anywhere? DoNotPay can help you sort out all of these issues in a jiffy!
Contest parking tickets, claim your car warranty and insurance, schedule a meeting with the DMV, and handle your other problems through the same app on your tablet or smartphone.
Getting access to public records or drawing up various legal documents with DoNotPay is child's play.
That's Not All!
The first thing you'll notice when you open DoNotPay is that you can use our app for almost anything.
Do you wish to enter raffles or sweepstakes? Are you interested in applying for paid clinical trials and earning some cash? Would you like to send mail without going to the post office? You're in the right place!
We will help you feel safe while browsing the Internet by assisting you in blocking and reporting spam emails, suspicious text messages, and pesky robocalls.