Can Teachers Get Out of Jury Duty? Learn Here!
It's midterm, and you get a summons to serve on a jury—you have to test your students and are unsure how a substitute teacher would do it. Can teachers get out of jury duty based on their job position? We'll answer this question and tell you a little more about jury duty.
If you decide to serve, to create a leave request letter and inform your employer of your absence.
How Does Jury Duty Work?
The table below will answer a few of the most common jury duty questions:
Question
Answer
How did I get selected for jury duty?
Depending on your state, prospective jurors are usually selected from lists of:

Registered voters
Driver's license holders
State ID holders

Who can qualify?
To be a prospective juror, you must be:

A U.S. citizen and a resident of the summoning county
At least 18 years old
Able to read and speak English

You won't qualify if you:

Have a physical or mental condition that prevents you from serving
Were convicted of a felony

Each state has different eligibility criteria, so you should check your state's court webpage

How long does jury duty last?
Most trials last for three to five days, but this depends on the complexity of the case
Will I get paid for serving on a jury?
Every state has its own rules regarding compensation. The compensation amounts can go from $6 to $40 per day, depending on your state.

In federal courts, the typical compensation is $50

Why do I have to do jury duty?
You have to do jury duty because it's important for the U.S. legal system as it enables a fair and unbiased trial for everyone
What happens if I miss jury duty?
If you skip jury duty, you may be:

Fined with up to $1,000
Imprisoned for days or months

Penalties for missing jury duty vary from state to state
Can Teachers Get Out of Jury Duty?
Being a teacher isn't a reason enough to be exempt from jury duty. The good news is that you can request a deferral. Most states allow postponement for up to six months once, but postponement rules depend on your state. You can check out jury duty laws in your state in the table below:
How To Request the Postponement of Jury Duty
Follow the steps below to request the postponement of jury duty:
Indicate in the questionnaire you receive with your summons that you request a postponement
Mail your questionnaire back to the court or do all of this online
Wait for the court's decision
In some states, you will have to write a letter explaining why you need a postponement—check the summoning court's website to find the address where you should send your request.
DoNotPay Helps You Request Jury Duty Leave in a Few Steps
All states have laws that prevent your employer from firing you for serving on a jury no matter how many times you're summoned. The laws also obligate your employer to provide you with time off. An important step when you're preparing for jury duty is to inform the employer on time.
DoNotPay can help you with this with our leave request letter feature—we will use the information you provide to create a professional letter that will notify your employer of your absence.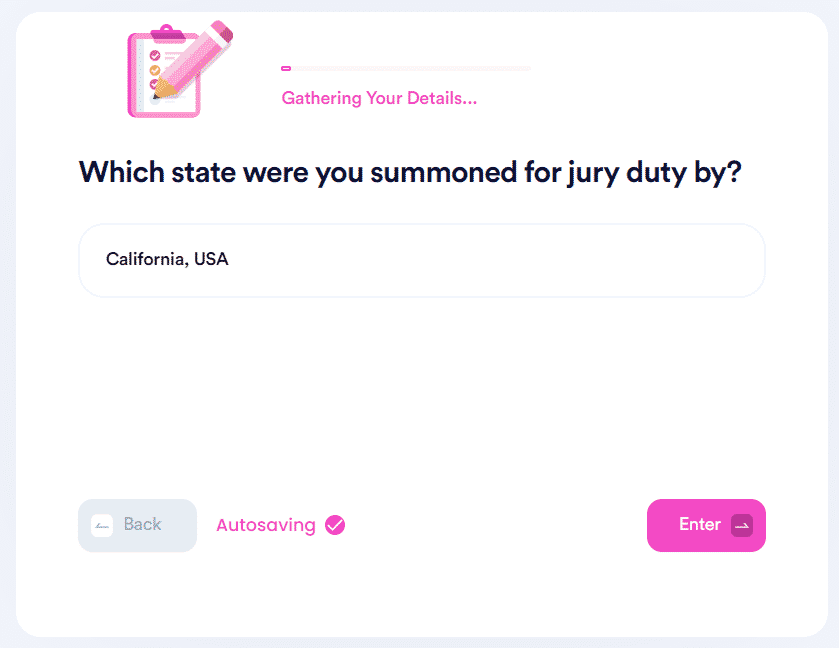 What you need to do is and follow the instructions below:
Open the Request Jury Duty Leave feature
Answer a few questions
Provide a picture of your jury summons
If you want to know what questions they might ask you on your first day during the selection process, check out DoNotPay's learning center.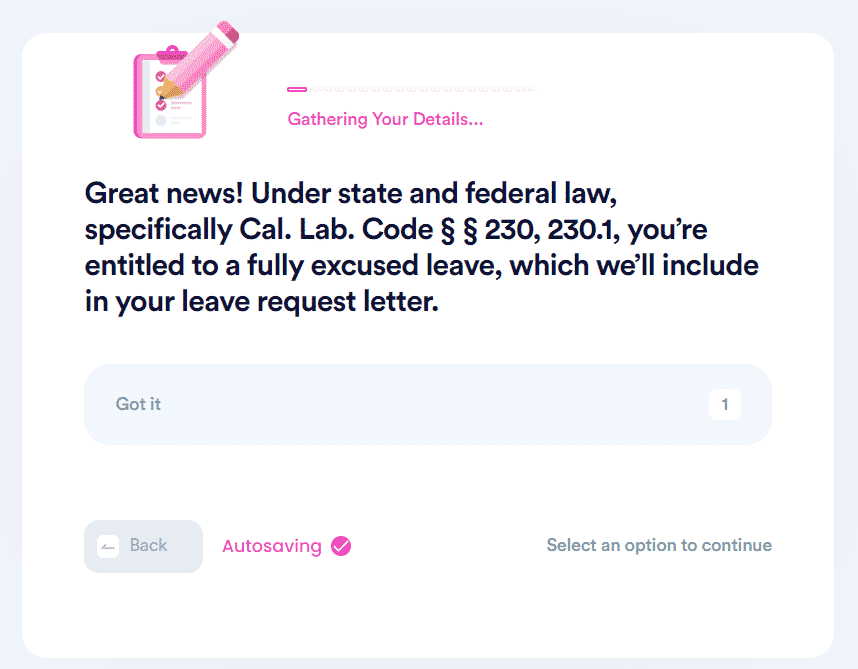 What Else Does DoNotPay Have in Store?
Our user-friendly platform provides solutions for all your bureaucratic problems and tiresome tasks. Once you sign up for DoNotPay, we can help you demand refunds from airlines and other companies, get compensation for late deliveries, and submit item return requests. The app also allows you to send online faxes, use our mailing services, and convert files to dozens of formats!
If you are unhappy with the situation at work, DoNotPay can file anonymous HR or work discrimination complaints in your stead. Discover how to generate legal documents such as divorce agreements and powers of attorney and have them notarized without heading to the notary's office!
Our App Reduces Education-Related Costs
Do you find it difficult to cope with college-associated expenses? DoNotPay sends help your way! Get ready to make your education journey simpler by:
If you believe that educating your child at home would be a less pricey option, we help you compose a customized notice of intent to homeschool in no time!