Can Someone Trademark My Business Name Without Me Knowing?
When you run a small business, your company name is immensely important—it is the way customers recognize you and your products or services.
Can someone trademark my business name? If so, you may end up paying them the courtesy of using a name you came up with.
In this article, we will put a stop to those dilemmas and show you why getting a business name copyright or trademark is important. We will also explain how you can do it effortlessly with DoNotPay.
What Is a Trademark?
When your business starts to grow and you have loyal customers who have a connection with your brand or product, you want to protect that relationship. Other companies may look at your success and decide to copy or imitate your product or name and confuse customers into thinking they offer the same item.
With a trademark, you get the legal protection that stops other companies from committing infringement. When you register a trademark, you will be able to:
Sue any company that copies your product based on your trademark
Prove your ownership and priority date
Protect your products on a state, federal, and international level
Stop infringing companies from exporting and importing to the United States
Apart from your business name, you can put a trademark on various parts of your product and brand, such as:
Color scheme
Signature
Packaging
Labeling
Sound
Should I Copyright or Trademark My Business Name?
Whether or not you trademark your business name is your choice—the law doesn't require you to do so. It is about figuring out whether it is worth the hassle and the cost of getting one.
If you are not willing to expand your business beyond your local area, then there is probably no need to file a trademark request—unless you want to be on the safe side.
Check out the following table to see what level of protection you get from a registered business name and a registered trademark on the name:
| Business Name vs. Trademark | State-Level Protection | Federal-Level Protection | International Protection |
| --- | --- | --- | --- |
| Business name | Yes (excluding some states) | No | No |
| Trademark | Yes | Yes | Yes |
When you register a business name, you need to pick one that your county clerk's office or state government hasn't already jotted down.
Registering a business name will stop others in your state from using the same one. If you want any further protection, you will need a trademark.
What Happens if I Don't Trademark My Business?
Let's say someone opens a business with a similar name to yours. Your business is "Fancy Apples," and theirs is "Fanciful Apples."
If they get a trademark on their name, they will be able to claim your name is too close to theirs, which is fraudulent and suable.
You can avoid such situations by getting a trademark out in time.
Can Someone Trademark My Business Name?
The short answer is—in theory, yes, but in reality, no. If you don't have a trademark on your name, someone else can research the United States Patent and Trademark Office (USPTO) database and find an available name. They can then trademark it.
If that happens and they sue you, you will have the priority date on your side. This shows that you had the business prior to their filing a trademark request, exempting you from legal repercussions.
Even if you don't have to pay a fine, they will limit your business to the area you are established in, meaning that you would not be able to expand your business without changing the name until the trademark expires or dies.
How Can I Obtain a Company Name Trademark or Copyright?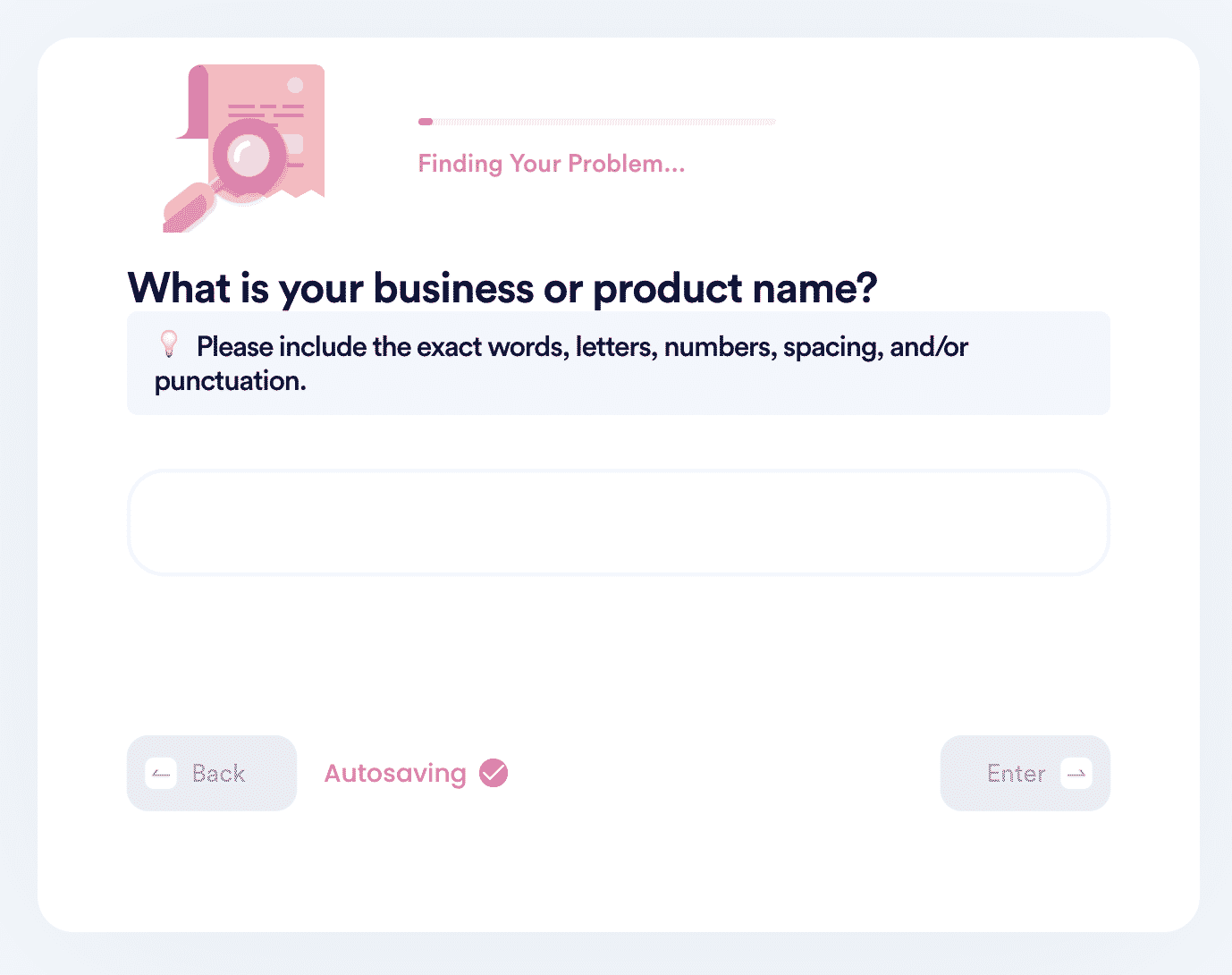 If you decide you want a trademark and have made sure it is not already in use, you will need to proceed with the application. This is a tedious process that requires great attention to detail and numerous pieces of information.
You will have to provide details about:
Yourself
Your company
Trademark type
Intent of use
Proof of use
The USPTO may decline your application if you don't meet the requirements. This can include lacking or having inaccurate information, having an unoriginal name, or selecting the wrong class.
If they reject your application, you will need to reapply and pay the fees again. To avoid that, many hire an attorney to complete the process for them, but professional assistance comes with a hefty bill.
Instead, you can and file a trademark request in a matter of minutes without having to pay extortionate fees for our service.
How To Trademark a Business Name Using DoNotPay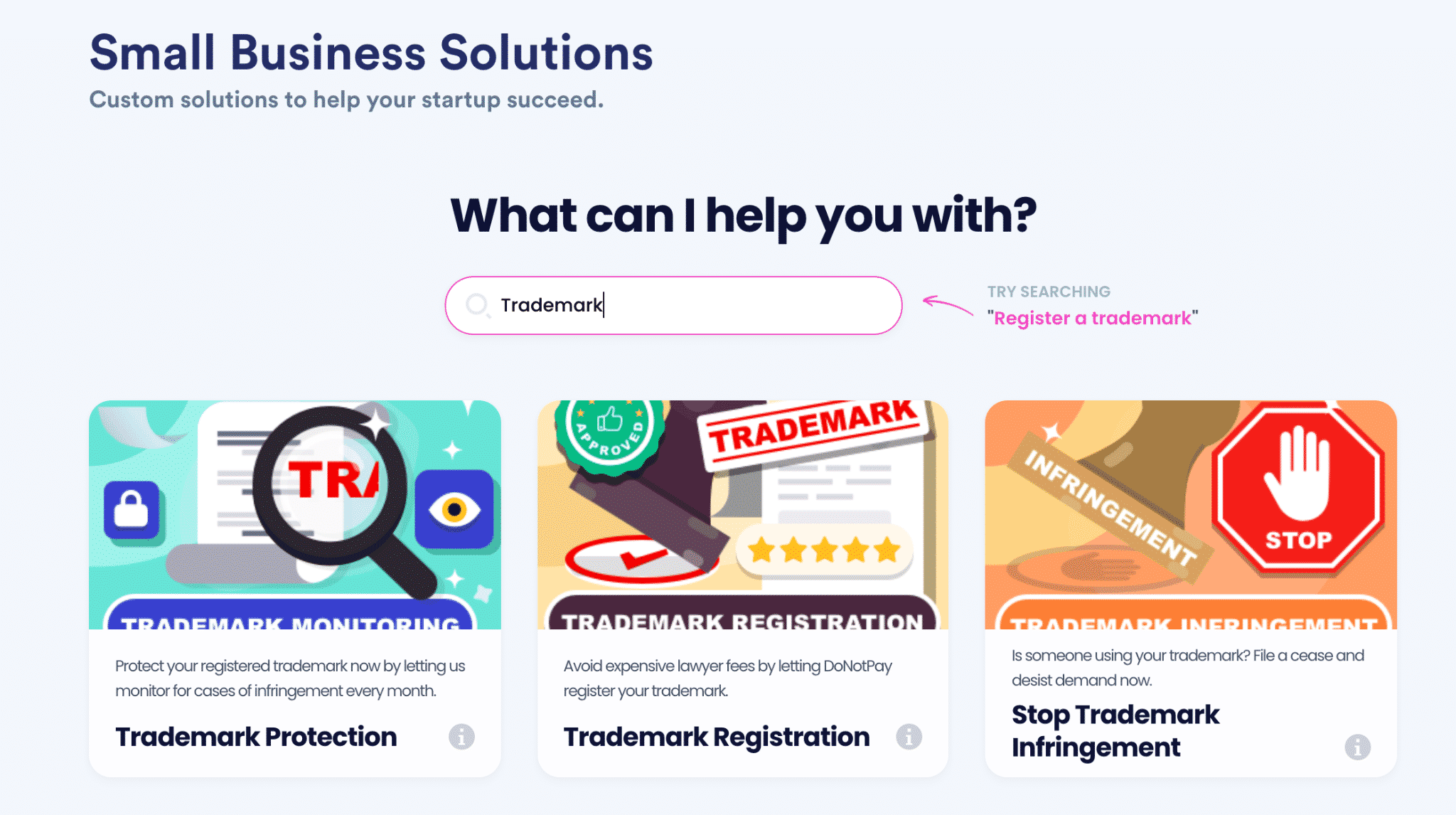 If you do not want to deal with the hassle of applying on your own and risk making a mistake, you can hire an attorney.
You can pay over the odds for an expensive one, or you can get everything done without breaking the bank by using the services of the world's first robot lawyer—DoNotPay.
Our app will perform an availability check for your business name and will ask you about all the necessary information so that you do not leave out any details.
All you need to do is the following:
with any web browser
Navigate to the Trademark Registration product
Answer a few questions from our chatbot
Pay the mandatory USPTO fees
After that, we will create a filled-out application form and send it to you. You can review it before e-signing it and submitting it to the USPTO.
Let DoNotPay Help You With Boring Administrative Tasks While You Focus on Becoming a Business Mogul!
DoNotPay can assist you in dealing with a number of business-related tasks. We have developed a plethora of simple-to-use products that make running a business much easier and less stressful.
Do you need help registering your business name as a trademark? We have got you covered! Not sure how to write a convincing letter to request a small business loan? DoNotPay helps with that, too!
Use our app to get a perfectly generated chargeback rebuttal document, formally request payment from clients who breach the contract, and find out how your employees can file 83(b) election forms in a matter of clicks!
Check Out Our Other Nifty Products!
That is not all DoNotPay has to offer. Our awesome tools will make tedious administrative tasks easier to manage so you can concentrate on your business instead of wasting time waiting in lines and filling out forms. Rely on DoNotPay to:
Take care of DMCA agent registration and Privacy Shield program self-certification
Make sure no one else is using your trademark
Get rid of fake online reviews that harm your business reputation
Manage Employer Number Identification (EIN) registration
Enjoy the convenience of faxing and mailing from the comfort of your home or office