Can Public Figures Sue for Libel? Answered
Defamation can carry great consequences for the offender. When a person posits false and injurious statements against another and it causes damage it one's finances, reputation, and/or mental health, it can be classified as defamation. Under the blanket term of defamation, you have to show that one of two types of defamation has been levied against you — slander or libel.
If you have been defamed and wish to end it as soon as possible, you may choose to send a "cease and desist" letter, warning the individual that you will pursue legal action if the defamation continues. If you wish to learn about the intricacies of defamation in relevance to public figures and people of authority, continue reading below.
How Does the Legal System Define Defamation?
The 1964 landmark case, New York Times Co vs Sullivan, determined that news outlets were protected from defamation if they did not act with "actual malice".
What this case means for public officials is that to prove a defamation case against a newspaper, they must prove that the statements were published with actual malice. The courts define actual malice as the "knowledge of reckless disregard of the truth or falsity" of the published information. If the statement was false and actual malice is not proven, public figures will lose the case.
Not all defamatory speech is protected
Although defamation seems open-and-shut, it is not as simple as it seems to prove defamation. Depending on the circumstances of the defamatory statements, you may not have grounds to sue in your case.
Protections by freedom of speech laws
The First Amendment of the US Constitution provides protection of an individual against damaging false statements made against you — at the same time, it also protects the individual's right to speech, creating a very fine line.
Thus, defamation is not really illegal but is instead a moral dilemma that is solved with monetary compensation to the individual instead of state punishment.
If you have been truly defamed, and it is not an exertion of free speech, then you can sue for compensation for your damages.
False light claims
When a statement is published that is presented as a fact about an individual when it is false, this may be a false light claim.
Typically, false light claims are made when the defamatory statements have caused the plaintiff mental and emotional damage, rather than financial or reputational damage.
Disparagement Clause
Disparagement specifically deals with the financial interests of the person being defamed, their products, or any patents that they possess.
Disparagement is usually meant to protect corporate interests, whereas defamation protects the interests of an individual.
Opinions
Opinions are not considered defamatory.
If a false statement is not considered an opinion, you may have grounds for a defamation case.
What Constitutes as a Public Person?
Typically, when we think of a public figure we think of a celebrity or important political consultant, buried deeply in governmental and public affairs. However, this assumption is far from the truth — anyone who is pervasively involved in public life or service can be considered a public figure. Public figures often include:
Celebrities
Business Owners and Leaders
Politicians
Public Service Workers
Anyone involved in a public controversy that is considered a "limited purpose particular public figure" with relation to a set of issues
How to Prove Actual Malice
Although actual malice is a subjective term, these are the typical grounds required to establish its existence of:
| | |
| --- | --- |
| The defendant knew the statement was false | The defendant knew the truth behind the statements and whether they were credible or not. |
| The defendant acted subjectively | The defendant chose to subjectively publish the statements with no regard for the harm or reality of the situation. |
| The subjective actions were equal to malice | The defendant's actions equated to malice or intentional slander at the hands of knowing the truth behind a public figure's life. |
Should You Write a Cease and Desist Letter if You Are a Public Figure?
Regardless of your status, a cease and desist letter is the best option for anyone who is struggling with slander or libel. To send a cease and desist letter, you must be confident of the conditions and legality surrounding your case. Also, consider the logistics — many lawyers charge exorbitant fees for advice and drafting letters, so take this opportunity to evaluate whether you'd be prepared for that sad alternative.
Draft a Cease and Desist Letter in Minutes!
DoNotPay is a fast and reliable solution for all, regardless of status! The cease and desist letter drafts will detail the information about the case, demand retraction, warn against future statements, and will order that the accused abides by your local state statutes.
All you need to do is:
1. Select the Defamation Demand Letters service on .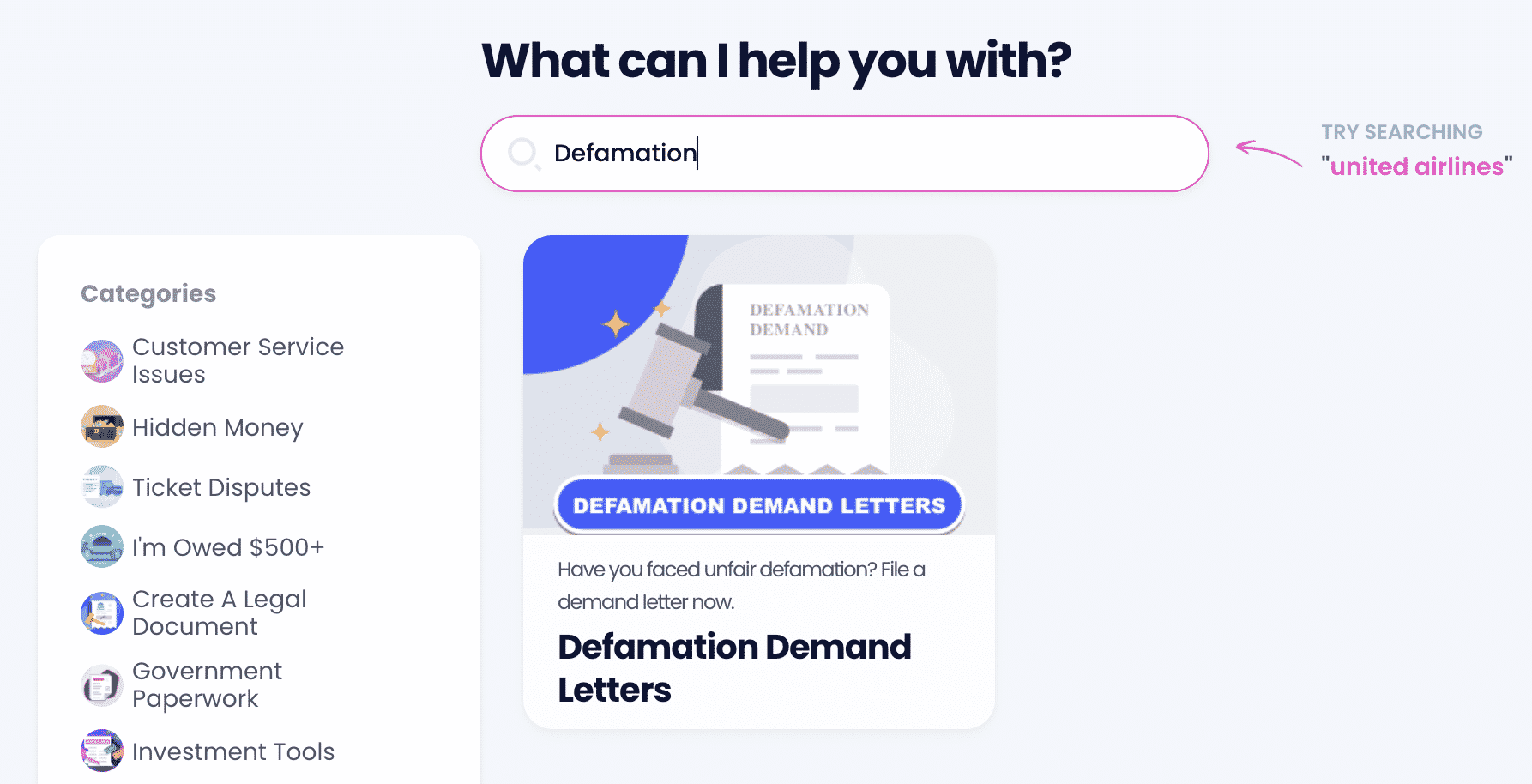 2. Tell us about your situation:
Were the statements slander or libel?
What were the statements?
Why are they false or misleading?
What consequences have you suffered as a result of these statements?
Specify that you are a public figure and also specify your scope of work.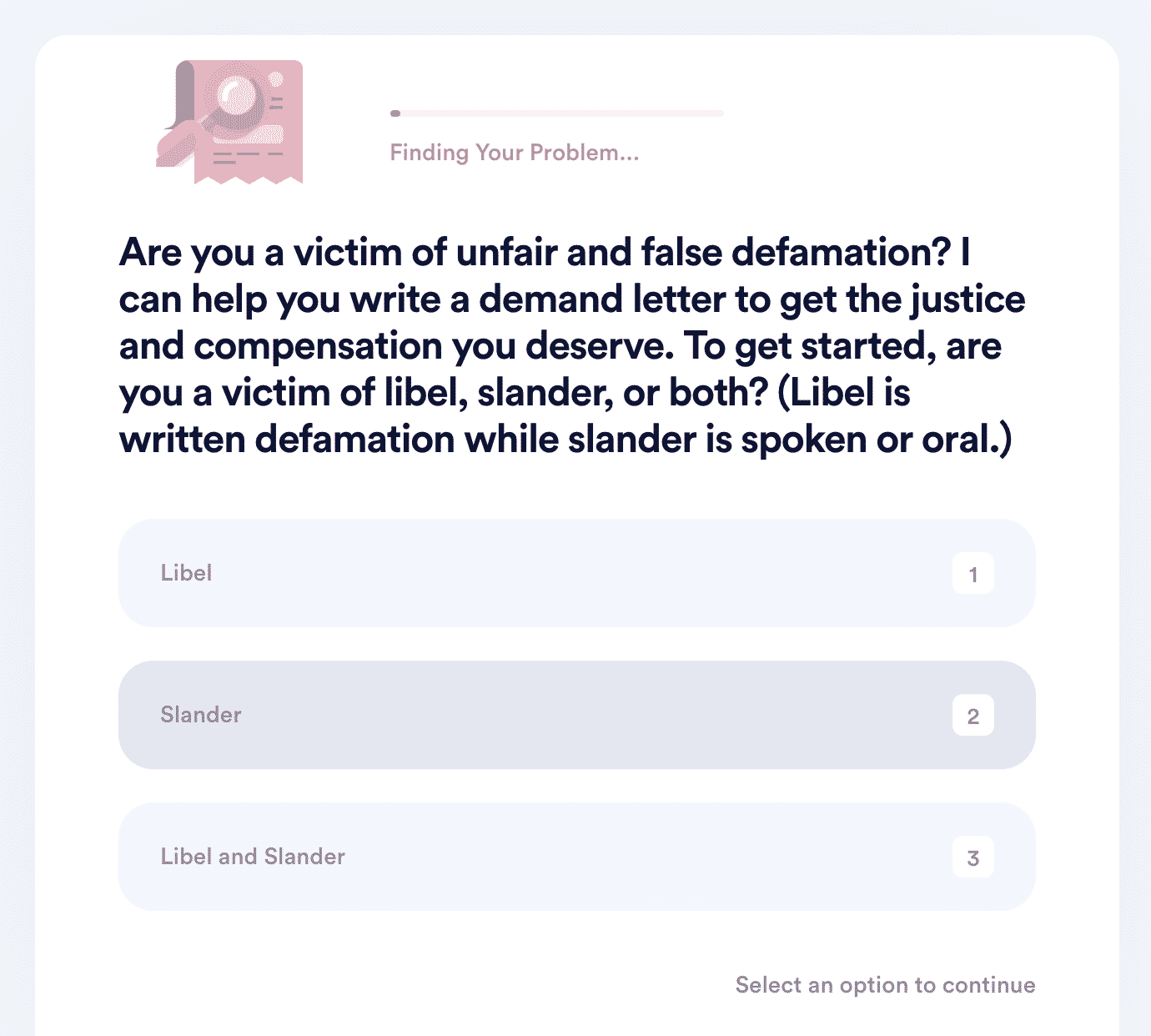 3. Based on your location, DoNotPay will immediately generate a formal demand letter on your behalf, with the most relevant state legislation regarding defamation.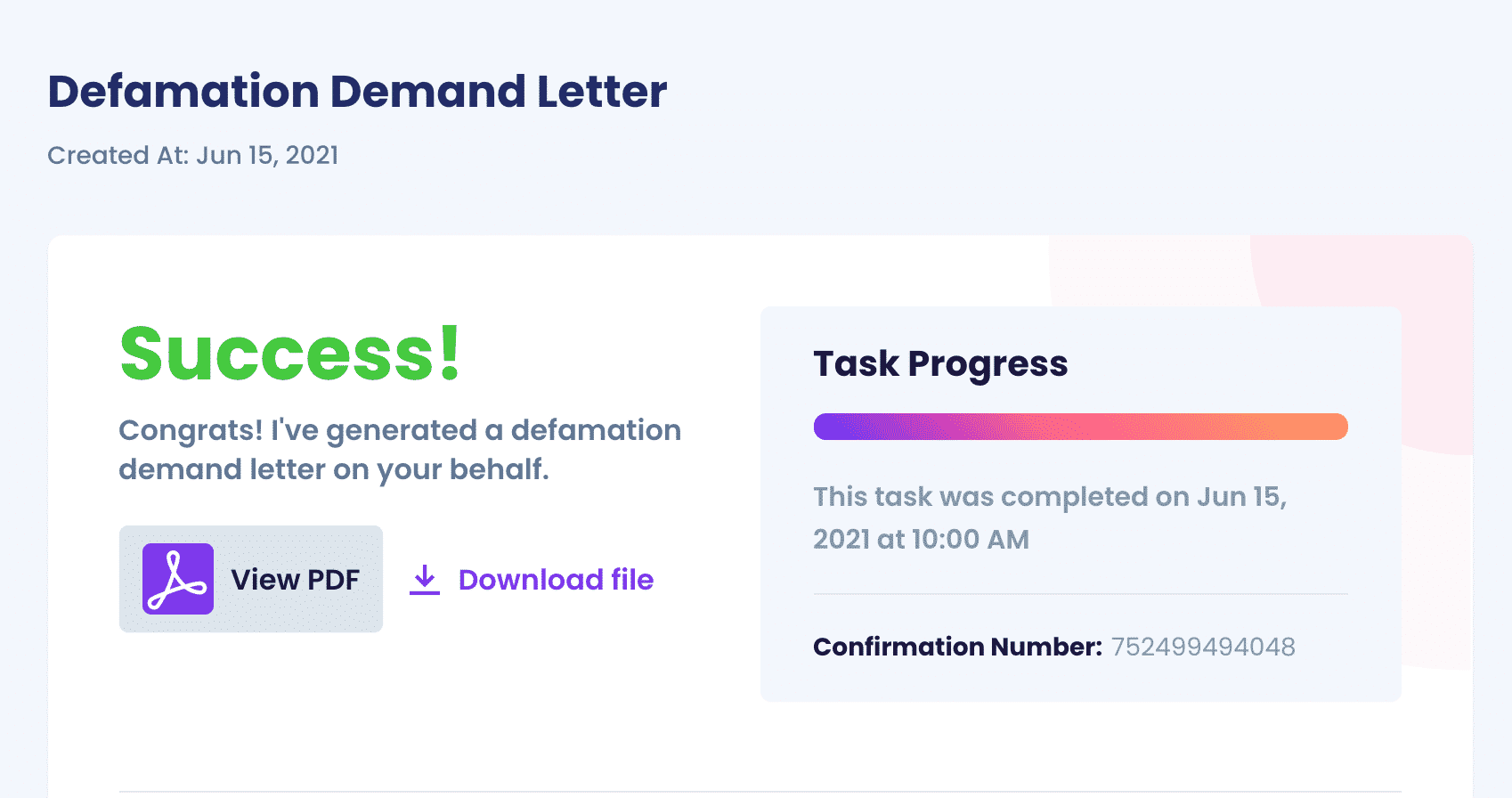 That's it! You can expect an accurate and comprehensively drafted cease and desist letter to your cause, quickly!
What Else Can DoNotPay Do?
DoNotPay is your personal assistant and lawyer in one app! Have another legal issue? DoNotPay can help you with:
Sometimes, it sucks having to deal with small things yourself. Let DoNotPay work on your chores for you: