Can a Power of Attorney Deny Visitation—Dilemma Solved
Some medical conditions and injuries may leave you unable to communicate or express your health care wishes to your physician or family. For this reason, you should create a medical power of attorney—in some states also known as a medical or health care proxy—while you are still healthy.
What rights does this document grant to another person? Can a power of attorney deny visitation, and what other decisions can the agent make? No need to scour the internet—solve all your dilemmas by checking out this guide! As a bonus, you will get simple instructions on how to get a personalized advance/health care directive in minutes by signing up for DoNotPay!
What Is a Medical Power of Attorney?
A medical power of attorney is a legal document that authorizes an individual to make health-related decisions for you if you're unable to do it yourself. This person has the role of a health care surrogate and should make choices based on your wishes and beliefs. Their primary goal is to ensure your friends, family, and the medical staff acknowledge and respect your health care preferences.
Medical proxies often go hand in hand with living wills—statements containing the list of your desired or undesired health treatment options. You can:
Create a living will as a part of your medical power of attorney
Prepare it as a separate document
Who Can Be a Health Care Agent?
In most states, your agent must be of legal age and mentally competent to make medical choices on your behalf. They should also be someone who you trust will do all in their power to fulfill your wishes. Here is a table suggesting specific individuals you can name as your agent:
Family
Other People

Parent or adoptive parent
Grandparent
Brother or sister
Cousin
Husband or wife
Child or grandchild above the age of 18

Friend
Member of your religious group
Primary physician—note that they can't remain your designated doctor if you choose them as your health care surrogate
Can a Medical Power of Attorney Restrict Visitation?
In most cases, the health care agent has the right to prevent visitors from seeing the patient if they believe visits could be detrimental to their condition. They can do it even if the attending medical practitioner thinks that such prohibitions aren't necessary. The attorney-in-fact can also let some people see the patient and prohibit others from visiting, depending on how much the specific visitors affect the overall wellbeing of the person.
While deciding on the visitation rules, the agent must always consider the best interests of the patient. If they prevent other people from visiting for no apparent reason, such prohibitions are considered a fiduciary duty violation. In such cases, people close to the patient can ask the court to review the agent's powers.
Too Busy To Create a Medical Proxy? Let DoNotPay Do It for You!
While it may bring certain limitations, a medical power of attorney is quite significant. The problem is that most people don't have enough time or skills to compose it or at least prepare a living will. Acquiring such documents can also be quite costly if you seek legal assistance to prepare the necessary paperwork.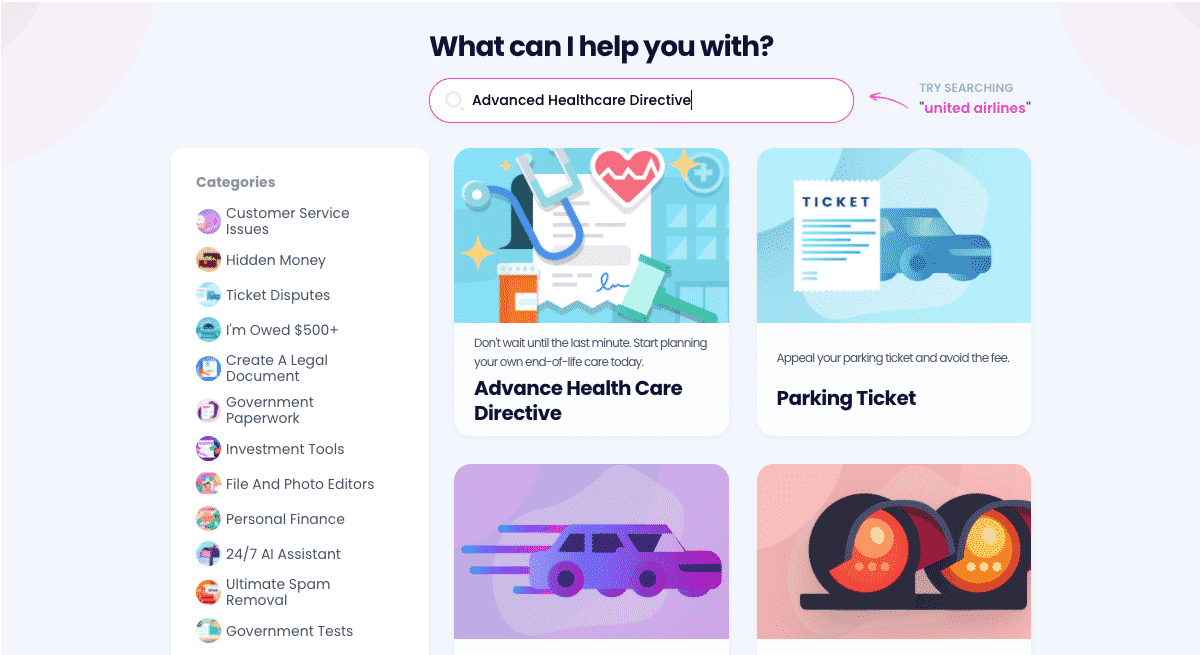 Luckily, DoNotPay has come up with a product that can:
Get the required info by asking you a few quick questions
Create the desired health care directive in less than five minutes
Help you meet with an online notary and make your document legally binding
Here's what you should do:
Navigate to the Advance Health Care Directive product
Type in the info about your health care agent and witnesses
Specify your medical and end-of-life care preferences
Your document will be ready for printing and signing before you know it!
Do you often confuse a medical power of attorney with a standard one? Would you like to know if a spouse automatically gets power of attorney? Find answers to these and many more questions in our knowledge base!
DoNotPay Offers More Assistance!
Our app boasts many features that can make your life easier.
Do you need help searching for unclaimed money or covering bills? Are you looking for clinical trials you can sign up for to earn some extra money? We can help you out in a flash!
Other tasks we can streamline for you are the following:
Forget Hiring a Lawyer—Use DoNotPay Instead
You don't want to spend a fortune on lawyer fees? No problem! DoNotPay—the world's first robot lawyer—is here to assist you! With our help, you'll be able to file complaints, sue anyone in small claims court, handle stalking and harassment, get crime victims' compensation, and draft numerous documents, including:
If you need to get a document notarized, you can also count on our help. We'll connect you with an online notary who will notarize your document in a flash.