Can My Landlord Charge For Painting In California?
It is common for a landlord to repaint in between tenants, especially if the previous tenant has been in the rental for a few years. Landlords want to make the space inviting and look up-to-date. But can they keep your security deposit to do that or demand that you pay for the service?
to repair walls or to cover poor paint jobs done by a tenant. But DoNotPay can help you get your security deposit back if there were no damages to the walls.
DoNotPay can help you create a demand letter to start the process of demanding funds be returned. Don't waste time asking your landlord for the money, waiting for an answer, and then asking again. Trust DoNotPay to get a legal letter together to demand to get your deposit returned!
Laws Governing Landlord-Tenant Relationships
When it comes to rental properties, every state has its own set of rules. California has specific laws that cover landlords and tenants in case of a dispute. Written agreements are the best and verbal rental agreements are also acceptable as long as it is for less than a year.
Because oral agreements are prone to be misconstrued and are difficult to enforce in the case of a dispute, the majority of rental agreements are in writing.
To assist with any monetary disputes, maintain a record of your rental payments, receipts, and the original rental agreement along with any written additions.
California Security Deposit Laws
Renters' security deposits might be deducted for any of the following reasons:
The expense of repairing any property damage caused by the renter or the tenant's visitors. This excludes normal wear and tear.
The cost of cleaning the property after the tenant has moved out, but just to bring it back to its original state (less reasonable wear and tear).
Non-payment of rent (including rent owed if the tenant does not give the landlord the proper notice that they are moving out).
California landlords cannot charge the tenants for the maintenance of the rental property. Landlords can't demand their renters foot the bill for painting, new carpets, or curtains unless they're beyond normal wear and tear.
The only time that a landlord can charge for repainting is if there was damage to the paint, or there was an agreement that the tenant could paint the walls a certain color provided that they pay for the color to be covered upon leaving the rental property. Without damage to the paint, landlords can't charge for painting between renters and retain your security deposit to pay for it.
How to Get Your Deposit Back by Yourself
Renters have rights. Landlords have a specified amount of time to inspect and then return your security deposit or an itemized list of damages.
Usually, it is 30 days from the date you left the property. If they have not given either the money or a damages list by that time, you will need to request the deposit in writing.
Steps you can take to get your deposit back

Send a request via certified mail with a return receipt requesting the funds or damage list
Call and document times and answers
Report the landlord to the housing authorities
Sue for security deposit back- DoNotPay can initiate the process
Use DoNotPay to Get Your Deposit Back
DoNotPay can assist with submitting a demand letter to the landlord. Be sure you have taken pictures before leaving the property to ensure that there was no damage to the walls or floors at the time you turned over the property. All documentation should be physical and backed up digitally, so nothing gets lost.
How to Get Your Deposit Back with DoNotPay
If you want to break a lease but don't know where to start, DoNotPay has you covered in 4 easy steps:
1. Search for and open the Landlord Protection product on DoNotPay.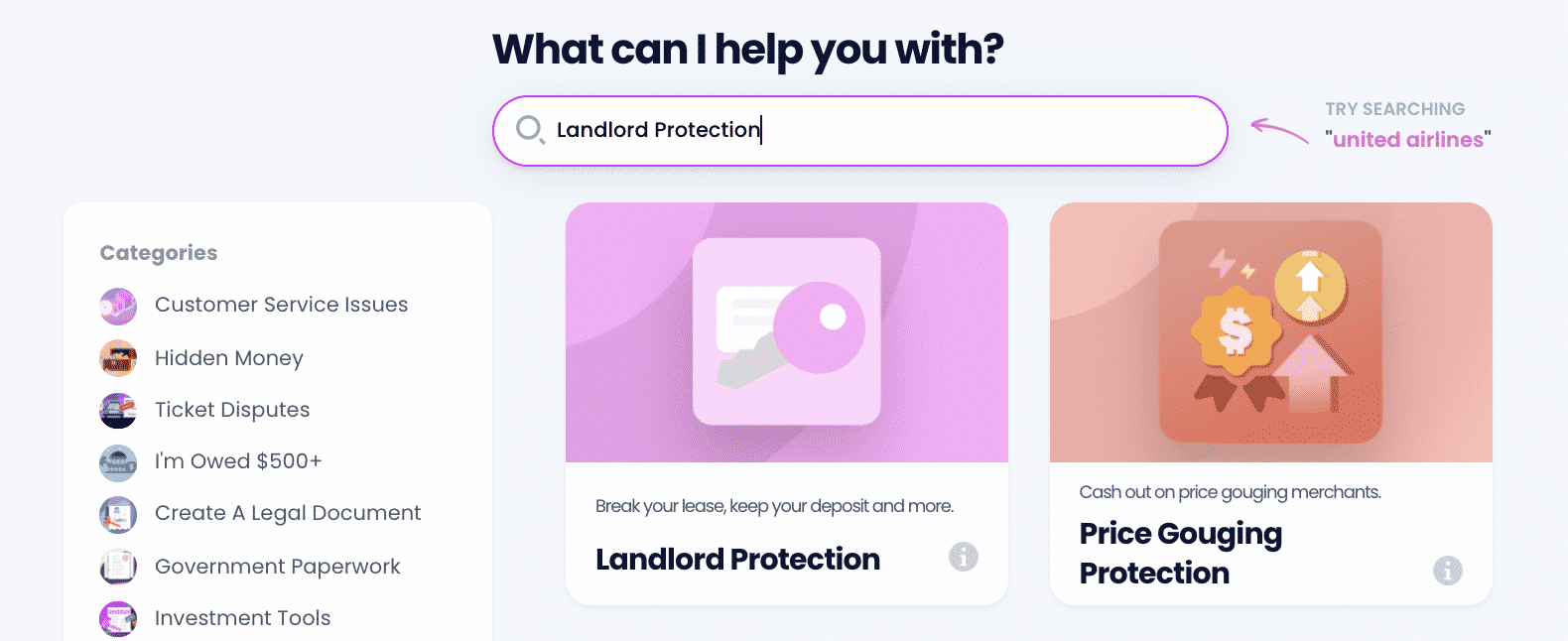 2. Select which issue applies to you.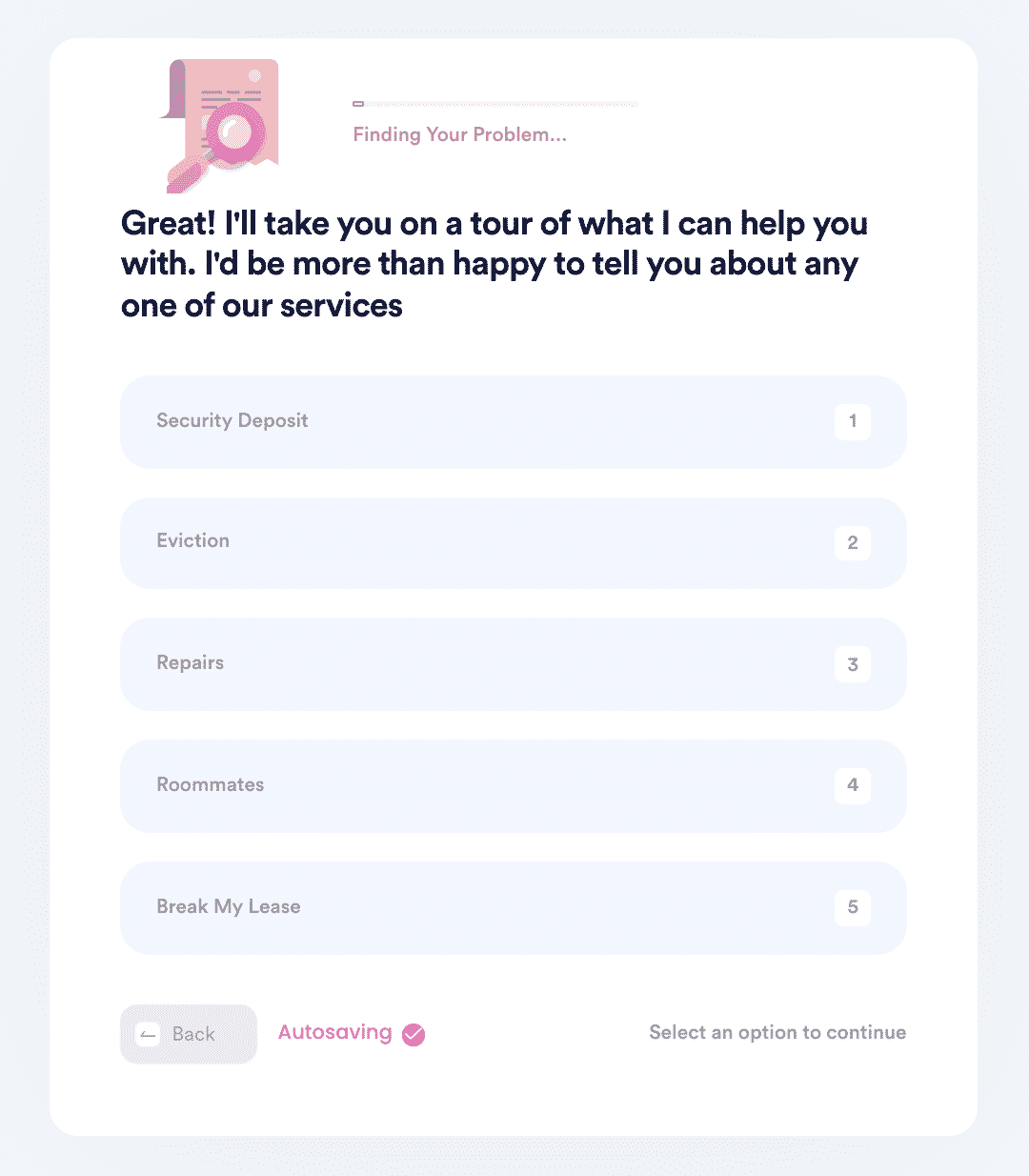 3. Answer a simple set of questions so our chatbot can collect the necessary information to create your demand letter.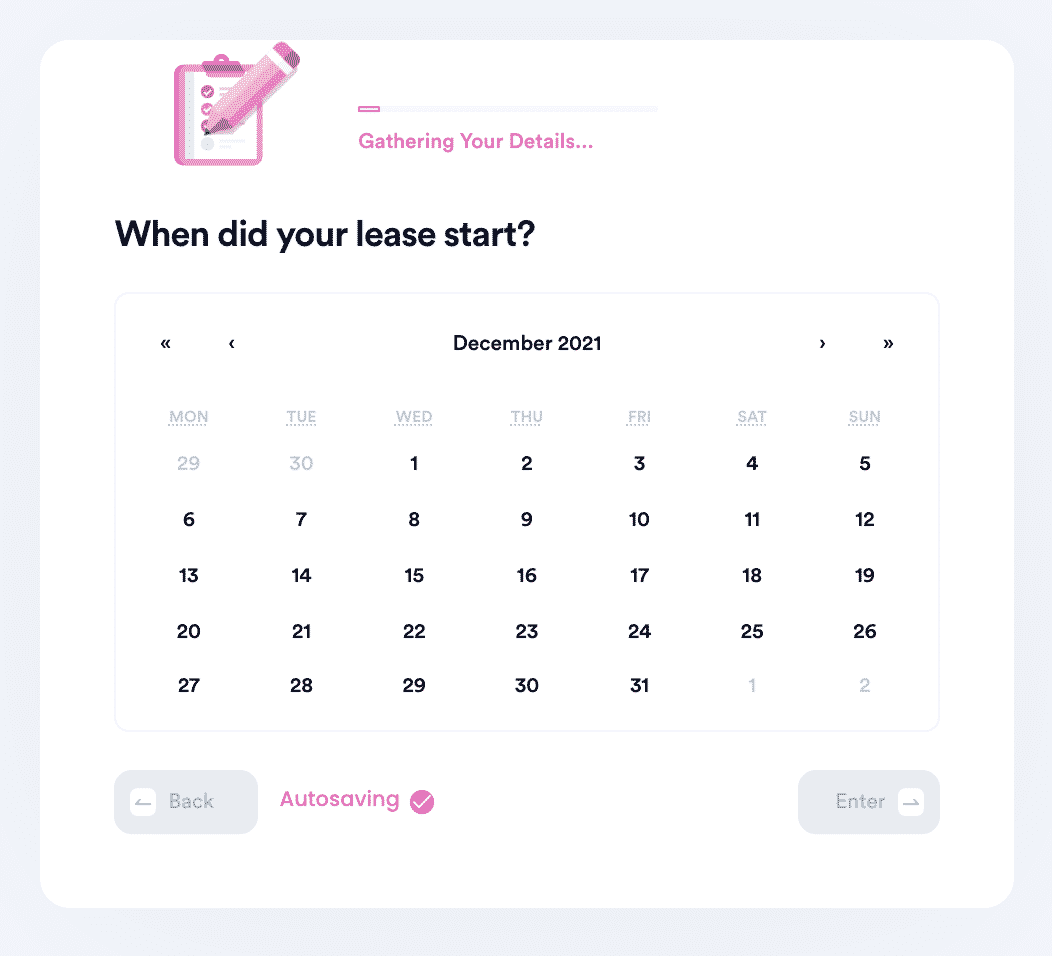 4. Choose whether you want DoNotPay to send the demand letter to your landlord or roommate on your behalf. If you already tried sending a demand letter and it didn't work, we can help you start the small claims court process.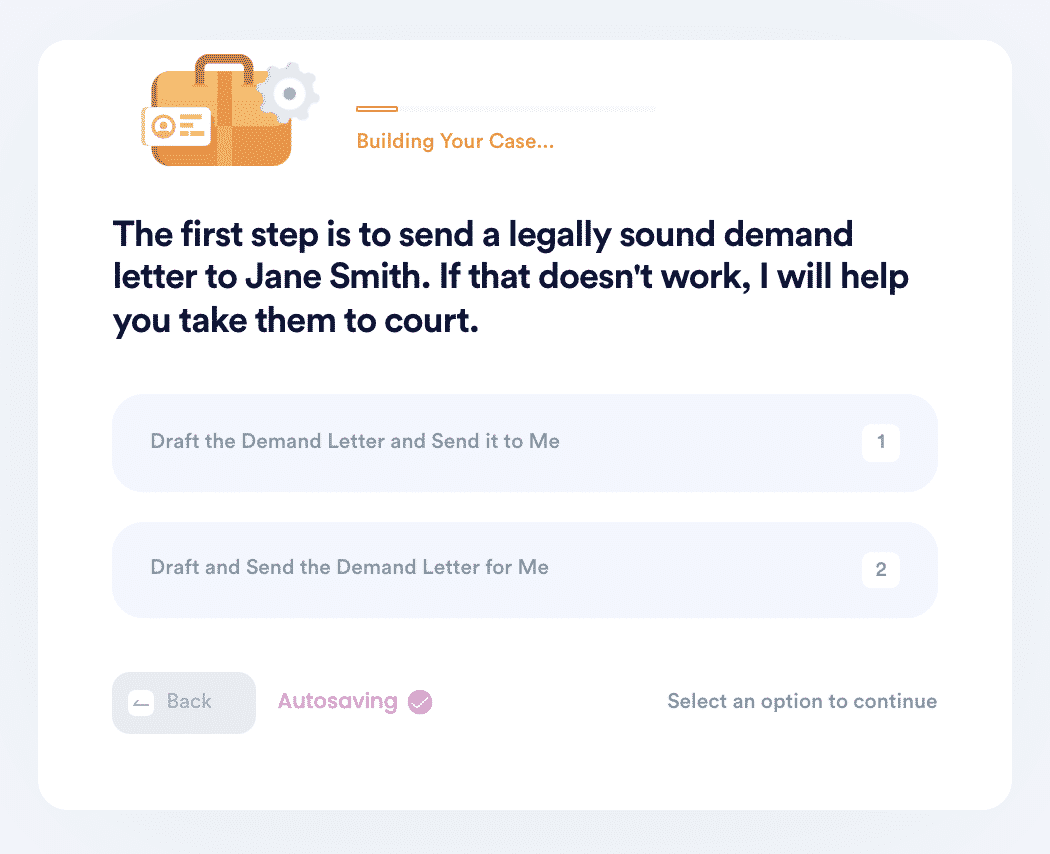 And that's it! You should hear back from your landlord directly once your demands are sent.
Why Use DoNotPay to Prevent Paying for Your Landlord to Repaint?
Using DoNotPay to solve issues with landlords is simple, easy, and successful. Simply fill out the form on the website with the information and submit any other evidence and DoNotPay will begin the process with a demand letter. Don't waste your time trying to contact your landlord multiple times yourself and getting no response.
DoNotPay can also:
What else can DoNotPay do?
Avoiding paying for your landlord to  is only one of the many problems that DoNotPay can help you with. DoNotPay has experience solving many issues including:
Trust DoNotPay to help in any situation with its tailored legal documents!