Can I Sue Someone for Forging My Signature?
As children, we are taught that forging a signature is a crime, but the deep impacts of such an act are typically glossed over. Most of the time, we associate forgery with the trope of forging a parent's signature on a permission slip. Such an innocent act, who could get hurt? In truth, forgery can hurt not only the victim but also those who are close to them. Most of the time the victim and criminal are acquainted.
The most common form of criminal forgery is the forging of checks. However, any situation that involves signing a name that is not yours without permission is considered a felony. If you have learned that someone , you may have grounds to sue in small claims court.
Common Types of Forgery
Children's antics to avoid trouble aside, signing someone else's name without permission can land you in a lot of trouble. If you're on the receiving end of this brand of identity theft, you know the results can be devastating, both financially and socially. Even businesses have the right to take offenders to small claims court to recoup their losses.
There are a few people that choose to forge a signature:
Those that choose to take advantage of found blank checks
Those who practice general identity theft
Those that take advantage of the elderly
Reasons to Sue Someone for Forging Your Signature
If someone has wrongfully put your name on a document that's upended your life or damaged your reputation, you may have grounds to sue. Here are some of the most common reasons to pursue legal action for a forged signature:
Sue for financial damages

If the forgery of your signature caused financial damage, then you have the right to sue the offender. Damages can be from the forgery of a check, loan, or other legal document that is in your name and requires repayment.

Sue for damages to your business

Businesses experience forgery more often than individuals. Identity theft at the level of an established business can lead to forgery on loans, checks, residences, and even vehicles.

Businesses have the right to sue the forger for the financial damages that the falsified signature created.

It is essential to note that the ability to sue for forgery of signatures will come after the filing of federal charges. The offender will have to face their own arraignment and consequences of their actions as well as the suit to return damages to you. There may be issues with the restitution payments after the suit is settled, but the court will assist in getting the damages returned.
Filing a Lawsuit Against Another Person for Forgery by Yourself
There are a few ways that a criminal may be able to obtain your signature in order to copy it and use it to forge documents:
Contracts that were thrown in the trash
Online signatures
Digital signatures that are hijacked
Beginning a lawsuit to sue for the forgery of a signature isn't difficult, however, it is time-consuming and precise. If you miss a step the process is delayed, or you could lose your right to pursue the case. In order to prove that you have a case you'll need an expert to identify that the signature is not yours, this could cost a great deal.
To prove the signature is not yours, an expert will compare:
Direction and type of penmanship
Minuscule abnormalities in the curves of certain letters
It may take several signatures to prove that it is a forgery
Using a lawyer to complete the steps in your place saves time and money, as they would be able to include in the lawsuit lawyer fees and the proper number of damages. A lawyer will be able to write the proper letters, mediate, and obtain the proper expert opinions without forcing you to take more time to complete the steps yourself.
How to Sue for Forgery With DoNotPay
DoNotPay can assist you in suing for signature forgery. Leave the expensive lawyers at the door and experience a process that is both smooth and easy. From beginning to end, DoNotPay will help you with forms and evidence collection in order to get you to the point where settlement or court returns your damages.
Allow the specialists to assist you in relieving the burden of resolving your disagreement. DoNotPay provides a simple and efficient method for filing a suit swiftly and accurately. Remove the uncertainty from the equation by knowing that you have someone on your side to assist you throughout the procedure. Follow the easy procedures outlined here to get started on your lawsuit and get help for your case.
Log in to and select the Sue Now product
Enter the dollar amount you are owed
Select whether you want a demand letter or court filing forms
Describe the reason for the lawsuit and submit any applicable details, including photo proof
That's it! DoNotPay will then generate a demand letter or court filing forms for you. We'll even mail a copy of your demand letter to the individual or business you are suing! Use the first-ever robotic law service to quickly and easily file your suit for forgery of your signature.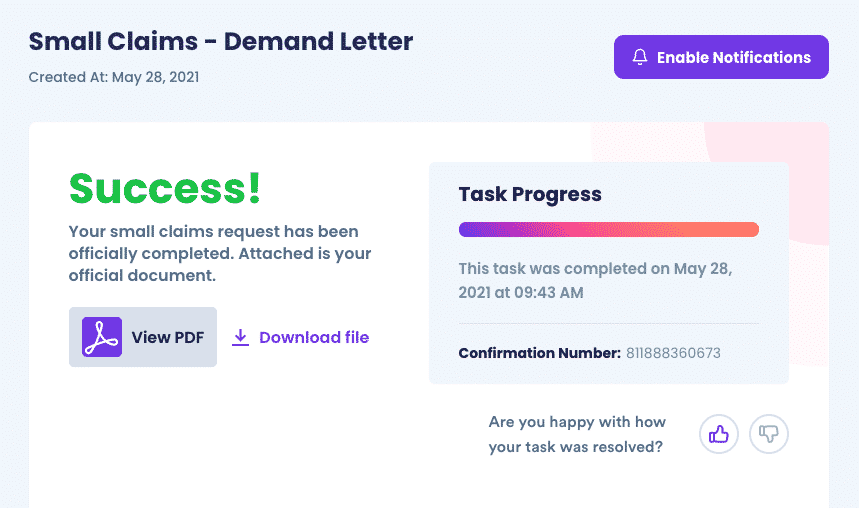 Settle Your Scores With the Help of DoNotPay
Many consumers have experienced wrongdoing at the hands of large corporations but getting even is always portrayed as too expensive or unmanageable. DoNotPay has changed the status quo. Now, the little guy can easily bring the likes of AT&T, Uber, and Verizon to court. With the help of our AI-powered robot lawyer, you can sue an airline for overbooking or your insurance company for breach of contract. It's all at the touch of a button.