Can I Sue My Landlord For Shutting Off My Utilities?
If you wake up with no running water or electricity, your landlord may have turned off your utilities. You may be asking, "How can I sue my landlord for shutting off my utilities?"
Unethical landlords may shut off vital utilities to your rental home or apartment. This can be as illegal as it is dangerous and may cause undue harm to you or loved ones living with you. ? Yes, you can. We will show you how to sue your landlord for this misconduct and use DoNotPay to quickly and easily get justice.
Can My Landlord Shut Off My Utilities?
Electricity, water, gas for heating, and sewage are basic tenant rights in every state. Some states also include cable, telephone, and internet services. If your landlord decides to shut off your utilities to force you to move out or pay your rent, this is known as an illegal shut-off or lockout.
Even if your landlord pays your utilities as specified in the lease, access to vital utilities is covered under your renter's rights. The landlord cannot force you to pay or move out by restricting your access to utilities.
? The short answer is yes. Many states will allow you to sue the landlord for legal expenses and sue for any financial inconvenience you incurred while your utilities were cut off. This can include temporary housing costs and purchases such as bottled water.
Sue Now With DoNotPay
Initiating a lawsuit can be extremely frustrating, especially if you don't have the funds to hire a good lawyer and the time to go to court. DoNotPay makes it easy to sue anyone for almost any dispute with our Sue Now solution on our mobile app or website. We can send a formal demand on your behalf to the landlord for a wide range of disputes, including:
Illegal lockout or shut off
Unlawful evictions
Demand your legal rights from your landlord with the click of a button using DoNotPay.
How to Sue Your Landlord for an Illegal Lockout or Shut-Off of Utilities
Take these steps to escalate the issue of your landlord shutting off your utilities:
1. Contact Your Landlord
The first thing you need to do is contact the landlord if you wake up with no water or electricity. You'll want to find out if the landlord intentionally disconnected your utilities before jumping to conclusions. If the landlord provided no warning, ask your landlord why they disconnected your utilities and what they want you to do to get the utilities back. While you are not obligated to do as the landlord says, it can be helpful to know their side of the argument when you move on to the next steps.

You can also inform the landlord that it is illegal for them to disconnect your utilities for any reason and ask them to reconnect the utilities. Move on to the next step if the landlord will not comply.

2. Send a Formal Demand
Draft a written demand to send to the landlord. It may be difficult to find the words, so we have highlighted some information you must-have in your letter. Do the following in your letter:

Include your name and the address of the rental property.
Explain the problem you are experiencing (lack of heat, water, electricity).
Demand the landlord to address your grievances and cite the state law that applies, along with your state's given deadline (typically three to seven days or as many as 30 days). Google your state's landlord-tenant or tenant's rights handbook for your state's specifics.
Inform the landlord that if they do not comply, you will seek remedy by law.
Sign and date the letter.

Send your demand letter to the landlord by registered mail, email, or hand delivery to ensure their receipt. Allow the landlord the appropriate time to respond by law. Even if the landlord turns your utilities back on, this does not absolve them of any damages. Now you can sue the landlord for any expenses resulting from the shut-off and legal penalties under your state's law.

3. Sue Your Landlord
You should now pursue a legal remedy for the inconvenience the landlord has caused you. You can legally deduct your expenses from your next rent payment in many states. This means that if you pay $600 per month to rent, and you spent three days away from home because the landlord shut off your utilities, you can deduct $60, or 1/10th of your monthly rent. If you made an unintended purchase to make the rental property liveable, such as a space heater, you can also deduct the cost from your rent.

If you decide you want to go to court, you can also sue the landlord for the value you lost while the utilities were interrupted.
It can be expensive, stressful, and time-consuming to sue your landlord. DoNotPay can send a demand letter to your landlord and sue your landlord in court conveniently.
Sue Your Landlord for Shutting Off Your Utilities With DoNotPay
DoNotPay helps you sue your landlord without the headache. We draft a demand letter on your behalf and help you go to small claims court to sue the landlord if they do not comply with your demands. DoNotPay is the world's first robot lawyer. 
DoNotPay is here to guide you through it and file your disputes on your behalf. Our Landlord Protection product can help you:
Get back your security deposit.
Learn about your state's eviction laws and what protections apply in your case.
Resolve disputes regarding repairs with your landlord.
Resolve disputes with roommates by filing demand letters or going through small claims court.
Break your lease early.
How to Use DoNotPay to Respond to Your Landlord Shutting Off Your Utilities
If you want to sue your landlord for shutting off your utilities but don't know where to start, DoNotPay has you covered in 4 easy steps:
1. Search for and open the Landlord Protection product on DoNotPay.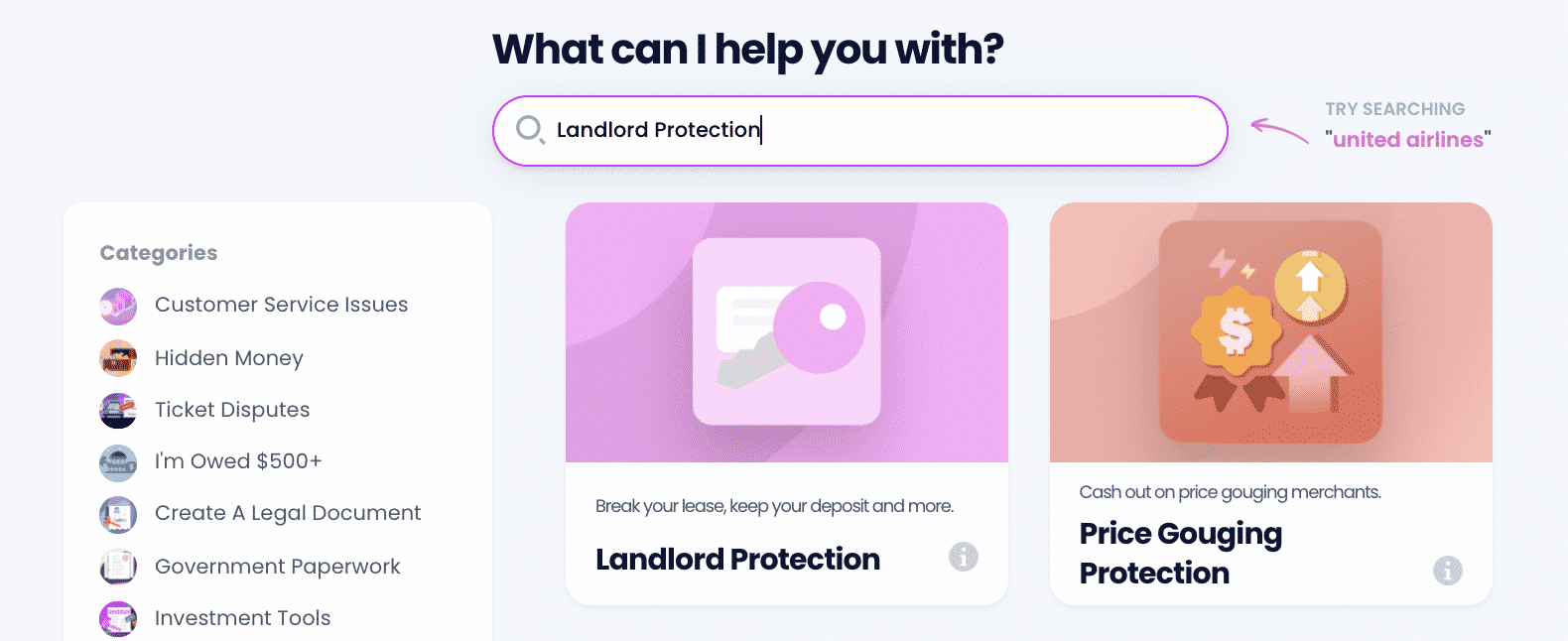 2. Select which issue applies to you.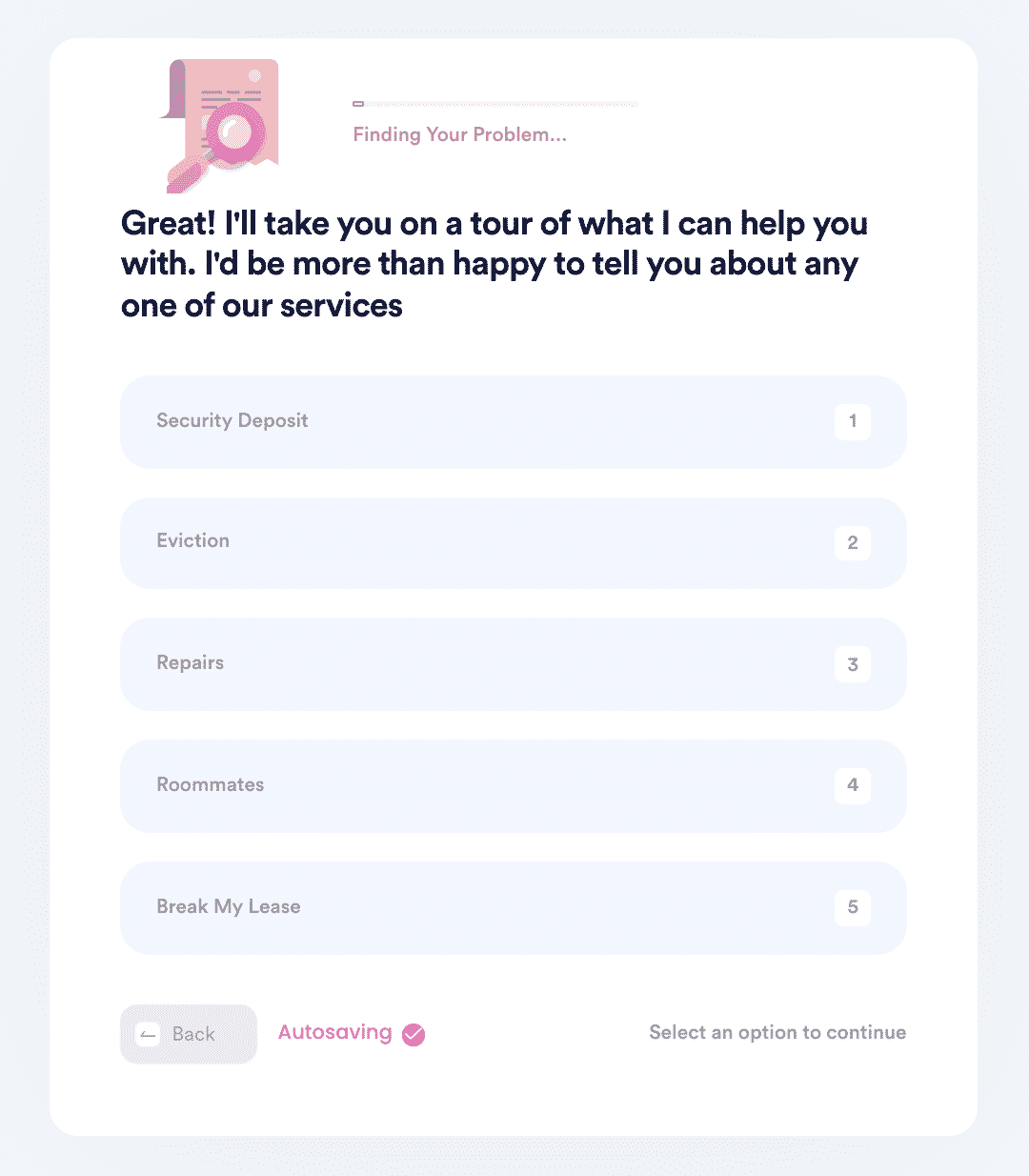 3. Answer a simple set of questions so our chatbot can collect the necessary information to create your demand letter.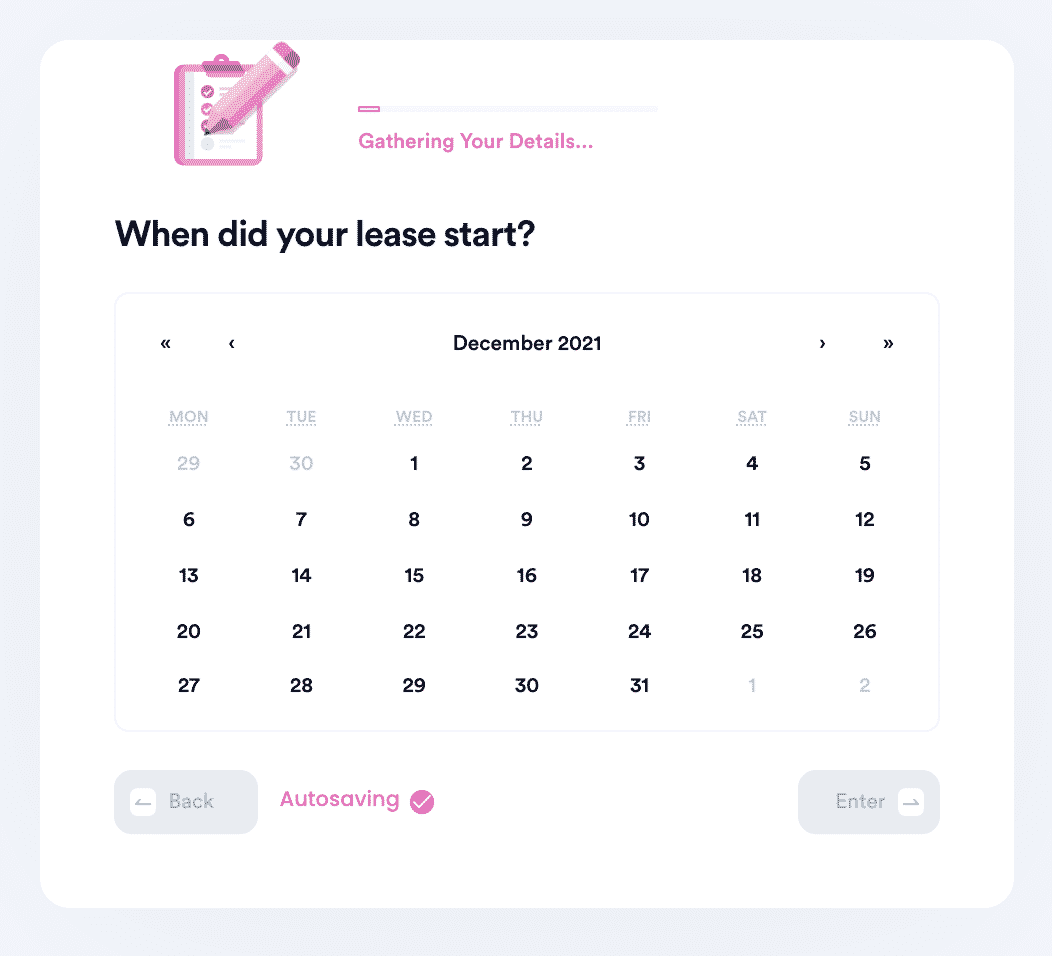 4. Choose whether you want DoNotPay to send the demand letter to your landlord or roommate on your behalf. If you already tried sending a demand letter and it didn't work, we can help you start the small claims court process.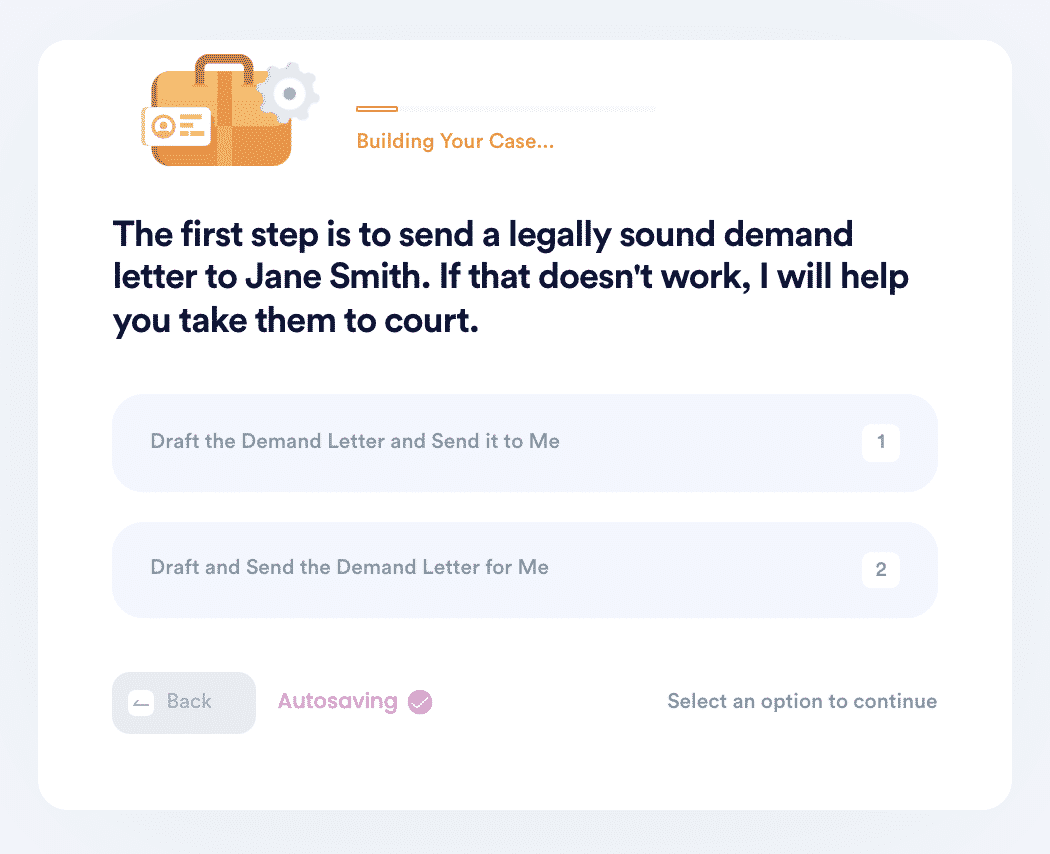 And that's it. You should hear back from your landlord directly once your demands are sent. Try DoNotPay and enforce your renter's rights today.
What Else Can DoNot Pay Do?
DoNotPay can also help you answer the following situations:
With our online solution, you can resolve these solutions without wasting your time or hiring an attorney.