Sue Your Landlord for Illegal Apartment Rental
Entering into an agreement to rent a space to live is based on trust. You trust that the landlord is legally able to rent the space and that they are renting a space that is fit to be lived in.
However, there are times when the landlord is deceptive, intentionally or not. For example, your landlord may rent out an illegal apartment. for the money you put in and any damages to personal property and health?
DoNotPay can help you create a demand letter to start the process of . Don't waste time asking for the funds back, waiting for an answer, and having nothing to show for it. Trust DoNotPay to get a legal letter together to demand the return of your invested funds so you can find a new apartment faster.
General Landlord-Tenant Laws
Each state will have its own unique set of laws regarding rental properties. Landlords and tenants are both covered by laws that are intended to protect their interests. However, when an illegal apartment is rented, both the landlord and tenant could be in trouble. That is you . Here are five ways to tell if the apartment might be illegal.
Low prices compared to similar units in the area
Unusual plumbing setups, such as the shower and toilet in different rooms or bathrooms that are communal
Utilities are not separate: There is no separate meter, electric cords are running to the room, or there are other unusual setups.
You have a suspicious rental agreement with no written lease, or you pay through a cash arrangement.
It's a hazardous structure, such as with small or no windows or only one way out.
If the housing authorities find out about the illegal apartment, landlords can face a large fine, and tenants face immediate eviction. That can place a strain on a tenant's financial situation! In this case, you may have enough cause to sue for damages.
Sue Anyone With DoNotPay
DoNotPay makes it easy, fast, and simple! Gather your information and fill out the form to begin the process. DoNotPay will help you create the demand letter and start the legal process to sue your landlord for the illegal apartment.
Report a Landlord for an Illegal Apartment
If you think the apartment you have been renting or have been offered is illegal, there are a few steps that you can take. Those strategies include:
Notifying Your Landlord
You can opt to try a note and see if the landlord will be responsive. Be sure to keep a copy of your efforts in case you need the evidence.
Reporting Your Landlord
You can also file your complaint with your local health department.

To report your landlord to the local health department, you will need to collect your personal information, your landlord's information, and property information when the problem began, and the landlord's response, if any. Once you have submitted the information, then you'll have to wait for the investigation to begin.

The local health department will investigate by inspecting the property and preparing a report outlining the violations for the landlord. They will give the landlord time to correct the issues. If the landlord does not correct the issues, then they will be fined.

Getting Your Security Deposit Back
Getting back your security deposit back after renting an illegal apartment might be difficult. Either the landlord becomes unavailable or refuses to return calls. There are laws that help protect the tenants in this situation. You can also sue the landlord for your deposit if the landlord is:

Failing to return the security deposit
Failing to return the security deposit or provide an itemized statement within the time required by law
Failing to pay interest if their state or municipality requires it
Overcharging for the cost of repairs and/or cleaning
All of these steps take time and may not immediately resolve the situation. Reporting your landlord can also put your security deposit in jeopardy if your landlord starts avoiding your calls. Use DoNotPay to streamline the process and safeguard your interests.
Next Steps for Suing Your Landlord for an Illegal Apartment If You Can't Do It Yourself
DoNotPay can assist with both submitting your report to the local health department and submitting a demand letter to the landlord. You could also take the evidence to a rental property lawyer to determine what damages you could be entitled to, but this takes significant time and a lot of money.
Sue Your Landlord for an Illegal Apartment With the Help of DoNotPay
If you want to break a lease but don't know where to start, DoNotPay has you covered in 4 easy steps:
1. Search for and open the Landlord Protection product on DoNotPay.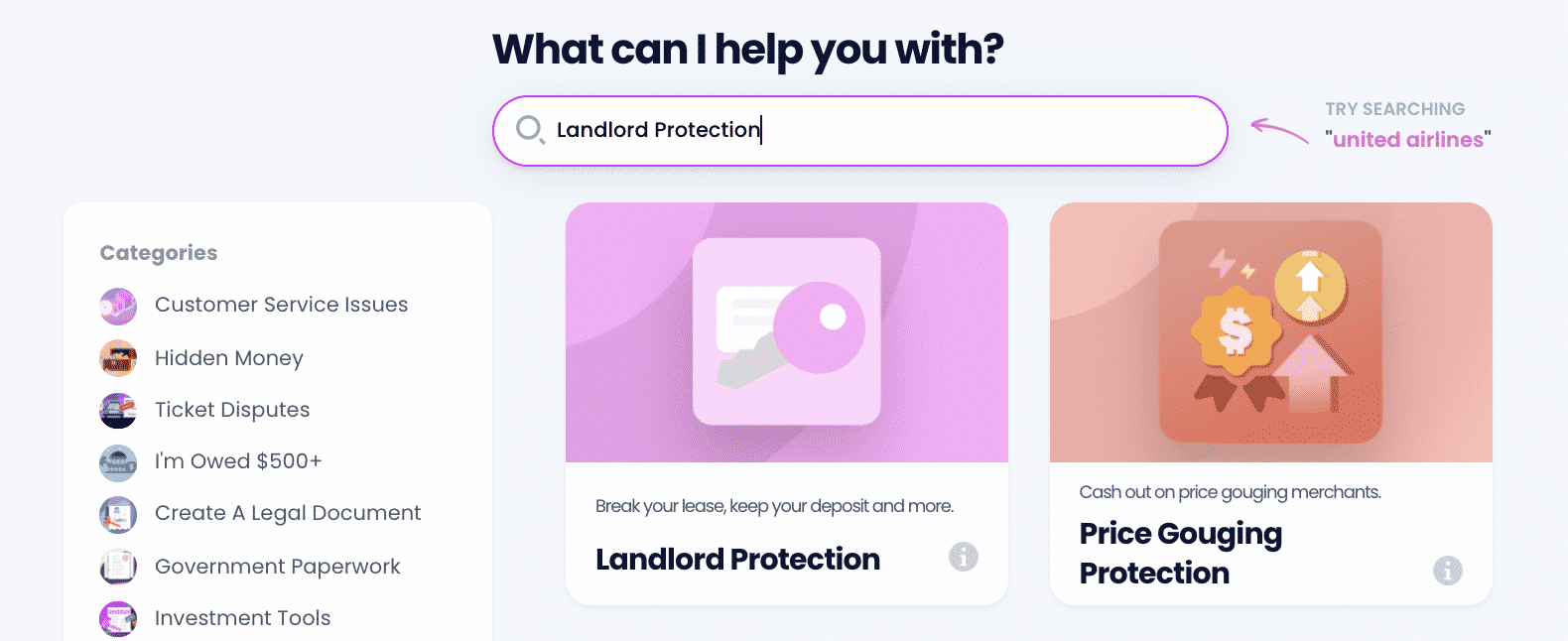 2. Select which issue applies to you.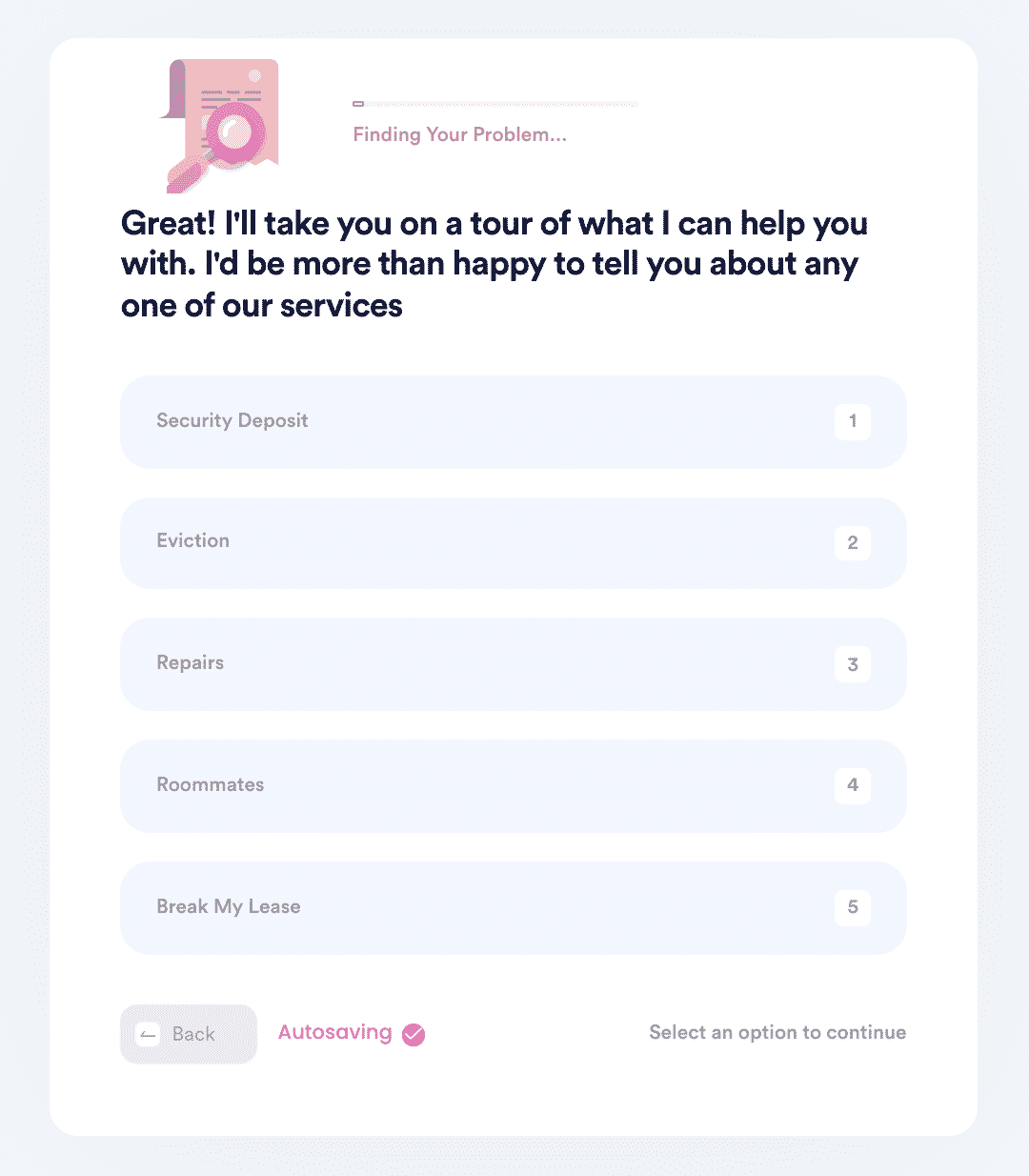 3. Answer a simple set of questions so our chatbot can collect the necessary information to create your demand letter.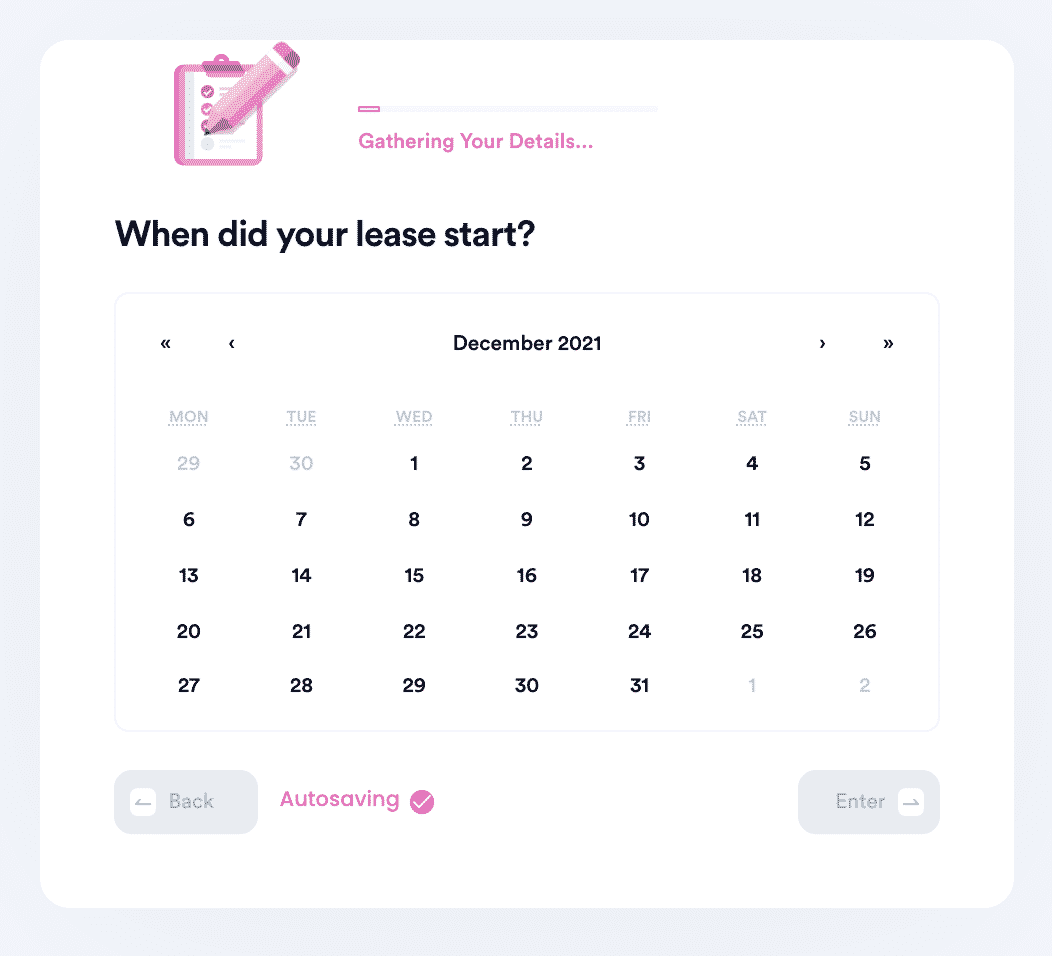 4. Choose whether you want DoNotPay to send the demand letter to your landlord or roommate on your behalf. If you already tried sending a demand letter and it didn't work, we can help you start the small claims court process.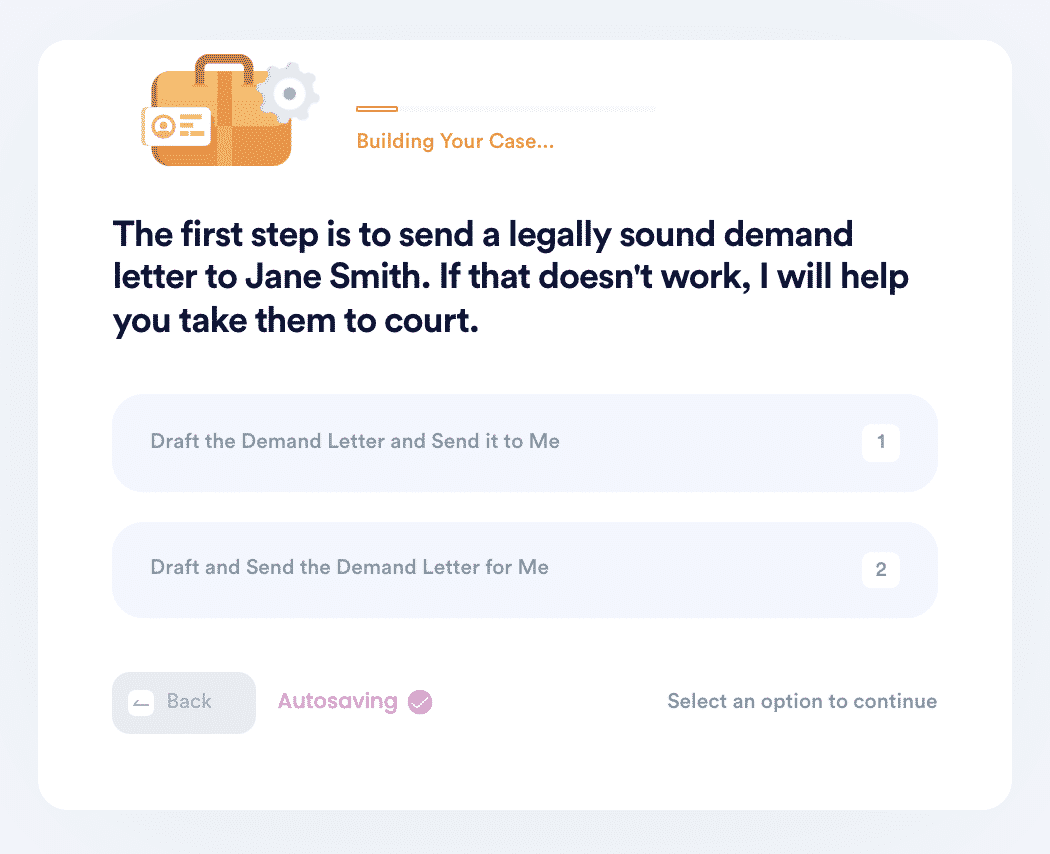 You should hear back from your landlord directly once your demands are sent.
Why Use DoNotPay to Sue Your Landlord for Renting an Illegal Apartment?
Using DoNotPay to sue your landlord for the rental of illegal apartments is simple, easy, and successful. Simply fill out the form on the website with the information and submit any other evidence, and DoNotPay will begin the process with a demand letter. Don't waste your time trying to contact your landlord yourself and getting no response.
DoNotPay can also help you protect your renter's rights in other ways. Come to us if you need to:
What Else Can DoNotPay Do?
Suing your landlord is only one of the many problems that DoNotPay can help you with. DoNotPay has experience solving many issues including:
Trust DoNotPay to help in any situation.