Can I Sue My Landlord for Mold?
Black mold can be very dangerous to one's health if it's not dealt with quickly. Black mold is known for potentially causing respiratory problems, internal organ damage, nausea, skin inflammation, and other impairments. If you find yourself living in conditions that promote the growth of this substance, you may be wondering, "?" 
The answer to this question, generally speaking, is that yes, you can sue your landlord for mold. It would likely be in your best interest to try another approach to dealing with the issue first, however, especially if you have not yet developed any illnesses as a result of the mold. 
It can be confusing to figure out the best next steps if you discover mold in your rental. That's why it's important to have a knowledgeable resource on your side. Now you do with DoNotPay.
What Should I Do If I Discover Mold in My Rental House or Apartment?
Hopefully, once your landlord is made aware of the concern, he or she will deal with the problem immediately. If they don't, then you can sue your landlord for mold.
When it comes to landlord repairs responsibilities, dealing with mold as soon as possible is high on the list.  That's because landlords are expected to make any repairs necessary to ensure that a dwelling is livable for tenants. Given the effects that mold can have on both property and health, landlords should be prepared to deal with it as soon as possible after it is discovered.
Here's what to expect if your rental unit has mold:
You Discover the Mold
If you discover mold in your rental unit, make sure to notify the landlord in writing as soon as possible and request that it be removed. It's important to make this communication in writing so that you have a record of it if you need to escalate things later.
You Ask Your Landlord to Remove the Mold
First, you'll need to request that it be removed and document this request in a letter. Make sure to put the following information in your letter:

Your name
Your address
A detailed description of the mold and where it is located
A request for the mold to be removed
The potential health impact of the mold
Your contact information

Documenting the request will be important in the event that you later need to escalate your concerns or pursue your options with the legal system. 

Your Landlord May or May Not Remediate the Mold in a Timely Fashion
Unfortunately, if your landlord does not respond helpfully to your request to have the mold removed, you may need to take him or her to court. Suing your landlord may be the only way to ensure that your health is protected.

Even if your landlord does remove the mold in a timely manner after it's discovered, should you later develop health issues as a result of the mold, you may also want to consider a lawsuit to cover your healthcare costs, lost wages, and the like. You may be able to resolve the issue in small claims court, or your costs may exceed the local limits for those types of claims. 
Each of those stages takes a lot of time, leaving you and your family exposed to mold. Using DoNotPay can speed up the process so you get the mold removed faster.
Why Should I Use DoNotPay to Deal With My Issues With My Landlord?
As you consider your options for dealing with other issues with your landlord, don't forget that you can consult with DoNotPay. We can help you deal with those thorny issues that may develop with your landlord in many ways. Our Landlord Protection product can help you:
Get back your security deposits.
Learn about your state's eviction laws and what protections apply in your case.
Resolve disputes regarding repairs with your landlord.
Resolve disputes with roommates by filing demand letters or going through small claims court.
Break your lease early.
To use DoNotPay for your rental needs and to create demand letters, simply do the following:
1. Search for and open the Landlord Protection product on DoNotPay.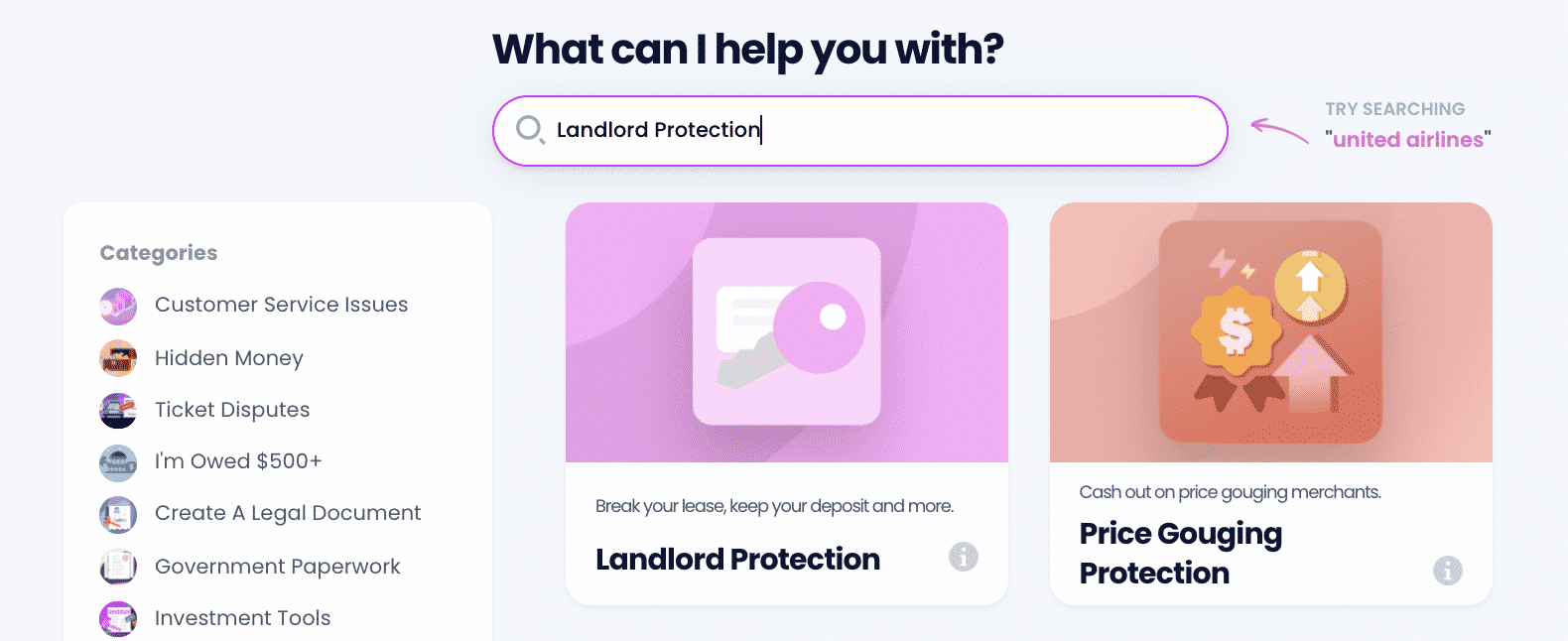 2. Select which issue applies to you.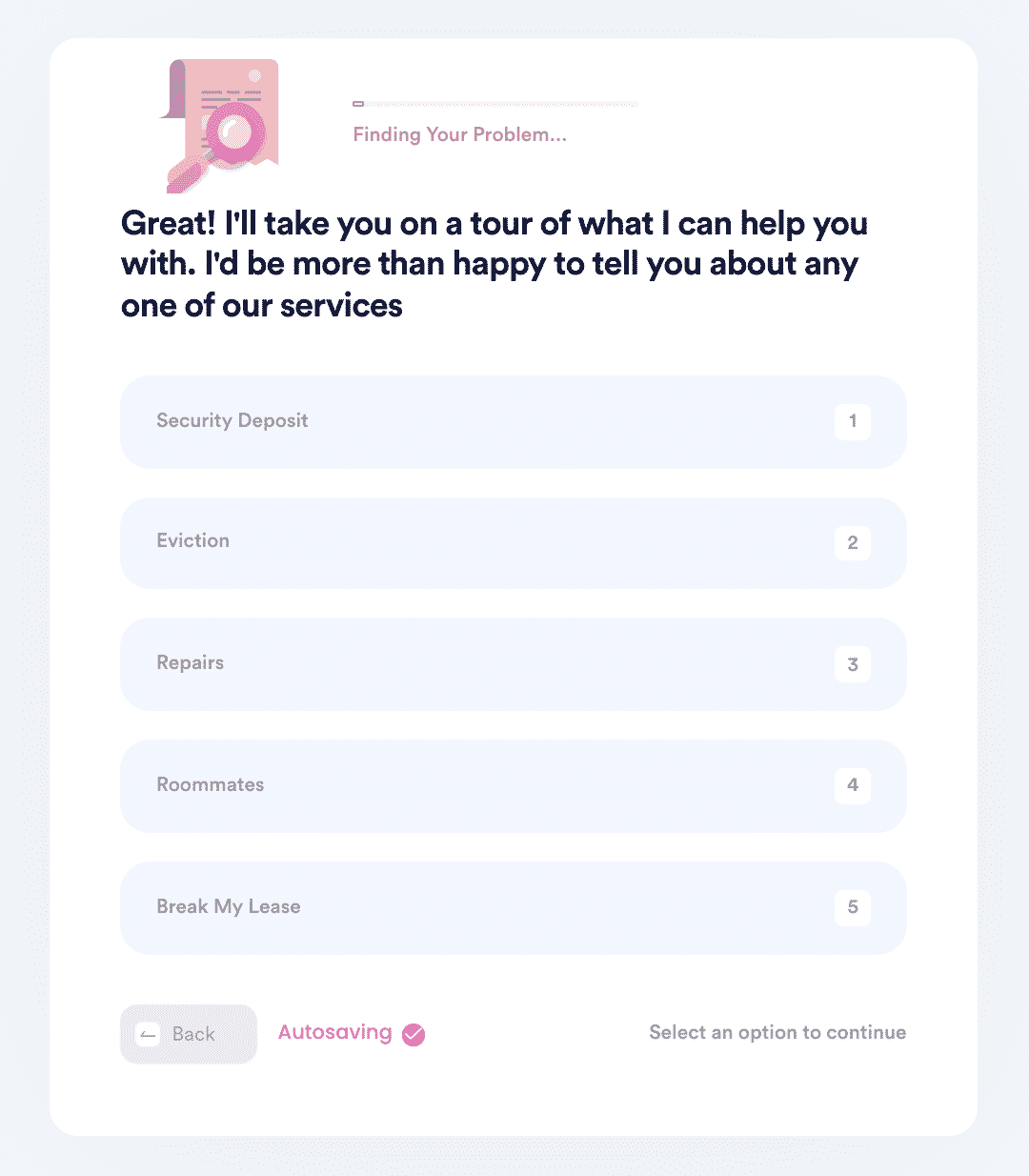 3. Answer a simple set of questions so our chatbot can collect the necessary information to create your demand letter.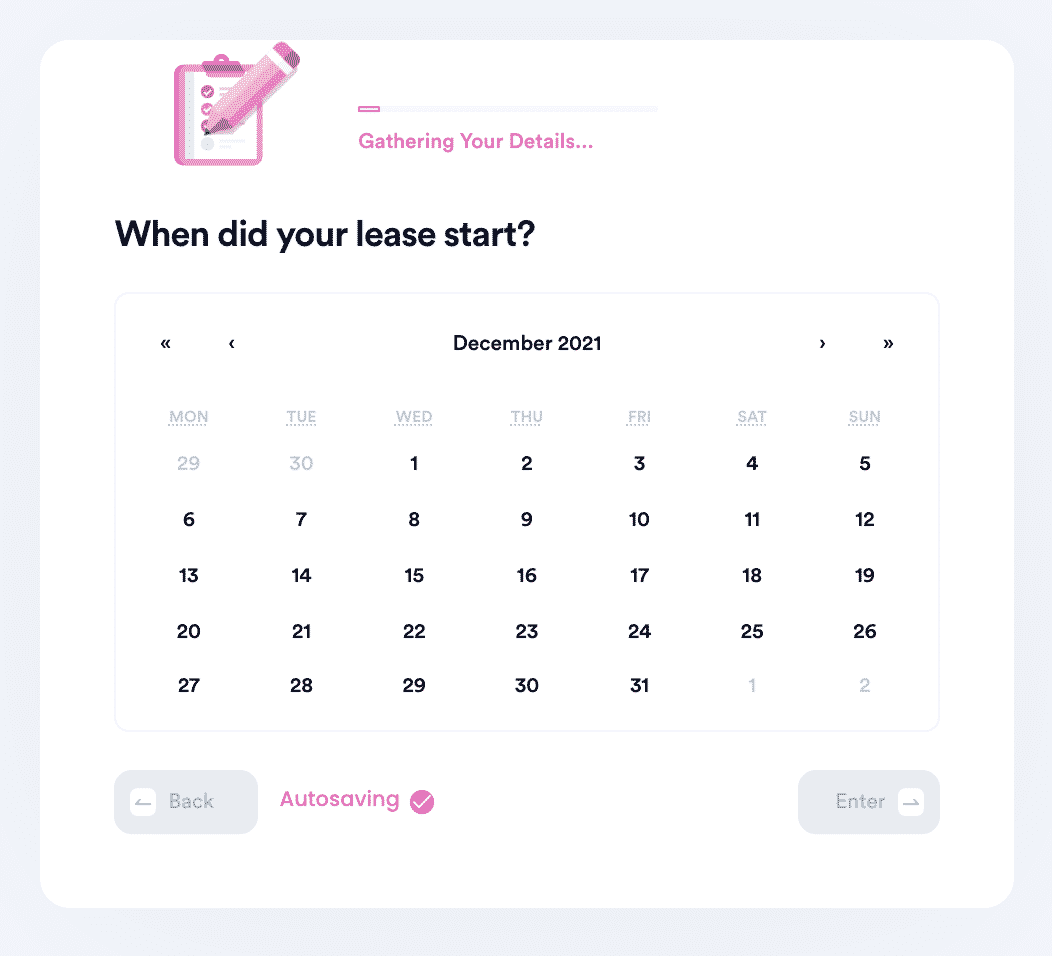 4. Choose whether you want DoNotPay to send the demand letter to your landlord or roommate on your behalf. If you already tried sending a demand letter and it didn't work, we can help you start the small claims court process.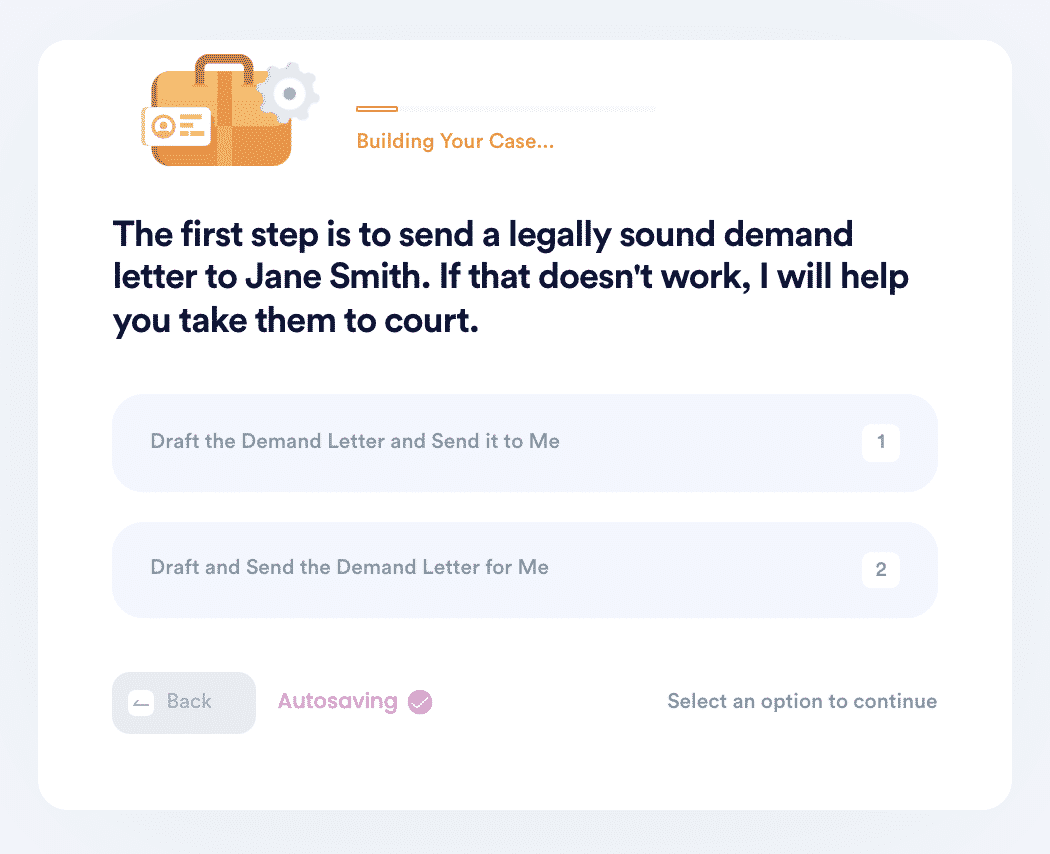 You should hear back from your landlord directly once your demands are sent.
Why Use DoNotPay For Your Repair Needs
DoNotPay is your go-to means requesting mold removal or dealing with many other issues with your landlord. DoNotPay offers many advantages over attempting to embark on the legal process yourself with no backup. These advantages include the fact that DoNotPay is
Fast—Get mold removed quickly before it impacts your health.
Easy—Court is confusing. DoNotPay is not.
Successful—DoNotPay has the experience necessary to help you sort out your repairs claim.
DoNotPay Can Help With Many Types of Landlord and Tenant Issues
DoNotPay isn't limited to helping you with the process of requesting mold removal or suing your landlord. We can also help you understand your rights as a renter. Here are just a few examples of the sorts of concerns we can help you sort out:
Let DoNotPay know today just how we can help you with your dispute with your landlord.