Can I Sue My Landlord for a Mice Infestation?
If you've got a rodent problem in your rental, and your landlord is dragging their feet instead of remedying the situation, you're probably wondering, "?"
Mice are a significant health risk to you and your household. Their feces and any parasites they harbor can cause serious disease. Their odors are extremely unpleasant, and they're hard to remove without calling in professional cleanup specialists. Your landlord should know that mice can cause permanent damage, not only through their bodily functions but also due to chewing up drywall, insulation, and even structural framing.
Most landlords understand the importance of solving a rodent infestation. But in some cases, they may try and blame the tenant for the problem and refuse to pay for an exterminator, sufficient cleanup, and any repairs required to make your rental home safe and habitable. They may even try to withhold your security deposit. But if you do it right—especially if you use DoNotPay—you can indeed sue your landlord for a mice (or rat) infestation issue and write a demand letter to your landlord for repairs.
How To Sue Your Landlord for Mice Infestation Repairs On Your Own
When you're a tenant and you discover mice in your home, you have the right to demand the landlord solve the problem. If they refuse, then . In fact, as soon as you notice a pest infestation, no matter the type, it's time to begin laying the groundwork for action against your landlord. 
Follow these steps to begin preparing your case:
Gather Your Evidence
Your first step is documenting the mice (or rat) infestation with evidence to back up your claim. Here's what we recommend:

A timeline beginning when you first noticed the infestation up until now: Note any interactions with the landlord or their agents, including maintenance personnel.
Photographs that show the infestation
Photographs that show you keep a clean home
A letter of recommendation from a prior landlord

Be Aware of State Renters' Laws
It's essential to understand your rights as a tenant. Most states or cities have specific renters laws and tenancy advocacy boards. Follow these steps:

Re-read your lease.
Look up your state laws. For example, what are your landlord's obligations for conducting repairs?
Find a tenancy advocacy group.

Does the tenant group offer low-cost legal support?
Does the group offer standardized legal forms?

Write a Demand Letter
The good news is that you might not make it as far as small claims court if you first write a letter demanding the landlord fix the rodent infestation issue and its aftermath. Draft a letter to your landlord that includes, informs, or performs the following:

Officially notifies them of the pest infestation, if you have not done so already
Clarifies if there was any damage to rental finishes, wiring, insulation, drywall, or the structure itself
Explains whether you have already had the service done or if you want them to make arrangements

Include details about how much your bill was or any estimates you may have requested.

States whether the infestation left behind feces and urine

 If so, let them know you want a biohazard cleanup, not just a regular cleaning service.

Asks them to pay for pest control and cleanup costs within a set deadline
Explains that you want a credit on your rent, beginning the date you first reported the infestation

Then sign and date your letter, and send it via USPS registered mail with delivery confirmation.

File a Suit in Small Claims Court
If your landlord refuses to comply with your demands, you can sue them in small claims court for extermination and cleanup costs. The lawsuit can also include compensation for hotel stays on the dates the rental was uninhabitable or within the timeframe you gave to remedy the situation.

You will need to find out which local jurisdiction would handle your small claims filing. Typically, the jurisdiction would be either:

The jurisdiction in which the owner resides
The jurisdiction in which the rental is located

Your lease may state where any disputes should be handled.
But this process can be extremely time-consuming, which is dangerous if you're living with an active rat infestation. Hiring an attorney can speed up the process, but that can be prohibitively expensive. Instead, turn to DoNotPay to streamline the process and help you get results.
Have DoNotPay Advocate on Your Behalf
DoNotPay is here to guide you through your tenant issues and file your disputes on your behalf. Our Landlord Protection product can help you:
Get back your security deposits.
Learn about your state's eviction laws and what protections apply in your case.
Resolve disputes regarding repairs with your landlord.
Resolve disputes with roommates by filing demand letters or going through small claims court.
Break your lease early.
If you want to send a demand letter or sue your landlord for a mice infestation, but you want backup, DoNotPay has you covered in 4 easy steps:
1. Search for and open the Landlord Protection product on DoNotPay.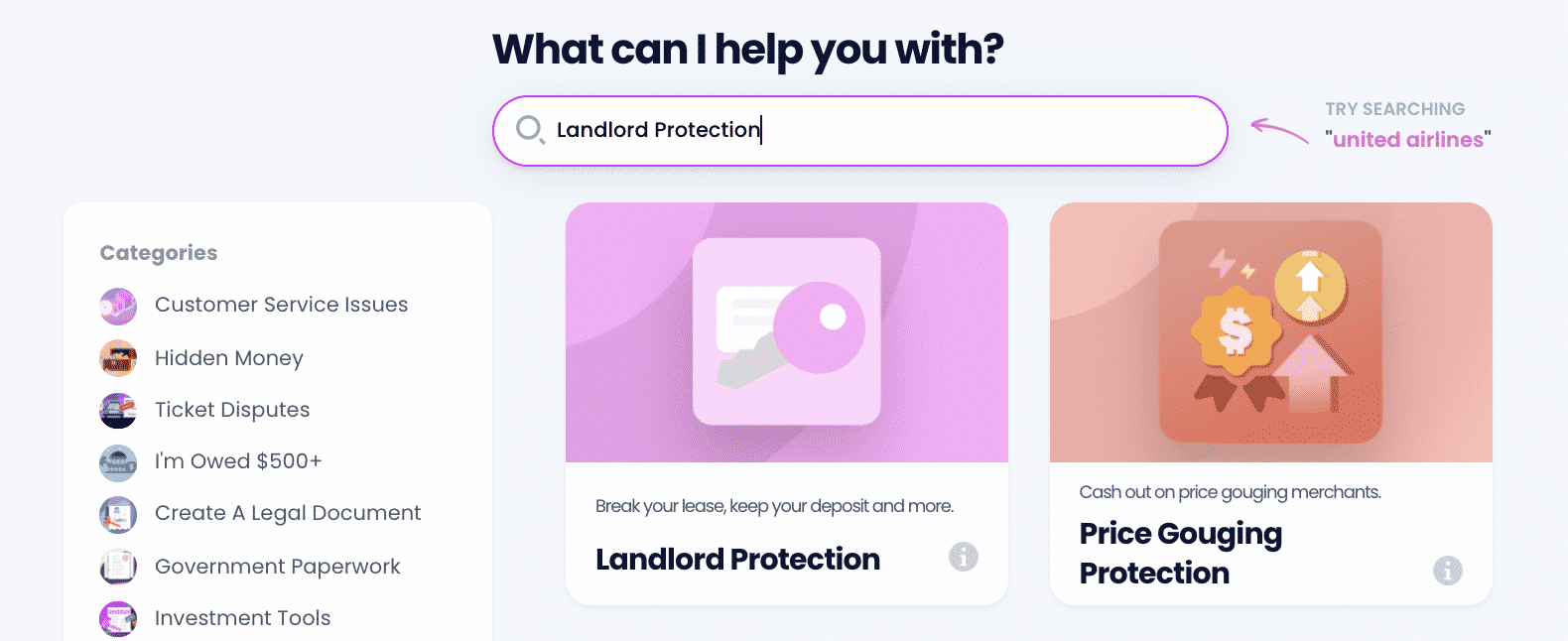 2. Select which issue applies to you.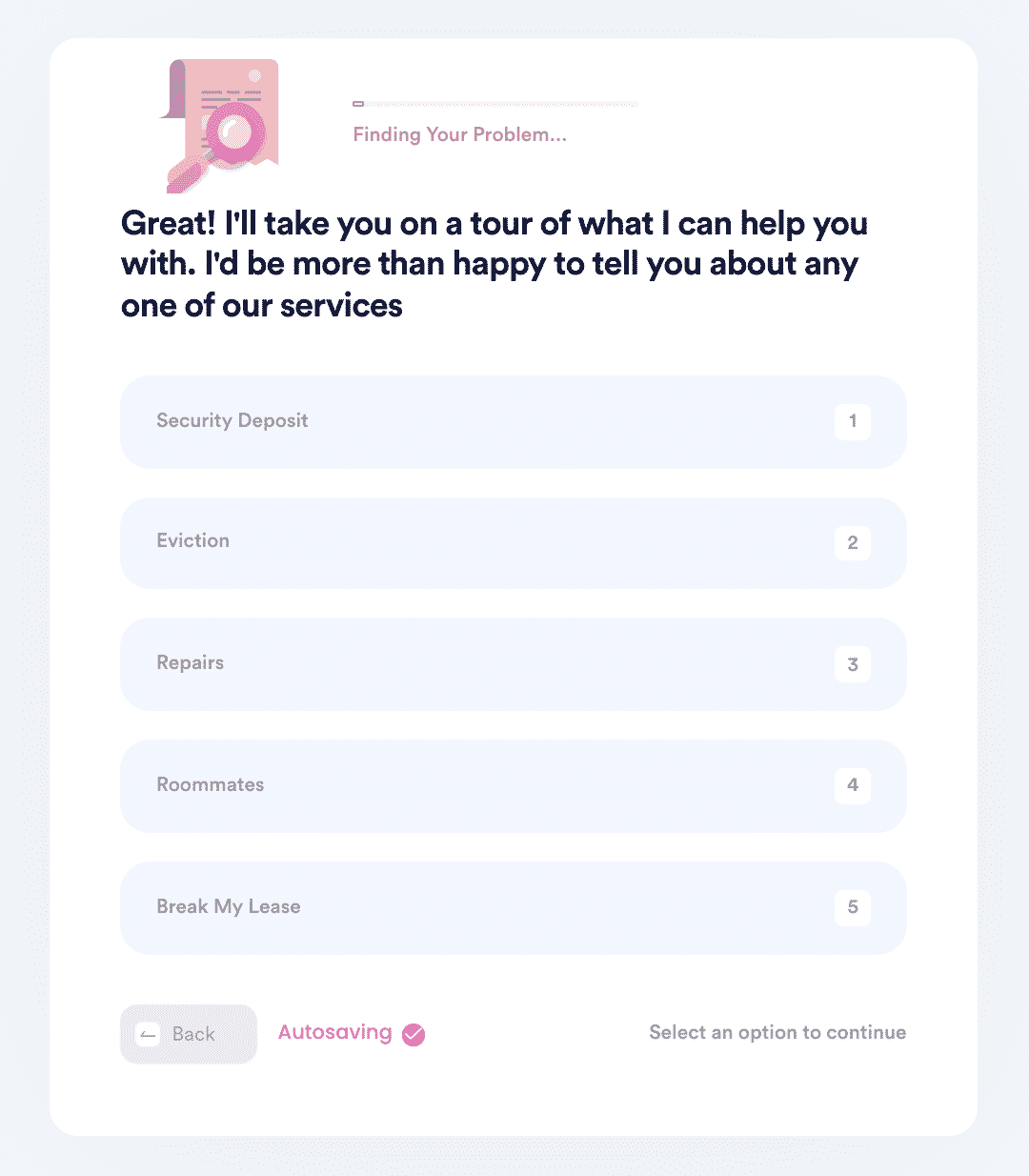 2. Answer a simple set of questions so our chatbot can collect the necessary information to create your demand letter.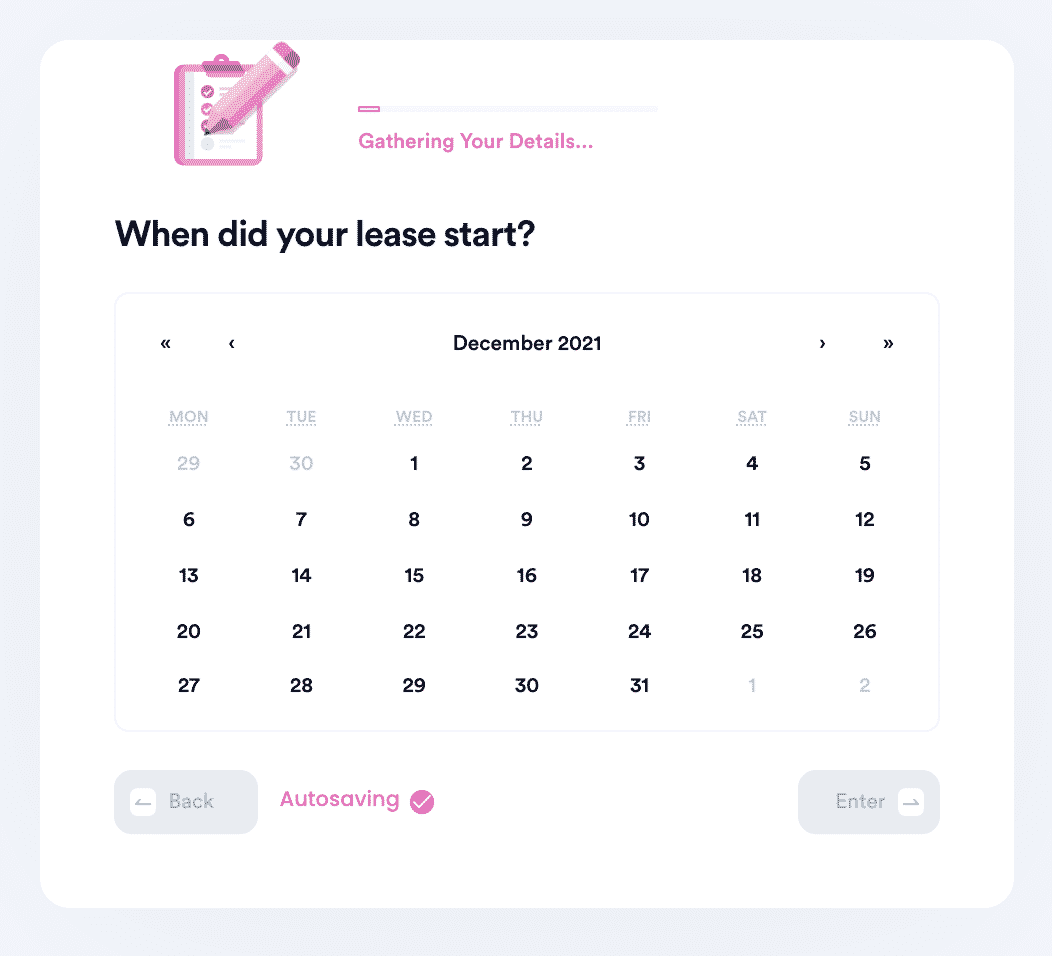 4. Choose whether you want DoNotPay to send the demand letter to your landlord or roommate on your behalf. If you already tried sending a demand letter and it didn't work, we can help you start the small claims court process.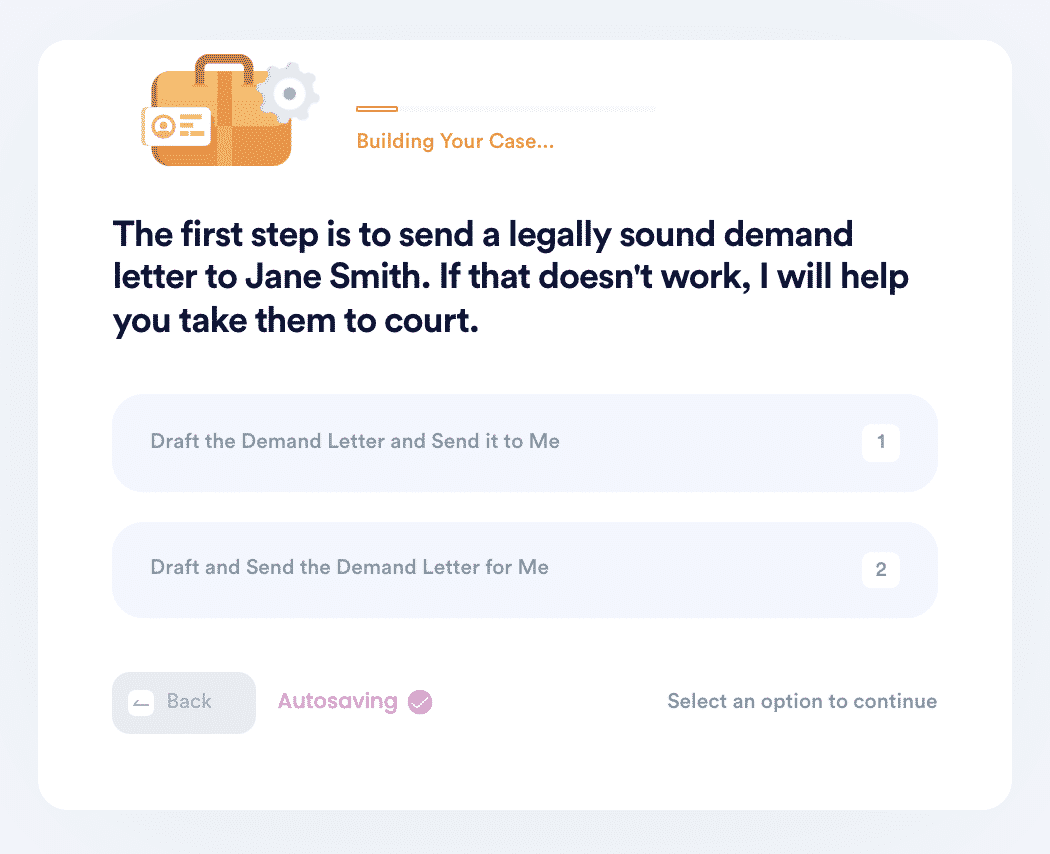 And that's it! You should hear back from your landlord directly once your demands are sent.
What Else DoNotPay Can Do to Protect Tenants Like You
DoNotPay offers multiple services for tenants. Our robo-lawyer can help you:
Why Not Get Started Now?
If you're dealing with a pest infestation in a rental home and your landlord is not responsive to your requests, it's past time to get the ball rolling. Let DoNotPay handle your demand letters or small claims suit today. You'll be shocked at how fast, easy, and convenient it is to motivate your landlord and get compensated for any costs you've incurred during the infestation when you've got us serving as your "robot lawyer."