I Want To Know—Can I File for Divorce if We Still Live Together?
Filing for divorce is stressful and can be a real hassle if you don't have the right information. Find out how to serve the papers, which procedure is the right for you, and how to cut the divorce costs.
"Can I file for divorce if we still live together?" If you're wondering the same, you're not the only one!
DoNotPay offers the information for a straightforward divorce you can go through without a lawyer.
Can I File for Divorce if We Still Live Together?
In most states, you can file for divorce if you and your spouse still live together. Depending on the state laws, you might need to prove that you have lived separately:
During the divorce—You can remain in the same house, but:

Sleep in different rooms
Prepare meals apart

Before filing for divorce—Some U.S. states require you and your spouse to live separately for a certain period before you can file for divorce
State Laws on Cohabitation Before the Divorce Is Final
To protect yourself from issues and delays, you should make sure that you and your spouse can live in cohabitation before your divorce is final. You can do that by checking your state laws or consulting an attorney.
States With Separation Requirements
The following states don't allow spouses to live together during the divorce:
State
Specifics
Alabama
Your divorce complaint needs to state when you stopped living together
Arkansas
To file for divorce, you and your spouse:

Need to live in separate households
Cannot have sexual relations for 18 months before petitioning

Illinois
You have to live in separate households for six months before the divorce can be finalized
Maryland
You and your spouse must live at different addresses and have no sexual relations for one year if you cite the following grounds for a fault-based divorce:

Desertion
Conviction of a felony

There's no minimum separation requirement when stating adultery and cruel treatment as grounds for divorce

Ohio
It depends on the county, i.e., some Ohio counties:

Will not grant a divorce if spouses have lived at the same address since the filing date
Require you to reside in separate households for a minimum of 30 days to get the court hearing

South Carolina
To file for divorce, you need to live at different addresses and not have sexual relations for a year
Virginia
Your divorce can be finalized only when you and your spouse have lived separate and apart for:

Six months, if you don't have any children
A year, if you have underage children together

You may file for divorce before you've fulfilled this separation period requirement
States That Restrict Cohabitation Before the Divorce Is Final
Some U.S. states allow you to file for divorce while living together with your spouse under the same roof but have certain limitations:
Can I File for Divorce if We Still Live Together? It May Depend on the Type of Divorce
You might decide to stay in the same house with your soon-to-be ex-spouse because of:
Money, i.e., you cannot afford a place of your own
Your children, i.e., you'd like them to remain in their home until they adjust to the idea of their parents getting divorced
To be able to keep living together, you need to file for a suitable type of divorce.
Want To File for a Fault-Based Divorce?
In most states, there are restrictions in case you're filing for a fault-based divorce, especially if you state the following grounds:
Reasons for Divorce
Details
Adultery
You need to prove you have lived separately from your spouse for a certain period:

From the date that you've found out about the adultery
Before filing for divorce

This mandatory separation period may vary from state to state

Unreasonable behavior
In most cases, you can file for divorce if you still live together. Keep in mind that the court will probably require you to justify why you've stayed under the same roof after the last incident reported in your petition
What About Uncontested Divorces?
Most U.S. states have no separation requirements when you file papers for an uncontested divorce, i.e., when you and your spouse reach an out-of-court settlement of all divorce aspects, such as:
If you and your spouse cannot agree on some matters, you could go to divorce mediation. You don't need a lawyer for this type of friendly divorce as you can:
Complete and file the necessary free court forms by yourself
Sign up for DoNotPay to create a divorce settlement agreement—a document that:

Lists and explains all the agreed-upon divorce terms
Needs to be presented to the judge for review and approval
DoNotPay Is the Right Way to Rock-Solid Divorce Settlement Agreements
Want to get a divorce settlement agreement that complies with state laws yet is tailored to your specific situation? You don't have to pay a hefty retainer fee to a lawyer for this document!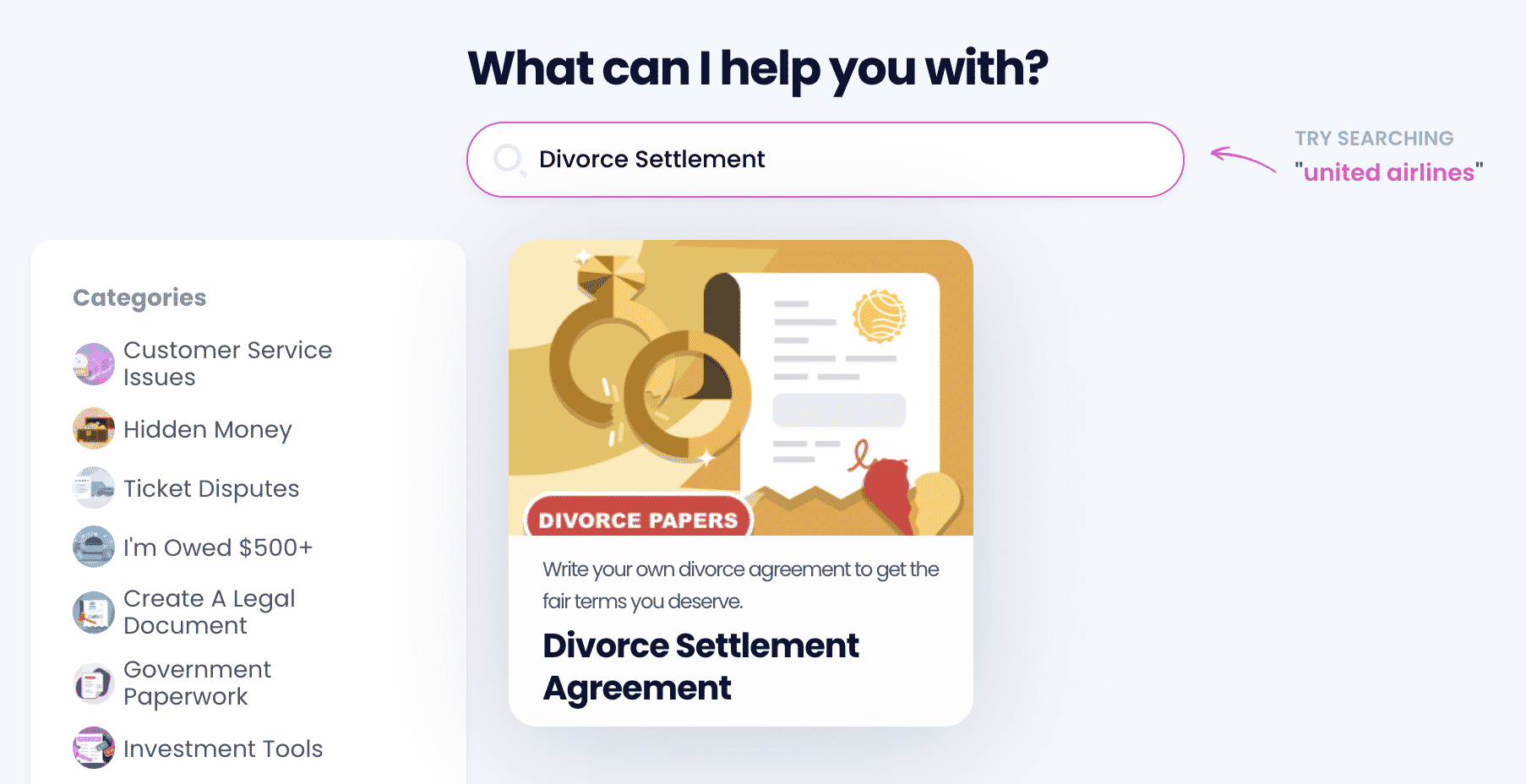 Subscribe to DoNotPay and follow these steps:
Choose our Divorce Settlement Agreement product
Provide information about your assets, children, and debts
Select if you need to get this document notarized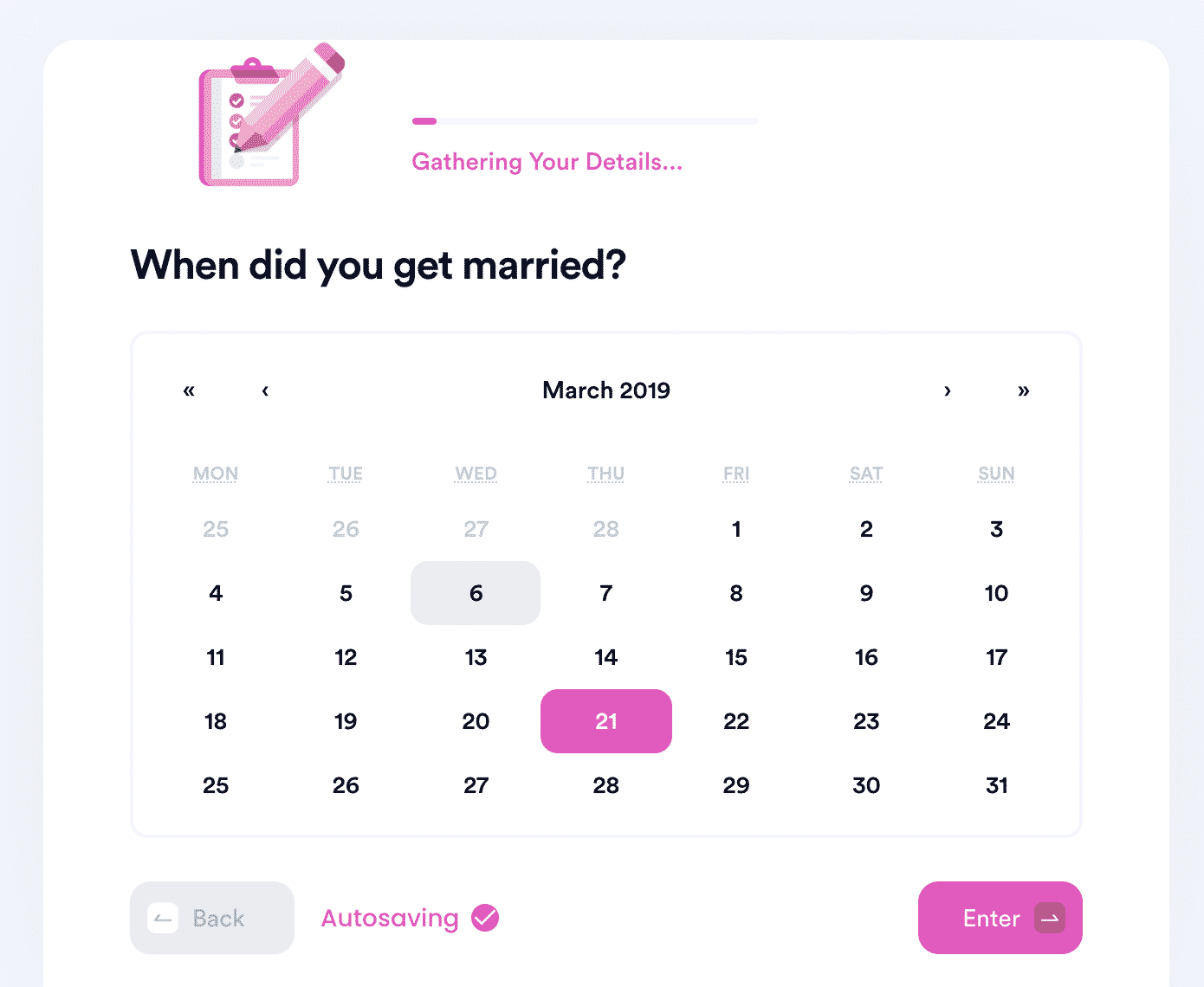 You'll get a reliable divorce settlement agreement in a matter of minutes!
Get Familiar With Relevant Divorce Topics
A quick and low-cost divorce is within your reach if you gather the right information. Here are some guides we provide to make your divorce process easier:
Stuck in a Bureaucratic Mess? DoNotPay Is Here To Help!
Since handling dull administrative tasks is a burden and no one likes doing them, DoNotPay developed a variety of neat features to ease many processes! With our nifty app, you can:
Deal With Companies Like a Pro
We all love shopping, but it's no secret that companies sometimes turn a fun experience into a nightmare, especially when they refuse to cooperate. DoNotPay is here to help you reach customer support without the hour-long wait and sue an uncooperative merchant in small claims court if necessary!
Need a refund? We can show you how to get your money back from any company in a snap!
Should you need to file an insurance or warranty claim and request gift card cash back or an item return, you can count on our app to assist you! DoNotPay can also show you how to discover any unclaimed funds under your name so that you can continue shopping like a pro.