Can I Bring a Backpack to Jury Duty—Answered
Being on a jury is a huge responsibility—it's a mandatory civic duty that is important for the U.S. legal system. When you're in the courtroom, there are certain rules you have to follow—observe a dress code and know what you can and cannot bring into the courtroom.
If you're wondering: "Can I bring my backpack to jury duty?" you're in the right place. We will provide all the general information about serving on a jury, including:
How to inform your employer about it by
What to wear
What to bring
Can You Bring a Backpack to Jury Duty?
You can bring your backpack or a purse to jury duty, as long as you don't have any forbidden items in it. Check out the table below to learn what items you can and cannot bring to court:
You Can Bring
You Cannot Bring

Water
Food
Cash
Books
Electronic devices, such as a phone or a laptop

Knives or any bladed items
Kitchen utensils with a blade or sharp point
Glass bottles (unless they are bottles for a baby)
Knitting needles
Handcuff keys
Lock-picking implements
Every court has its own rules about permitted and forbidden items, so you should check your state or county court's website to see what you can bring with you.
Most courts allow electronic devices, but they have to be turned off in the courtroom.
How Long Is a Jury Duty Lunch Break?
Since jury duty day usually lasts from 8:30 a.m. to 5 p.m., you'll want to know when you have a lunch break and how long it will last. The duration of a lunch break may depend on the court, but it is typically one hour long. The breaks will be announced throughout the day so that you can prepare for them in time.
What To Wear to Jury Duty
Courts expect you to abide by the dress code. Keep the following in mind when you're preparing for jury duty:
Bring a sweater or a jacket as courtrooms can be cool
Avoid strong fragrances and deodorants
Wear comfortable but not too casual footwear
Put on something that says you respect the court
Avoid t-shirts with writings or explicit images
Avoid wearing accessories
What Can You Expect When Serving Jury Duty?
You must have a lot of questions regarding jury duty, such as:
How much it pays—Compensation depends on your state, but in most cases, state jurors are paid $20 per day, and federal jurors receive around $50
What can happen if you skip it—If you don't show up for jury duty, you may be fined or imprisoned. The amount you'll have to pay and the number of days you can spend in prison depend on your state
How frequently you can be summoned—In most states, you can be called for jury duty once a year
If you want to learn more about jury duty in your state, check out the table below:
How To Inform Your Employer About Jury Duty Using DoNotPay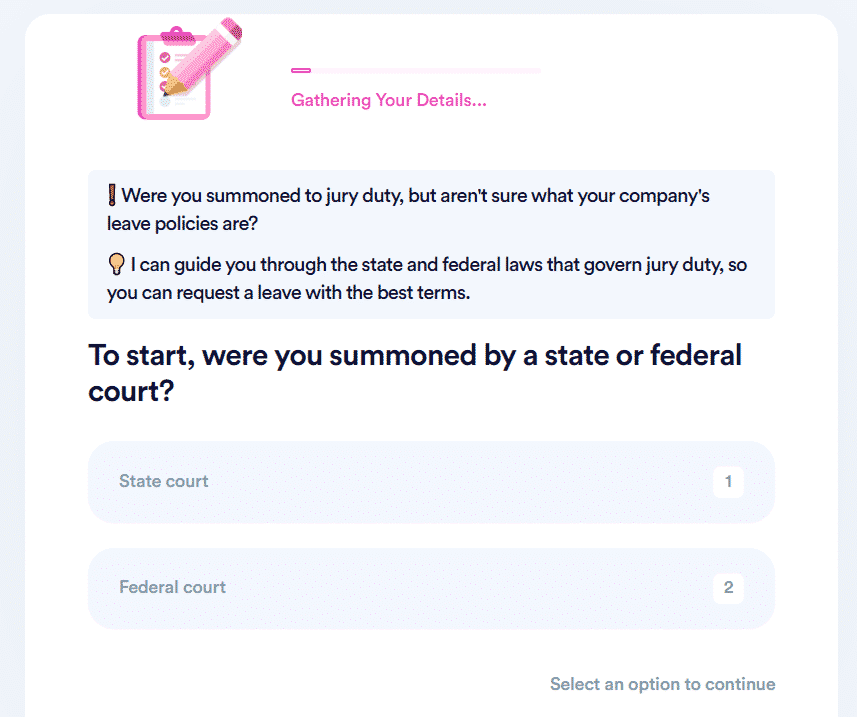 Every state has a law that protects employees from getting fired for jury duty, so employers must provide time off to their employees who serve on a jury. To stay on the good side of your employer, you should notify them about your jury service as soon as you receive the summons. If you aren't sure how to do that, let DoNotPay help you.
Our platform will create a professional leave request letter that complies with all relevant jury duty laws in your state. All you need to do is and do the following:
Open the Request Jury Duty Leave tool
Answer a few questions
Upload a picture of your jury summons
If you want to know more about what questions they ask during jury duty selection, consult DoNotPay's learning center.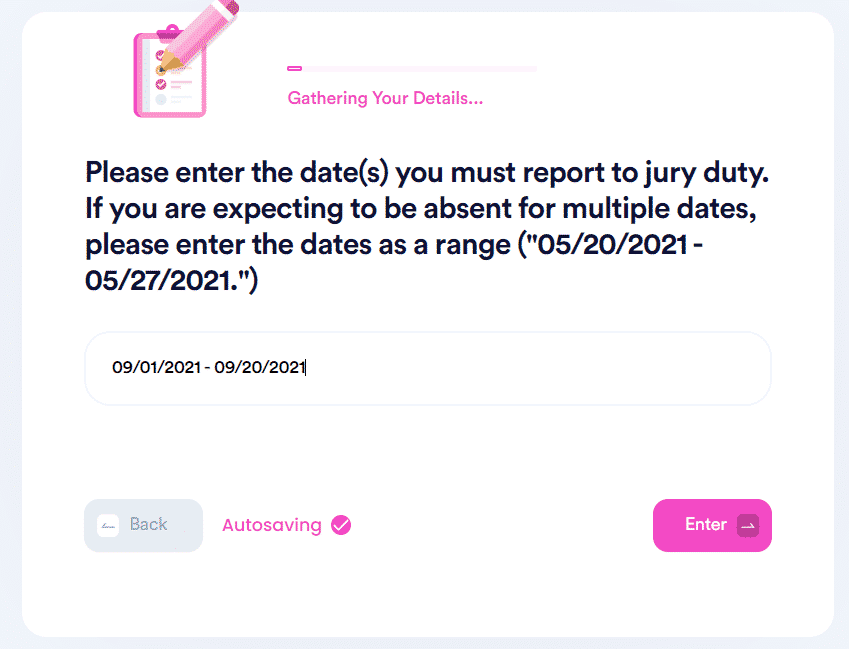 DoNotPay Handles Lengthy and Challenging Tasks on Your Behalf
No time to dedicate yourself to drawn-out procedures or solve administrative issues yourself? Keep calm—that's why DoNotPay is here! By creating an account on our platform, you will be able to:
Convert various files into different formats
Keep the Cash in Your Pockets With Our App
DoNotPay doesn't bring you money-saving hacks—it actually assists you in cutting out expenses and living more economically. The tools we provide are made to help you pay less for utilities, end unwanted paid memberships, have college fees waived, or get lower tax bills. You can also save more on education-related costs by applying for scholarships and other financial aid via our app!
If you have a few forgotten gift cards lying around, don't let them go to waste. DoNotPay can cash them out and send the remaining funds to your home address!