Can I Amend My Living Trust Without an Attorney?
Once you set-up your revocable living trust, you may be wondering: Can I make changes to it without hiring a lawyer?
Yes, you can make amendments without the extra lawyer fees. Here's a guide to setting up your living trust and amending it without an attorney. At the end, learn how you can set-up a living trust with DoNotPay!
About Living Trusts 
While there are many kinds of living trusts, revocable trusts and irrevocable trusts are the main types. Revocable and irrevocable trusts differ in areas such as flexibility, tax requirements, and protection from creditors.
Revocable living trusts have become one of the most popular estates planning tools and it's easy to see why. Grantors, or creators of the trust, can make changes to the trust. They can add/remove beneficiaries, trustees, and assets in the trust. Amendments to the terms and restrictions can also be made.
Amending Your Living Trust
Amending your living trust is just a simple process of removing or adding details to your trust. It is always good practice to revisit your trust at least every 5 years to see what can be added, what still works, and what doesn't. Here are some of the top reasons people make modifications to their living trust:
Marriage

Break-up

Change of name

Change of location

Change of beneficiaries or trustees.

Inclusion or exclusion of assets.

Change of asset distribution structure 

Correction of serious grammatical error
To make an amendment to your living trust, you could use an online form, hire a lawyer, or do it yourself.
How to Amend a Living Trust By Yourself
There are two main ways you can change your living trust:
Add an amendment document

Create a new living trust with the new changes
For the first option, you can clearly state the amendments you intend to introduce to the trust and get the document notarized.
For the second option, you can create a whole new living trust. If you'd rather start over again with a clean slate, this would be a great option. The older living trust can be revoked or the newer trust can include a section that clearly states it is overriding the old version.
Types of Living Trust Amendments
Here are the kinds of changes that can be made to a living trust:
Minor amendment
Name changes, ranking of beneficiaries, or instruction changes to the trust are some of the minor changes you can make to a trust. Always keep in mind to make it simple to avoid confusion for your trustee. If not, you may be better off creating a new trust document.
Full amendment and restatement
A restatement involves any other levels of changes done to trust except the actual actors of revocation. With a restatement, you can revamp the distribution clauses, add and remove beneficiaries and assets, or make any other change — big or small — as you seem fit. 
Revocation
A revocation is a total overhaul and termination of the trust. You'd need to dissolve all assets out of the trust and into a new one which you may create in place of it. Revocation is necessary when only the trust is flawed and you no longer want it to continue. 
The right to make amendments to a trust lies only with the owner of a revocable living trust. If you have opened a joint revocable trust, you'd need your partner's permission to change it.
Create a Living Trust With DoNotPay
Follow these steps to make a plan for your future in less than 10 minutes: 
Sign up to the

DoNotPay

app or website and search for "Revocable Living Trust"
List your chosen trustees and beneficiaries
Select assets and estates that will go into the trust
Tell us what will happen to the remainder of your assets if they are not included in the trust

Choose which state you intend to notarize

your revocable trust

in
DoNotPay will create a personalized PDF or DOCX file of the living trust, which you can change as you deem fit before getting it notarized.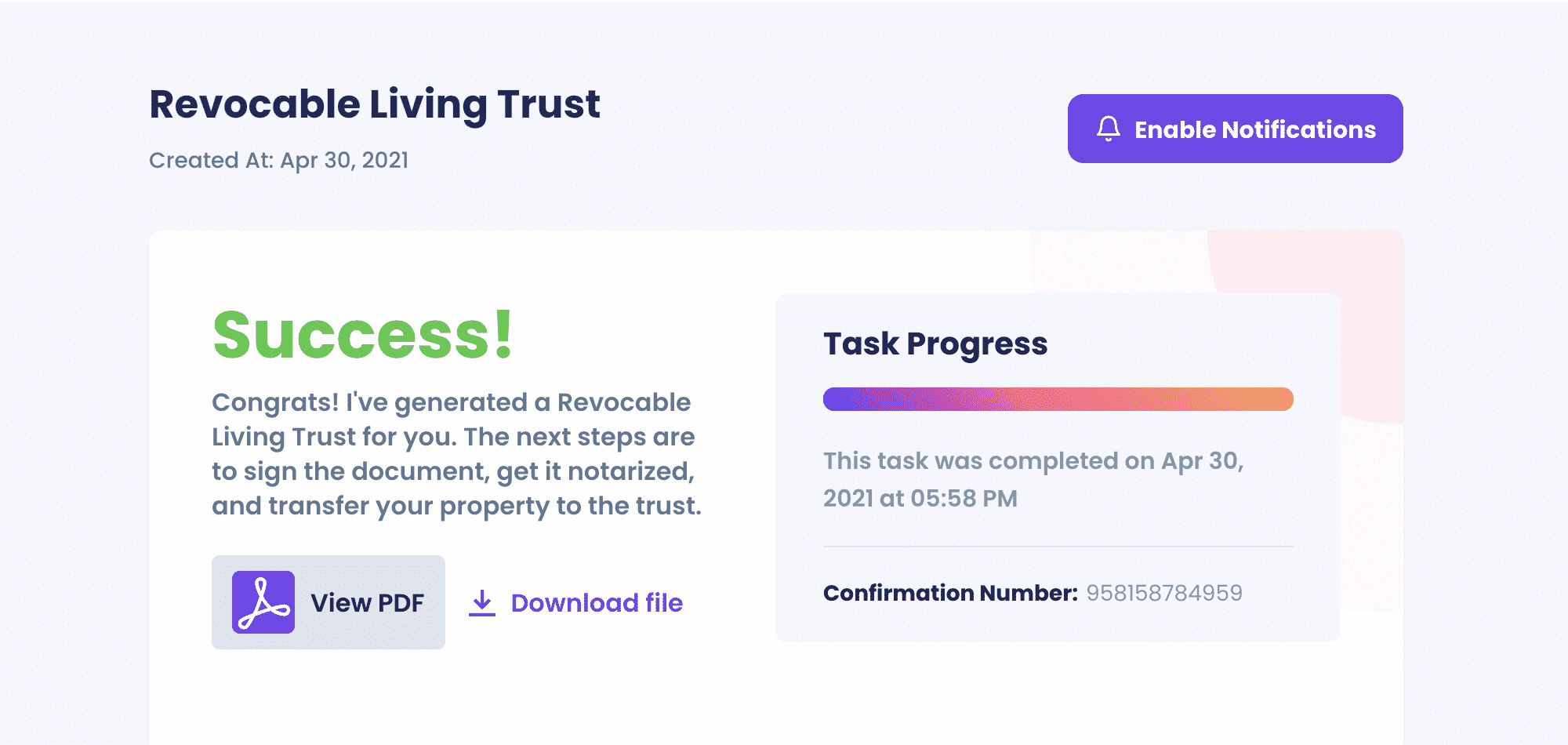 Living Trust Guides
Select your state to see all their requirements for setting up a living trust:
What Else Can DoNotPay Help Me With?
DoNotPay is your personal assistant and lawyer in one app! Have another legal issue? DoNotPay can help you with:
Sometimes, it sucks having to deal with small things yourself. Let DoNotPay work on your chores for you: