Employment Woes Exposed—Can Businesses Discriminate Against You in the Private Sector?
Workplace discrimination is recognized as a major cause of stress, anxiety, and illness among the working population of the U.S.
With all the anti-discrimination laws in place to combat it, it would be nice to feel that private companies could no longer discriminate. Yet tens of thousands of employment discrimination examples are recorded every year, and the numbers show no sign of decreasing.
The answer to the question "can businesses discriminate?" is an emphatic yes. DoNotPay is here to show you what you can do about it!
How Common Is Employment Discrimination?
The Equal Employment Opportunities Commission (EEOC) is the federal authority charged with enforcing the law against discrimination at work.
You cannot launch a discrimination lawsuit against your employer without first going through the EEOC, so the statistics the commission gathers are a good indication of how common workplace discrimination is.
In the last four years, the EEOC has dealt with the following numbers of complaints:
| | | | | |
| --- | --- | --- | --- | --- |
| Details | FY 2017 | FY 2018 | FY 2019 | FY 2020 |
| Total charges | 84,254 | 76,418 | 72,675 | 67,448 |
| Total cases | 201 | 217 | 157 | 97 |
| Total resolutions | 125 | 156 | 180 | 176 |
| Total compensation in $ millions | 42.4 | 53.6 | 39.1 | 106.1 |
The drop in the 2020 numbers is attributed to the COVID–19 pandemic. The idea that these numbers may represent the tip of the iceberg, with many more employment discrimination cases going unreported, is especially worrying.
Who Can a Private Business Discriminate Against?
Title VII of the Civil Rights Act of 1964 and the Equal Pay Act of 1963 make it illegal to discriminate against an employee based on:
Gender

LGBTQ+ status

Color
Nation of origin
The most common charges lodged with the EEOC concern disability, race, sex, and age—86% of the cases filed in 2020 fell into one of these categories.
How Can Private Businesses Discriminate?
Businesses think they can get away with discrimination in many guises, but they fall into several distinct categories:
Businesses that discriminate deliberately
Companies that allow discrimination
Businesses with cultural issues
Vindictive companies
Businesses That Discriminate Deliberately
Some employers—often those that have not evolved—still instill policies and procedures that are deliberately discriminatory.
Examples of this are organizations that enforce maternity leave on pregnant female employees, run criminal background checks on new hires, or have different pay scales between employees performing the same tasks. Recent lawsuits have confirmed that these practices constitute de jure discrimination.
Companies That Allow Discrimination
There are many companies whose procedures allow discrimination to take place despite anti-discrimination policies being in place.
Any company that uses human filtering to screen candidates, rather than AI screening, is at risk of unconsciously using stereotypes to choose candidates. As another example, a business that claims to be non-discriminatory but does not offer the necessary facilities to allow disabled access to all areas is effectively discriminating.
This type of behavior is known as de facto discrimination.
Businesses With Cultural Issues
Any company that does not regulate the behavior of its employees is in danger of allowing a culture of harassment to develop. This is considered a form of discrimination.
Harassment can take various forms—sexual, verbal, email harassment, or cyberbullying—but recent court cases have proved that a company can be held liable for the actions of its supervisors and managers.
Vindictive Companies
Businesses that allow or practice retaliation against employees who complain about discrimination are breaking the law. Even with this in mind, the largest numbers of complaints filed each year with the EEOC are a result of retaliation at work.
What Can You Do To Fight Discrimination at Work?
If your employer is discriminating against you, you need to fight back.
Your first step is to address the matter internally by raising it with your supervisor and HR department.
In doing this, you should make sure your grievances are logged officially and not swept under the rug. If you need to escalate matters to a legal footing, you will need to demonstrate that you have tried to resolve the matter yourself before commencing litigation.
To give as much credence to your case as possible, you should keep a diary of every instance of discrimination, noting:
What happened
When it occurred
Who perpetrated the discrimination
Who witnessed it
If your internal efforts do not solve the problem, your next step is to file a complaint with the EEOC.
Once it has received your written complaint—known as a charge of discrimination—the EEOC is obliged to:
Inform your employer of the charge
Investigate the case
Move towards a resolution
The resolution can be:
A mediated out-of-court settlement between your employer and you
An EEOC-led lawsuit against your employer
Permission for you to use a

discrimination lawyer

to launch private litigation
To file your charge of discrimination, the EEOC may require you to come to an in-person interview to discuss your case. This can be inconvenient and time-consuming, but DoNotPay is here to help—we can !
Use DoNotPay To File Your EEOC Charge
Yet again, DoNotPay has found a way to make your life easier!
Using DoNotPay, you can lodge your charge of discrimination with the EEOC in three easy steps—here's how:
in your web browser
Search for our Fight Workplace Discrimination product
Follow the prompts and fill in the details of your charge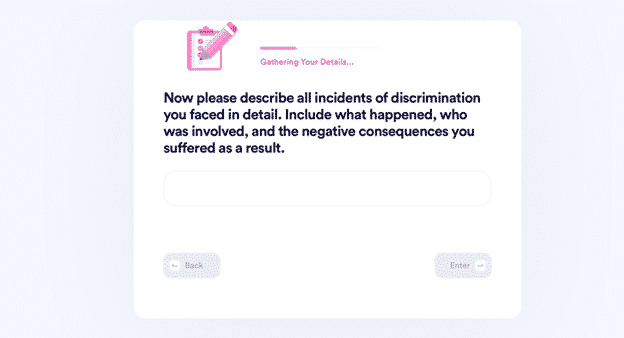 That's all—we will file your charge, and the EEOC will contact you to walk you through the next steps.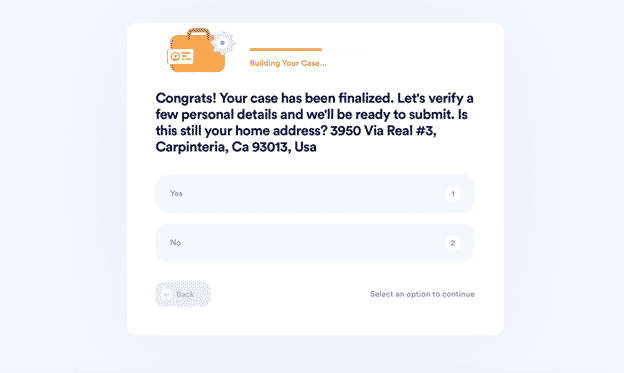 DoNotPay Is on Your Side
Is the discrimination you're facing at work turning into proper harassment or even stalking? Are you considering suing your manager or colleague in small claims court? These unpleasant situations usually require lawyers, but they come with hefty fees.
DoNotPay is a powerful AI-powered app that can lead you through a small claims court case against anyone or serve them with a cease-and-desist letter. If discrimination turns into a hate crime, we can help you file for crime victims compensation or make a claim on your insurance.
Whenever you need to draft, fax, or mail legal paperwork, you can open our platform and use our fast and reliable tools for that. With our help, you can even have your documents notarized by an online notary!
The Multi-Purpose Platform That Makes Your Life Easier
If you've had enough of that toxic atmosphere at work and want to escape somewhere for a week or two, DoNotPay might turn out to be the perfect travel buddy. Our app won't do much when you're drinking cocktails at a beach, but it will do wonders if you run into problems.
We can help you generate a child travel consent form, get airline compensation for canceled or delayed flights, jump the queue when you must contact customer service as soon as possible, or get a refund for all kinds of unsatisfactory purchases.
Do you prefer road trips? No problem! DoNotPay can help you prepare for your driving test or schedule a DMV appointment without sweat!
From fighting discrimination to solving travel woes—that's how diverse DoNotPay's portfolio is!