Can a Seller Back Out of a Real Estate Contract
Once They Sign It?
Having second thoughts about selling a property happens more often than you'd think. Like buyers, owners can change their minds and decide they don't want to let their home go. 
Can a seller back out of a real estate contract once they have already sealed the deal? Why do they decide to do it? What can go wrong? Our article offers answers to all these questions and also teaches you how to get professional real estate contracts in a few clicks with DoNotPay!
The Most Common Reasons Sellers Change Their Mind About Selling Real Estate
Why would someone give up on selling a home all of a sudden? It may happen to anyone for various reasons, which may include:
Home appraisal below the offer price

Emotional attachment to the property

Inability to find a new house before selling the old one

Disagreement with other members of the family regarding the sale

Fear of transferring a title to a person who won't be able to take care of the asset properly

Unforeseen events, such as an illness, a job change, pregnancy, or other similar circumstances
When Can the Owner Legally Back Out of Selling the Property?
There are several occasions when the seller has the right to change their mind without bearing consequences. These situations are rare since the law usually works in the buyer's favor in such cases, but they are still possible.
Here are some circumstances that may help the seller back out fuss-free:
The seller is within an attorney review period proposed by the contract

The buyer sympathizes with the seller and lets them back out of the agreement

The buyer doesn't comply with the terms and conditions of the sale agreement

The parties made a verbal agreement, which is significantly more difficult to prove in court

The contract contains a contingency clause enabling the seller to back out if the home appraisal isn't satisfactory

The agreement contains a clause allowing the owner to cancel the sale if they have trouble finding a new home

The owner manages to deter the buyer by emphasizing the negative sides of the property, and the buyer agrees to cancel the contract
Potential Consequences of Canceling a Real Estate Sale
If you are having second thoughts about selling your property after signing a contract, you must be aware that you may face certain repercussions if you cancel it. The most common ones are described in the following table:
Consequence

Explanation

A lawsuit filed by a buyer

The buyer may consider the seller's change of mind a breach and decide to sue them. Depending on the case, the court may decide to force the seller to receive the payment and transfer the title to the buyer

A lawsuit filed by a real estate agent

If the seller hired a real estate agent and gives up on selling the property, the agent can sue them for missed payments

Damages

Buyers are subject to various expenses during the real estate sale procedure. They can request compensation for various costs, including:

Court fees

Lost deposits

Storage costs

Due diligence costs

Temporary housing fees
Discover DoNotPay and Compose Your Legal Documents Hassle-Free
Rarely does anyone manage to write a valid contract without adequate knowledge of legal terms and the structure of legal documents. For this reason, you may consider downloading reusable contract templates—which are unreliable—or hiring an attorney to compose a professional agreement, but the price of such services is too high. 
Luckily, unverified online templates and expensive lawyers aren't the only options—DoNotPay has got your back!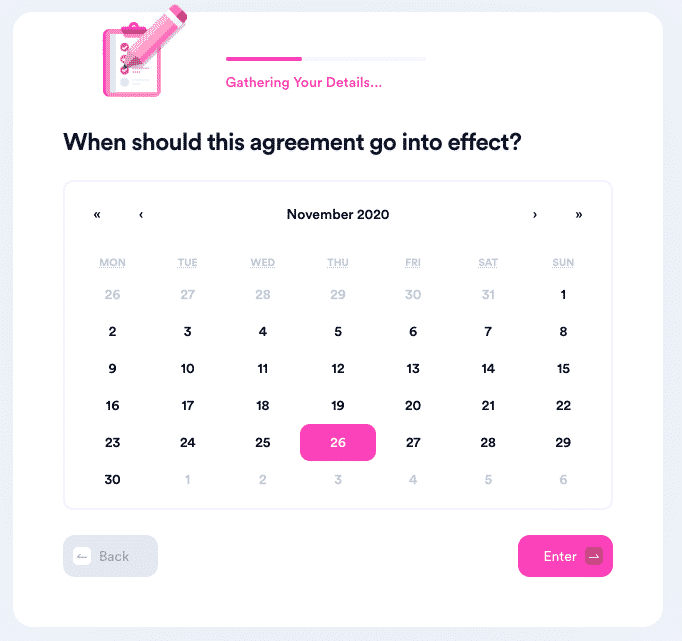 We've created a tool that can help you generate various contracts tailored to your needs. You don't need to draft your document manually and risk making a serious mistake that may invalidate the document. We do everything in your stead, ensuring that each part of the contract complies with applicable laws in your state.
How To Create a Contract With DoNotPay
Here are the steps to follow to get your personalized document:
and sign in

Locate the desired document by entering specific keywords in the search field

Answer a few simple questions of our chatbot to help us create your contract
Our database keeps growing with each passing day. It contains various popular legal documents you can choose from, including:
Intent To Purchase Real Estate

Promissory Note

Quitclaim Deed

General Business Contract

General Affidavit

Child Care Authorization Form
Can DoNotPay Help You Learn More About Other Contracts?
Real estate contracts can be complicated and quite challenging to compose. This is why we created an extensive learning base containing numerous practical guides. from any preferred device and get acquainted with:
We can also help you decipher the templates for many other useful legal documents, including:
Rely on DoNotPay To Solve Your Administrative Issues
Getting your documents notarized, drawing up legal paperwork, appealing parking tickets, and similar activities usually require a lot of effort. DoNotPay offers various useful products that can help you deal with administrative problems quickly and save a lot of time. We can assist you with:
Protect Your Consumer Rights With DoNotPay
Companies complicate cancellation and refund processes intentionally, hoping that consumers wouldn't want to spend hours trying to solve the issue they're having. DoNotPay knows how important consumer rights are, and that's why we created numerous products that can help you:
Many people forget to cancel their free trials on time and end up paying for the services they don't even use. To prevent that, DoNotPay has developed a nifty virtual credit card that will allow you to enjoy free trials risk-free. Our virtual credit card will also help you avoid spam email notifications by generating a random email address that you can use when signing up for a free trial.