Can a Power of Attorney Transfer Money to Themselves for Personal Use?
Creating a power of attorney document (POA) is not an easy job. Not only do you have to decide the type of POA you want, but you also need to choose the right person to transfer the power to. It is crucial to ensure that you pick a person who won't abuse power and trust you give to them.
Can a power of attorney transfer money to themselves? Is it possible for an agent to abuse their power? These questions are bound to pop up sooner or later.
Subscribe to DoNotPay to get the best tips and tricks for preventing the misuse of power of attorney and seeking corrective action in case of abuse.
How Does a Power of Attorney Work?
A power of attorney is a legal document for transferring the authority to make business and other legal decisions from the principal to their agent. It is frequently used when the principal has an illness or disability that renders it impossible for them to sign documents and make important decisions independently.
The first thing you need to know before creating a power of attorney document is what POA type you need:
Power of Attorney Type
Brief Explanation
General
The agent acts on behalf of the principal in all business and legal matters
Limited
The principal allows the agent to act on their behalf on specific matters
Springing
A specific event triggers the effective date of the document
Durable
The agreement continues to be in effect even if the principal is mentally or physically incapacitated
Medical
This specific document appoints family members, close friends, or health care workers as decision makers for the principal regarding healthcare
Financial
The agent has the power to manage financial matters, like:

Taxes
Bank accounts
Real estate transactions
With great power comes great responsibility. The agent must make sure that they honor the duties bestowed on them, but what if they misuse their power and transfer money to themselves for personal use?
What Constitutes the Abuse of Power of Attorney?
POA abuse is the misuse of the power of authority and is prohibited and punishable by law. Activities including the abuse of power of authority can include:
Not acting in the best interests of the principal
Selling or transferring a real estate title unless instructed to do so by the principal
Forging the principal's signature on documents
Taking money for personal use
Can a Power of Attorney Agent Spend Money on Themselves?
The short answer is no. When you appoint an agent, you control the type of financial activities they can carry out on your behalf. A power of attorney holder cannot transfer money to spend on themselves without express authorization. Even when the agent has access to all finances of the principal, they are restricted from using that money for personal needs. In case the agent has the authorization to claim some amount as compensation, they must have proper documentation for it.
Even if the agent wants to borrow money, the principal needs to provide written consent and must state the exact amount of the borrowed sum.
What To Do if Your Agent Is Taking Money From You
If you suspect that your agent is taking money from you, here is a list of steps that you need to follow:
Prove the misuse—Your financial records should indicate if there was any suspicious activity. You can also ask to check the agent's financial records to see if they deposited the same amount into their bank account
Change the scope of their authority—Consult your lawyer and change the agent or the type of power of attorney. You can take away your agent's access to your finances or their power to handle any business transactions
Report the abuse—Talk to a lawyer if you feel that your agent is abusing the power of attorney. Depending on state laws, your lawyer will either revoke the power of attorney or file a legal claim against your ex-agent
File a legal claim—As a last resort, you can file a lawsuit against the agent for misappropriating your assets
Want To Create a Power of Attorney? DoNotPay Can Do It in a Snap!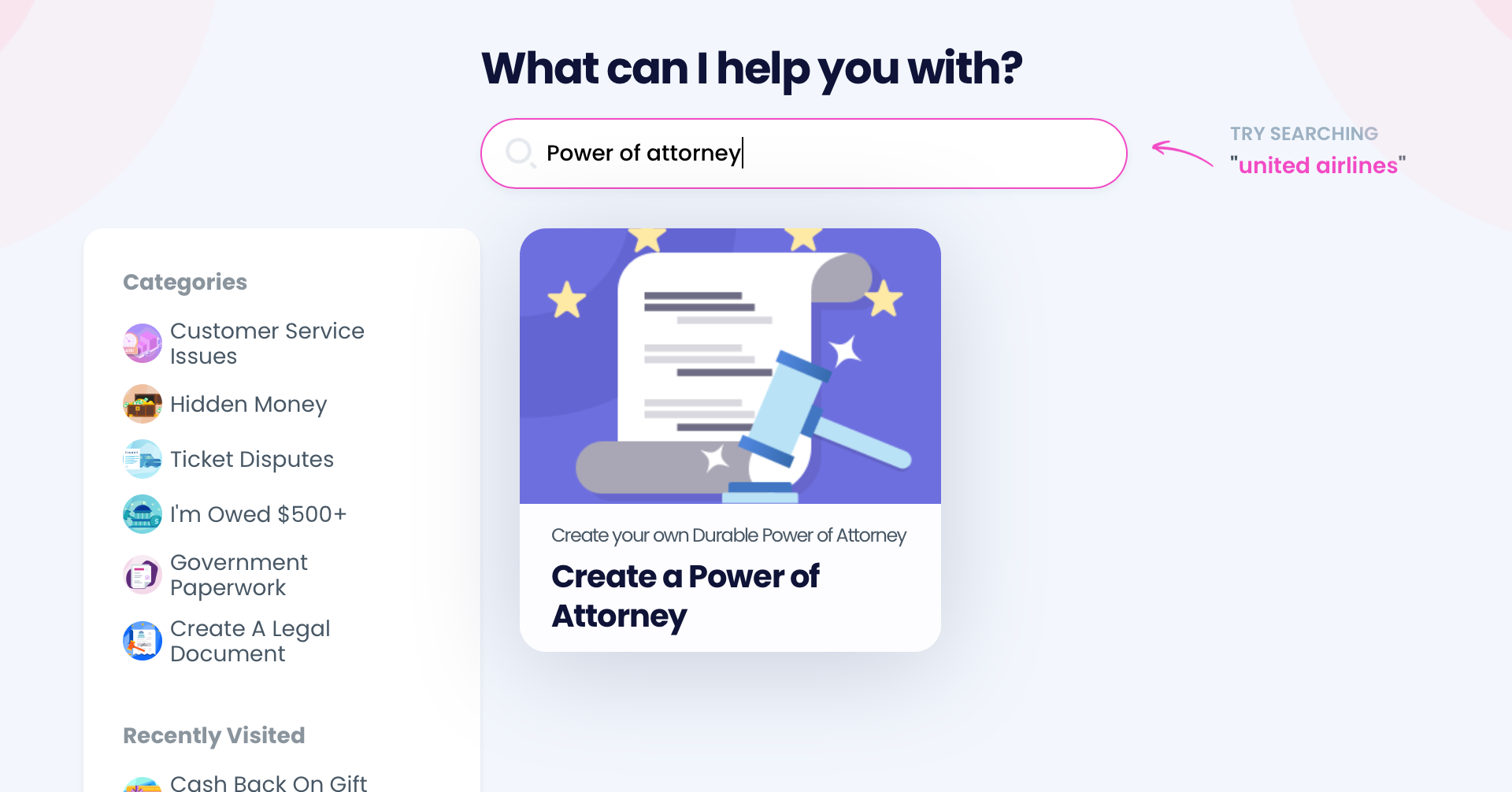 Lawyers are pros at creating powers of attorney, but they can also break your wallet at the same time. Why pay for an expensive lawyer when you can use DoNotPay to create the document for you?
Are you worried that you might have to look up power of attorney letter templates or state legislation? Don't worry—we've got you covered!
Here's all that you need to do:
Access DoNotPay from your web browser
Select the Power of Attorney feature
Answer our chatbot's questions to personalize the document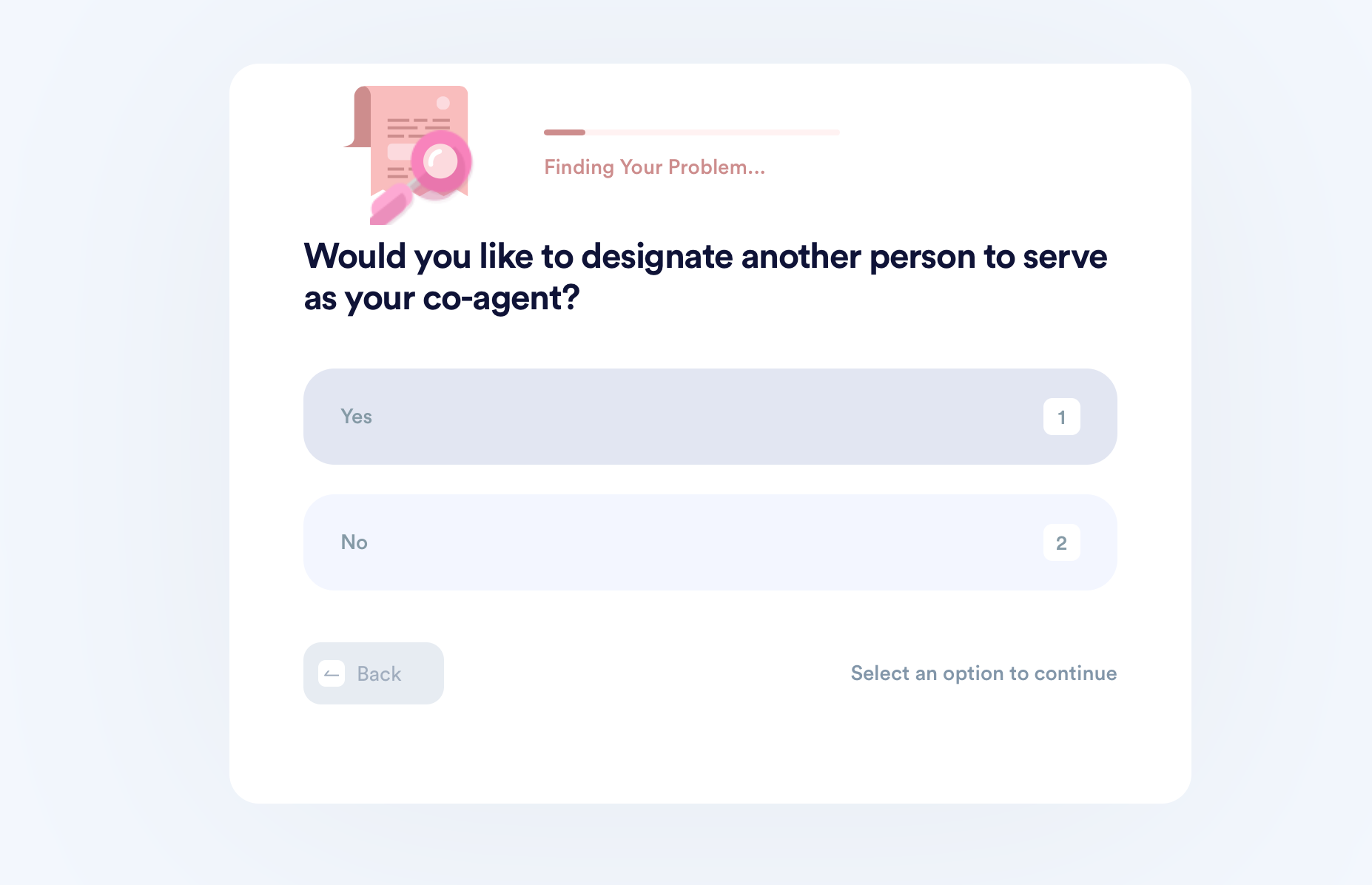 Our AI-powered app will create the power of attorney document with no delays. You will receive the document together with two notices that both parties in the agreement need to read and sign.
Most U.S. states require POA documents to be notarized. Our Notarize Any Document product can connect you with a remote notary public who can notarize your document at any time of the day.
DoNotPay Resolves Both Bureaucratic and Legal Issues
One of our app's best qualities is its versatility. You can use your personal AI-powered assistant to overcome both legal and bureaucratic obstacles without breaking a sweat. No more waiting in lines or breaking the bank due to sky-high lawyer fees!
Take a look at what you get access to for a low monthly fee:
Can DoNotPay Do Anything Else?
The world's first robot lawyer is capable of so much more! No matter if you want to find your unclaimed money, apply for clinical trials, get rid of email or text spam, prepare for a government test, fight workplace discrimination, or get gift card cash back, DoNotPay can help!
What are you waiting for? Sign up for DoNotPay now to enjoy our nifty products!