Can a Power of Attorney Sign for a Trustee of a Trust? DoNotPay Has the Answer!
Granting a power of attorney (POA) is one of the biggest decisions you may make in your life.
Handing over control of your affairs to a third party is often designed to safeguard your financial well-being after you are no longer capable of making decisions. That power must also include decision-making ability over any trusts you may have set up.
DoNotPay asks, "can a power of attorney sign for a trustee of a trust" and gives you the information you need to secure your finances.
What Is the Difference Between a Trust and a POA?
A trust and a POA are separate legal forms that help regulate your finances before and after you pass away.
The two can co-exist, and both may be necessary to make sure that your:
Estate is divided among your heirs according to your wishes
Day-to-day financial needs are met while you are still alive
What Is a Power of Attorney?
A POA hands legal control of certain aspects of your life to a third party or agent for them to manage on your behalf.
Powers of attorney can be used to safeguard your:
Healthcare
End-of-life wishes
Financial affairs
In the case of a financial POA, its commencement date, termination, and scope are defined by the type of POA you choose, such as:
Whatever type you grant, you need to be sure that the power of attorney allows your agent to perform all the tasks necessary to safeguard your—and your family's—well-being.
What Is a Trust?
A trust or living trust is a legal document that regulates the transfer of your property after you pass away.
It is similar to a will but avoids the lengthy and potentially expensive process of probate, meaning that your property can be transferred to your beneficiaries without having to go through a court.
A trust document names a trustee who is responsible for the administration of the trust, and ownership of your named assets is transferred into the trust as soon as it is enacted.
You can change or revoke your trust at any time, and it becomes active once you have signed it. There are no requirements to file a trust as a public record, and it can usually not be contested in court.
Can a Power of Attorney Act on Behalf of a Trust?
There may be times when you need both a trustee and a power of attorney to make sure your:
Long-term assets and investments are kept securely in trust as your legacy
Short-term financial needs and those of your family are taken care of
A trustee can appoint an agent under a power of attorney, with the trustee in the role of principal. The agent can then be empowered under the POA to sign for the trustee in whatever circumstances the trustee needs.
The division of responsibilities in such a case could be:
The trustee looks after any assets that have been placed in the trust—such as property, investments, or cash assets
An agent appointed by the trustee under a POA controls funds in the trust to handle day-to-day expenses—such as bills, living costs, or tax payments
How To Set Up a Power of Attorney
The process of setting up a POA consists of the following steps:
Choosing an agent
Deciding on the scope of the POA
Signing the document
Choosing an Agent
The person you choose as the agent—or attorney-in-fact—can be your trustee or someone different. In either case, it should be someone who:
Can be trusted to act in your best interests
Is comfortable with the responsibility
Deciding on the Scope of the POA
A POA letter for a trust is necessary when you require certain day-to-day financial matters to be taken care of once you are unable to do so. These can include:
Filing tax returns for the trust
Managing assets that aren't in the trust
Changing the trust if you become incapacitated
In the case of changes to the trust, you need to make sure that the trust document also allows for changes to be made by the agent.
Signing the Document
Once you—and your agent—are happy with your POA document, you should sign it in the presence of a notary.
Having your document notarized adds legal weight to your POA, as the notary:
Verifies you are who you claim to be
Checks and attests that you are of sound mind when you sign the POA
Ensures you are not acting under duress
Notarization of a POA is required under law, and some states may also require you to have your POA countersigned by up to two witnesses.
With all the requirements you need to fulfill to grant a POA, you might think it is easiest to hire a lawyer to do everything for you.
The good news is that DoNotPay can help you avoid the expense and hassle lawyer entails by creating a customized POA for you in a matter of minutes!
Create Your Power of Attorney With DoNotPay

DoNotPay is your go-to resource for simplifying legal matters and speeding up the process of setting up a power of attorney.
To create your custom POA document, all you need to do is:
Sign up with DoNotPay in your web browser
Click on our Create a Power of Attorney product
Give us the details you want included in your POA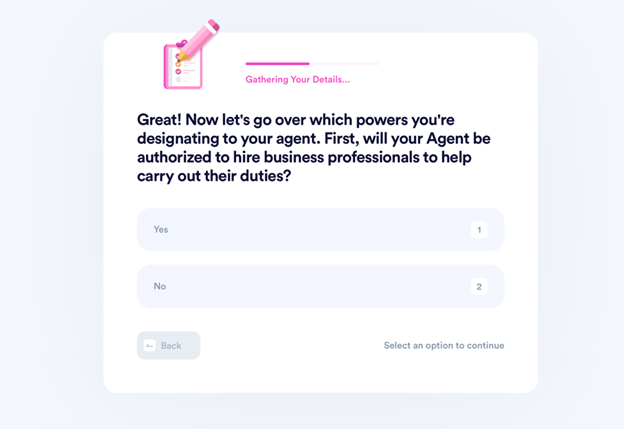 DoNotPay will generate your document in a flash—all you need to do is sign and have it notarized to make sure your finances are in safe hands.
What About Specific State Laws—Can DoNotPay Help?
Some state jurisdictions vary in their requirements for powers of attorney—you may need to provide up to two witnesses to make your POA valid in your state.
DoNotPay can help you with state-specific legislation—here are some of the states we have specialized information on:
Discover DoNotPay's Product Range
DoNotPay has a vast range of products that help you earn and save money and fight bureaucracy. Check out how to get insurance or warranty, file a FOIA request, send anything through online fax, draw up a tailor-made legal document, get documents notarized, get a college fee waiver, sign up for any clinical trial, and so much more!
Your personal AI-powered assistant can also lend its helping hand if you need to fight email or text spam, get robocall compensation, request refunds from airlines, draw up a child travel consent form, prepare for government tests, and combat workplace discrimination successfully.
Save and Earn Money
The best part of using DoNotPay is that you can both save and earn money. As soon as you sign up, make sure you check out how you can find missing money, get free raffle tickets, get compensation for victims of crime, report a late or missing delivery and get a refund for it, and request gift card cash back.
If you want to sign up for a free trial risk-free, cancel any subscription-based service, request a refund from a company, sue anyone in small claims court, or jump the phone queue when getting in touch with customer service reps, you can always count on us.