Can a Nurse Witness a Living Will—Mystery Solved
In most states, when creating a living will, you must choose one or two witnesses to confirm that you are of sound mind at the moment of signing. Many people want their physicians or attending nurses to take up this role, but is this practical? Can a nurse witness a living will? If not, who can do it?
Don't search for answers by combing through countless web sources—find them all in this manual! As getting a living will with legal assistance can be expensive, we also teach you how to create it at a much more affordable price by subscribing to DoNotPay!
What Is a Living Will?
A living will is a document that summarizes all your health care wishes if you aren't competent to decide on your medical care anymore. It enables you to:
Refuse or accept particular treatments, surgeries, and medications
Choose whether you want the doctors to resuscitate you if your heartbeat or breathing stops
Select the preferred end-of-life care options
Your living will comes into effect if you:
Fall into a coma
Have an incurable illness
Are in a vegetative state
Suffer from a specific mental disorder that doesn't let you communicate properly
This document is usually paired with another health care directive, named a medical power of attorney or health care proxy. With this form, you can designate an individual—a health care representative—to make health-related choices in your stead if you become unable to. You shouldn't consider it a synonym for a standard power of attorney as these are two different documents.
Can a Medical Worker Witness Your Living Will?
In most cases, the answer is no—a nurse or doctor responsible for your treatment can't act as a witness to your living will. This rule also applies to any other medical worker involved in your health care.
Some states allow you to name your designated physician or attending nurse as a witness or a health care agent, but they must resign from treating you first. The best option is still to choose a disinterested third party to perform this duty.
Who Can or Can't Be a Witness to a Living Will?
Most states have strict rules regarding who can or can't witness a living will. The following table shows the most common groups of people who can/can't take on this role:
Who Can Be a Witness
Who Can't Be a Witness

Acquaintance
Member of your religious group
Any person of legal age and a sound mind—including a stranger—who wouldn't benefit financially from your death in any way

Minor
Relative
Husband or wife
Adoptive parent/adopted child
Heir or individual who can benefit financially from your death
Person who finances your medical treatments and care
Mentally unstable individual
Person under the influence of alcohol or drugs
DoNotPay Brings You a High-Grade Living Will Without Lawyers or Poor-Quality Samples
Why waste hours trying to compose a living will or filling out a generic state-specific advance directive form when you can get a better result with DoNotPay? Our user-friendly app can:
Collect the info about your preferred medical treatments and other health care preferences
Craft a unique document based on the details you provide
Help you set up a video meeting with an online notary to have your living will or medical power of attorney notarized in no time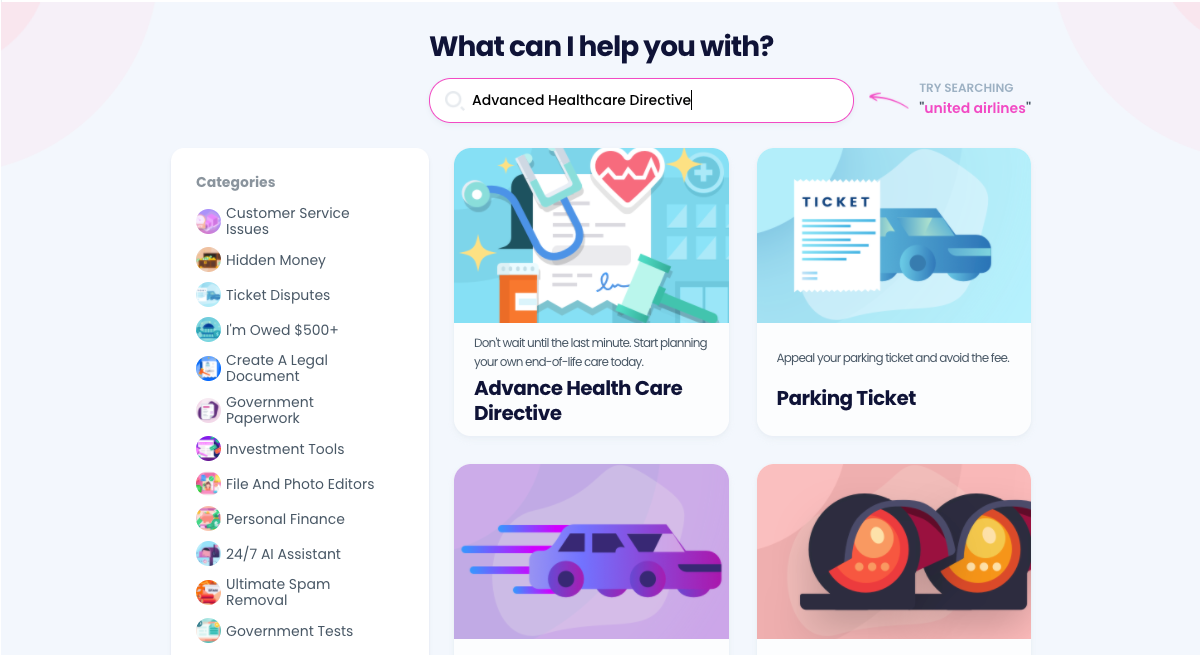 Here are the instructions you should follow to get our help:
Find the Advance Health Care Directive product
Input the details about your designated health care agent and witnesses
Provide a thorough description of your future health care wishes
Once you complete these steps, we will provide you with a ready-made health care directive in less than five minutes!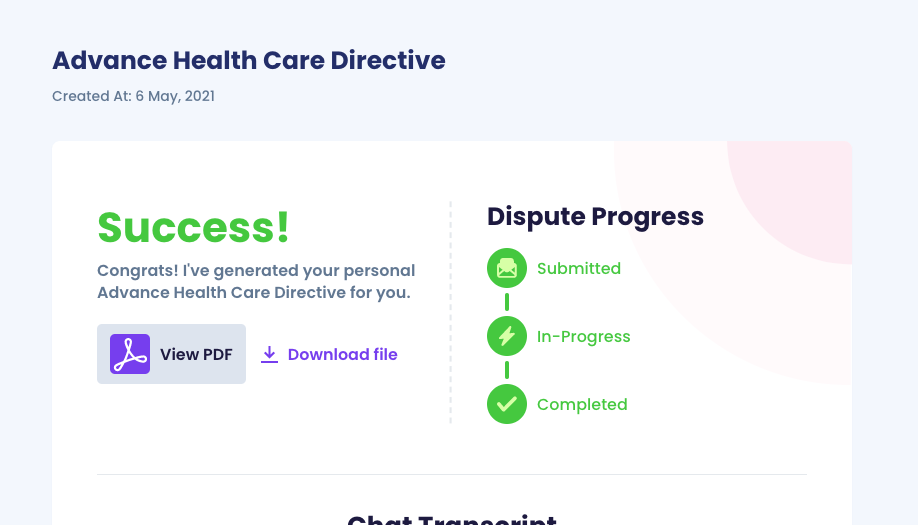 Rely on DoNotPay and Get Rid of Administrative Issues
Are you tired of returning items, canceling subscriptions, fighting parking tickets, and mailing letters? We can help you fast-track all these tasks and more! Do you need help reaching customer service, fighting workplace discrimination, submitting defamation demand letters, or filing HR complaints? Use DoNotPay and solve any issue without a hitch.
Feel free to also use our app to study for government tests, apply for scholarships, appeal low financial aid offers, and request college fee waivers.
Do you need help paying bills? DoNotPay can assist you in lowering your property taxes, getting gift card cash back, entering sweepstakes and giveaways, and getting refunds.
With us, you'll be able to both earn and save money!
Say Goodbye to Spammers With DoNotPay's Assistance
Getting spammed on the daily? Our app can put an end to this annoying issue! Block spam emails, text messages, and robocalls in a few clicks. We can even help you deal with stalking and harassment.
Thanks to our Burner Phone product, you'll get a temporary phone number that you can submit when registering on different platforms and protect your privacy.
Another way to keep your privacy intact is using DoNotPay's virtual credit card. Signing up for free trials without hidden charges and revealing your contact details has never been easier!