Can a Lawyer Represent Both Parties in a Divorce? DoNotPay Has the Answer
Divorcing your spouse isn't an easy thing to do. Besides emotional distress, it entails a lot of bureaucracy. Filing for divorce, deciding on the type of marriage dissolution—uncontested or contested, and hiring a lawyer are some of the issues you'll have to deal with.
Most couples strive to simplify the procedure and costs. Can a lawyer represent both parties in a divorce? It is cheaper, but is it wise?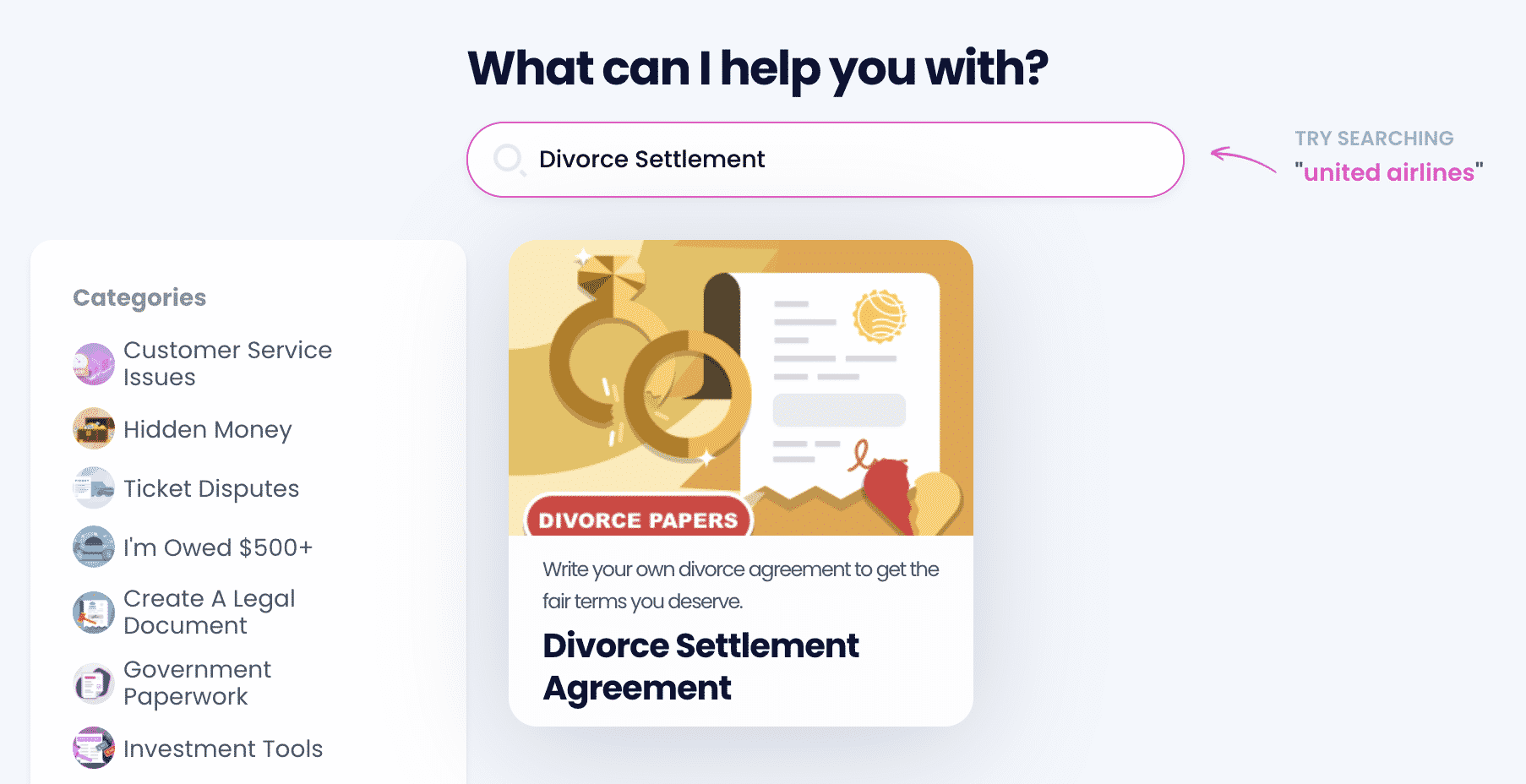 offers definitive answers and helps you draft your divorce settlement agreement, so you'll probably manage to complete the process out of court and without an attorney.
Can a Lawyer Represent Both Parties in a Divorce? Everything You Should Know
Every divorcing couple has a lot to figure out, including:
With sky-high attorney fees, marriage-dissolution expenses are among the biggest concerns. Getting one legal advisor to represent both spouses would significantly cut the costs. Still, because of the conflict of interest, one lawyer cannot represent both parties during the divorce. One attorney can conduct mediation or create a marital settlement agreement.
For a detailed overview, refer to the following table:
| Your Question | Answer |
| --- | --- |
| Can one lawyer be a legal advisor to both parties in a divorce? | No |
| Can a lawyer assist both parties as a mediator? | Yes |
| If you have a friendly divorce, can you use one attorney? | Yes |
Why Can't a Lawyer Represent Both Sides in Divorce?
Divorcing parties are on the opposite sides in the eyes of the law, even if they agree on all post-divorce arrangements, such as:
Retirement plan and medical insurance
As a legal advisor, one lawyer cannot assist both spouses because:
The law deems such actions conflict of interest
The legal representative can't remain neutral and objective during the process
If you and your ex-partner face a contested or fault-based divorce, it would be in your best interest to hire different divorce lawyers. The situation is less complicated in an uncontested divorce because you can avoid the court proceedings.
What Are the Benefits of an Uncontested Divorce?
Settling disputes in an uncontested divorce brings various benefits to both sides. It allows you and your former partner to part ways in a friendly fashion. That would be in your mutual interest if you have children, in particular.
To make it so, you have to agree to all divorce-related issues, such as:
Dividing the property you acquired during the marriage
Deciding on spousal support and its duration if one of you is without a job or income
Children custody and visitation times
Child support used for education, insurance, medical expenses, etc.
Note that the uncontested divorce is a way cheaper option than contested. You will also have to complete far less paperwork, and the procedure is significantly shorter.
While uncontested divorces typically last several months at most, contested ones could drag for years. Depending on the state you are in, friendly divorces may be over in as little as two or three months or as soon as the waiting period (required in some states) expires.
Children in divorce may suffer even more than adults. If they see their parents arguing and fighting, it can lead to psychological distress and trauma. The uncontested divorce lets both adults and kids get out of the separation process as unscathed as possible.
Can We Use One Attorney if We Get a Friendly Divorce?
If you and your soon-to-be-ex reached an agreement without going to court, you could finalize the divorce with one lawyer. In that case, you would use the attorney only to draft the settlement agreement. Note that this is an expensive option, but you have alternatives.
Instead of hiring a lawyer to prepare your divorce settlement agreement, many ex-couples resort to online sources. Unfortunately, most websites offer incomplete templates, which results in unreliable documents. To avoid problems in the future and get a valid contract, turn to DoNotPay.
Use DoNotPay To File a Divorce Settlement Agreement
When you agree on all the post-divorce arrangements with your spouse, drafting a divorce settlement agreement is the final step to the dissolution of your marriage.
DoNotPay drafts a top-notch divorce settlement agreement that won't cost you a fortune. To benefit from our reliable and efficient service, do the following:
and select the Divorce Settlement Agreement tool
Answer our questions about your spouse and children, if applicable
Specify how you wish your assets and income allocated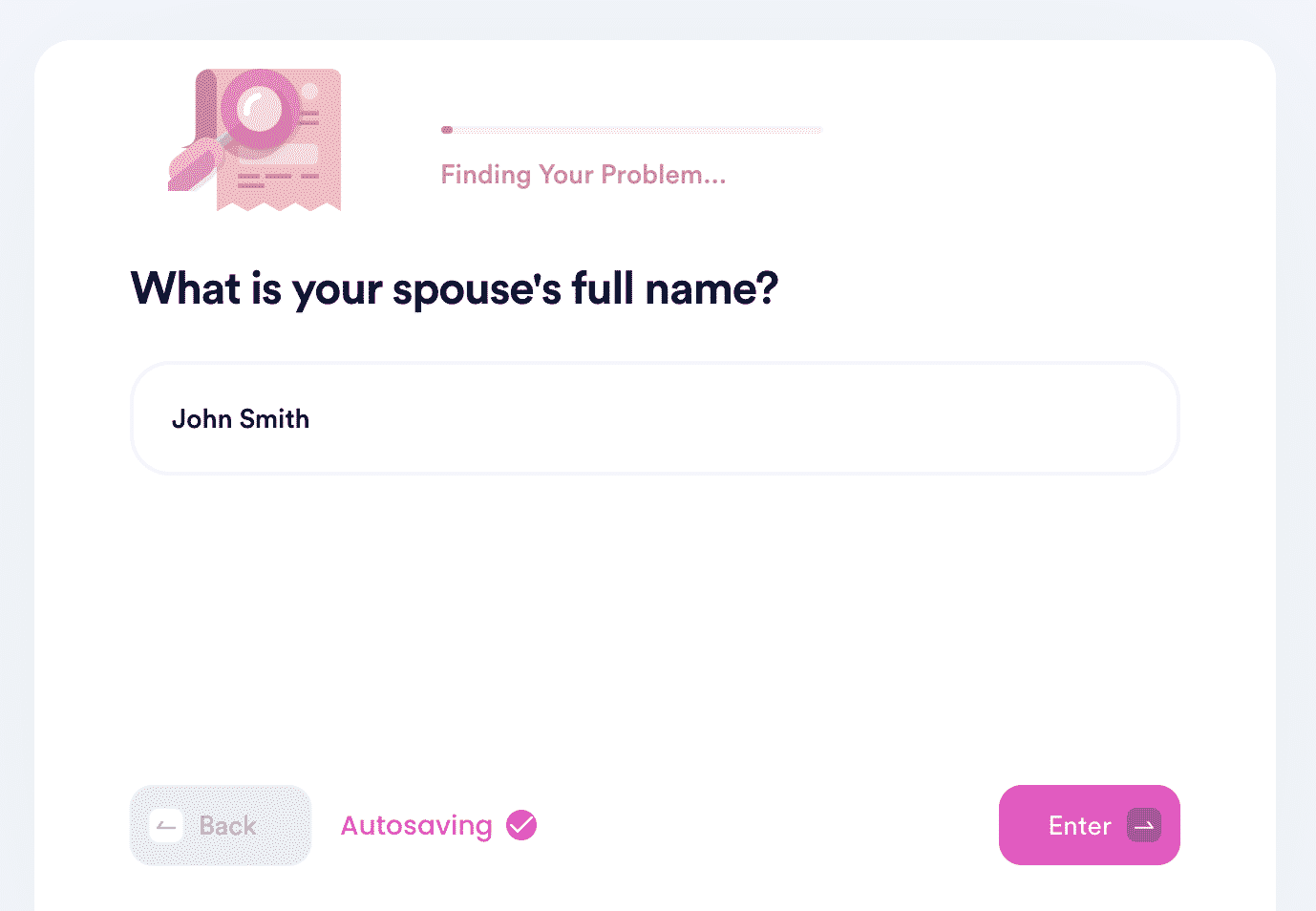 DoNotPay will generate a customized document you and your spouse should sign and get notarized. We can arrange a video meeting with an online notary, so you can complete the process remotely.
DoNotPay can help you with other divorce-related matters, such as:
Choose From a Variety of DoNotPay's Amazing Tools
Did you manage to solve the issue with our app? If the answer is yes, you may also be interested in checking out other interesting features we offer. DoNotPay can help you:
| Get Rid of Spammers By | Deal With Uncooperative Merchants By | Get Help With Your Studies By |
| --- | --- | --- |
| | | |
Let DoNotPay Prepare Important Documents for You
Are you having a hard time drawing up a contract due to insufficient legal expertise? Say goodbye to failed drafts—DoNotPay can generate divorce settlement agreements, powers of attorney, child travel consent forms, and many other legal documents in under five minutes!
We will also help you create anonymous HR complaints and demand letters for your neighbors if you are experiencing any issues with them.