Can a Company Sue for Defamation?
Defamation is a civil wrong that occurs when someone makes false and harmful statements about another individual or business and it results in reputational damage. Small businesses are significantly affected by online reviews and word-of-mouth, statistics show that approximately 86% of U.S. consumers consult online reviews before visiting a restaurant, or any other business. In 2019, a Yelp User in Florida was left with over $25,000 in legal bills after a company sued him for online defamation because he posted a false negative review of their business on Yelp.
This article will discuss what constitutes libel and slander, how to distinguish between defamation and disparagement, and the you may pursue as a business owner.
What's the Difference Between Libel and Slander?
Libel
Libel refers to a permanent, false, and defamatory statement that is written or published online, such as an email at your workplace, newspaper articles, or social media posts.
Slander
Slander is a temporary, false, and defamatory statement that is spoken or gestured. In contrast to libel, slander requires proof of material damage for the case to be pursued. Examples of slander include speeches and conversations.
Elements of Business Defamation
It must be a false statement presented as a fact. For example, a customer writes that a restaurant has a rat infestation in her blog post.
The defamatory statement must be published or spoken, such that it was/is accessible to a third party.
The defendant must be at fault.
The defendant published the statement without privilege.
There must be proof of actual damage to economic interests: a business plaintiff must show actual economic damages. Keep in mind that it is not common for businesses to allege defamation per se.
Defamation vs Disparagement
Defamation
Disparagement
False statements harming the reputation of the plaintiff.
False statements about the economic interests of the plaintiff.
For a defamation case to succeed, the plaintiff must prove the five aforementioned elements of defamation.

The defendant published disparaging statements about the economic interests of the plaintiff
The statement was false
The defendant had malicious intent when publishing the statement
The statement was published without privilege
The statement caused damages
Can a Business Sue You for Defamation?
To put it simply, the answer is yes. If you spread false defamatory statements about a business, then you could be facing a defamation lawsuit.
Nowadays, with applications like Yelp and the increased usage of social media platforms, many consumers share their reviews of businesses online. This increases consumer reliance on online reviews, and therefore, businesses pay more attention to what is being said about them online. Consequently, there has been an increase in the number of defamation lawsuits filed by businesses against consumers. Many are facing thousands of dollars of fines due to false derogatory statements they published.
This was shown in 2015 when a couple from Colorado was sued for online defamation by a flooring business, and the couple acquired more than $65,000 in legal fees, including a $15,000 settlement. This also came after they posted a false review on Yelp. It does not end there, in 2018 a tourist attraction sued a man and his daughter over an untrue review on TripAdvisor where the man gave the attraction a business rating of three stars. This lawsuit left the man with $25,000 in legal fees as well.
You must be careful with what you publish online about a business, because if it meets all five elements of defamation, then you can be facing a lawsuit.
The Process of Filling a Defamation Lawsuit
The business must first file the complaint that initiates the lawsuit. Keep in mind that it often takes over a year for a defamation case to reach the trial stage.
The defendant is served with a lawsuit document and has a brief window to file an answer (response).
The court will issue a scheduling order giving the deadlines in the case.
The plaintiff and defendant must submit all their written questions, called Interrogatories. These questions are then answered in court under oath.
It is common that the opposing party will ask you to provide certain documents specific to your case to support your argument, which you must then gather.
Deposition – an interview under oath where the attorney of the opposing party asks you, and all witnesses, questions.
Let DoNotPay Draw Up A Defamation Cease and Desist Letter for You in Minutes!
The first step to tackling defamation is to write and serve the defamer a cease and desist letter. A strongly worded letter will inform the defamer of your intention to take serious legal action should they refuse to retract their statements or issue an apology.
can help you write a cease and desist letter in seconds! This way, you can tackle a defamation case in the comfort of your home. All you need to do is:
1. Search for Defamation Demand Letters on .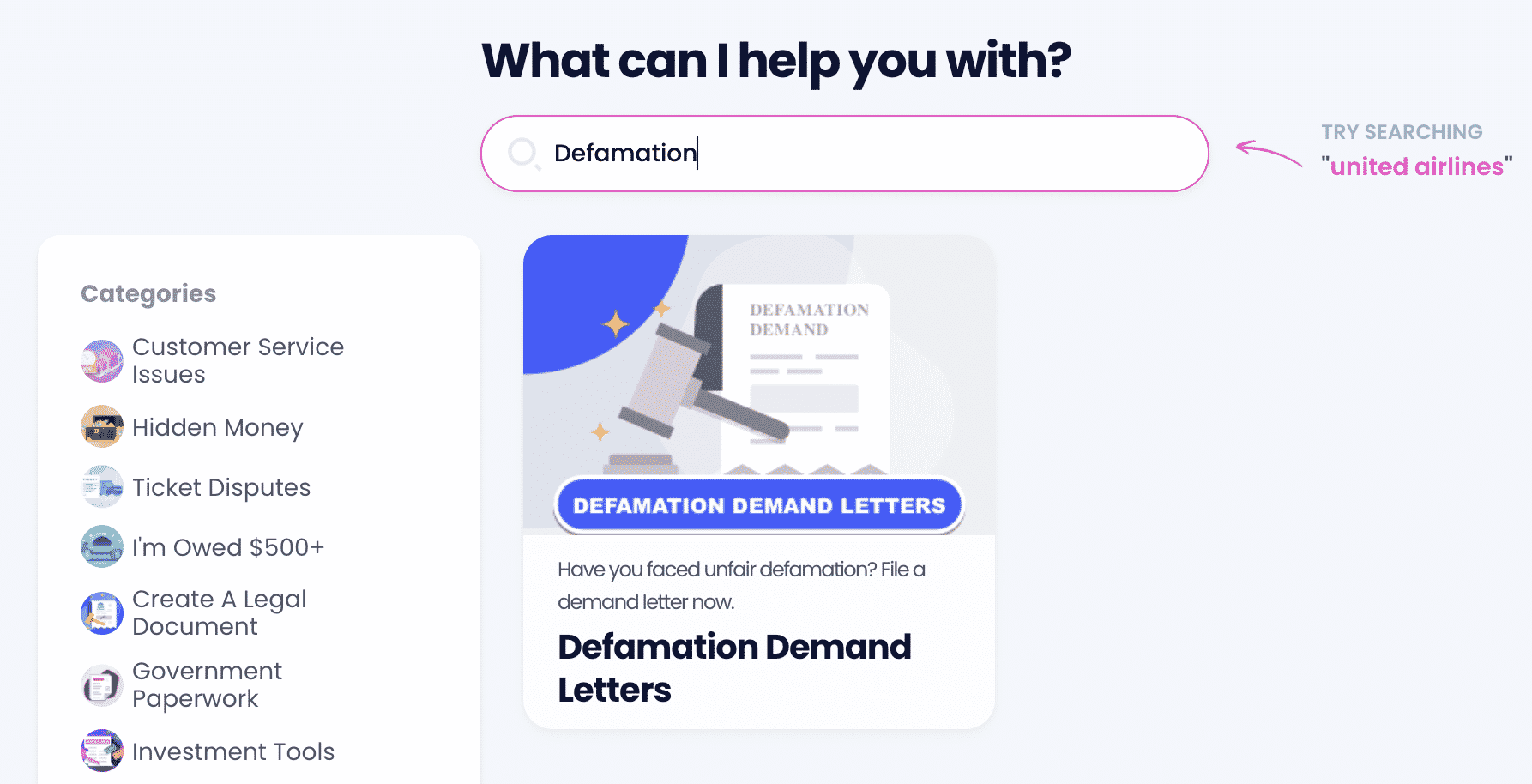 2. Explain your situation. Include whether the false statements made were libel or slander, list the statements and explain why they are false, and outline the consequences you have suffered as a result.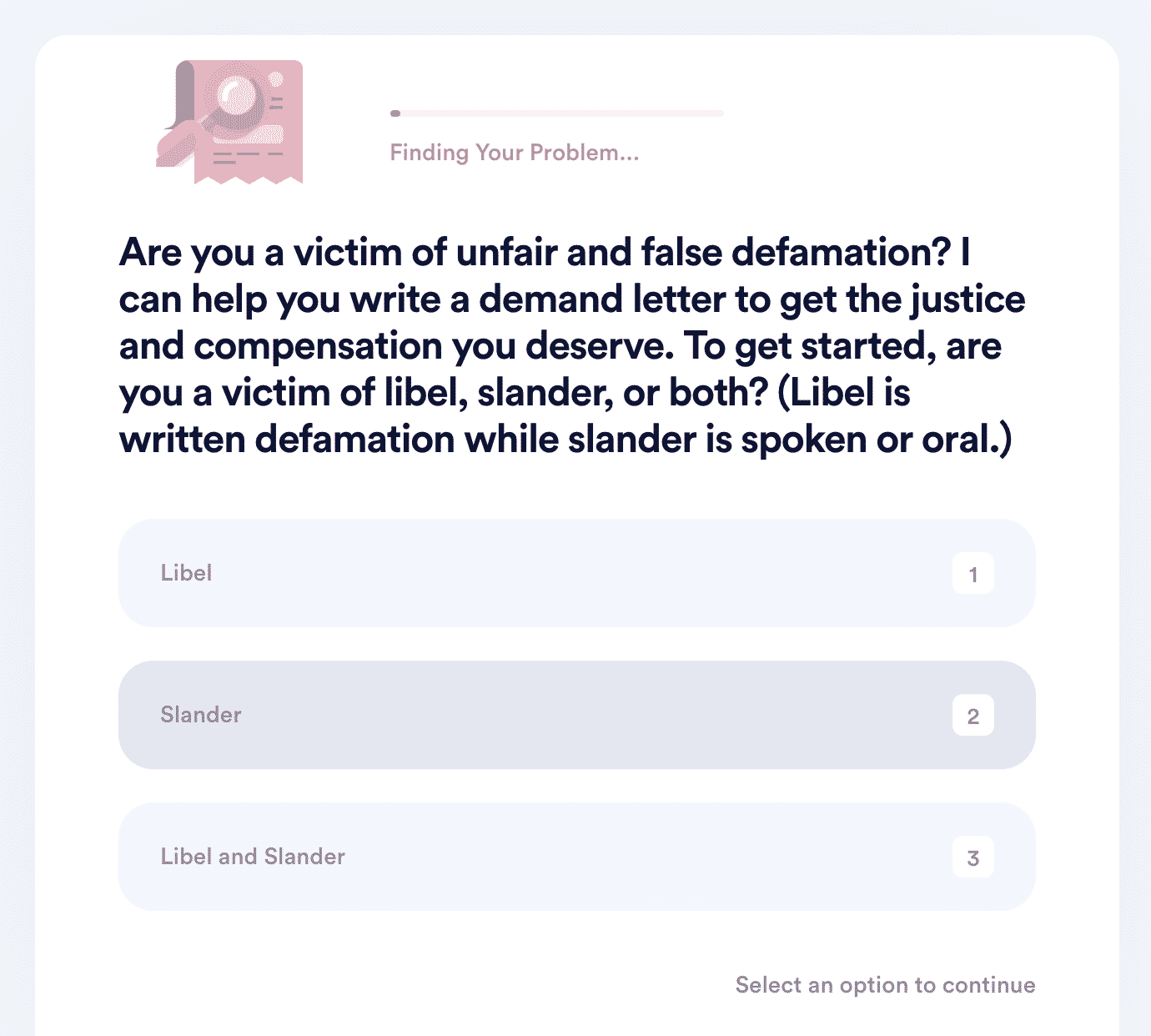 3. Based on your location, DoNotPay will generate a formal demand letter on your behalf with the most relevant state legislation regarding defamation.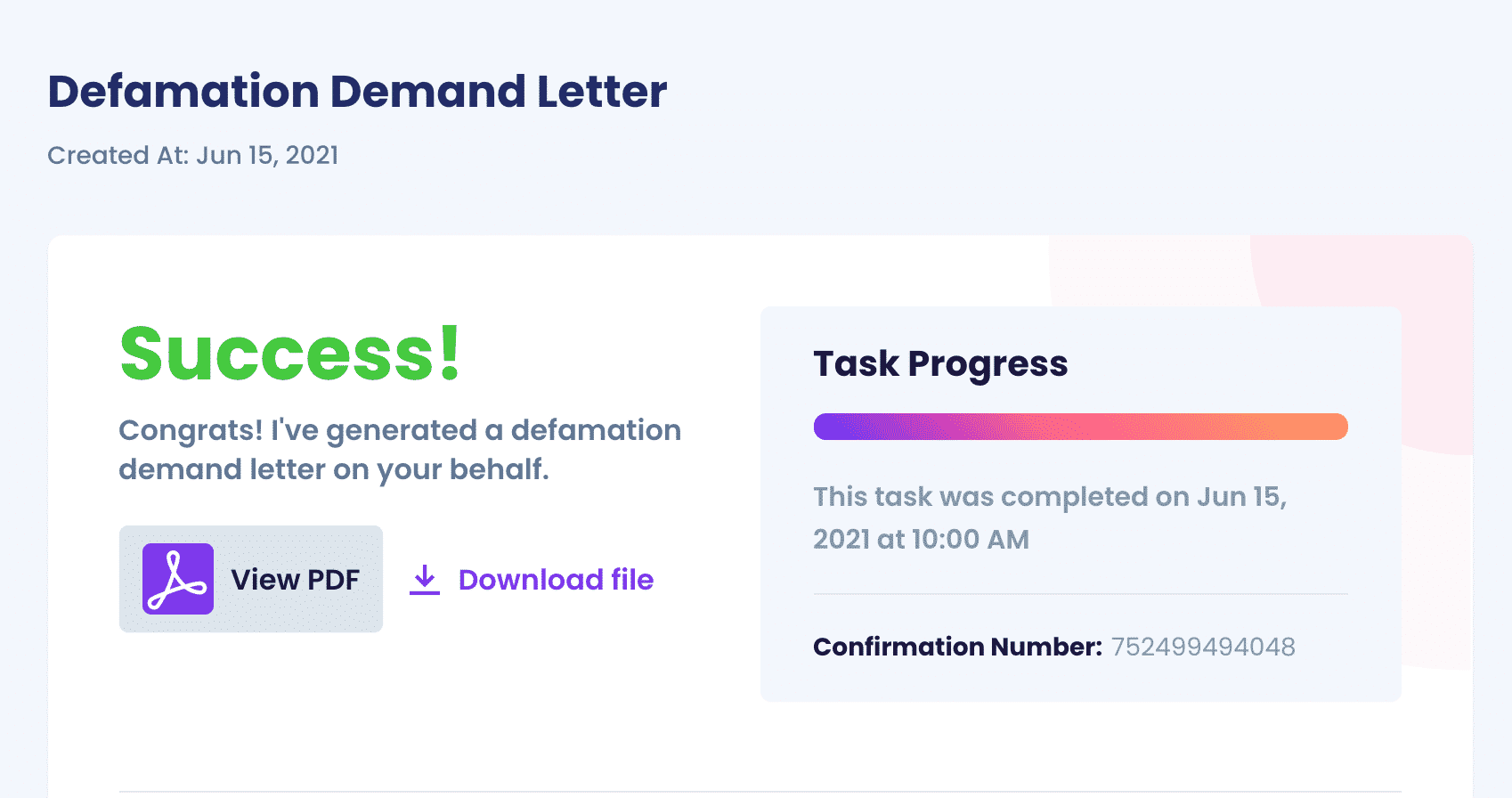 That is it! You can download your letter and serve the defamer!
What Else DoNotPay Can Help You With?
DoNotPay can do a lot more for you: