The Ins and Outs of a Cameron County, PA, Divorce
If you're from Cameron County, PA, and a divorce is what you're looking for, you've come to the right place! Not knowing where to start when getting divorced is difficult, so that's why we have prepared a guide that will make your life easier.
and check out the most affordable way to get divorced in Cameron County and end your marriage on a friendly note!
The Grounds for Getting a Cameron County Divorce
The first step you need to take is to opt for a type of divorce. In Cameron County, PA, you can get a fault-based or a no-fault divorce. See the table below for details:
Fault-Based Divorce
No-Fault Divorce
Couples who choose to get a fault-based divorce need to provide the court with a specific ground (reason) for divorce. The grounds for a fault-based divorce in Pennsylvania are:

Adultery
Bigamy
Abusive conduct which made the other's spouse's life intolerable
Abandonment by one spouse for at least one year
Extreme cruelty, such as domestic violence
Conviction of one spouse for a felony, which resulted in jail time for two or more years

Spouses who want a simpler way to get divorced in Cameron County can choose the no-fault divorce. When filing for a divorce, they don't need to specify a reason for the breakdown of their marriage. Instead, the spouses can:

File an affidavit stating they consent to a divorce if they agree that their marriage is bound to end
Claim that the marriage is irretrievably broken if they have been living apart for at least one year

In cases where one spouse has been institutionalized for at least 18 months and won't be released in the following 18 months, the couple can get divorced without a court hearing
With a no-fault divorce, you can lower the cost and shorten the length of the whole process. It's generally a more popular option as it allows you to file for an uncontested divorce.
How To Get an Uncontested Divorce in Cameron County, PA
To get an uncontested divorce in Cameron County, you need to:
Live in Pennsylvania for at least six months before filing the papers
Prove that your marriage is irrevocably broken
Agree to the divorce with your spouse
Resolve all financial issues with your spouse prior to filing the divorce papers
Agree on the following:

Child support and custody
Parenting time
Property distribution
If the couple can't agree on these aspects of their divorce, they should try divorce mediation. Mediation will help them reach a middle ground and get divorced easily.
Steps for Filing for an Uncontested Divorce in Cameron County, PA
If you want to file for an uncontested divorce in Cameron County, you will need to follow these steps:
File the complaint—The first step requires you to:

Find the papers at the Court of Common Pleas or the government website and fill them out
Pay the filing fee
Make two copies of the PA divorce forms (the clerk's office will keep one copy, the other copy will go to your spouse, and the original is for you)

Serve the papers—Pennsylvania divorce laws require you to deliver (serve) the paperwork to your spouse within 30 days after you file them. Once your spouse receives the papers, they will need to sign the Acceptance of Service form
File proof of service—You will need to file a copy of the Acceptance of Service form and Verification with the county clerk
Sign and file the papers—To complete the final step of Cameron County divorce:

Sign a copy of the Affidavit of Consent
Mail another copy to your spouse
File both documents and Precipe to Transmit Record, Final Decree of Divorce, and both copies of the affidavit at the Court of Common Pleas
Get a Marital Settlement Agreement With Ease by Using DoNotPay
A crucial document for filing an uncontested divorce in Cameron county is the marital settlement agreement. It outlines the terms on which you're getting divorced. To get one, you will need to hire a lawyer and be charged with unnecessarily high fees. If you don't want to break the bank to get the agreement, use DoNotPay!
We can draw up a divorce settlement agreement that follows all Pennsylvania state laws. To get one, all you have to do is:
Select the Divorce Settlement Agreement product
Give us details about your spouse, income, assets, and children (if any)
Opt for online notarization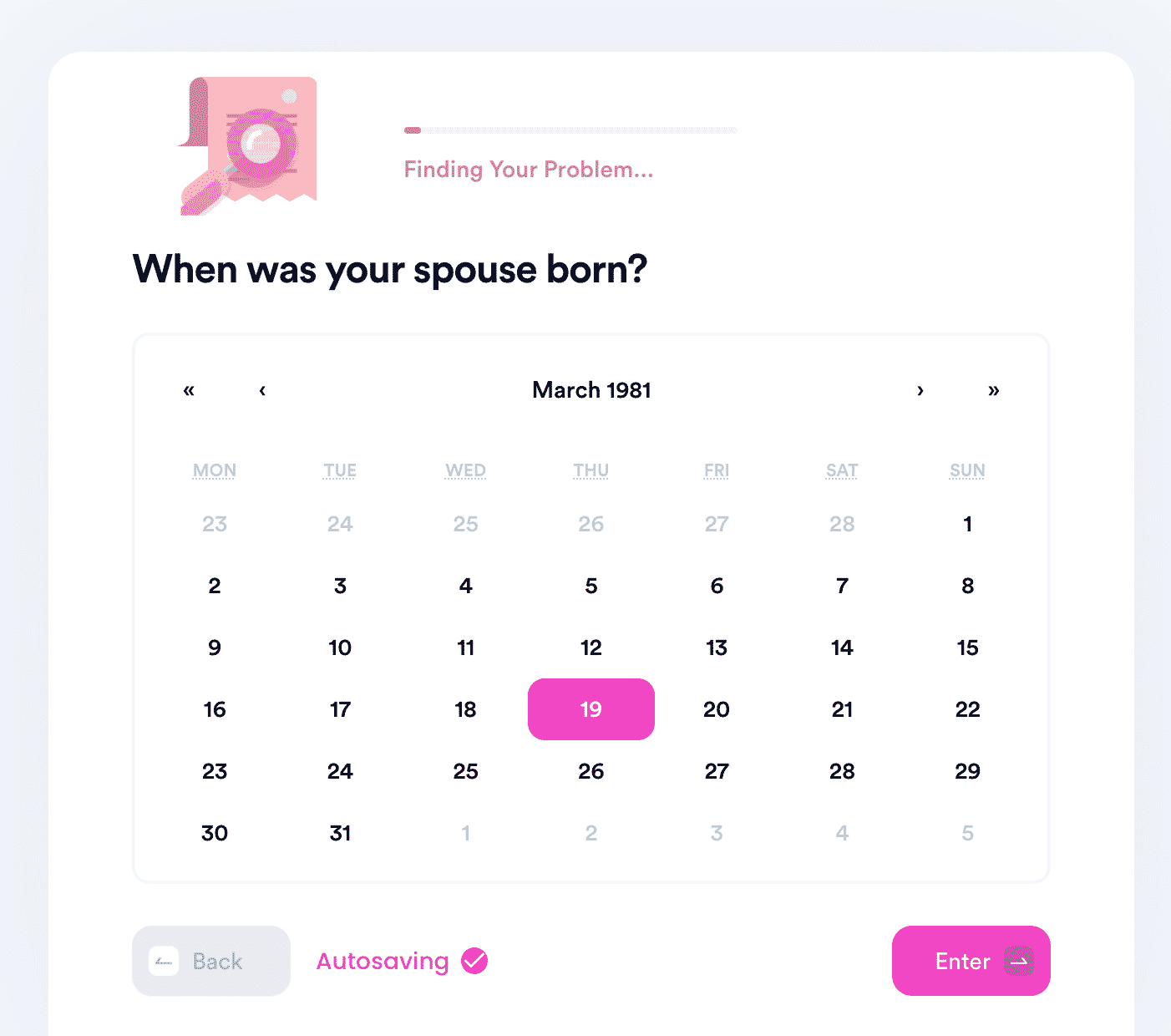 We will generate an agreement for you in no time and connect you with an online notary. You can sign the divorce settlement agreement via an audio-video call!
If you need more help with divorces, check out DoNotPay's learning center! We have various handy articles that answer popular questions, such as:
Use DoNotPay To Resolve Administrative Tasks in Minutes!
Tired of brainstorming the easiest way to deal with administrative issues? We know how you feel, and we're here to take the burden off your back!
Once you subscribe to our app, you'll be able to resolve an abundance of bureaucratic issues with ease.
Taking a valid passport photo, reporting workplace discrimination, reducing property taxes, preparing for a government test, applying for a college fee waiver, and appealing a parking ticket are some of the many tasks we assist you with.
In case you need a quick way to draft a legal document, such as a power of attorney, divorce settlement agreement, or a child travel consent form, DoNotPay will do it for you!
Learn How To File Claims the Easy Way
Are you dissatisfied with a certain company and/or its products? You don't have to stay quiet! Use DoNotPay to file your insurance, warranty, or missing/late parcel claim effortlessly! We'll also show you how to request an item return in a few steps.
If you want to cancel a subscription or request a refund or chargeback, you can do it with our assistance without breaking a sweat. Use one app to deal with countless issues!